TheatreBloom rating:
You're innocent when you dream. And if we are such stuff that dreams are made on than perhaps are all but mere innocent mortals; pawns in the great scheme of a Fairy's game. The inaugural production of Chesapeake Shakespeare Company's first season in their new home in Baltimore City kicks off with a dreamy bang. A visual delight, an aural treat, an experience to savor; A Midsummer Night's Dream, now directed by company Artistic Director Ian Gallanar, will spin you into a delectable Shakespearean frenzy as you experience the space with the exceptional talent concealed within. A remarkable first performance, the company has maintained the integrity of their mission statement to make Shakespeare accessible for all audiences and has even kept the familiarity that audiences have grown to love with the notion of Shakespeare in your lap.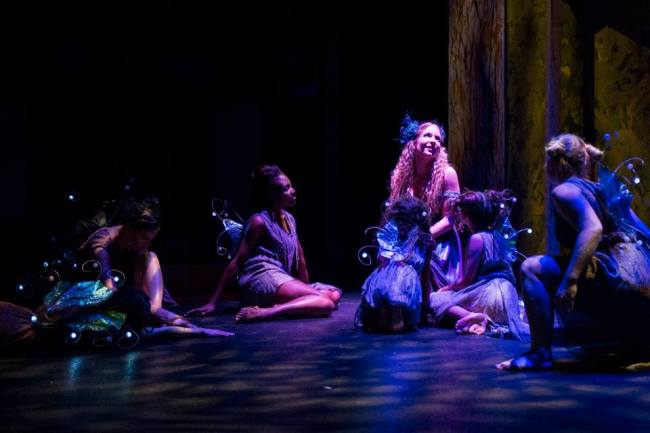 The new space itself, a construct that echoes the three-tiered stacking style of Shakespeare's Globe Theatre lends itself to the intimacy that is enfolded in every Chesapeake Shakespeare Company show. Characters are still a breath away from the audience, regardless of where you are seated; they are still dashing about through the house and still readily available in costume at both intermission and at the end of the show. Serving this show in particular, the levels of the stage allow Director Ian Gallanar to play with the structural hierarchy of the characters in a way that is easily physically displayed. Scenic Designer Daniel O'Brien allows natural simplicity to infuse the space; the notion of the woods and Athens sidling into the periphery of the audience's experiential scope.
Costume Designer Kristina Lambdin draws out a glorious array of innovative costumes for both the mortals and the Fae Folk alike. The styles reserved for those of the royal mortal court are reminiscent of fashion caught somewhere in a hybrid of the 1890's and the 1940's with undertones of true Athenian roots. The amateur acting troop start off in overalls of stripes; looking very much like high-beam construction workers from the industrial era that swept the nation over a century ago. Long dresses of salmon and buttercup fit the Athenian woman again in the hybrid style of Ancient Athens meets something more modern.
Puck becomes Lambdin's bridge; drawing a connection between the royal court and the Fairy court. He is neither fully suited in the world of the mortals though his dapper threads come close, nor he is outfitted with the elaborate makeup of the Fairies but the hints of sequins and dark colors make him akin to their styles. Makeup and Hair Designer Victoria Goldberg seals the finishing touches of fantasy into the Fairy and Athenian courts alike. It is the impressive swirls of green on the Fairy servants all over their arms, legs, and faces that make them look truly unruly in a phantasmagorical fashion. Their hair flows wild and loose; a stark contrast to the tightly wound and curled and delicately styled hairdos of Hermia and Helena.
Director Ian Gallanar brings well-versed actors to the stage for this production. Featuring a handful of Chesapeake Shakespeare Company members, the show brings articulate understanding of the Bard's vernacular to a vast variety of audience members. This is a hallmark of every CSC production and moving into the new space has only served to augment this principle. That said, Gallanar's conceptual theme for the production feels at times muddled. The costumes vaguely delineate a time period though which time period is uncertain. While this does not detract from the performance of the actors, it does leave the overall aesthetic with a slightly murky feeling of unsettled indecision.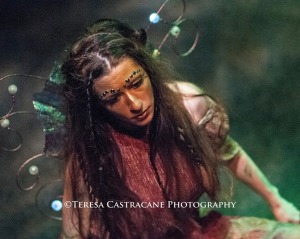 Leader of the Fairies attending Titania is the roguish Peaseblossom (Kelsey Painter.) With little to say, Painter uses the articulation of her spindly limbs and physicality to give her character an intriguing, albeit intimidating, presence upon the stage. Crouching, squatting and moving in other fashions that are animalistic, Painter leads the fairies in crawls and sweeps across the stage that create a convincing notion that they are not of the mortal realm.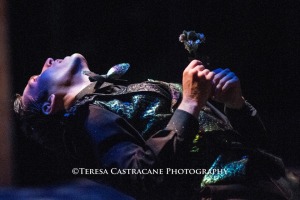 Similar things can be said of Puck (Vince Eisenson) in his approach to shedding his human mortality. Though very upright, and with a wavering accent of strangely charming southern gentility, Eisenson has an ephemeral quality about his movement— often displayed in his mad dash through the house that makes him appear to be little more than a black blitzing blur. Milder and far less peevish, Eisenson's portrayal of Puck is not the lavish prankster that is often played to excess or extreme but a much subtler jester, one still discovering his niche in Oberon's court.
Titania (Kathryn Elizabeth Kelly) and Oberon (Scott Alan Small) carry a majesty about their physicalities that is befitting that of royalty, even if they are royals of the Fairy Court. Their encounter is fierce when they face off with one another, Kelly channeling her power into her voice and stature, particularly when extending the opalescent gossamer of her wings in an intimidating show of strength. Kelly presents a startling versatility, from firm and ferocious to gushing and doting upon Bottom the next. This creates a dynamic difference between Titania and Oberon, as Small's portrayal plateaus on one consistent note of grim smugness. Having stillness wound in his character's energy against the erratic strikes of love that come bubbling forth from hers; the effect in the Fairy court is most striking.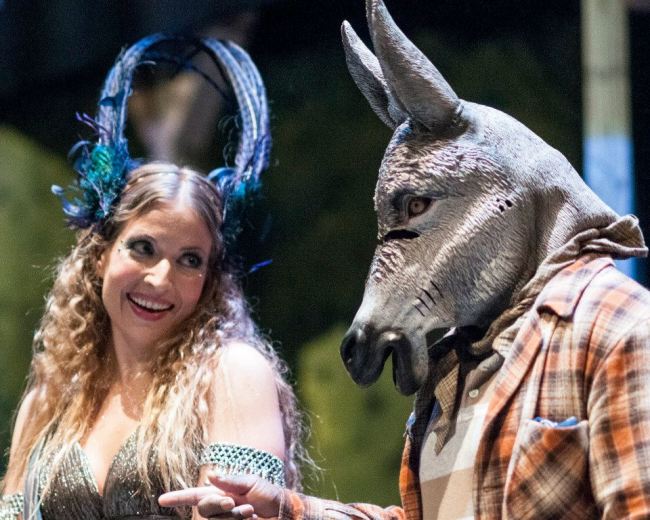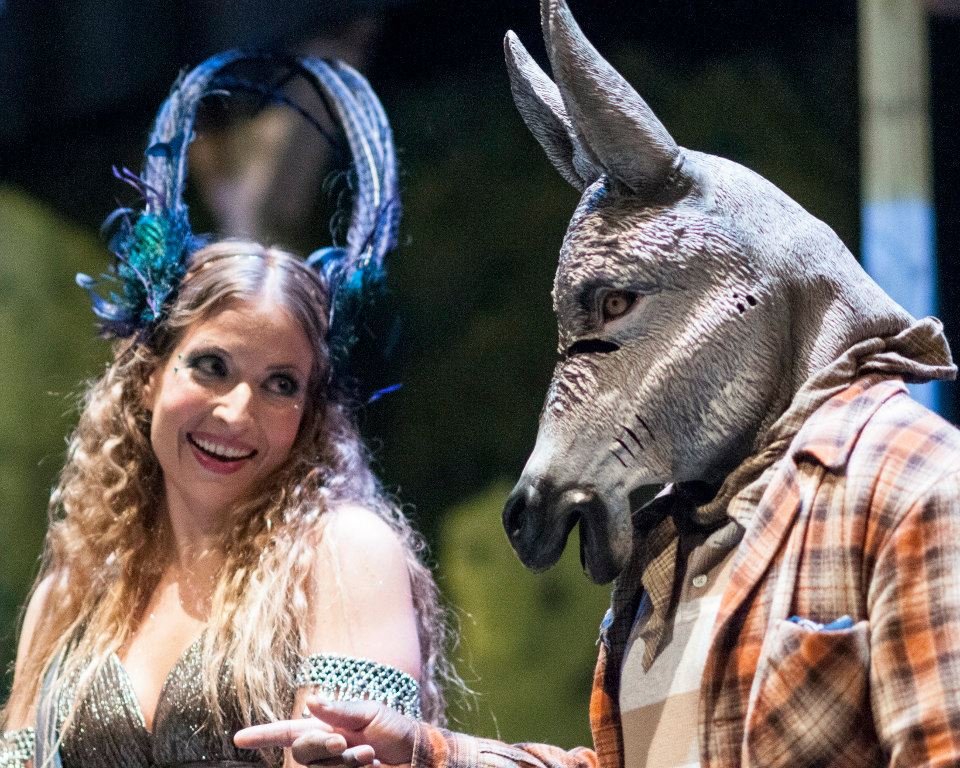 Nick Bottom (Gregory Burgess) is all but a show-stealing ass who gives a comic performance that is a scrumptious scream. Even before Burgess is identified as the show's funny man, he starts the production singing in a somber but sweet tone— another signature mark of the company as songs are featured frequently throughout. Burgess' melodramatic approach to Nick Bottom as Pyramus is simply to die for; his wildly animated voice being outmatched only by his vividly spastic facial expressions. Matching him laugh for laugh is Bobby Henneberg playing Francis Flute and Thisbe. When Henneberg and Burgess play in 'rehearsal' of Pyramus and Thisbe, the hilarious jokes roll at the audience with an unstoppable force; true comic genius proving the reason this show is one of the Bard's great comedies.
As for the Athenians, Hermia (Rachael Jacobs) Helena (Audrey Bertaux) Lysander (Travis Hudson) and Demetrius (James Jager) one might need a map to keep it all straight. The brilliance of their four-way combat (compliments of Fight Choreographer Patrick Kilpatrick) is shown with radiant colors at the end of Act I. Pausing mid-battle for the intermission is an astonishing but ultimately brilliant move to break up and restart the tensions among the quartet. Both Bertaux and Jacobs give riveting performances of women scorned, particularly Bertaux when she launches into her tirade over being played the fool by both men.
Jager, as the doting Demetrius, gives great depth to the witless ingénue. Watching Bertaux attempt to scrabble up his leg as if he were a tree when she desperately follows him into the forest is priceless comedy at its finest. Hudson and Jacobs share a strong bond in their chemistry; from the beginning of the show right up until fairies Puck it up and the story goes asunder. Both Hudson and Jager have subtle approaches to imbuing their characters with meaning and spirit, these two inexperienced young lover characters are all too often played without seasoning or spice. The quartet has a keen understanding of how to handle lovers quarrels and banter among themselves in the vernacular of the Bard; making every line exceptionally clear even for those that don't speak Shakespeare.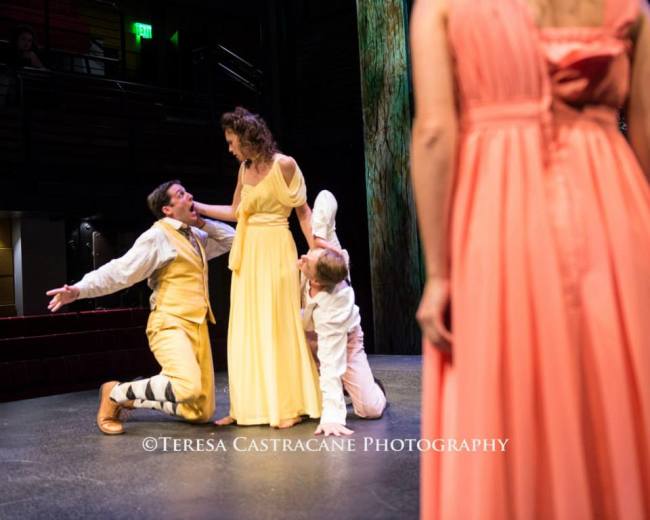 If this review hath offended, think but this and all is mended. The show runs through October mid, buy a ticket, place your bid. 'Tis fairy stuff and dreams from page, their performance traffic on the stage. Your own opinion you must view, see the show and you shall too.
Running Time: Approximately 2 hours and 30 minutes with one intermission
A Midsummer Night's Dream plays through October 12, 2014 at Chesapeake Shakespeare Company— 7 S. Calvert Street in Baltimore, MD. For tickets call the box office at 410-244-8570 or purchase them online.