What is it that binds us to other human beings? On what do we base our friendships with others? And can something as insignificant as a disagreement in artistic tastes be the basis for ending a deep and lasting relationship with a best friend? All of these questions are answered as the Vagabond Players mount their 99th season with a production of Yasmina Reza's Art. Directed by Howard Berkowitz, this explosively humorous Tony Award-Winning play blurs the lines between friendship and art; culminating in an evening of hilarious and simultaneously evocative theatre.
The vague description of "today or tomorrow" in the play's setting creates a uniquely blank slate for the design team. The irony therein is that the central focus of the show is a blank painting and upon it comes the conjecture of opinions and meaning in an assortment of colors from the characters. Having a non-descript setting allows Lighting Designer Charlie Danforth III, Scenic Designer Maurice "Moe" Conn and Sound Designer Marc Irwin creative freedoms to create an artistic masterpiece upon the stage.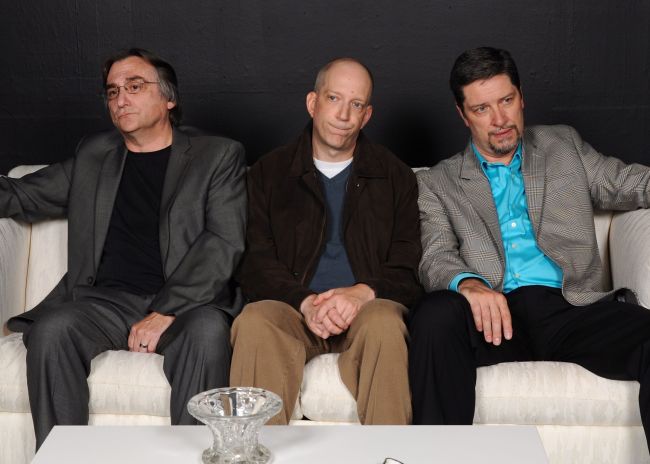 Diffusing what will eventually become tension in the scenes with a modern stylistic jazz sound, Marc Irwin brings original compositions into the scene changes. These warm and friendly tones smack of intelligent 90's sitcom themes; inviting the audience into what is no doubt going to be absurdity and humor rolled into one smeared conglomeration. Charlie Danforth III, as the show's Lighting Designer, assists the show's natural shift in mood with his gentle and subdued lighting effects. Danforth's approach to isolating the staged asides in muted focus lights really draws a twofold meaning into these moments of meta-soliloquy; they are both important singularly and yet only important as a part of the bigger picture.
Maurice "Moe" Conn populates the set with an art-modern feel to it. Rounded squares of monochromatic wall décor cover the walls in an attempt to give the apartments a casually intellectual feel to them while simultaneously serving as a clever way to change apartments without needing to undergo elaborate scenic changes. A simple shift in paneling reveals a colorful portrait of one sort or another and just like that the scene has shifted from Serge's apartment to Yvan's or Marc's.  
Director Howard Berkowitz finds the hidden meanings that Reza has layered into this intricate comedy; fully fleshing out the dramatic potential of some of the more emotional moments between the characters. Reza's work is a comedy with substance and Berkowitz balances the weight of that seriousness against genuine comedy among friends. The authenticity that Berkowitz cultivates among the three performers in this performance allows the text to radiate in its own miraculous essence; a mark of a knowledgeable director.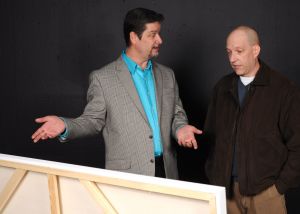 A three-man show can go awry quite quickly but with three seasoned performance veterans upon the stage the show they develop and present is practically flawless. The chemistry between the trio on the stage is striking; how well they play off one another in each scene a true comic delight. These actors strip Reza's work down to the basecoat and layer personality, sincerity, and humor into the performance until a painted masterpiece surfaces. A remarkable performance from each individual with distinctive unique personalities makes this show comic genius.
Serge (Steven Shriner) has bought a painting that causes a stir among friends. Shriner develops his character into a level of high strung excitement that matches the other two eccentric beings in the production. His physicality, which oscillates between completely still and spastic motion, draws a great deal of attention to his performance. Delving into moments of vigorous enthusiasm in an attempt to one-up Marc (Mark Scharf), Shriner builds up rage and frustration tamping them down with attempted civility until he can no longer contain these outbursts. 
When Scharf and Shriner get to truly barbing and biting at one another around the midway point of the play, it becomes a competition of Olympic importance with Herculean efforts on both sides. Both men sling vicious scathing insults with derision drenched tones attempting to come out the victor in the argument. Even their more contemplative and apologetic moments sizzle with a sharp satisfying sense of sarcasm.
Scharf has priceless facial expressions, speaking volumes with his animated eyes and frozen looks. A particularly disdainful scowl in Shriner's general direction, or the incredulity that paints itself so vividly across his face when trying to formulate an opinion on the painting sends the audience into spirals of uncontrollable laughter. Scharf masters the smug condescension that is laid in broad strokes all across his character, be it in a simple posture while sitting on the couch or with a sardonic tone.
Odd man out Yvan (Eric C. Stein) is a spastic ball of disarming eccentricity. Stein gives a stellar performance in this explosively dynamic role. Roaring away in what appears to be almost one breath without pause, Stein delivers the epitome of comic monologues two thirds of the way into the show; an uproarious moment of impeccable comic delivery fused with outrageous hysterics. Juxtaposing the comic high end of that moment against an incredibly raw emotional confession in the same scene several moments later makes Stein a true gift to the stage. His ability to achieve the comic excellence of the character while simultaneously exposing his emotional vulnerabilities is sensational.
There are precious few moments that you won't spend laughing in this production, and those that are not populated with humorous tittering are filled with deeply profound intricacies that relate to the human condition of wanting and needing friends and support in our daily lives. An exceptional production beyond compare, Art is the perfect start to the 99th season at Vagabond Players.
Running Time: Approximately 90 minutes with no intermission
Art plays through September 28, 2014 at Vagabond Players— 806 S. Broadway in the heart of Fells Point in Baltimore, MD. For tickets call the box office at (410) 563-9135 or purchase them online.