It has happened before. It will happen again. Cats. Souls. Revenge. Samurai. Venus Theatre is taking a daring new leap in the middle of 'Fierce14' with their 49th production. Unlike anything previously staged at the Playshack, Director Deborah Randall is giving Daria Marinelli's We Are Samurai its regional premier. As a promenade style performance, this ensemble piece takes place in five different locations set both inside and outside the theatre; the terrifying brilliance of this being that scenes run simultaneously in multiple locations creating a truly unique and intensely fascinating experience. The writing is dynamic; an evocative look into the way the world is hell bent on wars over the most insignificant things. The acting is expressive; seven performers in total living through a vicious cycle of revenge. The experience is incredible; unlike anything you will experience this season anywhere in Washington.
It is a challenge to discuss such a play at length; stories overlapping, stories being pieced together, and for fear of spoilers it is even more challenging to discuss content. What can be discussed, however, is the breakdown of the incredible talent housed within the production and much like the five Eastern Elements that guide the performance; iconic labels have been noted here to guide this review.
 女神
(The Goddess)
 The Goddesses behind this work— the Playwright, the Director, and the Choreographer— create a spiritually stunning vision that is presented in flawless execution at Venus. Director Deborah Randall and Playwright Daria Marinelli have found a balance of ideas that fully illustrates the overarching notions of Eastern Medicine and religious views into this modern revenge tragedy. The creation of Dark Samurai— a concept initialized by Randall and developed with Marinelli— has given layers of depth to the production. Three silent moving spirits exist within the realm of the play, triggering little moments among the speaking characters, observing the cycle of their lives, responding to the destruction, corruption, and revenge of their time.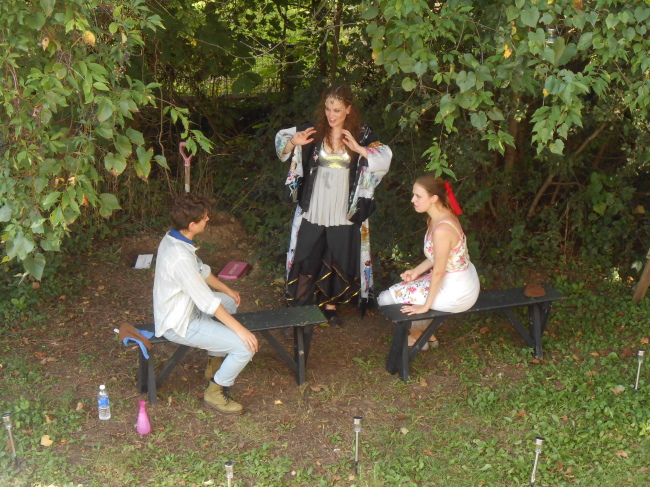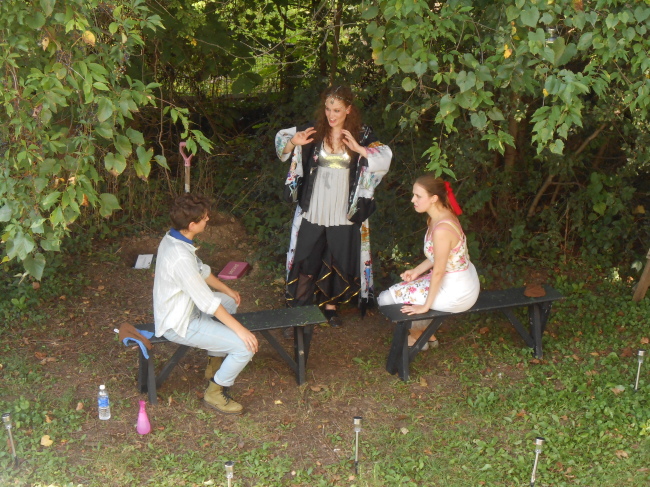 Choreographer Maria Lin Yaffe adapts a unique style of movement for each of these Dark Samurai. All three are intertwined with music in some fashion and Yaffe's guided movement forms entangle these concepts further. The watching woman (Amy Rhodes) plays a mournful flute (with original music composed by Alan Scott) and her movements are fluid like the streams of sorrow that flow delicately from her instrument. The Warrior Man (Elliott Kashner) has a more stealthy series of motion, aligning him with the sound of silence as he creeps into scenes. The Woman in Black (Mary Burke Hueffmeier) has a staggered motion that is percussive like the stick she carries. These motions, as well as the intricately circular choreographed routine at the beginning and end of the production are mere sprinklings of the genius that Yaffe infuses into the performance.
Randall, ever truthful to the company's mission statement, finds the strong voices of women in this ensemble piece. But the true astonishment is in the fact that she has directed a play that runs in five locations simultaneously. Fragments of the story— much like fragments of lost souls— drift in from outside of the theatre, and float outside from within; the experience is like no other and a secondary viewing is highly encourage to encapsulate the entire essence of this wildly engaging show. Working with Marinelli's words and her concept; historic beauty is being constructed and destructed in just 75 short minutes— as ephemeral as the lives we live, for nothing truly lingers on, that is of course until the cycle starts over again.
国内の
(The Domestic)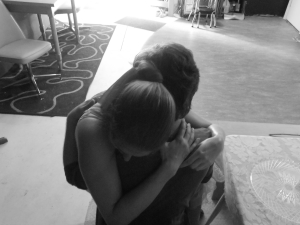 It's not like she needs to be in the kitchen, only Josaphine (Ann Fraistat) desperately needs to be in the kitchen. Fraistat embodies the epitome of a domesticated housewife, calming her neurosis with tasks of focus; preparing dinner, making cupcakes, cleaning the table. It's Fraistat's deep emotional investment in the character that makes her so intriguing. The moments of unadulterated meltdowns that occur when various moments are brought to her attention border on the edge of a black comedy; she experiences true agony and the audience can't help but laugh at the woes of her misfortune. There is an ever-present vulnerability that Fraistat wears upon Josaphine's sleeve, much like the apron always affixed to her waist. Something tender and truly expressive that rests delicately within her soul, until it becomes tainted and shifts into a harsh place of fury-fueled grief. The level of extreme hysteria that Fraistat brings to the table is also worth note as it appears frequently throughout the performance.   
デジタル
(The Digital)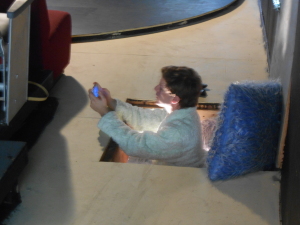 His phone! It's not like he needs his phone, only Rocky (Patrick Gorirossi) can't fathom existence outside of his digital connection. Gorirossi's approach to the completely detached and emotionally unavailable character is striking; a bit too life-like to the iDrones we all have in our lives. Well past bordering on obsession, Gorirossi has bursts of emotional disruption that bring into focus how petty squabbles among siblings, and other relations can be. His character rarely has a reason to make human contact outside of his digital device, but when he does, the intensity is steaming. Rocky becomes a background character but do not mistake his detachment for unimportance. By the end of the performance Gorirossi ensures that emotional imbalance from inside someone so detached from human reality is thoroughly felt by all; the epitome of revenge taken to its outer most limit.
ラヴァー
(The Lover)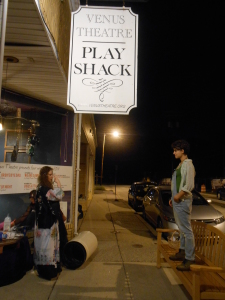 Revenge. It's not like she needs to seek revenge, only Regan (Daven Ralston) is hell bent on righting wrongs from ancient times. Calm and collected, Ralston presents a saucy character with striking sexual overtones. Her relationship with both Elias, her lover, and Rocky, her brother, is unsettling at the best of times. Love can be a great motivator for revenge, but Ralston develops Regan in such a way that proves revenge can transcend deeper than love. Bringing a ferocity to the character that inspires moments of delicious unease throughout the production, it is difficult not to simply want to follow her character around to see what might happen next. There is a palpable shift in the atmosphere every time she enters and exists a scene. Love is not always affectionate, as Ralston clearly demonstrates throughout the performance; balancing tenderness with viciousness.
精神的な
(The Spiritual)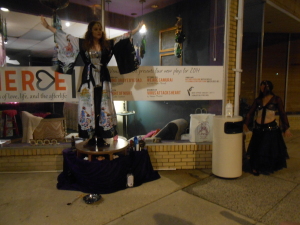 Cats! It's not like she needs to commune with cats, only Elias (Cathryn Benson) all but becomes one in this performance. Benson is the most physically demonstrated character outside of the Dark Samurai constructs in this production. With wide feline eyes and a curiosity that could easily fill 9 lives, her approach to the spiritually guided character is zesty in an amusing and yet intriguing fashion. Her scenes at the Shrine at the front of the theatre are some of the most spastic but entertaining in the performance. Benson's commitment to the character— like all of the performers— extends tenfold out into the ether a full 30 minutes before the production even begins and this adds a level of eccentricity to her already peculiar character. Benson is also a fascinating character to simply absorb in all of her essence; alluring and enigmatic, it becomes virtually impossible to not be drawn into her enticing mysteries.
There is no wrong way to see this production, whether you follow a character, pick an environment, or meander about to your heart's content. Unless of course, you simply don't see the production. In which case, it might be best advised to avoid cats. And kitchens. And gardens. And phones.
Running Time: Approximately 75 minutes with no intermission
We Are Samurai plays through September 28, 2014 at Venus Theatre— 21 C. Street in the historic district of Laurel, MD. For tickets call the box office at (202) 236-4078 or purchase them online.