TheatreBloom rating:
Ladies and gentlemen! Step right up! The circus has come to town! Only, not exactly. Hold onto your brain-balls, it's about to get a little bit "thinky" over at Single Carrot Theatre as they launch the first production of a brand new initiative called their 'Featured Second Series.' Existing outside of the Carrots' 8th season, this second series will serve as a theatrical incubator; a safe space for shows that take big risks on tiny budgets. Serving as an exploration, these productions will test and shred the boundaries of what it means to be theatre. In true Carrot fashion, their first Featured Second Series production is a whacky whimsical spectacle of a show that results in a thought-provoking hour of intrigue. Directed by Jessica Garrett, White Suit Science is a new work by Shawn Reddy that explores Mark Twain, Colonel Sanders, and some other fantastical elements of American history in one action-packed hour.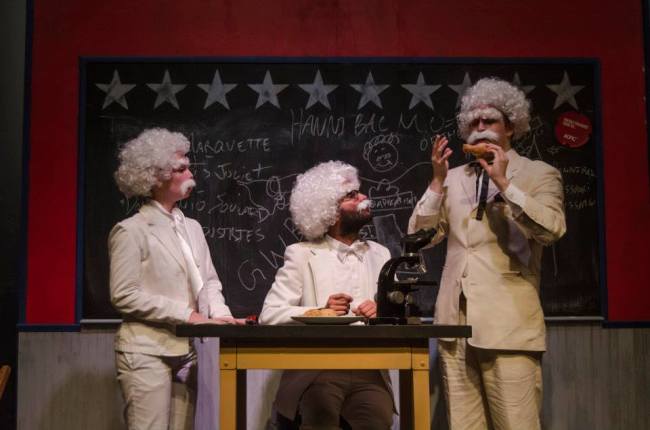 Thematically designed by a team of creative minds that understand the absurdist notion behind both playwright Shawn Reddy's work and Direction Jessica Garrett's vision, the show ends up reading like an audacious and dazzling three-ring spectacle with company member Paul Diem as the twisted ring master. Lighting Designer Chris Allen in conjunction with Sound Designer Max Garner create moments of abject horror frozen in time, capturing the essence of America's brutal discarded secrets in regards to racism and Mark Twain as well as conspiracy and Colonel Sanders. The tinkling music with an ephemeral and haunting quality that filters throughout the production allows Garner to infuse an otherwise picture perfect scene with the ugly aural truth; a symbolic reflection of the way the white suit (worn both by Twain and by Sanders) covered up some of their own ugly truths.
Scenic Designer Allison Campbell creates a patriotic sentiment amid her learned space. A classroom that has red, white, and blue thematic colors is another ingenious layering of symbolism into the overall production as patriotism can no more hide the ugly truth of America's past than a white suit can. Costume Designer Caroline Jurney creates shades of white suits for the three Mark Twain players, the closest to pure white being that assigned to the female Twain. By showcasing nothing as pure white this reinforces one of the play's main concepts that white is spoiled the moment it is worn and pure white is only a concept rather than a reality.
Director Jessica Garrett fleshes out the symbolic ideas of the production in this play quite fruitfully. The one major distraction is the Narrator Character (Paul Diem) in that he starts at an over-the-top rowdy and boisterous level of performing— focused mostly in his blaring vocal shouts— and has nowhere to grow or expand from there. A variance in volume and blasting explosive moments from Diem would create a curious dynamic in this production rather than having him at full volume and enthusiasm the entire time. That said, when Diem's words are audible through his shouts it is obvious that he is fully enthralled with spilling this tidbits of knowledge forth to the audience.
Three Mark Twains. It sounds like a play in itself. Played by Jonathan Jacobs, Utkarsh Rajawat and Carly Bales, these three performers don their own rendition of the white suit, adapt their own approach to a southern accent from Missouri and take on the iconic image of Mark Twain, and at times Colonel Sanders. While the accents are mostly consistent across the board, there are times when each of the performers wavers in their southern drawl and it is unclear as to whether or not this is an intentional character choice.
Jacobs, as the milder and more reserved version of Twain brings a great deal of charm to his portrayal. During the "animatronics" play scene at the show's midway point he has the most stilted physicality of the trio. This works exceptionally well for this particular scene and enhances the humor and tragedy of the moment. Utkarsh Rajawat is the more spastic of the trio, almost mirroring Diem's volume and bombacity at times. But in moments when he pauses and truly addresses his tidbits and speeches at the audience, there is a deep resounding connection.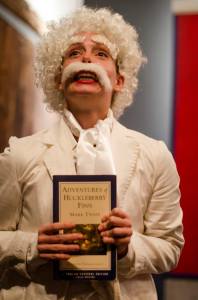 Carly Bales, as the only female among the Twain Trio, gives a captivating performance with her overly animated eyes. Allowing her facial expressions to do the engaging, her adaptation of the novelist is curiously androgynous and wildly amusing. Bales is given the honor of posing as Sanders on his death bed in a scene toward the end of the performance which really stands out among other moments in the performance.
The show runs like a hybrid of sketch comedy and a mockumentary; an intriguing and insightful piece of theatrical performance that is certainly worth investigating. Right in line with the Carrots mission statement of making you question theatre, this one will leave you with a great deal of white hot questions.
Running Time: Approximately 55 minutes with no intermission
White Suit Science plays through September 14, 2014 at Single Carrot Theatre— 2600 N. Howard Street in Baltimore, MD. For tickets call the box office at (443) 844-9253 or purchase them online.