PINK is for playthings.
YELLOW's for warnings.
PURPLE for princes.
BLACK for wannabes.
GREEN is for pickles.
But RED… RED IS FOR SEX!!!
Serving up all the sex, the sauce, the sassiness, and the serious heart and soul, Kinky Boots is all the rage at Toby's Dinner Theatre of Columbia. Marking the regional premiere of the production, whose successful run on Broadway sent it touring around the country before it finally landed in Columbia, the production that has the much-needed message of "JUST BE" and earnest acceptance of others is making itself heard all over the DMV. In a TheatreBloom exclusive interview, Founder & Editor Amanda Gunther sits down to talk with co-stars DeCarlo Raspberry (playing the lusciously vivacious Lola) and Matt Hirsh (playing Charlie Price) and discuss— among other things— shoes!
Thank you both so much for taking the time to sit down with TheatreBloom. This show is just exploding with joy. If you could just take a second to remind our readers who you are and tell them a few of your more recent credits, we can jump right in!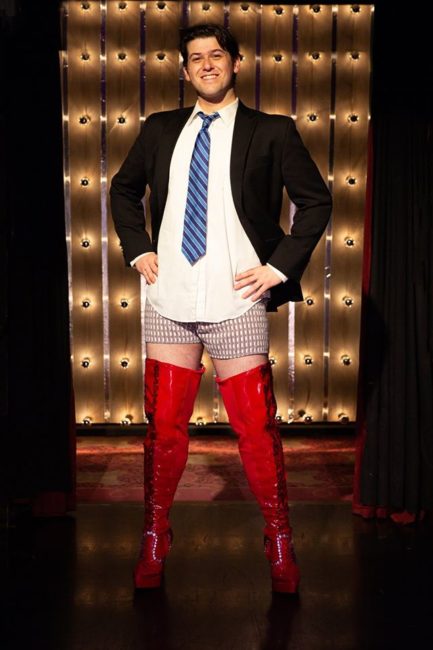 Matt Hirsh: I'm Matt Hirsh, I play Charlie Price of Price and Sons in Kinky Boots, and I recently played Danny Zuko in Toby's Grease (Summer 2019) as well as Jack Kelly in Toby's Disney's Newsies (Spring 2018). Most recently, I played both Dr. Henry Jekyll and Edward Hyde in Jekyll & Hyde with Free Range Humans (Fall 2019) in Frederick, Maryland.
DeCarlo Raspberry: I'm DeCarlo Raspberry, I play Lola in Kinky Boots and the last thing I was seen in was Don't Let The Pigeon Drive The Bus (Christmas 2019), which was a Kennedy Center Theatre For Young Audiences show, which I just performed in and will be going on tour with to Seattle. I was the cover for the pigeon and the business man; I will be playing the business man and the cover for the pigeon in Seattle as well. The last thing I did hear at Toby's was The Bodyguard (Fall 2019), I was Bill Devaney, the manager. Audiences have also seen me here at Toby's in Grease (Summer 2019) as Johnny Casino, and in The Hunchback of Notre Dame (Spring 2019)as Clopin, the narrator. And before that was Sebastian in The Little Mermaid (Christmas 2018), for which I won a Helen Hayes for Best Supporting Actor in a Musical.
That is something you two have in common, right? Winning a Helen Hayes Award? Matt, you won a Helen Hayes but it wasn't here at Toby's.
Matt: I won for the role of Frank Abagnale Jr. in Catch Me If You Can (Fall 2016) at NextStop Theatre Company.
Have you two ever been in a show together before, outside of Grease?
DeCarlo: Other than Grease? I don't think we have.
Matt: No, no we have not. This— Kinky Boots— is our first chance to really play together. Johnny Casino and Danny Zuko don't do any interacting. So this is a very different experience as we're playing opposite one another for basically the entire show.
That's fantastic! What is it about the show, Kinky Boots, that made you say, "I want to throw my hat into the ring" and try to be a part of that show?
Matt: The first thing that I understood about this show was that the musical is fantastic. Cyndi Lauper's music is amazing. And Harvey Firestein cannot write a "bad" bad book in my opinion. I love him; I love his work. So to combine those two wonderful aspects for a show that has a really important message behind it as well— actually, not even 'as well', the message behind this show is so important, it's actually the leading factor that made me want to be a part of it. Those three things motivated me to take the opportunity to jump in. It was the right move.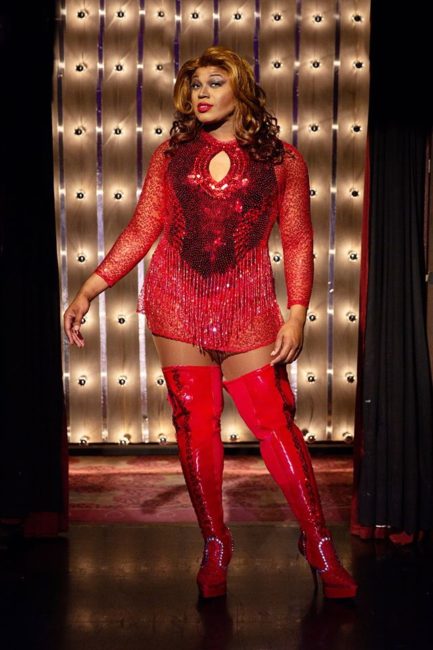 DeCarlo: So for me, I threw my hat in the ring for this. When I heard that it was coming here, I said, "Oh that's great!" I was familiar with the show because I saw it in New York, I saw it with Porter as Lola (Billy Porter, role originator from the Broadway) and then also saw it with J. Harrison Ghee (iconic Drag Queen Crystal Demure) who was just as great. For me, the biggest thing for this show was that it was fresh off of Broadway so we've only seen touring versions and Broadway versions— I did not fit the type of Lola. I thought that I didn't fit the type of Lola. I also thought my voice is too deep for the role. But I threw my hat in the ring, I'm just going to come out to this audition and have fun. I'm going to have fun with people and honestly just be with people and enjoy the time that we have. What started as something I went out to have fun with, has turned into this amazing thing. Because now I'm a part of the "Lola Crews"; all the regional people who have ever played this role, I'm one of them. This role is not for the faint of heart and it is an honor to be the first Lola in the DMV area. I really think we have a great, solid production. The fact that it's done in the round and in a smaller space than the bigger theaters in the area, is pretty amazing.
DeCarlo, you have always looked amazing; I have always thought you look amazing, and you definitely look amazing right now. What is it like to represent this "not-Lola-type" that you were talking about? You're going outside of what has previously been seen or expected from the Lola physique and structure, what is that like?
DeCarlo: Interestingly enough, a woman said to me after the show today, that she saw the show at The Kennedy Center a while ago and it took a minute for her to get used to my physique as Lola. That is the first that I have heard that and we've been open for almost a month. I think being that this show is fresh off of Broadway, what I have seen is other regional theatres cast Lola in the "non-traditional" way. We haven't been seeing the skinny, tall man or the skinny 5'10" man. It's been more broader men, thicker men; it's been men. What we consider men. It's that beefier, buffer man. It feels good to represent that part because that also lets someone know that even in this particular role, you may not look like Billy Porter, you may not look like Wayne Brady or J. Harrison Ghee, but you are yourself.
And isn't that the message of the whole story? Just be? I feel like Drag is just so subjective. You can't rag on someone else's Drag because it doesn't fit this preconceived stereotype. If that's what their Drag is— bigger or beefier or thicker— then that's what their Drag is. The heart of this show is "Just Be." So whatever shape or sizes that we all bring in, I think that it's great. Being able to represent a fuller sized man is great. It's almost like getting to represent a thicker woman. What you also see is that there are women out here who are taller, we also have to think about the female. There are thicker women, there are taller women who have bigger feet than the average woman would have; they have size 12 or a size 13 foot. So when they see us as men, walking in the same size shoes, that lets them see that they can look great doing just that or getting dressed up and going out for a night on the town in those big heels. They're able to see, "Oh, I look just as great. If they can do it, I can do it."
I'm going to venture out on a limb here, Matt and say that it is most likely 100% your first time in Drag-height stilettos?
Matt: In stilettos? Yes…but not in heels.
Ooh, is there a back-story here? We want to hear it.
Matt: There is, actually. I understudied a musical called Cake-Off, at Signature Theatre (Fall 2015, a part of the Women's Voices Theater Festival). I understudied Jamie Smithson, who got to play one man and two different women. One of the women was in flats and the other was definitely not. I had to practice, and I actually got a little bit of female body positioning training during that run; it was very informative. So when I got to these heels, it wasn't like I was completely unaware of how to walk in them, but I definitely needed some good advice from all of The Angels and Lola, because that helped me not break my ankle the very first time.
Have the heels presented a challenge for you?
Matt: Oh they have, actually! I'm sure if our readers know the show very well, then they know that Charlie can't necessarily walk in them very well to start. For the first couple times that was more real for me than I would have hoped. Over time, though, I am a little more confident in them. It's kind of like singing poorly when your character can't sing but you're a trained singer who knows how to sing properly? Now, I have to work harder to walk bad in them because I feel comfortable in them.
DeCarlo, first time in the Drag stilettos?
DeCarlo: Not at all. Not at all! When I was in college, I attended the Boston Conservatory, we used to have Drag Shows. They were the biggest show at the Conservatory. Out of all the main stage productions and black box shows— and this was even in the Black Box Theatre— Drag Shows were the biggest. I went the first year, and it seemed like it could be fun. Prior to seeing that, when I was younger, I used to watch The RuPaul Talk Show. I thought RuPaul as a woman. I never knew that it was actually a Drag Queen. When I was in high school, I started watching RuPaul's Drag Race. I got acclimated and I got hooked on watching this art! I've been watching RuPaul's Drag Race from the first season. I just got so hooked on this art; these people are amazing. And then there was a show that came on before RuPaul called He's A Lady, where they took all these straight men and did them up as women and had them do competitions— there was only one season, but anyway! When I saw the Drag Show at the Conservatory, I thought, "well, this is something I can do." I figured I would try my hand at it. I did it my first year. I was a voice major; all of the musical theatre majors participated in the Drag Show. I didn't study musical theatre, but I did it my junior year and my senior year.
Then there was a casting call for Rocky Horror here, with EarlOrrin Productions (Summer 2015) they were looking to do their first all-black shadow cast. I did in Mt. Rainier, MD and I did it a few times. I was Frank-N-Furter. So this is not my first rodeo in the heels. I still have the videos from that experience; I was younger then and I looked great. So Kinky Boots is a bigger scale and a bigger stage and we're all up in those shoes—
Wait a minute. How many pairs of shoes does Lola have?
DeCarlo: She has the opening red, the blue heels— and that whole outfit that compliments those blue heels? That's an original from the costume department, they made that just for me. So the red, the blue…I have the Simon shoes, and the Simon tennis shoes. We also have the red and black boots, which we use for "Lola Reprise" and also in "What a Woman Wants" and then I also have pewter shoes, the high-heeled ones with the leopard outfit. So that's seven— and then the Kinky Boot. At the end. I think that's eight.
Which one is your favorite?
DeCarlo: I think my favorite shoe is probably the red and black boot. Now, I love the Kinky Boot, it's a walk, but I dance a lot more in the red and black boot. Those boots are everything!
Sorry, Matt, I'm not going to ask you what your favorite shoe is for Charlie, he's only got the one!
Matt: I have the two! I have the Brogues— the generic Price & Sons shoe— which I'm wearing because no one will buy them. It's true! But my favorite boot is obviously the Kinky Boot at the end, because it's the only boot I get to wear, and also because— have you seen it? It's amazing!
What have been the challenges of Kinky Boots, the show— we've discussed all the challenges of walking in the boots— but what has been challenging for you about the whole process of this show?
Matt: For me, specifically, is saying some of the things that Charlie has to say in the show. It's painful to say thing that you as a person don't feel at all. And to say it to people that you enjoy, even knowing that you're both playing characters in that moment, it is still staring into the face of someone you care about and work with, and then saying these terrible things, honestly the most terrible things you could say, it's hard. It's definitely tough and it took some solid working through my own personal issues with what was being said to be able to say it the way I have to say it as Charlie in that moment.
DeCarlo: Your body has to learn, physically, to get used to things that you aren't always doing day to day and that can always be a challenge, but I think for me, the biggest challenge for me from day one was dealing with "the father" issue. It's a two-fold thing. One— I'm dealing with a character whose father didn't except him for who he was. Me being an actor, me doing my thing, me being in this business— my father always accepted that. So I'm walking in the shoes of somebody that I'm not used to. And I think that was a big challenge for me because I have to think that in my personal life I'm accepted but in this character's life I'm not accepted. The second part of this is that I lost my dad the year before last. Coming off of the heels of Dreamgirls, that was the last show that he saw me in, that Valentine's Day right after, he passed away. So I'm dealing with that loss when I sing— you know both ballads deal with the father issue. Being in that nursing home scene, knowing that what I'm saying is not for my father because my father always accepted me, but now I'm in the mind of Simon— but how I connect is "Simon, your father is getting ready to die, and you know that he is" and it brings up my feelings of what I've been through and that has been the challenging part. Trying to make this real and balance it on the same scale has been a true challenge.
What is the moment that defines the show for Simon and Lola, but also as DeCarlo the performer? And Matt, we'll ask you the same question but with Charlie and Matt in mind.
DeCarlo: Where we kind of meet in the middle? I think that we all have that diva that lives inside of us. So I think for me where Lola and DeCarlo matches is all of that first act. It's literally all of "Land of Lola", the whole introduction— even the education that Lola gives Charlie on the difference between a Drag Queen and a Transvestite; I'm a teacher, I'm an educator. So I love to educate people. Lola and I are neck and neck and that's the hard part— not letting me come out but rather being immersed in who Lola is and enjoying Lola taking the front seat and me just being a passenger. It's me, but when the makeup comes on, when I put on the wig and the heels, and when that red sequin dress comes on and I run out on that stage? Lola is here. Literally. From the time I take off the coat and I enter back on stage; Lola is here and she stays. We meet, even during "The Sex is In The Heel"; I'm cheering Lola on but we meet all the first act.
I think, now as we're getting deeper into the run, that meeting is starting to seep into the second act as well. Especially with "What a Woman Wants" and into the boxing scene. Now, when we get to the fight scene— between Charlie and Lola? That's all of Lola, that is definitely not me because me? Whoo! Some of the stuff Charlie would have said to me— Ha! I would have had him dragged!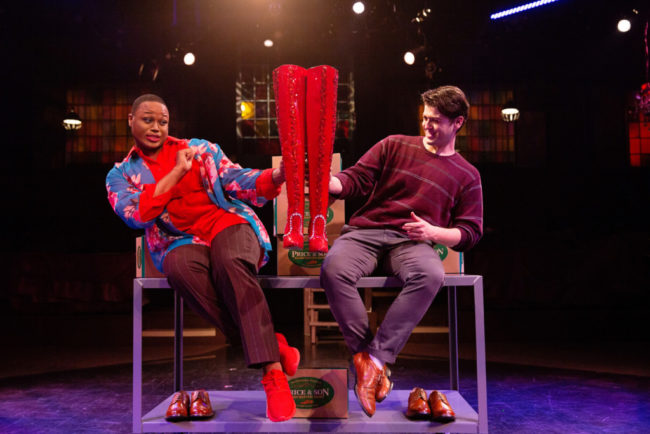 What about you, Matt? Where are Matt and Charlie coming together? I know you said they are definitely not coming together during the vitriol on the factory floor fight scene…
Matt: Oh God, no, we don't. Kind of like the disconnect for DeCarlo and Lola in that moment, because they wouldn't handle it the same way? Neither would I and Charlie, that's for sure. For Charlie himself, his defining moment is pretty clear cut. It's in the song, "Soul of a Man" when he realizes that everything that he has been trying to do, while his heart was in the right place as far as trying to save these people's jobs and the factory and really make something that he really has no idea what to do with— that's when he realizes that his tactics of getting there have not been at all friendly or kind. That's when he realizes he needs to figure out how to become the man that he wants to be. That's his defining moment for sure, but for Matt, because I don't necessarily connect with him during the fight in Act II and that's a lot of Act II, for Matt, I connect with Charlie's journey in that moment right before "Everybody Say Yeah!" It's almost the end of Act I and Charlie finally decides that he wants to do his dream. And not someone else's.
There's that moment and then coming out to do the fashion show as Charlie is a defining moment for me because there are just things in life that I just realize that you just have to do. You can't sit there, and you can't falter, and you can't worry too much. Getting up on those heels the first couple times? I was a little worried. But you just have to do it. Going out there, even though Charlie fails, Matt had the confidence that he needed after succeeding with the heels.
What is your favorite moment on stage? It doesn't necessarily have to be one that you're in, but it might be.
DeCarlo: My favorite moment is the end. Not because it's the end of the show but because it's the end where you see all the factory workers come out and then you see the audience. After our reprise, after the bows, the reprise is my favorite part because when I look at the faces of the audience people are on their feet; people are happy. And I feel like "we did it, y'all! We did our job." Not I did it, not he did it, but we did it. It was a collective effort and that is where I start to tear up. I get emotional because there are a lot of people sitting in this audience that if they were to have seen me— as Lola— on the streets, they wouldn't have felt comfortable. But these people, and I applaud the people that stuck it out for the first couple of scenes, because I'm pretty sure when we hit the stage— they were confused. And I know there are a lot of people who think, "What the hell is going on?" This is one of those shows where you don't get the education until after Lola has done her intro bit. Either you're in it at the beginning or you're more— "I'm unsure, I'm just going to sit here…I paid money so…at least they fed me." But when we get to the end of Act I? Everyone is on board. Everyone who wasn't sure, who didn't know? Everyone is on board. It's this feeling of "Yes! I get it, I understand it!" And I think the pivotal scene for that is the "I'm Not My Father's Son" scene. That scene is the pivotal moment for all of those people who were skeptical. They have this moment of "Oh. This touches me in a different way because I'm not like my father either." This show just happens to take the focal lens of someone being in Drag to do that. The Drag persona is even almost a backseat player because the show focuses on all the other stuff that makes us not like who our parents wanted us to be.
If you could be someone in the show other than Lola and Charlie— any role, any gender, no holds bar— who would you be and why?
Matt: That's a good question! Honestly, I think I would want to be Trish, who is played by Jane Boyle in this show. Trish's character has all of those "throw-in" really funny lines, and all the zingers. But her character is kind of gruff, so you don't expect any of them. And then you hear them, and you just go with it. I love those "catch-you-off-guard" comedy moments. So definitely Trish.
DeCarlo: Trish too! Let me tell you something. Trish has all the best lines! I am telling you— Jane Boyle cracks me up! Every night on stage; all of the bits that I have with her are the funniest moments! Because it's just literally her saying, "Oh I thought that was me." Or "I like big hands. I like to bite." That literally is me.
Matt: I'm really happy that we both chose Trish.
What's your favorite outfit, Miss Lola?
DeCarlo: I think my favorite outfit in this show— now I do love that last outfit, the red dress from the finale— but I think my favorite outfit is the blue! It was made just for me. Literally it is my favorite. It is perfect and it is the outfit.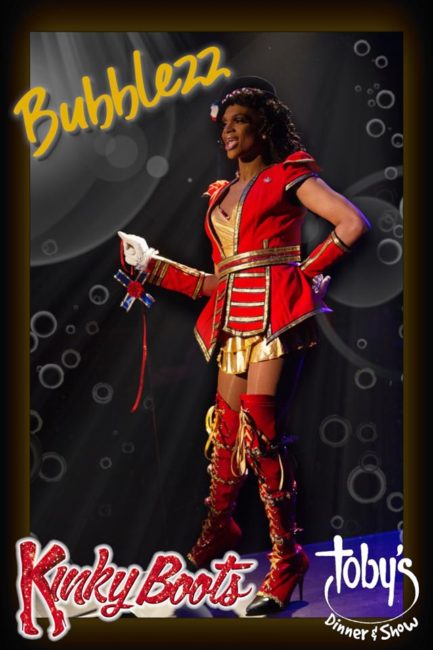 If you could wear any one of the Angels' couture pieces from the fashion show, which outfit would you wear?
DeCarlo: It would be the one that Bubblez (played by Michael Mattocks) wears. Bubblez is wearing the red outfit with the cane, it's red and gold. It looks like the 'Beef Eater' bottle of gin. I love that outfit.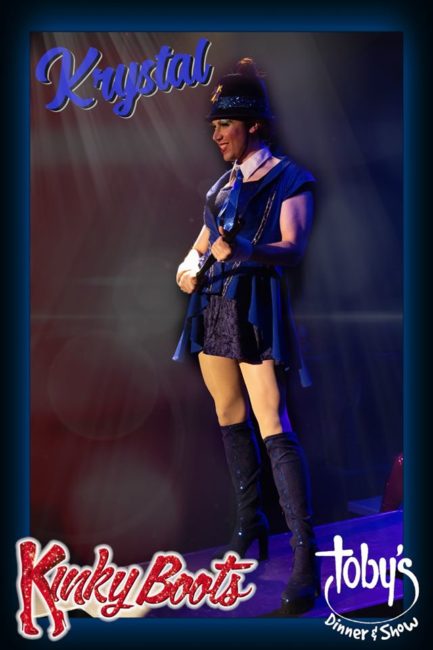 Matt: I actually do know which outfit that I want, because it holds a special place in my heart because the outfit is a newspaper print? I want to wear the outfit Krystal (played by Ariel Messeca) wears at the end. Because in Newsies, you know, newspapers, and I give love to Newsies. Plus I saw Ari wearing that and I got so upset that for one— I wasn't wearing it— and for two— none of the boys in Newsies were allowed to wear it. I wanted all of us to be able to wear that outfit, so that's my angel costume that I would love to be wearing if I could.
What has being Lola taught you about yourself, DeCarlo?
DeCarlo: The Lola I channel is all the unapologetics of my aunts, of my mother, and of all the strong women in my family. I think we do pay a great homage to the original Broadway cast, and that I do definitely pay homage to Billy Porter who set the role for us, I think the reason why I was able to connect with Billy and with J. Harrison Ghee is because our backgrounds are kind of similar. We're Black, we grew up in that Christian Black home, with Black Christian expectations, and it's a little bit different than most people. So this— what they call "sissy stuff" or "Drag stuff"— is not what's really accepted in our community. But what I love is seeing these older women— these older Black women who love it and who are just so accepting of it. I believe that they also see a bit of them in what's going on with Lola on stage. Lola has really taught me to be unapologetic about what I'm doing. To be unapologetic about life, about my performing.
Being that I was an opera major and I was not an MT (musical theatre student), I had so many insecurities because I felt like I wasn't good enough. I felt like there were many shows where I felt like I wasn't good enough. I felt like I finally found myself as a performer in this side of the business when I left here (Toby's), and not that here didn't make me feel that way because when I walked through this door, Toby Orenstein asked me to cover Kevin McAllister in Ragtime, which I did for the last two weeks of that run and to cover Anwar as Booker T (Anwar Thomas as Booker T Washington in Toby's Ragtime, Fall 2015.) It wasn't them; it was me. I felt like I didn't measure up. It wasn't until I left here and I did shows like Brklyn and I did Ragtime at Strathmore with the Young Artists of America, which Toby Orenstein submitted my name for, when I did those shows, I started to feel like I was doing something right. I started to accept myself as a legitimate musical theatre performer. It wasn't until a year later, in 2018 when we did The Little Mermaid where I started to really accept that I am good enough.
There are just certain things in this business that make you not feel good enough. You go out on auditions, and you feel like you know you can do it, you know you put your best foot forward, but they just don't want you. Be it big theatres or small theatres, and it's a hard lesson to learn that it's not me, it's just that in that moment I'm not what they're looking for. Even the camaraderie among colleagues, you don't always feel that support. The show I remember feeling that way was Dreamgirls(Toby's Fall 2017); I just felt like I didn't measure up. But I found out that I did. At the end, I found out that I was doing a great job, that I was doing what I supposed to do. Fast forwarding to Kinky Boots, even with the whole Helen Hayes situation, which took me by surprise— you know two nominations and "they don't know me", so I didn't think I was going to win at all! But it felt good because it felt like the work that I've been doing was being seen by other people and that they finally saw the work. They saw the growth. It felt good to be validated. So I've just learned now, with this— with Kinky Boots, with Lola— you cannot sorry. You have to be unapologetic. You have to throw yourself into it and just ride the wave.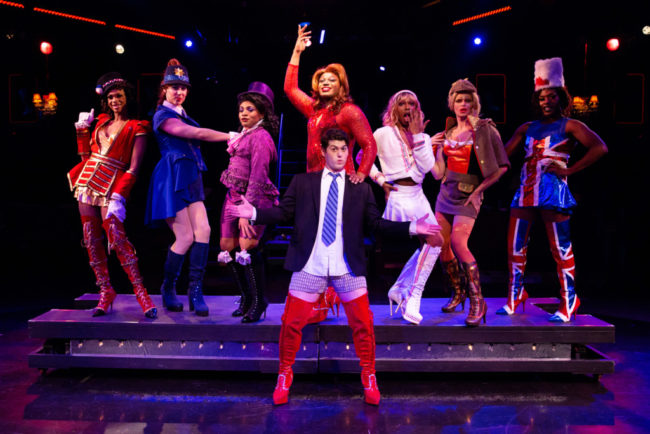 What has being Charlie taught you about yourself, Matt?
Matt: I would say that what I've learned through this specific role is that being the bad guy when its important is important. While I struggle to say the things that I have to say, even when I got to a point where I could just say them, I was still apologizing for saying them. That's not what the moment that hits home calls for. It's like finding the strength to say some awful things because without those awful things said that way, the real message of the show doesn't happen as meaty or doesn't hit as hard or land as good. Audiences come out at the end, and I guess they approach me because I'm Charlie, and they're sometimes still not too sure about the Angels so they come over to me first and they will say, "I had no idea what I was in for but I loved every second of it once I was on board."
Just Be. What does that mean to you?
DeCarlo: Literally. Just be. It's like the scene where I tell Don (played by Russell Sunday) to accept someone for who they are. Just be. That's the thing, I think some people leave here and some people think that this is my life and that I am actually a Drag Queen. I get people coming up to me all the time saying, "I just want you to know that you can just be yourself!" And I smile and just say thank you, but it also hits home because while I'm not a Drag Queen, I am just being me in doing this show and doing what I love. Being a Drag Queen is a lot of work. I think for the Drag community it is very important for people to understand that while a lot of people think its recreation, it's not. It's so much more than that. This is people's livelihood. It's not just work; it's their artistry. And I consider them artists just like us. Just being for me is literally just what it says. Just be. Just be who you are. Be okay with your imperfections. Be okay with your perfections. Just be.
Matt: I'm also an educator during the day. The moment of "Just Be" really hitting hard for Matt as Charlie, not just Charlie as Charlie, is when Don gets everyone else to accept Charlie for who he is. And this entire time, Charlie hasn't really accepted Lola or the Angels for who they are. In that moment, I actually feel a connection to my students, because they often deal with not knowing how to navigate their interactions with each other. Someone makes an observation about a physical characteristic and that is a really interesting thing to have to work through with children. I have often been saying, "You can just be you and that's perfectly fine." Because it really does mean a lot; this message is so important. I think if younger generations hear it? It will be a great building block for the future of our country.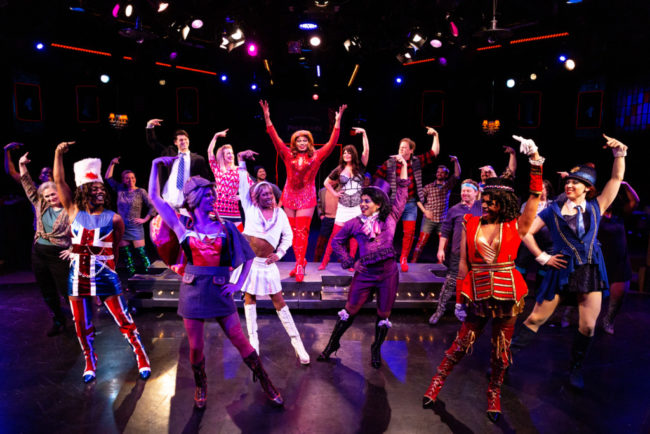 What is it that you want people to take away from Kinky Boots? Why should they come see the show?
DeCarlo: I think they should come see the show because its never ever too late to learn or too late to accept. I also think that they should come to the show because it's a great time. It's a loving atmosphere. It's good laughter. It's good, meaty lessons in this. It's a lot of lessons. Sometimes, some of the lessons— because I'm in it— fly over my head, but just talking to the patrons that come here, they say, "it's just so many good things, I have to really go home and digest." To receive messages on social media, Instagram, Facebook, etc., of how they enjoyed the show and how it really affirmed for them who they were, and that they can really accept these people for who they are; that is something that is really needed in this time. A lot of people are not accepting of people— whether you're black, white, brown, blue, purple, gay, straight, bi, lesbian, or you're Muslim, Christian, Jewish, whatever you are— a lot of people are not accepting. So I think the big message that comes from this is a high level of acceptance. It's something that we should always be reminded of; we should always be in a mindset of acceptance of people. We all come from different backgrounds so my responses to different things are because of my background, my experiences, my trauma. But when you get to know someone well enough, you'll understand that their 'being' is because of where they came from. It has nothing to do with us. But if people operated in that mindset of acceptance, more often I think a lot of misunderstandings could be understood.
Matt: I have to agree 100% with DeCarlo on this one because acceptance begins with understanding. A lot of the audiences who aren't sure of what they're getting into just don't understand and have no way to relate, which is why I really feel those heartfelt moments of truth and real emotion like during "Not My Father's Son." They are so crucial to the audiences' understanding. Without those moments, they don't feel as connected to both characters. We have to understand each other first in order to compromise, even to get along when we disagree. We have to be able to understand exactly what DeCarlo said, everyone is who they are because they were formed through their life experience and through their background. We cannot fault people for that; we need to support people. I'm going to say it— we need to walk a mile in their heels.
Kinky Bootsplays through March 22, 2020 at Toby's the Dinner Theatre of Columbia— 5900 Symphony Woods Road in Columbia, MD. For tickets please call (410) 730-8311 or purchase them online.
To read the TheatreBloom review of Toby's Kinky Boots, click here.