The sex is in the heel! And the heels are all over that stage at Toby's Dinner Theatre of Columbia as they are serving up a big old helping of Kinky Boots for dinner this winter. Marking the regional premiere of Harvey Fierstein and Cyndi Lauper's Broadway sensation, Kinky Boots has a world of joy to offer. Under the superb direction of Mark Minnick, with Musical Direction by Ross Scott Rawlings, and Choreography by Mark Minnick & David Singleton, this zesty, fiery, fierce musical will infuse you with spirit and bring you pure unadulterated joy with their spellbinding storytelling, sensational singing, and delicious dancing.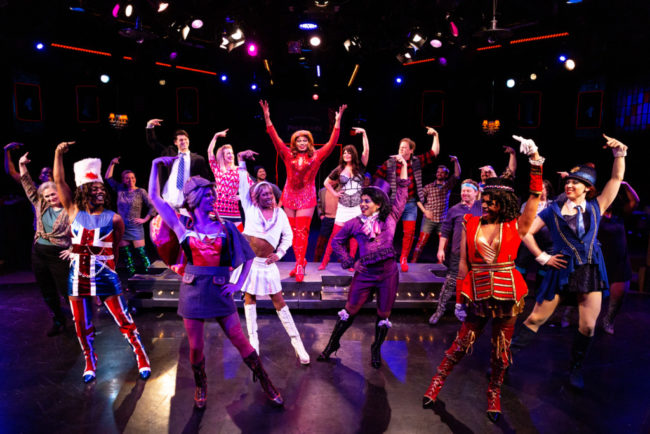 Resident Scenic Designer David A. Hopkins lets his simplistic but superiorly functional set take a backseat to his vivacious lighting design in this production. The sex is in the lights as they dramatize, emphasize, and augment each and every dance number from inside Lola's nightclub in London to the runaway of the fashion show in Milan. The neon-glow boots and their snazzy glowing frames envelop the in-the-round space, and the thrust-runaway that gets used in the final scenes really gives the feel of attending a high-end fashion show. Hopkins captures the effervescent mood that bubbling all throughout the party scenes of the production and reflects that well in his lighting plots. And it goes without saying, but is always worth noting, that his ability to create pristine cross-fades that allow for a world of theatrical scene-change magic on an in-the-round space where there are no walls or wings to cheat with, is— as always— impressive.
The show's aesthetic hinges on the couture of Kinky Boots. Costume Designer Janine Sunday and her team have outdone themselves in pulling together what is arguably one of the most stunning wardrobes that has flare, drama, and clean-polished consistency from start to finish. Sunday's work with Kinky Boots surpasses the standard of excellence that is anticipated with a Toby's production; the footwear alone is enough to wow even the most unimpressionable of audience members. Coordinating fabulous costumes for drag queens is no small feat; Sunday and her team not only craft innovative looks that fit all manner of scenes (from ringside referees with spiky sneaker heels to match to haute couture on the Milan runway and a whole world of wonder in-between) but she and her team really work with the body shapes and types of the entire cast to have each person— in drag or not— looking stunning. The cornflower-blue inspired palette featured on Lola when she first visits the factory floor is stellar and arguably one of the most impressive color compositions in the production. Sunday puts the sex in each of those heels (and outfitting a company of nearly two-dozen each with their own unique pair of 'kinky boots' is praiseworthy in and of itself!) It's remarkable how impressive the overall costume design for this show is, how utterly cohesive, polished, and fantastical it all appears on each member of the company.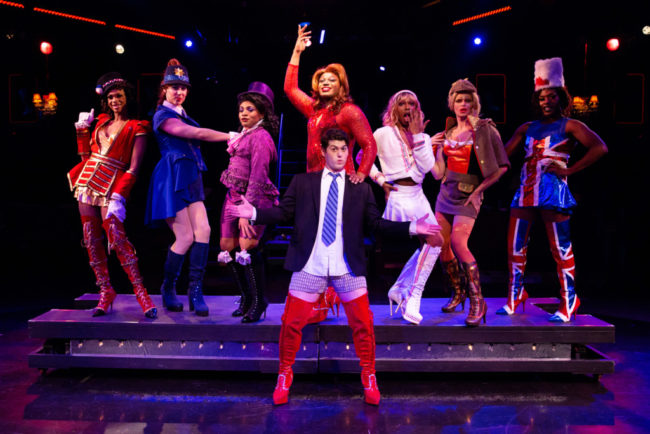 And the only thing that might possibly upstage all of Sunday and her team's impressive efforts is the striking dance as co-conceived by choreographers Mark Minnick and David Singleton. While Minnick's signature style of capturing emotion by way of dance moves that move with the beat rather than overtop of it is present, there is something fiery and refreshing seen in this co-choreographic adventure as the pair take Lola's Angels to jaw-dropping new heights. Anyone who's ever tried to walk around in a pair of stiletto heels knows how tricky it can be. Minnick and Singleton have six Angels and one Lola turning it out on the dance floor to well-deserved, thunderous applause. Screaming praises goes to Solomon Parker and David Singleton (Angels) for achieving some gob-smacking 'jump splits' during "Sex Is In The Heel." Minnick and Singleton work well to keep the enthusiastic energy going through all of the dance routines, not just the ones featuring Lola and the Angels. This is witnessed readily during the Act I finale— "Everybody Say Yeah", as well as during "What a Woman Wants", where the ladies of the factory ensemble get to showcase some snazzy tango-adjacent moves, and again during "Raise You Up/Just Be" the show's conclusory number.
From a directorial standpoint, Minnick brings this heartwarming story to the forefront of the audience's experience. The intimacy of the in-the-round venue works to his advantage in this arena, but it is Minnick's seasoned cultivation of such storytelling moments that draws the audience into the Kinky Boots' narrative, which at its core is simply about "being yourself and accepting others without question or judgement for being themselves." And it is all channeled through the purest and simplest of feel-good emotions: joy. The emotional detail that arises from spoken scenes— the scene that Lol and Charlie share in the gent's loo and Charlie's meltdown on the factory floor come immediately to mind— is honest and forward, putting substance into the flash of this tale. Minnick nuances the production in this fashion from the opening scenes, which feature Little Charlie and Little Lola (at this performance Jonah Hale and Gavin Lampasone— and Lampasone has a voice to be reckoned with in his briefly sung features), through to the conclusion as well as every step of the way. Firestein's book treads dangerously on stereotype but Minnick infuses emotional honesty and substance into each of these characters so that they become more than just an idea, but actual human beings living an experience. The character work for Kinky Boots is superb, the storytelling divinely focused; this makes the overall theatrical experience not only engaging but heartfelt.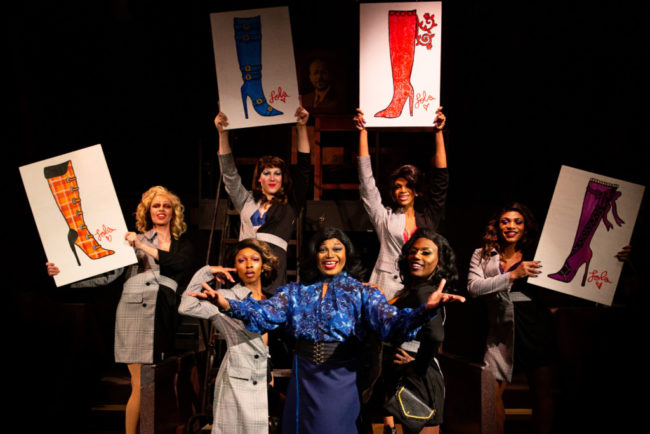 With an company of just over two-dozen, there are bodies moving everywhere and no one gets lost in the fray. The entire ensemble is feeling and sharing the joy with high-octane energy and enthusiasm consistently throughout the performance. The female factory ensemble (Adrienne Athanas, Jane Boyle, Heather Beck, Coby Kay Callahan, Samantha McEwen Deininger) are the ones to watch, particularly during "What a Woman Wants", where each of these five fantastic ladies get a chance to showcase their vocal and dancing prowess. Jayne Boyle and Adrienne Athanas are of particular note, respectively playing Trish and Pat— floor-workers of a certain age— as they have bristly edges that amp up their comedic moments in a subtle but noteworthy manner. Athanas, Boyle, Beck, Callahan, and Deininger have featured vocal segments throughout this number as well as sprinkled throughout the performance, with Deininger getting to showcase her powerful sound during one of the early echoes of "The Most Beautiful Thing/Price & Son Theme" early in the production. Callahan also deserves a nod, perhaps even the award of "scene stealer of the show" for her brief cameo as the outrageously over-the-top-but-in-a-perfectly-balance-fashion Milan Stage Manager. Her monochromatic couture is as zesty as her Italian accent and you get it for all of five seconds, but it is truly a memorable five seconds.
Domineering with a frosty personality, Nicola (MaryKate Brouillet) is the string that's pulling Charlie out to London and away from his family legacy of shoes in North Hampton. Brouillet, whose accent is quite consistent, delivers a bristly edge in her portrayal of Nicola and gives everyone a reason to like Lola and her Angels that much more. Appearing as the polar opposite of the composed, albeit frigid, Nicola, the batty and dotty Lauren (Jana Bernard) serves as a mildly irritating bout of comic relief. Bernard, who puts forth great effort to keep the Lauren character from being too clownish or too much like a caricature, bustles some of the plot-line along in a series of oddly endearing moments with Charlie.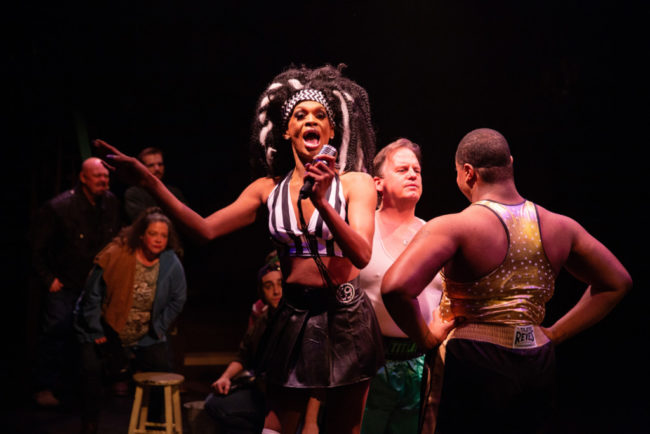 Harvey Firestein and Cyndi Lauper bring in the character of Harry (Dustin Perrott) but to little resolve; he appears as an old-days chum of Charlie's but is given a warm vocal number, "Take What You Got" to get the essence of the plot-crisis underway. Perrott has strong, sound vocals that work well for this number and the brief banter between his Harry character and Charlie helps to set the tone of the show early on. With fewer spoken interactions, George (David James), the devoted-servant character to whichever person happens to be assuming the factory role of Mr. Price of Price & Sons (though it is worth mentioning that for the 30-seconds David Bosley-Reynolds gets to play Mr. Price he does so with firm gusto and imbues his song, "The Most Beautiful Thing" with hearty pride.) James' George is quirky and dorky and adorable in all of those closeted stereotypical mannerisms that he brings forth when interacting with Charlie, Lola, and the Angels.
Of course, part of the antagonistic factor of Kinky Boots is the closed-minded, judgmental persons of the world that are— for this production's sake— embodied whole-heartedly by Don (Russell Sunday.) With a relatively consistent working-class North Hampton accent, Sunday becomes this bigoted uneasy bad-guy that everyone recognizes, and nobody likes. Spouting the vitriol that makes the world a cruel, nasty, and ugly place, Sunday's character gives Lola the opportunity to really and truly just be; showing everyone how much more of a man Lola really is compared to Don. And although the transformation that the Don character undergoes is presented in a far subtler fashion than the one that Charlie Price achieves, it is no less powerful or impressive. Sunday also has a rich, robust voice to add to the ensemble, which fills out the lower range during a great many of the show's numbers.
And then there are THE ANGELS. Drop mic. Walk away. Slay. (At this performance) Quadry Brown, Randyn Fullard, Michael Mattocks, Solomon Parker, David Singleton, and Mark Sullivan are serving up serious sass, severe sexuality, and hot-n-devious dance moves like no other. Each Angel just POPS with personality and sashays their way across the stage with an intense ferocity secondary only to Lola. There was already a shout-out to Shanté (Solomon Parker) and Kiki (David Singleton) for their jump-splits, but the next set of shout-outs goes to Bubblezz (Michael Mattocks) who doubles up as they sexy-strutting referee during "In This Corner." (Again Singleton and Minnick's slow-motion precision with the boxing-match choreography is so fantastic that the illusion is just mesmerizing and well-deserving of extra praise!) With boisterous, well-blended voices that pump pizzazz all through "The Land of Lola" and its reprise, these Angels are not just on fire, they're dynamite! Brown, Fullard, Mattocks, Parker, Singleton, and Sullivan are giving a show all their own that far surpasses the price of admission. It's so fantastic it almost defies description.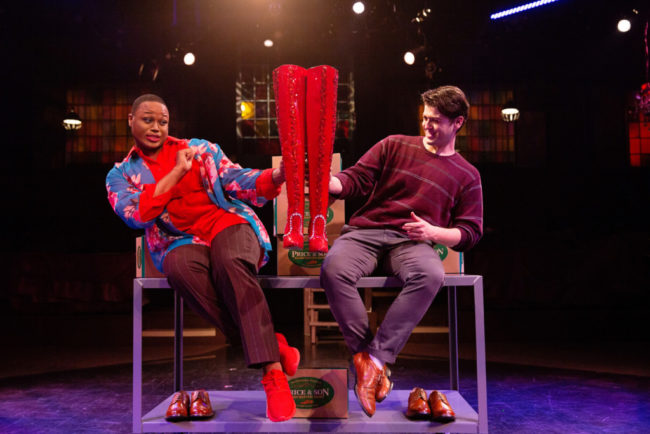 At the center of the sensational chaos and calamity is plain Charlie Price (Matt Hirsh), whose defining moment on stage comes late in the second act. Hirsh, who has impressive vocal command and an astonishing ability to really emote while sustaining long notes at the end of a number, brings an incredible stage presence to his performance as well. There's raw honesty, compassion, and deep character flaws that are well-engrained into the Kinky Boots' narrative. When Hirsh tackles "The Soul of a Man" he takes you for an emotional roller-coaster ride, really brings out each and every feeling one can have for a character undergoing a soul-searing transformation of heart. The factory floor meltdown, which serves as the precursor to that number, and the deeply moving phone call to Lola just after that number are polar opposites of the emotional scale but juxtaposed so perfectly together by Hirsh's precision focus on the growth of his character; it's beyond remarkable. Watching Hirsh discover Charlie's true passion and inspire a factory with joy is a wonderful, feel-good experience like no other.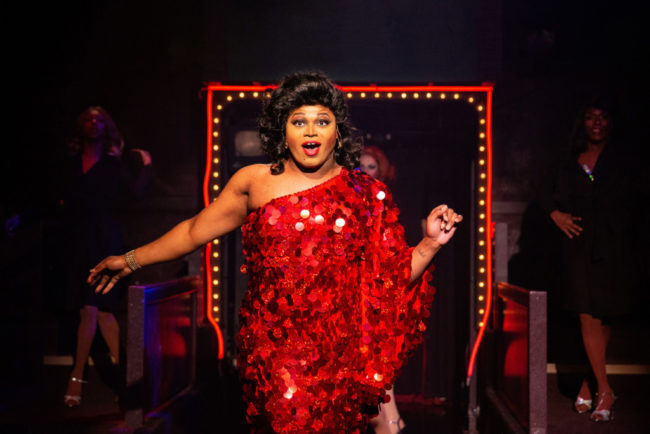 Chasing after miracles and nailing it 100%, DeCarlo Raspberry brings forth an incarnation of Lola that will have you on your feet screaming for more by the end of Kinky Boots. The astonishing versatility that Raspberry presents almost defies description; some sort of quintuple threat on six-inch stilettos because he sings, he dances, he runs in heels with gravity-defying body moves, he acts, and he sasses all over that stage in a show-owning performance that is undeniable. There is an outrageous, larger-than-life quality to Raspberry's Lola; his Lola is fierce and fiery and seductive and a little crazy. There's no stopping Raspberry's Lola when she's on a role, especially when screaming out her demands for sex in a kinky boot. But there is a versatility like no other in Raspberry's performance as well. The raw vulnerability that is readily unearthed during "I'm Not My Father's Son" and later in "Hold Me in Your Heart" brings tears to the eyes and really puts everyone in the house on TeamLola. Raspberry has a stunning voice that is well-suited to these heart-wrenching ballads of honesty and truth, all while managing to balance those endearing honesties against the queen persona that dominates Lola at her core. Walking a tightrope 50 feet in the air over a flaming fire pit seems less complicated than the precision balancing act that Raspberry not only attempts but achieves with vivacious success when it comes to keeping all of the elements that comprise Lola in equal parts with one another. Not to mention the sheer physics-defying ability that Raspberry brings to the stage, running, dancing all around, and thundering up and down those stairs in those heels. LOLA gets whatever Lola wants and with damn good reason; DeCarlo Raspberry's Lola is a phenomenal sensation, truly the epitome of a perfect performance and a triumphant landmark in the young actor's stage career.
Just Be— at Toby's! For Kinky Boots; when your bubble busts, let them raise you up and that's exactly what this production and its incredibly talented cast and crew will do all night long. You've never seen anything like it or anything quite so impressive and joyous on their stage as this production of Kinky Boots and you'll be sorry if you miss it.
Running Time: Approximately 2 hours and 50 minutes with one intermission
Kinky Boots plays through March 22, 2020 at Toby's the Dinner Theatre of Columbia— 5900 Symphony Woods Road in Columbia, MD. For tickets please call (410) 730-8311 or purchase them online.
January dates are sold out, call the box office for the standby-seating list. Tickets are selling fast for the remaining performances in February and March.