Queenie was a blonde.
And Burrs will make you happy.
And Kate is the life of the party.
And maybe they like it that way.
They're raising the roof over at The Greenbelt Arts Center with their wild, wild party. Not just any party, but Andrew Lippa's The Wild Party, directed by Jeffrey Lesniak with Musical Direction by Elizabeth Alford, and Choreography by Rikki Lacewell. Tumultuously destructive, catastrophically visceral, and emotionally gutting, The Wild Party ensures that the audience is in for one hell of a bumpy ride.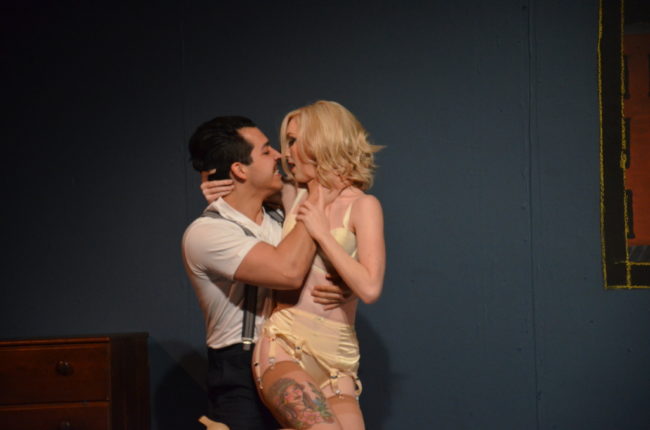 A Manhattan apartment in the mid 1920's, the set's construct is not. Director Jeff Lesniak has done little by way of aesthetic to steadily ground the production in either its temporal or spatial setting, but with the impressive leading talent he's procured for the show, lackluster design elements are forgivable. The under utilization of lighting (with the exception of two very striking moments designed by Lesniak, once using sharply focused rectangles of light for a quartet moment and once with a wash of mood-infused blue) the slightly haphazard nature of the set's layout, even the costumes (Rikki Lacewell and Shemika Berry) lend themselves more to the idea that these are modern individuals perhaps throwing a poorly organized 1920's themed party. (Which arguably could have been a roaring concept to work with if it had been intentional rather than an awkward, albeit functional, accident.)
The show's choreography is uneven; for as impressive as the number that Rikki Lacewell creates and delivers for "Let Me Drown" is as flat, jumbled, and sloppy as other numbers like "The Juggernaut" are. There are also large missed opportunities for choreography sprinkled liberally throughout the production; it is difficult to discern if this was a spacing issue as the "play space" for the party inside the apartment is somewhat restricted. The choreography that does appear, while not clean, is energetic, enthusiastic, and the most era-appropriate feature of the production. There's a lot of shimmy-based gesturing, which smacks hard of the 1920's.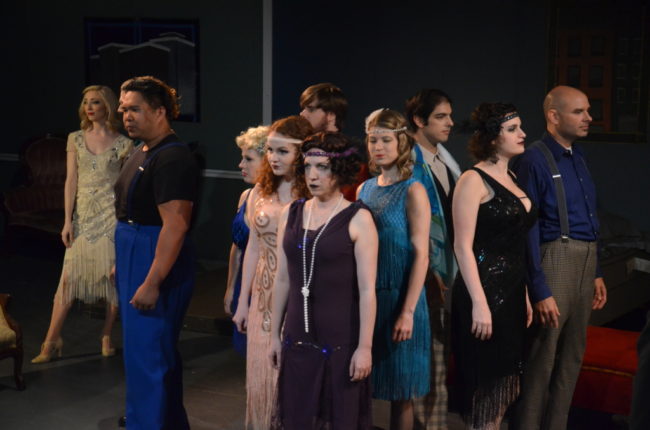 Musically, the production is strong; there is an emotional undercurrent that rips through ensemble numbers with force. Musical Director Elizabeth Alford commands an impressive seven-piece orchestra (David Booth, Phil Cannon, and Stan Potter on reeds, Earl Smith on trumpet, Tyler Golsen on guitar, Chip Racster on bass, Larissa Hannon on drums) while manning the piano, and balances that sound against the performers superbly. There is no overplaying, no overbearing, and a keen sense of keeping time and tempo from Alford's orchestra. The guttural cries of feeling that tear forth from the ensemble are equally balanced in their pitch and intensity; there are only minor instances where maintaining tone and pitch become an issue and these occur during minor character solos.
The ensemble (Judah Canizares, Matthew Cibak, Daniel Dausman, Jessie Duggan, Kit Flaherty, Lauren-Nicole Gabel, Becca Glatt, Katrina Jackson, Dash Samari, David Yarmchuk,) does provide a thrumming backbone of energy and pathos throughout the performance. All are named party guests; each arrive with their own personality. The nature of the show calls into operation the talents of Intimacy Consultant and Coordinator Stephanie Davis, whose work in this production is stellar. The hyper sexualized and sensualized scenes (not just between principle players but between the whole of the ensemble throughout the production) resonate without artifice; the importance of comfort and consent for the players clearly at the forefront of Davis' methods. Matty Montes deserves similar praise for his authentic fight choreography, which heightens the sense of violence and fury that surges throughout the performance. Montes focuses on an edgy feel; the punches look real, the brutal, sexual attacks, turn your stomach.
Andrew Lippa's book is not without insubstantial filler; the roles of characters like Madelaine True (Lauren-Nicole Gabel) and Jackie (Katrina Jackson) provide no momentum or structure to the plot but rather serve as ornamentation to the chaos. Jackson, whose character is a silent dancer, is done somewhat of a disservice by Lesniak's poor lighting design as the majority of her scene "Jackie's Last Dance" is shrouded so heavily in darkness that the audience doesn't witness most of it. Gabel, who gets the silly-filler number "An Old Fashioned Love Story" uses her character-driven gimmicks to mine the number for its comedic nuggets and provide much-needed levity to the show.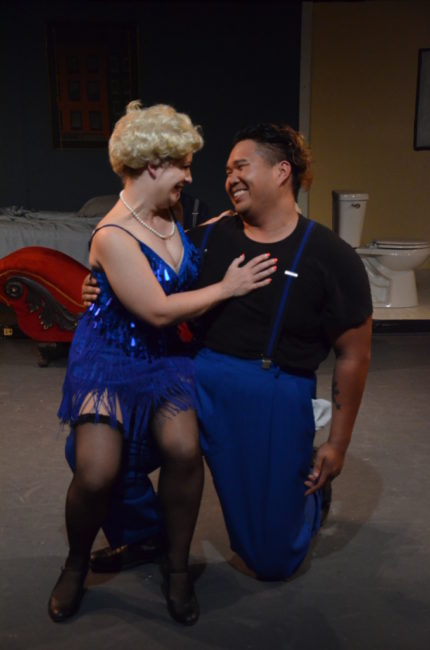 Similar can be said for the function of the Mae (Jessie Duggan) and Eddie (Judah Canizares) characters, but both Duggan and Canizares take their heightened caricature roles and embrace them, really invigorating them with a punchy and plucky liveliness. Duggan masters this sharp vocal affectation that makes her a real New York City broad of the times, whilst Canizares relies on his hulking physical bronze to win over the audience's hearts. The pair are adorable together, particularly when they team up for the delightfully saccharine routine, "Two of a Kind." Both have strong, well-toned voices, both deliver sincerity behind their larger-than-life characters, and both are a welcome addition to the overall ensemble.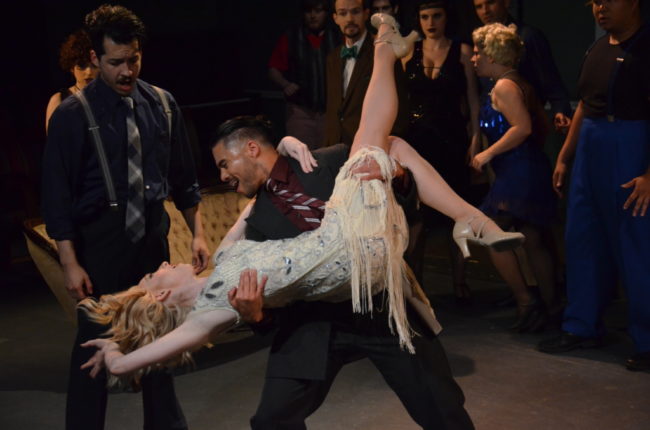 Black (Brian Dauglash) arrives in the thick of it; showing up at this party as the unexpected guest, in a sense. Dauglash has extreme potential as a talented performer, though his character choices suffered from a lack of any discernable direction. His interpretation of Black left the audience wanting stronger choices, but this can hardly be faulted to Dauglash. Possessed of an enigmatic charm, when Dauglash rolls into his "The Gal For Me" he delivers a sleek and swanky vocal persona that creates a harsh juxtaposition to what follows in his solo "I'll Be Here." The dynamic opposition presented between the two back-to-back numbers— one street savvy, one sincere— is an impressive showcase of Dauglash's versatility. With good pitch, level sustains, and an overall, albeit misguided, investment in the character's core reasoning, Dauglash is a success as Black in The Wild Party.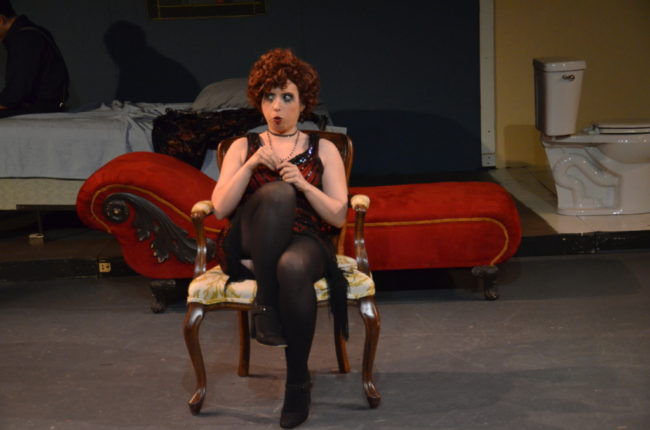 The life of the party, and a vocal gymnast to camouflage her choral shortcomings, Melanie Kurstin is an evocatively provocative Kate. Storming the scene, Kurstin bursts through the door and bellows out "Look At Me Now" and reprises a similar energy and emotional effort for "The Life of the Party." The moment she clutches desperately at her lavalier (and the entire facial play that occurs within that moment) is one of the most hysterical and simultaneously disturbing moments in the production. She's a living caricature of excess and affluence circa 1922 personified, amplified, and thrown on display. Her role in the quartet "Listen to Me", which she shares with Black, Queenie, and Burrs, is harrowing.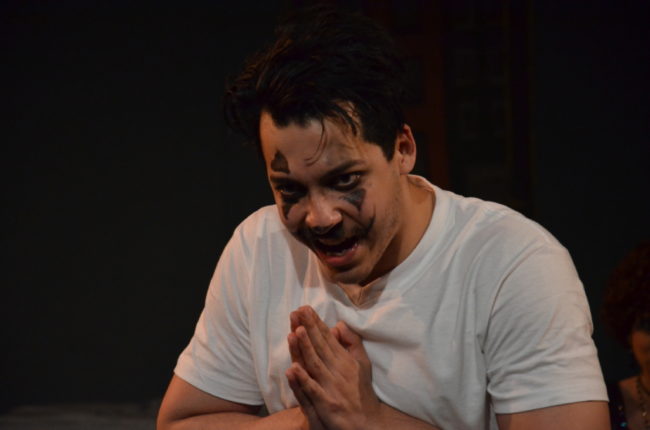 Matty Montes creates an unsettling enigma out of Burrs. There is a rare, albeit grotesque, humanity that he imbues to the character's nature, which makes it vexing to hate Burrs outright. The volatile chemistry that erupts between him and Queenie is unnerving at best. The energy that courses through Montes' Burrs is a frenetic, smoldering lava that eventually explodes all throughout his voice, face, and body. There is a perpetual jitter that sets him on edge for "Let Me Drown." This entire number sets the audience at the edge of their seat, making you squirm and yet unable to look away. With powerhouse vocals that make him a contender for strongest voice in the show, Montes creates a monstrous human or humane monster out of Burrs, plunging the fathomless depths of the twisted distortion that is the character's blackened existence. "Make Me Happy" is an utterly terrifying number that just drives nails up the spine.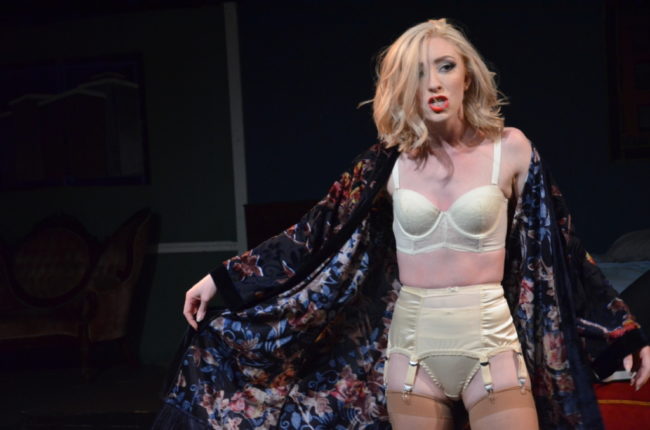 Broiling hot vocals that extravasate like Vesuvius, does not being to do justice to the trifecta triple threat that is Lindsey Litka in the role of Queenie. Her mercurial performance charts the globe around, spiraling into a black hole of emotional thunder like no other. From the opening number, simply called "Opening" through to the shocking conclusion, "How Did We Come to This?", Litka delivers ferociously intense vocals, with stellar pitch, and striking consistency. Her powerhouse belts raise the roof every time she wails (especially in "Raise the Roof") and the tortured, twisted, soul of her character rings true every step of Queenie's journey. Frighteningly vulnerable during "Maybe I Like it This Way", Litka presents a versatility second to no other in this production, undulating from eviscerated to destructive to distraught to vixen, over and over, each movement of her character's soul more drastic than the one before. Belting to blow off the roof in "A Wild, Wild Party" (and other numbers too numerous to list individually), Litka will astonish audiences with her raw vocal power, her striking sincerity in the role, and her overall dynamism, ensnaring everyone's eyes, ears, and hearts in Queenie's tale.
They'll tell the evening where to go. They'll make you happy. It's a wild, wild party, this production of The Wild Party, and the principle performers, backed by a strong ensemble will rip into your soul for a musical theatre experience like no other.
Running Time: 2 hours and 20 minutes with one intermission
The Wild Party plays through September 15, 2019 at the Greenbelt Arts Center— 123 Centerway in historic Greenbelt MD. For tickets call the box office at (301) 441-8770 or purchase them online.