Mamma Mia! Here they go again! My, my, just how much you've missed them! Mamma Mia! What a show again— my, my, how could you resist them? Well don't resist too much longer as they're just at the midway point of their six-week revival engagement of the sold-out stage production of Mamma Mia! at Toby's Dinner Theatre. After sensational success last season, with a 13-week engagement that made getting tickets for Hamilton look easy, Toby's Dinner Theatre has revitalized and revived their stellar production of ABBA's jukebox musical, under the direction and choreography of Mark Minnick, and it's got everyone jumping in their seats!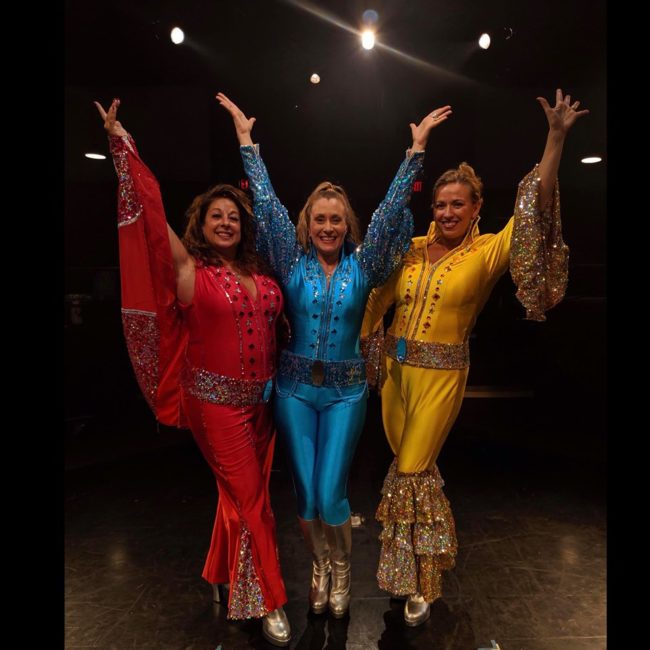 While most of the cast have reprised their roles for this sizzling summer production, there are a few new additions that only serve to heighten the overall caliber of the production. Joining the ensemble full time (having previously swung the show last summer) are Toby's household staples MaryKate Brouillet and AJ Whittenberger. Lending their strong, well-toned voices to all the ensemble numbers (and respective backup harmonies) as well as their spirited presences on the stage for the company dance routines, both Brouillet and Whittenberger are an integral part of that fantastic feel-good energy that permeates the entire production. The company as a whole feels revitalized and newly awakened to the production, as if they never stopped playing their parts and are still discovering little nuances and habits for their characters, whether they're in the ensemble or a leading figure.
Stepping into the role of Ali, Patricia Targete brings an effervescent buoyancy to the gal-pal support system that is there for Sophie. Targete is spunky and chipper, bouncing about emphatically with loads of natural glee that really causes you to pay attention to her during "Honey, Honey" but without doing so in a distracting fashion. Targete brightens the duo of Ali & Lisa, the sidekick foils to Donna's own Rosie & Tanya, with her vibrant, candid nature.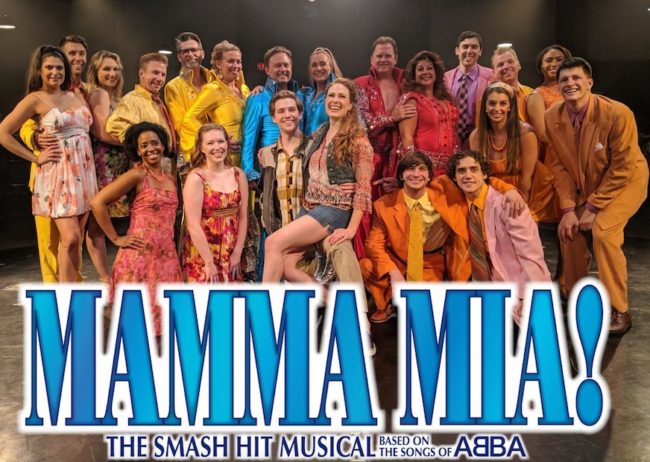 Owning the role of Rose, the incomparable Tina Marie DeSimone delivers a knockout performance that is so punchy and full of sass that it'll spin your head right round. Deeply and truly understanding the zippy nature of Rosie, DeSimone has a sharp understanding of how to interact with Tanya, Donna, and Bill Austin (reprised by Coby Kay Callahan, Heather Beck, and Russell Sunday, respectively.) Her comic timing is impeccable, and she brings a lively dynamism to the character that is both funny and genuine. There is an earnest level of compassion that DeSimone pours into the start of "Chiquitita", before all of the hilarious scene-chewing shenanigans begin with Callahan's Tanya character, demonstrating a perfect balance between character-driven comedy and emotional sincerity. But DeSimone's big take-home win is in her big blowout number, "Take a Chance On Me", the duet shared with the aforementioned Bill (Russell Sunday.) Humorously precise and saucier than pizza, DeSimone really riles the level of innuendo and hysterics up in this song, earning roaring responses of laughter from the audience. DeSimone unites the trio of Donna, Tanya, and Rosie with this unwavering warmth, with a unique vocal sound that really adds passion and heart to their trio tunes, "Dancing Queen" and "Super Trooper."
Heather Beck, Coby Kay Callahan, Russell Sunday, and the rest of the reprising principals— Maggie Dransfield, Paul Roeckell, Darren McDonnell, and Jeffrey Shankle (as Sophie, Sky, Harry Bright, and Sam Carmichael) as well as the reprisal ensemble (Brandon Bedore, Justin Calhoun, Joey Ellinghaus, David James, Rachel Kemp, Ariel Messeca, Shiloh Orr, Cassie Saunders, Nia Savoy, Haley Wells) radiate a magnificent energy and sense of joy all throughout the production, making this revival one of the most exquisite in Toby's theatrical history.
Don't delay! With just 18 performances remaining where there are still tickets available, you will not want to miss this once-in-a-lifetime chance to catch all the glory and grandeur that is Mamma Mia! at Toby's Dinner Theatre!
Running Time: Approximately 2 hours and 35 minutes
Mamma Mia! plays through September 8, 2019 at Toby's the Dinner Theatre of Columbia— 5900 Symphony Woods Road in Columbia, MD. For tickets please call (410) 730-8311 or purchase them online