Stephen Sondheim is synonymous with darkly themed, intricately scored, chamber pieces that hold a mirror up for the audience to self-reflect. On the surface, the fairy tale wrappings of Into the Woods seem to defy that with brightly colored costumes, unusually bouncy tunes, and a familiar cast of characters voicing a plethora of wishes and dreams. But do not be fooled, because Sondheim, with book writer James Lapine, has drawn his on-the-surface quaint fable not from Walt Disney's stable of technicolor, saccharine stories of triumph over evil, but on the original tales by the aptly named Brothers Grimm, and wait till you see what Uncle Walt left on the cutting room floor. Under the inspired direction of Diane M. Smith and precise music direction (always a major factor in a Sondheim score) of Charlotte Evans, Beth Tfiloh Community Theatre's annual summer production is a highlight of an unusually strong Baltimore community season.


Into the Woods has become, despite its inherent challenges, a staple of local theatres and high schools due to its familiar and accessible characters and the large number of great roles for all ages and genders. It is safe to say that in the 30 years it has been available for amateur performances, it has been widely performed. Make that over performed. No, let's be honest, done to death. However, no matter how many times you have seen this show in the past, do not let that color your decision to dismiss seeing this superior production. Smith has assembled a remarkably strong and deep cast and moves them through her tale with an excitement and energy that hasn't been seen since the piece's early days.
For those unfamiliar with the story (but even if you've somehow never seen it, you know the stories), Sondheim and Lapine cleverly weave the Grimm tales of Cinderella, Jack & the Beanstalk, Little Red Riding Hood, Rapunzel, and the Baker and His Wife (loosely adapted from The Fisherman and His Wife, changing professions to better blend into the other stories), and a few fun references to others, together as they all pass through the woods and intersect with each other in charming and fun pursuit of their own personal dreams in search of their individual Happily Ever Afters. However, knowing Sondheim, that is Act 1. Act 2 is a separate tale of "Be Careful What You Wish For." Continuing where the Grimms left off, we see that the dream one chases can potentially turn into a nightmare. The dreamy, innocent wishes of getting the guy, finding the fortune, and having the child, come with a price of the very adult realities of infidelity, retaliation, responsibilities, and even death.
Smith's cast universally rises to the challenges not only inherent to the piece thanks to Sondheim, but also in their ability to make a stock piece seem fresh and fun, with voices and performances as strong and balanced as one could, well, wish for.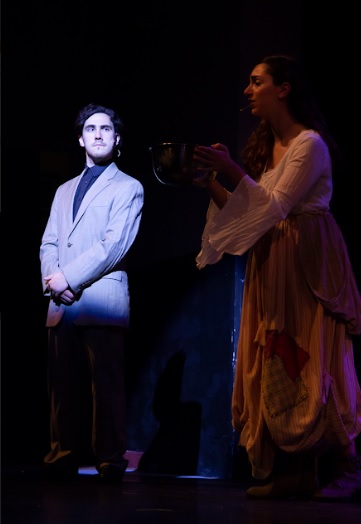 Hannah Elliott is thoroughly charming as Cinderella, who opens (and closes) the show with her beautiful, crystalline voice. Pinny Schachter, a local musician making his stage debut, is impressive as the pretty but dim Jack whose best friend is a decrepit, dying cow. His energetic portrayal of an impetuous young fool forced to grow into a responsible young man is hopefully the first of many to come. Carly Dagilis is feisty and funny as a Red Riding Hood that wolves should fear.
Gabe Lewin and Nicole Smith give the show a grounded emotional center as the Baker and His Wife. Lewin plays the Baker less as an Everyman and more as an underdog, making him even more sympathetic. Strongest praises in a strong cast however, go to Smith in the pivotal role of the Baker's Wife. An accomplished actress and vocalist with an easy style and versatile voice, she plays effortlessly in any scene with any character, as funny in the comic ones as she is affecting in the emotional ones.
The central role of the Witch, whose demands of ingredients for a potion sets a scavenger hunt into the woods in motion, is a tricky one. Spending the first act in the rags of a crone while doing the most demanding vocals of the show, she later has to transform physically and vocally into the beautiful sorceress she once was. Most local actresses nail the witch and stumble on the glamor. Sherry Benedek unfortunately does precious little to disguise her youth and attractiveness on either front in the first act, other than gluing on a fake chin and producing the occasional cackle. As a result, her first act Witch is rather uneventful. However once Benedek transforms from "hag" to gorgeous, she lands squarely in the diva zone and delivers in all areas, from comic sass to the most beautiful and haunting numbers of the show. A little makeup and a slight character voice would go a long way to even the imbalance, but at least she, unlike many, goes out on her highest notes.
Other supporting roles note mentioning. Kerry Jungwirth as an age-appropriate Jack's Mother (why does everyone cast the mother of an adolescent boy as a 60 year old woman?) has fun with a younger, brassier portrayal while using her usual stellar vocals, both making her character more real and not the cartoon she usually becomes. Paul Kennedy and Eitan Muranson provide strong comic relief as the narcissistic Princes pursuing unattainable maidens Cinderella and Rapunzel respectively. Their duets of "Agony" are two of the brightest moments of the show as they discover the pursuit is infinitely more thrilling than the acquisition. Ilyssa Rubin makes the most of Rapunzel, a potentially thankless role that can easily vanish into the scenery, with her soaring voice and expressive presence. Yitzi Turniansky brings a Rod Sterling-like gravitas to his role as the Narrator, Carl Oppenheim is a menacing figure who seemingly haunts the woods, and Michael Turniansky provides a lighter touch than usual as a marauding foil of a big, bad Wolf. But there is not one weak performance or voice from any player in the numerous smaller and ensemble roles.
Technically, set designer and co-artistic director (with Smith) Evan Margolis creates alternate worlds of light and shadows with an efficient set that utilizes compact tree, stump, and house units that fluidly move around with the performers to elicit different areas of the woods. He accents these with a smart series of projections (assisted by Josh Land and Eli Golding) that are a step above the usual local attempts of static scenes with little correlation. Margolis and crew highlight theirs with some nicely utilized animation which provides effects that most just allude to offstage. We see leaves sway and bounce under a Giant's footsteps. We see Jack's beanstalks grow to the sky. And we see a felled giant come to her demise, which has rarely happened since the original Broadway design. While certainly not as elaborate as that production, Margolis deserves kudos for envisioning how to make it work.
Laura Lavon, Tyrell Stanley, and Eliav Hamburger provide a moody palette of light designs, heavy on gobos to give a light-through-the-leaves look at various times of day. They are mostly successful with a few minor slips of missed cues where spotlights come up four bars late on a soloist, the most obvious being, unfortunately, the climax of the first act when Benedek sheds her rags and becomes radiant, sadly in deep shadows. Instead of the anticipated reveal, the audience had to wait till her next scene to see the full-on transformation (which was nonetheless worth waiting for).
As if cultivating a captivating leading role wasn't enough responsibility, Nicole Smith performed double duty as costume designer. She cleverly mixes realism and whimsy from different eras to create a patchwork of timeless looks, as different characters from different stories would bear. She wisely blends colors and layers and makes earth tones a color family of their own, all of which flatter her castmates' builds and complexions. The only beat missed is a wig for Cinderella's Stepmother, especially when the Stepsisters sport fun, over-the-top platinum blonde "hairdon'ts." Cardinal sin of community theatre 101 is the use of the bun as the universal period hairstyle, when in fact unless you're musicalizing Little House on the Prairie, it's virtually never the right look. However, that is how strong and unified this production is that such a minute point can be called upon as the rare criticism.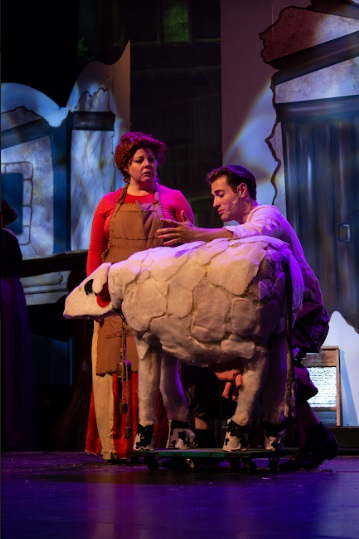 Music Director Charlotte Evans' grasp on the music is strong and necessary. She gets amazing sound from all her vocalists and ensemble, and her command over her very accomplished pit may even be more masterful. Her musicians blend every note of a composer known for discord as the default harmony to stirring effect. As a conductor, she does, however, let some of the paces drag. What should be the peppier numbers, particularly Red Riding Hood's "I Know Things Now", Jack's "Giants in the Sky", and The Bakers' "It Takes Two", as well as the aforementioned "Agony" and the title song all drag slightly and fight the natural energy and buoyancy the vocalists bring. Although none of the singers suffer per se, when Sondheim gives you a break from the ballads, run with it, as any Sondheim show cam profit from shaving a welcome 15 minutes off a cool 3-hour running time.
But the hero of this production is Director and company founder Diane M. Smith. She has proficiently created a fantasy world and weaves her actors fluidly and slickly through it, choreographing a seamless story of musical vignettes while pulling perfectly nuanced and balanced performances from her stellar cast. In the meantime, as technical and artistic director, she deftly oversees and takes on more than most standard directors in your typical venue.
On this note, Smith deserves much praise for not only her work here, but as arguably the hardest working figure in Baltimore community theatre. Already the busy founder and managing director of the premier educational and performance flagship of Baltimore children's theatre, the award-winning Children's Playhouse of Maryland, coupled with her duties as a teacher and resident director at Beth Tfiloh, her plate is fuller than most. But she recognized a void in the community and created yet a second company in Beth Tfiloh Community Theatre, perhaps the most honest incarnation by definition of true community theatre, to fill it. While there are community theatres popping up at every second church basement and private school in the county, when Smith teamed up with former student Margolis to launch BTCT, they not only provided the only community theatre in the Pikesville region, but the only theatre in the entire metropolitan area that honors the Sabbath requirements to allow the orthodox members of the community to fully participate in any aspect of the group. Foregoing the big money nights of the theatrical world with no performances or rehearsals on Friday or Saturday, BTCT is truly a theatre company that honestly serves and embraces a neglected sector of the artistic community and should be commended on providing a true need to the local arts.
Thankfully, courtesy of this customized schedule, there are still two chances this week to see BCTC's unique and thoroughly enjoyable production of Into the Wood. In itself a cautionary tale, the only caution to be added is to not stop at Granny's, or for treats, or for a Ball, or a castle in the sky, but to proceed directly to the Rosen Arts Center at Beth Tfiloh to enjoy this welcome gem before it too disappears on its third night.
Running Time: Approximately 3 hours with one intermission
Into the Woods, a Beth Tfiloh Community Theatre Production, plays through August 21, 2019 in the Mintzes Theater of the H. Morton Rosen Arts Center on the campus of Beth Tfiloh— 3300 Old Court Rd in Pikesville, MD. For tickets call the Box Office at (410) 413-2417 or purchase them online.