This year marks a special milestone as Fluid Movement has been entertaining Baltimore residents for 20 years. As someone who has been contemplating watching Fluid Movement's Water Ballet for over five years, I'm glad I decided to finally treat myself to what I had been putting off. The theme of this particular show is a celebration of Water Ballet's history, mixed with technical achievement, care-free fun of the summer, new creative ideas, the beauty of what can be done by a fleet of swimmers dedicated to artful entertainment, and a special factor humorously announced as "What the f(censor bleep)!", during the show. I must confess, the reason I have wanted to see this for so many years is that so many of my friends have described it, making it sound out of this world, through the sheer size of the production, from synchronized swimming as a medium to tell a story to gigantic props, and they weren't lying.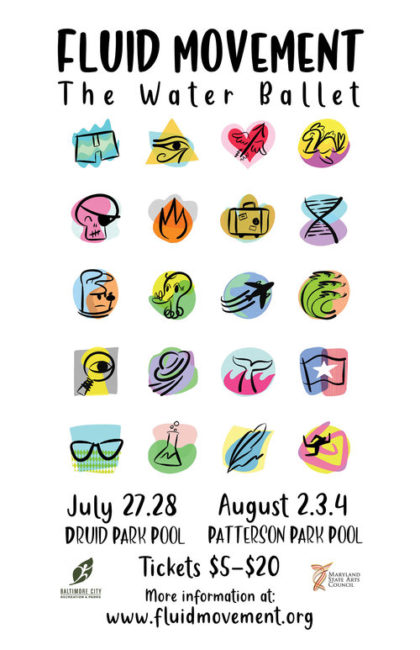 The show opened with the introductory vocal stylings of Melissa "Heatstroke" Sharlat, of her own arrangement, before an introduction to a building inspector played by Clarence "Asbestos I Can", seemingly bent on shutting down Fluid Movement, being given a guided tour of the show by the Fluid Movement Magical Being, played by Kira "Pure Infatuation" Wisniewski, with dialog rich in exaggerated, self-aware comedy as the magical being teases the inspector with subtle mention of the running gag that is this show's giant puppet prop – the ultimate violation! A rewritten version of Willy Wonka's song, "Pure Imagination", with lyrics tailored for the show, sets the mood as our inspector is lulled away from his apprehension, as perhaps the magic that is the rest of the show is also doing to the audience.
A Swimming Tentacular
As someone only recently aware of the synchronized swimming art form, watching A Swimming Tentacular, directed by Suzy Kopf and Marta Zoellner offered a glimpse into what is possible when so many people of all sizes, shapes, genders, and backgrounds come together to form a single, cohesive vision. Legs pierced out of the water only so long as their neighbors, and human forms faded in and out of the surface, displaying unknown hours of crafting a show, before our eyes, in only a few minutes. Tentacle adorned swim caps started things off with a splash.
Summer POOLoza: Tropic Like It's Hot
If the spectacle of well-executed synchronized dance was already holding our attention, Summer POOLoza; Tropic Like It's Hot was an escalation from a small number of excellent performers to a much larger cast, all coming together to say in a loud voice what people of different genetic backgrounds, gender identities, sizes, and shapes can do when they move as one, because they are one. The puppet designs of Sherri "Funshine" Fisher, Sam "Puppet Man" Grossman, and Kelly "Puppet Master" Schmal added a creative edge to a performance already impressive by the sheer number of human forms executing a rhythmic dance over such a large area. The audio playing behind this scene added atmosphere, thanks to sound techs Justin "XX" McAllister, David Dudich, and Brent Tomchiks.
Annabel Lee
Nothing related to Edgar Allan Poe should surprise me, after so many years in Baltimore, where he is a local topic of pride, but for all of his mention and the number of times I have seen him portrayed in advertisements, I rarely see something I think he would have enjoyed. Scene 3: Annabel Lee, directed by Sue "Annapangel Wrangler" Borchard, Margaret Hart, Lilly Perez-Schere, and Emilia Vizachero, who is making her directorial debut while still in high school, was a highlight of my evening. Poe opened the scene with a reading of his famous poem about a sweet love by the sea, which devolves into catastrophe as many swimmers wearing white shirts with Poe wigs, and in classic red dresses as Annabel Lee, swirl kaleidoscopically, telling the story many times, at once. It's a love not meant to be, thus sinister looking angels, with teeth and wings that almost look like mechanized bits of demonic machine, due to shimmering wings and teeth caked with waterproof makeup, descend upon our story and madness ensues in many parts of the pool, as the angels close in. An emotional reading from Poe's poem was transformed into a memorable synchronized swimming interpretation of the same, and as the scene closed and our angels and Annabels climbed out, the magic of this story telling medium had properly been showcased. Even their choice of background music elevated this.
For the Love of Esther
As I settled into my seat to wait for the show to begin, I examined the state of the pool. It was an older, concrete pool that people sitting next to me said could be as old as the 1950's, and I began to imagine all of the generations of different children that must have played in it. For the Love of Esther, directed by Jane "Golden Glamour" Shock-Osborn and Beth "Golden Age" Marshall, starts with a large group of children, hysterically matched to comical voiceovers, discussing how Fluid Movement is keeping them from enjoying the pool. When one of them starts to question how they, too, can join Fluid Movement and learn to perform in the Water Ballet, a beautiful woman dressed in a caped golden bathing suit appears on the scene, to teach them, reminiscent of how Esther Williams dazzled the world into a love of swimming. Esther and the kids have summer fun as we watch what feels like an origin story of water ballet, in general. It was lighthearted and helped shine some light into a room left slightly more gloomy by the tone of Poe's poem.
Allergies!
A hot topic these days, Allergies, directed by Lisa "Berry Sweet" Wiseman, "Latex" Laura Smith, and Barbara "Where's Annelies" Wilgus was cleverly accompanied by a statement explaining that Fluid Movement is not attempting to make light of the seriousness of allergic reactions, and is not equating Celiac Disease with gluten allergy. I commend Margaret "Prancing Pony" Hart for having this in her program design, as I have loved ones who are impacted not only by those topics but the insensitivity surrounding them, and Fluid Movement really stands out for being able to have some fun with a serious topic while letting us know they aren't overlooking the feelings of impacted audience members. Many, many swimmers took to the water, dressed as a plethora of allergens, frolicking across the pool in patterns, until the ominous Gluten cries his name and embarks on the only inner-tube. If Esther's water ballet lesson hadn't returned the audience to a jovial mood, the allergies surely did.
FM 2 Retrospective
Twenty years of themed events took the form of swimmers dressed to represent those themes. With my limited experience watching Fluid Movement's Water Ballet I may not have felt the nostalgia I think repeat fans would have been exposed to, but that did not mean I was underwhelmed as an army of years swam, got in and out of the pool, and made full use of their watery set. This was the spectacular end, and so much was going on to bring it all together into a clockwork of kicks and costumes that I was sad to see it end. Maybe I've grown so accustomed to two-hour movies and plays that I instinctively expect something longer, but they managed to pack so much fun into what time it ran that I couldn't help but want more.
Conclusion
When Fluid Movement's advertisements brag that this year's "20th Anniversary variety show … is sure to delight long-time fans and newcomers, alike.", I can confirm that, as a newcomer, I was delighted to have checked it out. Their accessibility accommodations made it possible for me to attend, so I will forever be grateful for their efforts to open this event to everyone. Swimmers of all ages, shapes, sizes, complexions, financial backgrounds, and levels of skill combining to put on a show, especially something as choreographed and cooperative as synchronized swimming, puts a beautiful face on Baltimore and if only for that reason, you should check out Fluid Movement's Fluid Movement: The Water Ballet.
Running Time: Approximately 60 minutes with no intermission
Fluid Movement: The Water Ballet has performances on August 2, 3, and 4, 2019 at The Patterson Park Pool— 148 S. Linwood Avenue in the Patterson Park neighborhood of Baltimore, MD. Tickets can be purchased at the door or in advance online. Reservations are strongly recommended.