The time is now. The day is here. Les Miserables is on stage at Storytellers: A Theater Arts Academy! Boldly tackling the iconic behemoth that is Les Miserables, under the Direction of Terry Sweet Bouma, with Musical Direction by Chris Pinder, this talented cast of young performers weaves a story like no other with their spirited and emotionally intense retelling of Cameron Macintosh's Les Miserables.


In the hallmarked fashion of Storytellers' musical productions, Scenic & Properties Designer Alex Foley has ink-sketched fabric panel backdrops to create the background upon which the story unfolds. These black-inked outlines of Parisian scenery are simplistic yet intricately detailed. Foley includes a flourish of Parisian pride in the panel that unfurls for the ABC Café, giving audiences the aesthetically pleasing pops of red and blue that complement the white of the flag. Aside from the flag itself, the most notable piece of scenery in any production of Les Mis is the barricade. Foley scales new heights in the creation of this massive set piece, thinking outside the box when it comes to the Bowie Playhouse's lack of turn table. Two interlocking staircases with wooden chair attachments create the cobbled together nature of the barricade. Having the students of the ABC Café physically assemble it (by mounting the chairs to the front of it as the staircases spin around and lock together) adds a layer of truth to its construction and its existence.
Enhancing the show's aesthetic is theuse of subtle but powerful beams of colored light, filtering down directly onto Foley's background scenery panels to indicate time of day. This is particularly effective during harrowing emotional moments, like the crepuscular purple that creeps into Eponine's "On My Own" or the burning glows of orange that arise after the night's blue of "Bring Him Home" at the barricade. The use of sharp, single-color tight focal lights from directly above to highlight critical moments for principle characters, like when Jean Valjean begins his life anew, when Javert is at his wits end, or when Enjolras decries the labors of revolution. All of these designs tie effectively into both Foley's scenic work and the sartorial selections of Costume Designer Alexa Cripe.
While the costumes Cripe sets forth for this production are standard par for any Les Mis course, there are a few that warrant particular praise. Madame Thènardier's outlandish ball gown seen during "Beggars at the Feast"— in its heinous chartreuse and bubblegum pink and matching ankle-length bloomers— comes immediately to mind. The refined and sophisticated black velour coat worn by Inspector Javert is another costume worthy of note as it defines the austere outline of the character. Enjolras' blazing red waist coast is the sign the cast awaits to know that this young student will be the harbinger of revolution. Cripe has an eye for costumes that help characters pop out of the large ensemble.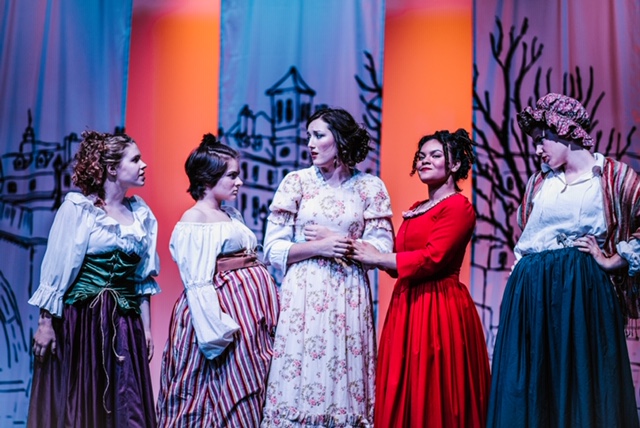 Director Terry Bouma (and ADs Alyssa Bouma, Alexa Cripe, and Alex Foley) and Musical Director Chris Pinder have gathered together a fine assembly of talented young performers and created a quality production of this daunting musical monster. As the company's namesake would indicate, the primary focus of the production is to tell the narrative story. Emotional punch is potently present in many of the solo moments delivered by the principals. There is a strong emotional current that leads the ensemble numbers as well. Musical Director in particular does an exceptional job of balancing the pit to keep with the performers on stage. Bouma and Pinder work together to create steadfast harmonic blends and swells of sound that resonate with resplendent pathos through every song.
A ferociously enthusiastic ensemble carries the group numbers with strength, gusto, and vigor. Factory Women (Leah Ball, Eden Logan, Anna Pasquarelli, Abigail Pimpo, Grace Wagner) add sassy spirit to the verses of "At the End of the Day" which happen on the factory floor. And their catty fight choreography aggressively addressed at Fantine is intense. (On the whole, the fight choreography throughout the production feels spot on, clean, and authentic, particularly the throw down that occurs during "The Confrontation.") Revolutionaries (Andrew Ball, Leah Ball, Logan Dunfee, Louisa Fix, Nathan Kawecki, Joel Pasquarelli, Lucas Schueckler, Thomas Schueckler, Grace Wagner,) blaze a conflagration cause for alarm when the follow the chanting into "Red & Black." Overall the ensemble is filled with buoyant passion and jubilant soul. Thomas Schueckler has an angel's voice, featured during his singing solo moments as The Bishop, only to impress the audience with his versatility by spinning around a few scenes later to play the seedy and unsavory Bamatabois.
Precious despite having no solo lines, Louisa Fix plays Young Eponine and possesses an adorable amount of attitude, simply by standing and staring. At the end of "Master of the House" and the tavern clears out, Fix is left sitting on one of the tavern tables with a picture perfect smirk upon her face; this is a delightful touch to one of just two comedic-relief songs in the production. Naomi Shushereba-Smith is an equally adorable young performer, playing Little Cosette. Given the iconic "Castle on a Cloud" song, Shushereba-Smith is innocent and docile when she sings this eerie little lullaby. Shushereba-Smith doubles up as Gavroche, putting forth a precocious amount of pluck during "Little People."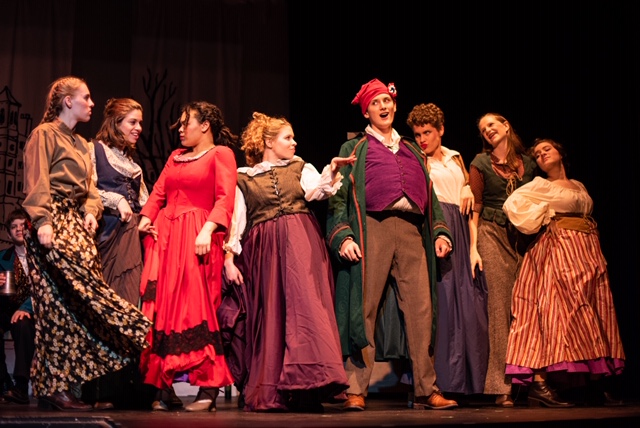 The polar opposite of adorable is perhaps heinously hilarious. Thènardier (Sean Fitch) and Madame Thènardier (Lauren Foley) are just too much for words. Their hysterical antics and madcap maladies add heightened senses of humor to both "Master of the House" (you just watch when Lauren Foley leaps up on the tavern table and try not to laugh at her shenanigans) and during "Beggar at the Feast" where the two— outrageously dressed— strut through the wedding ball like absurd peacocks that own the place. When they first encounter Jean Valjean, their hijinks of fussing over "Colette" add even more humor to the strange situation.
Lovestruck ingénue Marius (Benjamin Fitch) carries a great deal of heart and soul into each of his solos. Emotions are at the forefront of every moment in which Fitch engages. This is especially true for "Empty Chairs at Empty Tables." The intentional slow-motion file-in march of the barricade revolutionaries is a harrowing and affecting instance of flawless, precise blocking that completely elevates the emotional impact of the number. Fitch is winsome and charming, particularly in his duets with songbird Payten Blake, playing Cosette. Blake's voice is serene, full of that gooey soprano lilt that is befitting of the Cosette character. But Blake finds little snippets of depth in Cosette, particularly when singing her solo addressed at Jean Valjean at the top of "A Heart Full of Love." Blake brings a burning curiosity to the forefront of Cosette; this is a pleasant change from the character's otherwise simplistic lovelorn existence.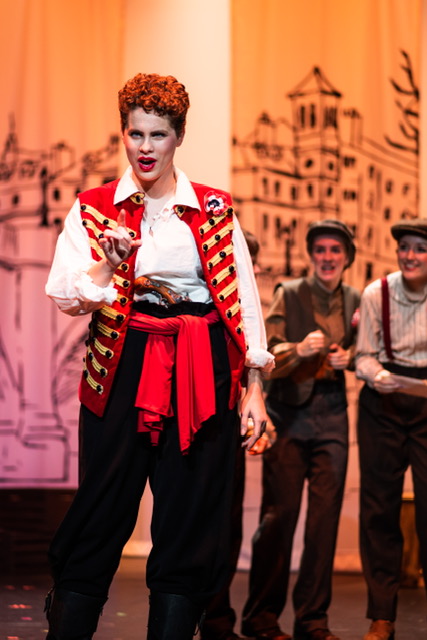 Blazing with vocal and physical intensity, Audrey Kawecki boldly stomps forward in the role of Enjolras. (vocally matched during "Red and Black" by the comically cheeky Abigail Pimpo playing Grantaire with pluck and fervor, especially when mocking Marius in that number.) Kawecki brings forth a stage presence that is essentially a force to be reckoned with; she stands out as a true leader of revolution in this production. The vocal shifts through which she transitions are tricky but ones that she masters with great control, especially during "Do You Hear the People Sing?"
Alysa Fitch finds a stirring soul-searing rendition of "I Dreamed a Dream" as she plays the role of Fantine in this production. Innocent and almost doe-like upon first appearance, Fitch quickly finds her footing as the edgy and desperate Fantine, being forced out of the factory. Equally edgy and soulful is Juliana Schueckler as Eponine. Finding an astonishing blend of sounds when it comes to her singing voice, Schueckler creates her own unique persona as Eponine, bringing together a balanced soundscape of pop-modern belttress with the more classic style of the musical. This is best witnessed in her stunning rendition of "On My Own."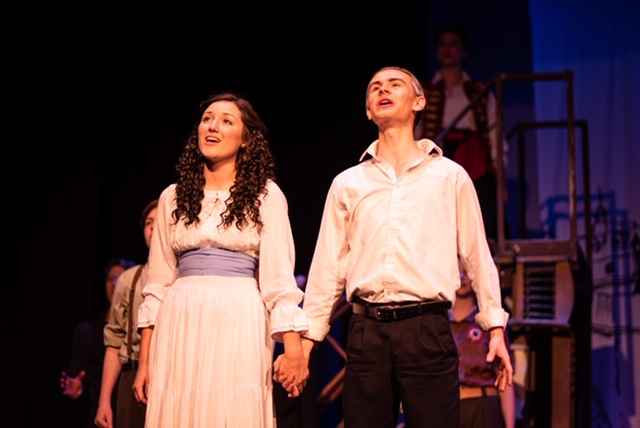 His name is Jean Valjean (Ian Cripe) and he is Javert (Josh Bates) and you will not forget them— either of them— even if only one of them is 24601. When Bates and Cripe faceoff during "The Confrontation" there is a disturbing emotional intensity that carries through both their vocalizations and their physicality. Bates is quite the imposing figure of authority and nails his solo "Stars" with vocal sincerity and striking clarity. His solo in the second act, "Javert's Suicide" is riddled with bewildering confusion and emotional desperation, making it powerful and moving. Cripe is a powerhouse performer that goes toe to toe with Bates' Javert, pushing back every inch that he is pushed. With vocal sustaining prowess that motors through those long belted holds at the end of so many of Valjean's numbers, Cripe puts his heart and soul into all of his numbers. The defining moment for any Jean Valjean is of course the delivery of "Bring Him Home." When Cripe wafts delicately up into a superb falsetto/high-tenor to deliver that heart-wrenching solo that draws forth the ugly-cry tears, you feel every word of that number.
You will hear the people sing at Storytellers' Les Miserables. Will you join their cause today? Get your tickets if you can— this is one stunning production you won't want to miss.
Running Time: 2 hours and 40 minutes with one intermission
Les Miserables plays through May 5, 2019 with Storytellers: A Theater Arts Academy at The Bowie Playhouse in White Marsh Park— 16500 White Marsh Park Drive in Bowie, MD. Tickets can be purchased at the door or in advance online.