"The waiting is part of the work. One never knows when the words will come." The words may be Michael Hollinger's from his play Ghost-Writer, but they are in fact relatable to anyone who has ever tried their hand or pen or keys (of any vintage) at writing. A mysteriously intriguing ghost story springs to life on the stage of The Writer's Center in Bethesda as resident theatre Quotidian Theatre Company opens their 2019 calendar season with its production. Directed by Laura Giannarelli, this deceptively complex theatrical narrative explores deeply the relationship between writer and muse, and of course between words and life itself.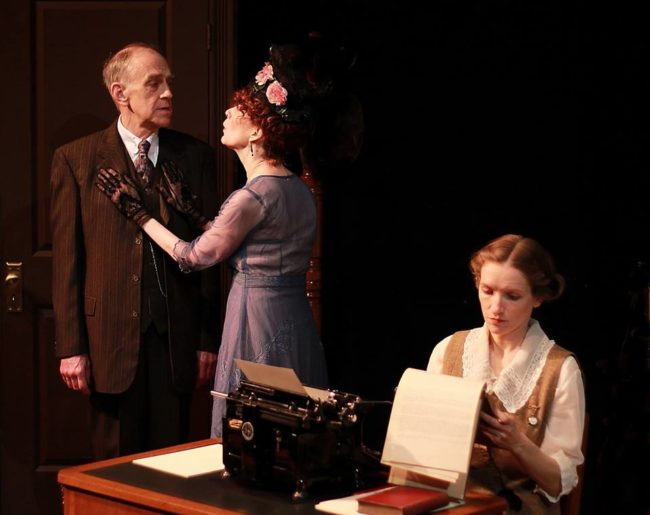 Without glancing into the program, or having prior knowledge of the play, Michael Hollinger's Ghost-Writer could readily be mistaken as a one-person show, except for the fact that two people are standing present upon the stage at its beginning. Myra Babbage, a typist, is the show's primary protagonist and narrative figure, and in a slightly reimagined interpretation of the script it is easy to see how the characters of Franklin Woolsey, the writer, and Vivian Woolsey, his wife, could become obsolete because Hollinger has penned their descriptions and likenesses so profoundly into all of Myra Babbage's text. But this is not the path Hollinger chose, and so much the better for 90-minute's stage traffic.
Hollinger's play is as much about the relationships between writer, wife, and typist as it is about the relationship of words to language and sentences to prose. Intricate crafting of phrasing, specific use of style, and exacting extrication of punctuation is what elevates this play beyond a mere episodic recall. Director Laura Giannarelli deeply understands Hollinger's stylized writing, transforming the actors and their words into a living, breathing book of sorts. The finesse with which Giannarelli painstakingly blocks and guides the piece is reflective of the punctuation styles Hollinger uses throughout the earlier parts of the play. Deliberate pauses, careful halts— identical to 'full stops' and commas— are a language in which Giannarelli proves herself to be fluent when it comes to layering these concepts onto the show's three performers.
Stephanie Mumford, as the dour Vivian Woolsey, interrupts often and with great urgency, even if the character's insistence of her own self-importance is merely inside Vivian Woolsey's head. As an interloping character, Mumford does a fine job of settling into the work that Hollinger has created and Giannarelli has guided. The striking duality that Mumford unearths in the "writer's wife" character is most impressive, especially as Vivian Woolsey appears to lack substance in her earlier appearances, but by the time the play hurls toward its conclusion, there is a roaring darkness and finality that arises in her, which Mumford handles beautifully.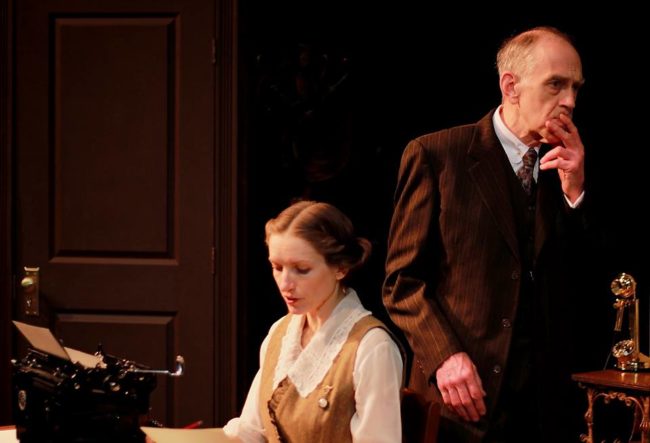 Steve LaRocque has a formidable stage presence as the writer Franklin Woolsey. At first, aloof and enigmatic, LaRocque— playing a writer of the late 19-teens— is silent, but shuffles about the stage not dissimilar to a spirit who cannot move on from his worldly work. As the character engages in various living interactions with (predominantly) Myra and Vivian, there is a subtle spark of existence that enters LaRocque's portrayal, differentiating the character entirely from his oddly detached initial movements. There is a layer of earnest innocence to LaRocque's portrayal as well, one that is experienced— full stop— during the moment of dancing with Myra.
Of course so much of Myra Babbage is informed initially by Set Designer John Decker, Lighting Designer Don Slater, and Costume Designer Stephanie Mumford. The combined efforts of these three designers creates the conduit— just as the Myra character becomes a conduit for Mr. Woolsey's writing— that connects Myra to the intricately crafted universe in which she exists. Slater's lighting, particularly when undulating through flashes of bright and dim— overtly meant to represent the passage of time, but sub-textually serving as an ecstatic sense of reverie Myra experiences when the words come to her— acts as a grounding point for the typist, while Mumford's simple yet tasteful costume is a wrapper in which Myra harbors secretive desires and yearnings. Decker's set, fancifully ornate yet ordinary for its functionality, settles the character in a world not entirely her own.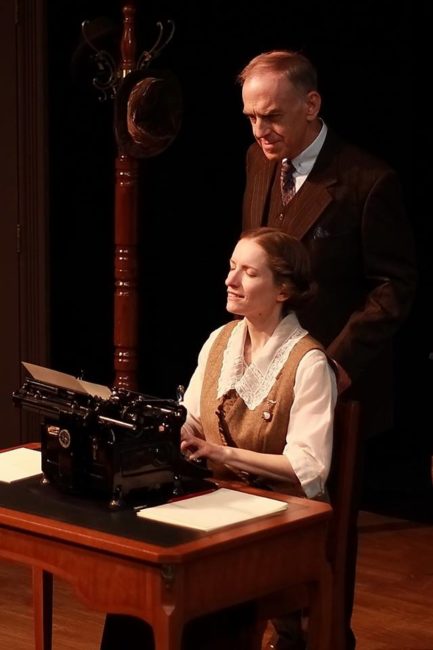 With creative forces culminating around her like the lyrical prose, heavily saturated with highly structured punctuation, Carol Spring is a novel in and of herself as Myra Babbage. There is an undeniable eccentricity that Spring presents to the character— almost at war yet simultaneously existing in harmony with the way Michael Hollinger has written her. When Spring delves into deep passages— be it recollecting Myra's experience or spouting off feelings thereof— there is surprising intrigue in the overwhelmingly floral prose, a uniqueness that the actress is bringing to Hollinger's words. The most impressive and admirable feat that Spring achieves with Myra is this doting expression of lustful satiation which radiates across her face every time Myra gazes wistfully at Mr. Woolsey; she drunkenly hangs on his every word, frantically typing away, fingers never missing a beat, eyes never leaving his figure. It's quite breathtaking.
While the mystery may seem apparent— subtly bandied about in the first few moments and then dropped outright into the show— there are deeper and more intrinsic layers of enigmatic intrigue filtered into Michael Hollinger's Ghost-Writer, which Giannarelli and her cast of three bring to the eyes, ears, and spirits of eager area audience members.
Running Time: 90 minutes with no intermission
Ghost-Writer plays through April 28, 2019 at Quotidian Theatre Company, the Resident Theater of The Writer's Center— 4508 Walsh Street in Bethesda, MD. For tickets call the box office at (800) 838-3006 ext. 1 or purchase them online.