Life! Pain! Love! Grief! Hope! Faith! You! THAT is why they tell the story! What story, you ask? Once On This Island Jr.! Who's telling it, you ask? Children's Playhouse of Maryland! Their incredibly talented cast of young performers presents a whimsical tale of two worlds that were never meant to meet, joined together by the island they share. Directed by Liz Boyer Hunnicutt, with musical Direction by Charlotte Evans, and Choreography by James Hunnicutt, this heartfelt adventure will take you on a soul-searching journey with a young island peasant called Ti Moune and her encounter with the Gods of Love, Water, Earth, and Death.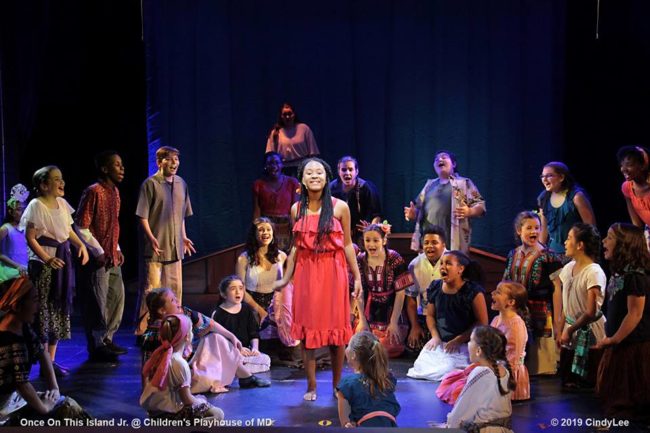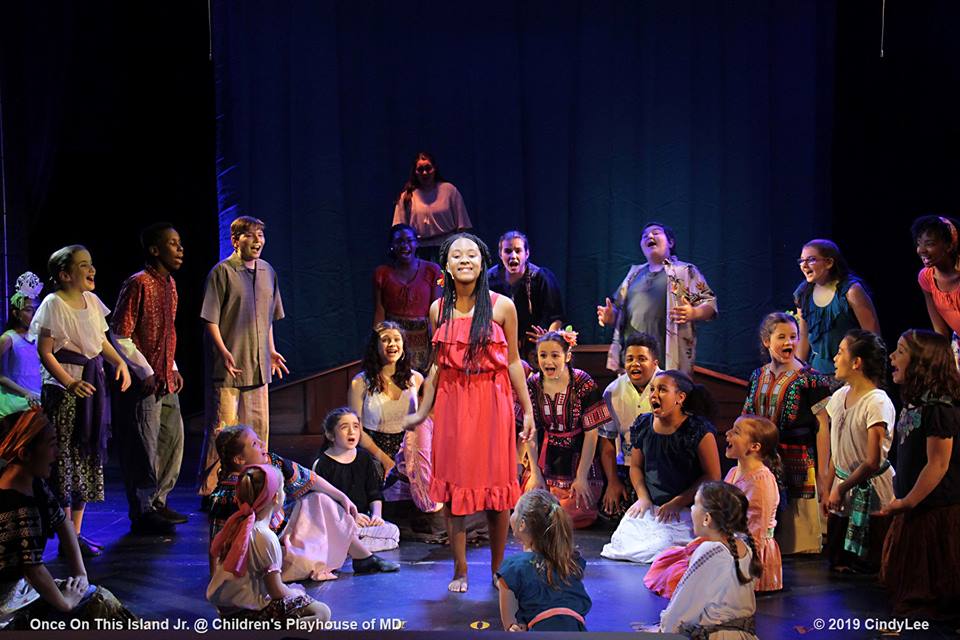 Technical Director and Set Designer Diane M. Smith, along with Scenic Artist Laura Miller, shape a tropical island paradise on the stage, which creates a welcoming aesthetic for the overall show. The tiny tree where Ti Moune is first stranded/rescued by the Gods as well as the fabulous high-hoist tree featured at the end of the production are enchanting. Smith's most fascinating piece on the stage is the bubbling, misting fountain aglow with hypnotic lights. Adding to the flare of the scenery, Lighting Designer Tyrell Stanely creates some atmospheric ambience that is simply amazing, especially when the floods and storm sequences occur. Stanley uses an iconic gobo that twirls and interlocks into place to represent a symbol of death every time Papa Ge, the God of Death, appears for a featured scene or song.
Adding to the island aesthetic is the sensationally spirited costumes, by way of Costume Coordinator Sharon Byrd. There are fanciful flora-printed skirts and wraps for all the girls and matching tropical tops for the boys as well. But by far the most impressive feature in Byrd's assorted sartorial selections are the distinguished looks saved for the Gods. There four Gods in the production— God of Love, God of Death, God of Water, and God of Earth. Byrd fabricates a chimerical appearance for each, using a strong motif to separate each God from the other. The God of Earth is forged in fabulous red; the God of Love in twinkling purity of white, complete with a light-up crown; the God of Water has gorgeous shimmering waves wrapped round her shoulder and a tiara to die for; my personal favorite is the God of Death's look with the rhinestone fishnets, punk-leather couture, and her skull-inspired headdress. These fantastical looks, tied-in with the overall island apparel, make for a stunning visual component to this impressive production.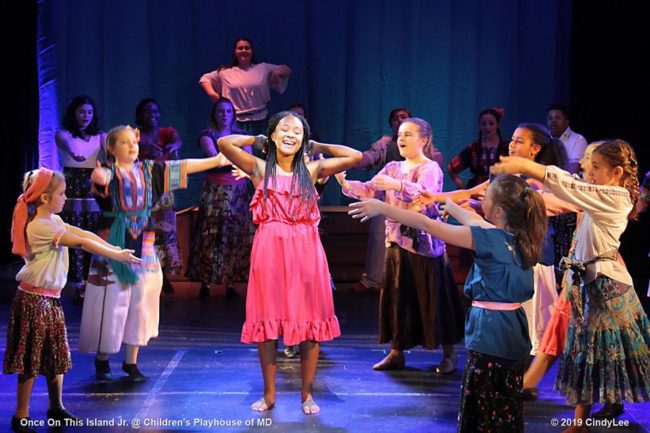 The caliber of talent featured in this production of Once On This Island Jr. is nothing short of spectacular, making this one of Children's Playhouse of Maryland's best production in recent history. The powerful sound with superb harmonies that flows through the ensemble, led by the brilliant musical direction of Charlotte Evans, is only topped by the mesmerizing island-inspired dance moves, executed at the instruction of Choreographer James Hunnicutt. Each of the group numbers, which creates an overwhelmingly powerful and pleasant sound as well as a visually pleasing series of movements, is lively and effervescent, really welcoming the audience into the whole island narrative.
From start to finish, the show is filled with music to alight the heart and soul. The show's finale, "A Part of Us/Why We Tell the Story" is a gripping and moving number that engages the entire company. The ensemble (featuring: Evelyn Acerno, Maeve Acerno, Nora Acerno, Daniela Alvarez, Mara Jade Beaumier, Zachary Byrd, Amy Therese Claudio, Emily Davis, Meredith Einhorn, Emily Foggo, Gabriella Galoni, Zoe Hammel, Royce Hartin, Taylor Holmes, Savanah Monroe, Julia Morgereth, Thomas Peisinger, Isabella Pollara, Ryann Nicole Reich, Maggie Rubin, Myles Taylor, Maia Vong, Freddy Wambaa) is a vivacious representation of young talent, thriving on the stage and understanding the importance of theatrical storytelling.
Standouts in the ensemble include the sextet of "Gossipers" who are featured exclusively during "Pray Reprise/The Ball." This number is cheeky and filled with sassy personality thanks to Erin Acerno, Sofia Alvarez, Taylor Fruhling, Molly Parker, Lila Roberts, and Claire Schafer. These girls deliver rhythmic and almost taunting musical chants at the top of this split number, imbuing the song with the vicious viperous tones of gossip as their character's namesake suggests. Other ensemblists worthy of note include Zachary Bird as the stalwart Father of Daniel, the winsome Maggie Rubin and Isabella Pollara as 'Peasant Girl' and Daniel's son, respectively, and Ryann Nicole Reich as the formidable— yet moved by Love— Gatekeeper.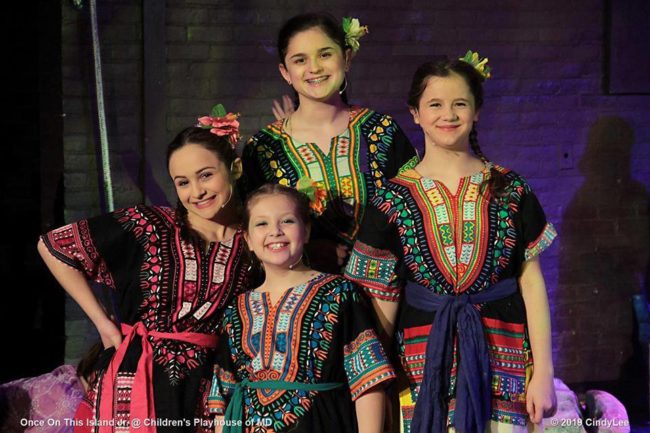 What's a story without narrators? And Once On This Island Jr. has four!! Almost providing a parallel to the four Gods, these four narrative beacons of song and character get the story underway. Bella Comotto, Molly Foggo, Rose Glennon, and Talia Lebowitz are the cynosure to which the ensemble and the audience gravitates. Their dulcet, harmonic voices create delightful moments that not only advance the story forward throughout the production but also that ensnare the audience into the deeper meaning that burbles just below the tale's surface.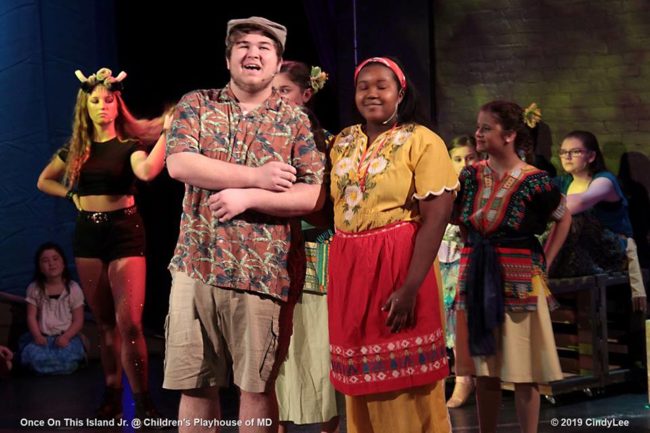 With adorable facial expressions and a surprisingly powerful sound, Little Ti Moune (Allyson Gray) is quite the character and she's impressively quick with her costume changes, flipping out of her little red dress as Little Ti Moune and jumping back into the ensemble as an islander. Gray is too cute for words when stuck up in the tree during "One Small Girl", the song of discovery which introduces Ti Moune to the story as well as to her new family, Tonton Julian (Matthew Byrd) and Mama Euralie (Phyllis Wainaina.) Both Byrd and Wainaina have impressive voices and carry their characters with reverence. Byrd, who is the grounded father figure, brings forth an sublime sound in duet with Wainaina for "Ti Moune", the penultimate number of the first act.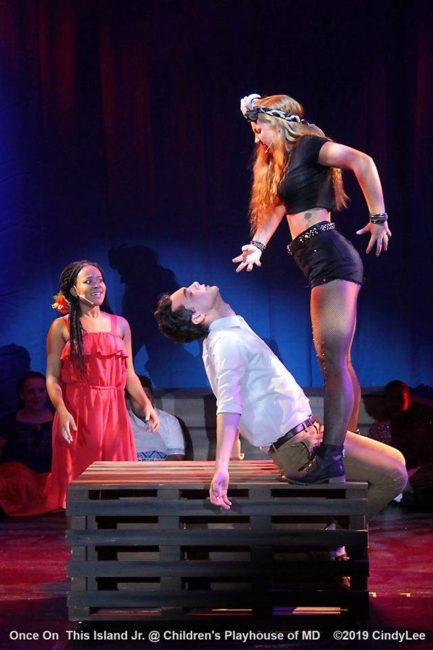 Once On This Island Jr. is unique in the sense that there are no villains, only multiple antagonists. And while it is easy to dislike the character of Andrea, it is difficult to not enjoy Zoe Hammel, who lends are glorious voice and engaging body language to the character. While the Jr. version of the production does not give the Andrea character a full solo, Hammel makes her voice heard in the "Andrea Sequence" opposite of Daniel (Kevin Franiak.) As the charming, yet disagreeable male ingénue, Franiak has a sweet disposition, strong voice, and bubbly chemistry that matches well against Ti Moune. Watching him rise up from his death-bed platform and hold that half-levitating sustain is truly an awestriking moment.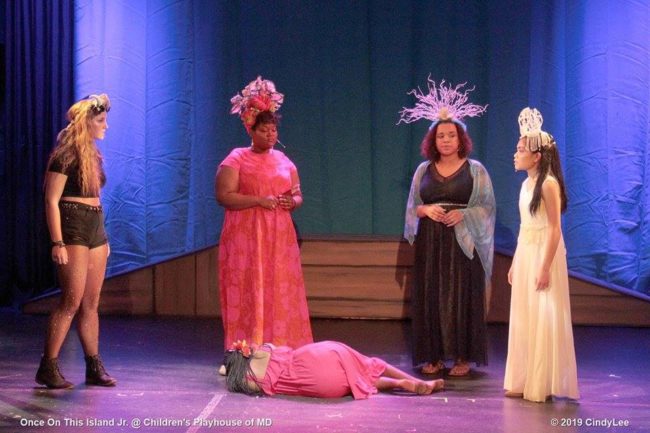 Bursting at the seams with life and vivacity, Dersha Horrey is so buoyant of spirit and felicitous of voice that you might just believe she is the truth mother earth with her performance of Asaka, God of Earth. "Mama Will Provide" is Horrey's signature song and she delivers it with robust enthusiasm, making it the perfect closing number for the first act. Anderson Gray, playing Agwe, God of Water, has a voice as powerful as the floods and storms that keep rippling through the production. Her signature number, "Rain" is stunning and radiates with her keen vocal prowess. Anna Sophia Claudio, playing Erzulie, God of Love, has a pure sound that sweeps through her signature song, "The Human Heart." Claudio is sweetly tempered and compassionate in her portrayal of the character and in her singing which drifts throughout the performance like a melodic, enchanting memory. Catie Zimmer, as Papa Ge, God of Death, is a force to be reckoned with. Her ferocious soprano sound tackles "Forever Yours" and its reprise with raw bite, really imposing the dominance and intensity that is the God of Death to her character and those numbers.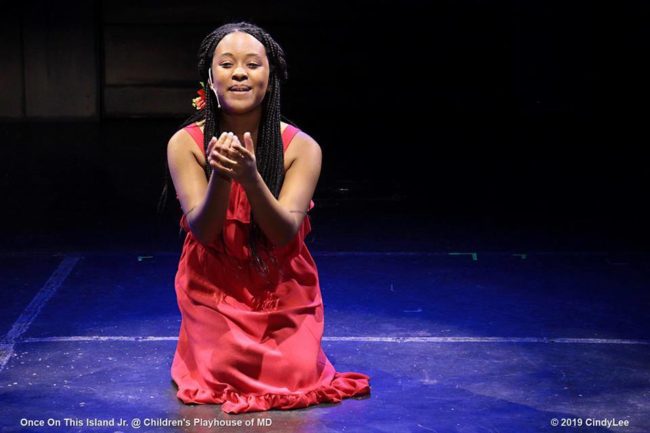 At the center of it all, the orphan girl saved by the Gods for a greater purpose, is Ti Moune (Nyani Hawkins.) Jubilant, even in the face of Death herself, Hawkins is a gem on the stage. With a sound as pure as love, as clean as rain, and as solid as earth, her Ti Moune is aglow and alight with spirit and passion and feeling. "Waiting for Life" is one of the most beautiful solos performed in the production. Her soulful cry, even when desperate with heavy emotions, is an honest thing of beauty. Nyani Hawkins radiates a brilliant light into the role of Ti Moune, telling her story all through the production of Once On This Island Jr.
Choose your dreams carefully, but remember the strength of love will always conquer the power of death, especially on their island! This is why you want to hear them tell their, their Once On This Island Jr. story at Children's Playhouse of Maryland this spring.
Running Time: Approximately 90 minutes with one intermission
Once On This Island Jr. plays through March 17, 2019 2018 at the Children's Playhouse of Maryland in the Lecture Hall of the Administration Building at the Community College of Baltimore County Essex Campus— 7201 Rossville Boulevard in Baltimore, MD. For tickets call the box office at (443) 840-2426 or purchase them online.