You certainly will feel the earth move at the National Theatre right now through the end of the year!  Beautiful is just that……BEAUTIFUL.  Under the direction Marc Bruni this production leaves you feeling nothing short of wonderful.  I guarantee after seeing this show your toes will be tapping and you will be humming Carole King's extraordinary music for days to come.  I had the pleasure of seeing the Beautiful tour open back in 2015 at the Providence Preforming Arts Center in Providence, Rhode Island and I'm here to tell you, three years later it hasn't lost its magic.  In most cases, a musical based on an artist's life is solely about the music and the book seems to fall short.  This is by far not the case, Douglas McGrath has done a wonderful job recreating Carole King's story in a way that makes you laugh, cry, and share in the journey of who we know now to be, the Carole King.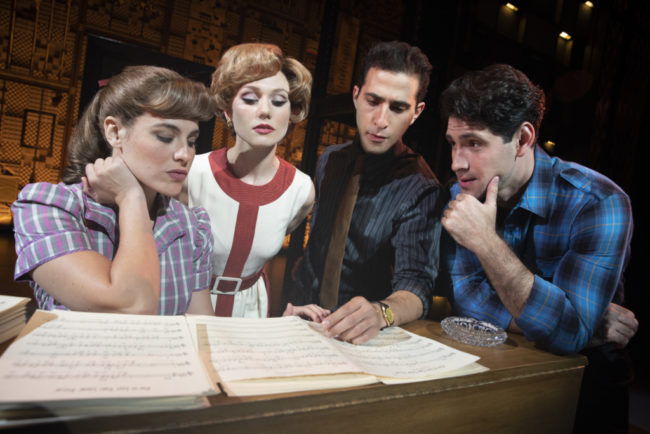 This show is filled with an array of talent, flashy costumes (designed by Alejo Vietti), and a set that works like magic (designed by Derek McLane).  There is not a single aspect of this show that went unnoticed.  I want to start out by giving major kudos to the ensemble.  In most musicals, the ensemble is used for fluff; however, in this show each member of this ensemble brings something unique and important while telling this story.  It's always so nice to see local DMV talent on a national tour, and Paul Scanlan did us more than proud. 
The comedic duo of Barry Mann and Cynthia Weil portrayed by Jacob Heimer and Alison Whitehurst was nothing short of perfection.  Both Heimer and Whitehurst had impeccable comedic timing, voices that were like butter, and chemistry that made your heart warm.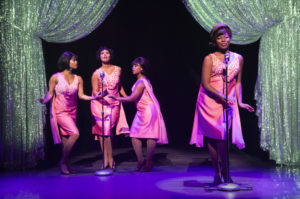 The Shirelles; McKynleigh Alden Abraham, Marla Louissaint, DeAnne Stewart, and Alexis Tidewell were glorious to watch!  Not to mention an amazing costume change that makes you want to hit rewind just to watch it again. Huge shout out to Alexis Tidwell as little Eva and her rendition of "The Locomotion."  The Drifters: Dimitri Joseph Moise, Deon Releford-Lee, Nathan Andrew Riley, and Josh Dawson (who recently re-joined the tour) had voices that I couldn't get enough of (when you could hear them, hoping it was just opening night sound issues).  I must say previously when I've seen this show, the Drifters are one of my favorite parts.  Overall the drifters seemed sloppy and not together.  From wonky spacing and an overall lack of unity I was disappointed.  Josh Dawson being back makes that more apparent because he was the only drifter I couldn't take my eyes off.  Charisma, charm, and the right attitude with sharp choreography, I would venture to say that the other drifters should take a look and up their game.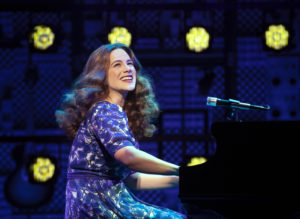 My greatest joy of watching this show was the stunning Sarah Bockel as Carole King.  First of all, I can't imagine the pressure of portraying someone so iconic, and following in the footsteps of the amazing Mueller Sisters, but Bockel made it her own and succeeded.  I saw Bockel open the show back in 2015 as Carole's best friend Betty in the ensemble and the understudy for Carole (which I also saw her go on for).  Watching someone grow into a part and bypass all expectations in incredible.  Bockel's performance as Carole is worth the price of admission.  She makes it believable, never misses a beat, and found her own nuances that makes the audience fall in love with her from her first note she sings at the piano to her final bow.  King's love interest Gerry Goffin was portrayed by Dylan S Wallach who has the vocals to match Bockel, but being surrounded by such strong actors, he seemed to get swallowed in the mix.  A lot of his character choices were lost but he redeemed himself whenever he sang or took his shirt off. 
The orchestra, especially in a show of this nature, can't go unnoticed. Under the direction of Sue Draus, who does King a huge justice in the style of her playing and the overall sound of the orchestra and ensemble, the whole show sounds alive.  Filled with a glorious sound made up of a 12-piece orchestra including another DMV local Nick Williams as the associate conductor and keys player.  Nothing is better than a full pit!
My two shinning starts for this production go to John Michael Dias and Suzanna Grodner.  Grodner plays Genie Klein (Carole's Mother) and gets a laugh with every line delivery and makes you feel like she's not just Carole's mother but the mother of every single person in the audience.  Her line delivery was pure perfection and for someone to leave a mark with such a minimal part is worth the kudos.  Dias, who plays Neil Sedaka, has a voice to die for!  Someone give him a record deal already so his talent can be shared with the rest of the world.  From "Oh, Carol" to "You've Lost That Lovin' Feeling", you truly cannot get enough of his beautiful voice.  A range that most pray to have, he delivers with such ease and poise, it's remarkable.  Dias just released a single on iTunes covering "Attention" and is worth the download. 
If you're a fan of Carole King or want a Broadway caliber experience in DC, get your tickets to see Beautiful now!
Running Time:  2 hours and 30 minutes with one intermission
Beautiful: The Carole King Musical plays through December 30, 2018 at The National Theatre— 1321 Pennsylvania Avenue NW in Washington, DC. For tickets call the box office at 800-514-3849 or purchase them online.