To find truth you must observe with an impartial eye. But what happens if the truth is in something that simply cannot be seen? In a riveting tale that is more than a mere ghost story, Summerland by Arlitia Jones makes its Washington DC area debut at Washington Stage Guild. Directed by Kasi Campbell, this gripping drama unfolds around the true story of William H. Mumler, a spirit-photographer who rose to fame just after the Civil War. Capturing ghostly apparitions in the photographs he took— including his most famous client, the widowed first lady— Mumler's story drew great interest and skeptics, including those of the law. Arlitia Jones work circles around the investigation led to expose Mumler as a fraud, though much like ghosts— looks aren't always what they seem.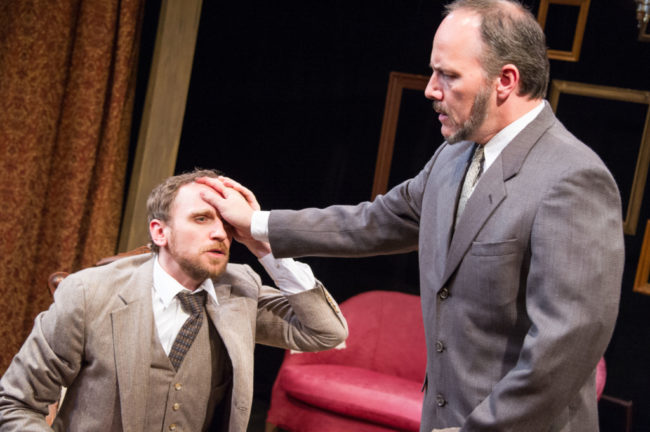 There is a mysticism to Pancharee Sangkaeo's setting. The show is slated to take place in the upstairs photography studio of William H. Mumler— the address given is No.630 Broadway— the time stamp— circa 1869. And yet there is something that defies the temporal reality of these strictures in Sangkaeo's scenic work. Ordinary enough to look at, the furnishings are sparse, though perhaps it's the ominous empty portrait frames strung along the back wall that lend a foreboding air to the atmosphere. Knowing that the play has ghostly potential and deals in the spirit realm, Sangkaeo's seemingly innocent placement of such ordinary objects creates potential apparitions that may never appear, engaging the set with a frenetic energy and innumerably exciting possibilities.
The aforementioned charged verve of the set is played upon carefully by Lighting Designer Marianne Meadows, whose light work on the set adds to the unsettling and ethereal nature of the otherworldly potential loaded up in this production. Complementing the work of Sound Designer and Composer Matthew Nielson, Meadows' lighting creates chilling effects when connections between the real world and the other realm are strongest. Nielson's work is eerie, not entirely unsettling but a far cry from comfort when effects and creeping interstitial music lopes into the play. Sound and light are critical components to the dramatic edge of this production and Meadows and Nielson have done a fine job of capturing their essences, harnessing their powers, and manipulating them in such a fashion that best serves the show.
Though there is a strange timelessness, or more of a feeling of spiritual reckoning on the set itself and in the light and sound play of the performance, the costumes, crafted by Costume Designer Sígrid Jóhannesdóttir, cement the play in that post-Civil War era. The pinched and polished suits of both Mumler and Tooker are respectable and brushed with a prim and preened appearance; the dark gown draped over Mrs. Mumler's figure at the end of the first act is all but ghostly in its appearance, save for being black instead of white. Though there is nothing particularly spooky about the show's sartorial selection, Jóhannesdóttir matches the costuming aesthetic to the overall atmospheric appearance and feel of the other design work in place.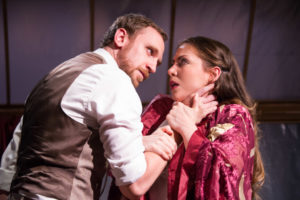 Director Kasi Campbell brings three performers and a slew of technical elements together to deliver an unusual ghost story for the Halloween season. While not your traditional tale of terror or chilling cabaret of the macabre, this DC-area premiere of Summerland is spine-tingling in its own right and Campbell has made smart casting choices in addition to running a swiftly delivered production to really broaden the theatrical horizons of haunted history. Running just under two hours, the production moves, plain and simple. There is nothing worse than a historical feature, based in fact and flourished upon by playwrights, that drags its boots through the mud. Campbell ensures that this show moves with expedience, keeping the audience ever perched just at the edge of their seat and invested in what comes next. Questioning one's belief in an afterworld is one thing, experiencing the doubt of the certain in that same realm is far more intriguing and fascinating, a facet that Campbell hones in upon and from which she does not relent in her presentation of the piece.
While Rachel Felstein, playing Mrs. Mumler, does not appear until the final moment of the first act, her grandiose and theatrical entrance sparks interest in how her character fits into the bigger picture. Saucy and strangely fiery, as if lit with embers from an otherworldly presence, Felstein approaches the character with certainty, grounding her place in both the lives of William Mumler and Joseph Tooker as well as the narrative with tremendous fortitude. In her unyielding tension-strung exchange with Tooker, there is an unsettling vivacity with which she pursues various matters which arise. Her expressions and overall attitude are channeled through not only her vocal delivery but her physicality with striking sincerity.
Steven Carpenter takes up the role of the doubtful Joseph Tooker, who is intent on believing only what can be seen. But in order to see truth one must learn to see with an impartial eye, a concept with which Carpenter's character grapples from the midpoint of the play through to the end. There is a determined zest in Carpenter's delivery, almost unwavering in the character's convictions that what he knows to be true is the absolute truth. When doubt creeps in, it manifests quietly in Carpenter's portrayal, a subtle glance here, a shaken limb there, all building the ever-present tension of the otherworldly spirits that may or may not be among us.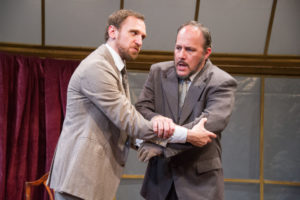 Yury Lomakin, as the play's central force William H. Mumler, is a dynamic presence and force to be reckoned with in this production. There is a childlike insistence and almost a scientific removal of isolation and higher thinking that presents itself in Lomakin's delivery of Mumler all through the first act of the show. The dry humor that slips into some of his dialogue is witty and excellently delivered. The moments of intensity that flare up between both Lomakin's character and the other two characters are executed with impeccable timing and austere certainty, deriving from a place of true belief from deep within the depths of the character's conscience.
Photography is the process of capturing light, not chasing it from the room; The Washington Stage Guild does a fine job of capturing the lights of doubt and the otherworldly in these riveting production of Arlita Jones' Summerland.
Running Time: 1 hour and 50 minutes with one intermission
Summerland plays through October 21, 2018 at the Washington Stage Guild's Undercroft Theatre, Mount Vernon Place United Methodist Church, 900 Massachusetts Avenue, DC. For tickets please call the box office at (240) 582-0050 or purchase them online.