Believe only half of what you see and nothing of what you hear…unless of course you're coming to see Poe's Last Stanza with Do or Die Productions this ominous October month. Set forth as Do or Die Productions' annual Halloween tradition, writer and director Ceej Crowe lays down her own thrilling and chilling take on the master of the macabre, bringing him to life with more than just his morose melancholy. This particular performance was hosted at the Elkridge Furnace Inn, adding its own spooky mystique and melancholy charm to the evening. Other performances will be ensconced in the intimate fireside space of The Sunset Restaurant and Lounge in Glen Burnie.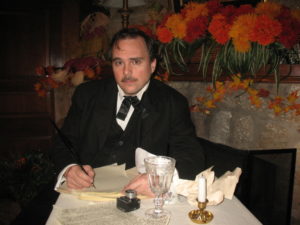 If you think you know Poe, think again. There is more than meets the eye when it comes to this dreary, midnight dwelling poet of times past. Writer and Director Ceej Crowe has put quill to parchment and fabricated a unique experience for audiences. Crowe's work dips delicately into the darkness of Poe, much like wriggling a toe in a murky puddle of unspeakable unsavoriness resting in a gutter outside one of his frequented establishments of ill-repute. One cannot present Poe without some hint of the macabre as it is in his nature. But Crowe's work deviates from the dreary, dull, and done-to-death darkness of the master of midnight, honing in on his humanity and his humor. While less interactive than some of the company's more well-known murder mysteries, this production is not your average Poe-show, and is far more than audience members watching an actor recite poems.
Crowe's work creates an immersive experience. At last night's performance, audience members were seated in the heated tent venue of the outdoor extension of The Elkridge Furnace Inn, creating a simultaneously comfortable and yet creepy atmosphere as the chill of night and darkness enfolded them on all sides. Guised as a tavern which the enigmatic Edgar Allen Poe frequents, guests find themselves amid the discord and chaos of the unruly drunken poet as he staggers in accusing various and sundry of having displaced his papers, abducted his table, and worst of all— of having stolen his drink. The merriment and interactive immersion continues from there as Poe stumbles through the house, issuing challenges and continuing to display his less than well-mannered behaviors until a Bar Maid redirects him to his own table, trying to serve as a buffer between Poe and the audience.
There are recitations of poems, of course The Raven, but others as well and it is never just a reading of Poe's work by an actor dressed as Poe. Resident Poe-performer John Kelso slips into the skin of the macabre man as if he were channeling a spirit and bringing him back to life. Believing himself to be Poe, Kelso is stingy with his poems, reluctant and hesitant to share such intimate scribblings with a tavern full of strangers. This makes his recitations of the words that much more impressive; he delivers the work of Annabelle Lee with a deep, wounded grief that brings tragic beauty to the words.
The Raven becomes a shared experience. Not only does the Bar Maid (played by the incomparable Erin Tarpley) serve as a buffer between the lively audience and the all-but-dead Poe, but she engages in the poet's most infamous work, playing the titular character. Here too there is humor, brought about largely by Tarpley's larger-than-life gesticulation and initial vaudevillian delivery of the enormous avian spirit, all of which serves to pluck at every last nerve of Poe. But when the severity of the poem switches on, both Tarpley and Kelso fiercely deliver an animated and impassioned version of Edgar Allen Poe's best-known work with much tenacity.
Tarpley is well set to the play the role of the raven in the masterwork, as from the moment her Bar Maid character enters the scene there is something dark and foreboding about her. Carried in her stride and her overall physicality— the way her arms remained tucked back at her hips, not unlike wings nestled at a bird's side, and the way she swoops through the space— Tarpley creates a believable omen of darkness and unsettling things, exactly the way ravens do when seen in the sky or perching on busts of Pallas in chambers late at night. Playing well off of Kelso's Poe, she creates a series of intriguing instances that carry the show forward with great fluidity. The horrifying twist of the ending showcases Tarpley's versatility as a performer sublimely.
Kelso's Poe is most memorable; his unsteady gait, his uneasy shifting around the room, his ability to take words out of the script when it comes to dealing with audience members during the "word challenge" and make them sound and feel appropriate for his spatial alignment in time, all of these elements are divine work that crafts the ultimate Poe experience. It is unique for certain, but a must-see in and around Baltimore during the Halloween season. There may be many Poe performances, or shows about Poe, but no one does Poe with as much engaging humor, intriguing darkness, or intimate immersion as Do or Die Productions and their production Poe's Last Stanza.
Dinner starts at 6:30 with the show beginning shortly thereafter
Poe's Last Stanza has upcoming performances on October 29 & 30, 2018 with Do or Die Productions in residence at The Sunset Restaurant and Lounge— 625 Greenway Road SE in Glen Burnie. Reservations must be made in advance and can be made by calling (443) 442-3810 or by purchasing them online.