Everyone has their own story to tell. People are stories. Theatre is an extension of telling your story and no one knows and understands that more profoundly than Deborah Randall, whose story is far too complex and toeing the line of a theatrical goddess archetype to be summed up in a few mere words. Telling your story is what's important. Embracing the joy in your story becomes critical for the darkest moments in your lives. Everyone has experienced loss; grief and loss impact everyone differently. In an evolutionary experience of catharsis and poetry, Deborah Randall plants the seeds of a living monument to her friend Tricia McCauley. Cultivating a flourishing garden of beauty, reverence, and stunning reality, Randall masterfully presents the world with the emotional gravitas of love and loss and how to live when someone deeply steeped in your life has died. Living and Dying with Tricia McCauley, written, directed, and performed by Randall, is more than just a living memorial to the effervescent spirit of the tragically departed Tricia McCauley. It serves as a fountain, gushing forth with raw passion and real emotion, for anyone who has ever felt loss and struggled to cleanse themselves of grief enough to carry on with life.


Do not make the mistake in thinking that a play about a woman's struggle over losing a dear friend to brutal murder will in someway not be applicable to you, will not move you, or will not have a deep impact upon you as you watch it. Randall has created a vulnerable exposure in this work by putting her own personal story, as it relates to her close friendship with Tricia, right at the core of the show. There is a comforting set, crafted by the visionary Amy Rhodes, with power-charged lighting plots designed by Kristin Thompson; the show, however belongs to Deborah and to Tricia, referred to throughout as 'D' and 'T'. It is evocative; it is powerful; it is moving. There is an indescribable rawness that Randall brings to the forefront of every moment, whether she's shouting or simply speaking. And that rawness drives the performance piece, transforming it into something more than a one-woman show; it makes magic of some inexplicable sort and creates a healing, for whatever wound of loss you're carrying when you enter the space.
There is a storyteller's nature to the way Randall starts the piece, at first glance one might think the show to be merely an anecdotal piece with fond memories and light-hearted stories. Randall quickly dispels this notion by weaving dark times and hard feelings of rage, sorrow, and grief into the narrative before the audience has a chance to be lost in her fond memories of Tricia. While the show possesses a darkness, it ultimately possesses a greater light; the light is love. As stated in her director's note, "love wins. Always." This constant notion of love and light prevailing through darkness is ever-present in the performance, even when it is shoved aside during moments of high-octane rage or delirious sadness. Multi-media inclusions of Tricia pay glorious tribute to the vibrancy of her soul and overall warm and welcoming infectious nature.
Randall's work is more than just storytelling. She includes excerpts from her own personal diary, furthering the deeply visceral exposure of her journey through this loss. These diary readings hit hard and fast, being delivered at the microphone like a poetry slam gone awry but in an earnest and emotionally unsettling fashion. Randall plays her guitar on the stage as well, trying to sing and play out her frustrations and feelings, showcasing and perfectly capturing elements of her struggle to process and overcome grief. The piece is empowering for women; the piece is moving for everyone. Randall manages to pull the audience into her pain but also into her joy and her light and her love. Her love for Tricia, her love for theatre, her love for life, all of these things are clearly presented in a stirring and heartfelt performance over the course of one hour.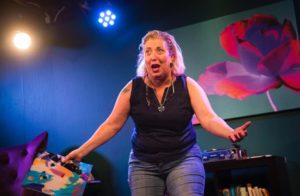 The work speaks for itself, but also speaks volumes about the senseless violence in our world, oft driven by what Randall calls 'toxic masculinity.' Randall draws the audience further still into this reality with the help of her calligrapher friend Sammy Little, who has beautifully painted the names of women that friends of hers have lost to homicide. One of the most breathtaking takeaways for the show, on a universal level, is that despite death, a person can live on in the heart, mind, and soul of someone who loved them. It is a beautiful tribute; it is a true work of art; it is a catharsis, a release, a theatrical monument of living legacy that helps remind those in grief that love always wins.
Running Time: 60 minutes with no intermission
Living and Dying with Tricia McCauley plays through October 14, 2018 at Venus Theatre— 21 C. Street in historic Laurel, MD. For tickets call the box office at (202) 236-4078 or purchase them online.