Come feel the room swayin'! Hear the band playin' one of my old favorite shows from way back when! Well, golly gee, people, you gotta come and see, people— Hello, Dolly! at Glyndon Area Players before its run does end! Revitalizing a classic in all its glorious vivacity, Director Homero Bayarena, Musical Directors Andrew Zile and Tom Zepp, and Choreographers Cecelia, Lucy, and Maia DeBaugh, elevate the grandeur of this timelessly classic piece of musical theatre and bring a stellar production to the Glyndon Area Players this 2018 summer season.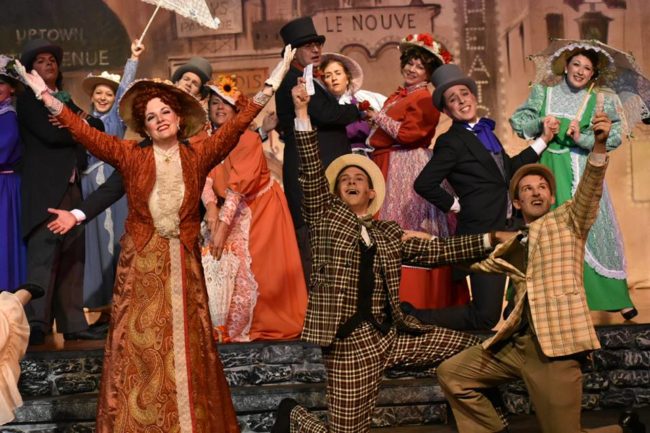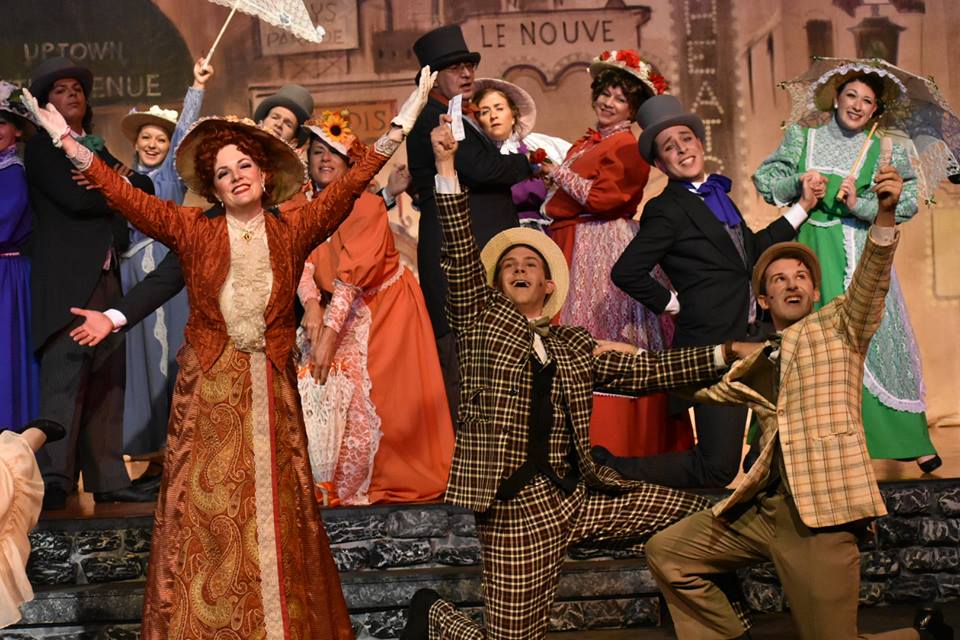 It's a heartfelt work of art, the scenery and set pieces, designed by Director Homero Bayarena and Technical Director Rose Mooney. The details are exquisite; the verisimilitude divine. There's even a proper Easter egg or two thrown in for long-time followers and supports of the Glyndon Area Players (the 'NYC 24601' pull-trolley comes to mind) which give gentle nods to productions of years gone by. Mooney and Bayarena create an extraordinary series of sets up against nostalgically painted backdrops that set the mood and tone for 1890's Yonkers and New York City. The attention to detail is second to none in the production; the rooster cages in Mr. Vandergelder's Hay & Feed Store as well as the hats and fascinators that line the shelves and walls of Mrs. Irene Molloy's Hat Shop are touches of perfection that draw the audience into this very elegant world of yesteryore. Even the grand, sweeping staircase of Harmonia Gardens (complete with accent step-touch lights, compliments of Lighting Designer Jim Shomo) is fondly reminiscent of a time of grandeur gone by.
There is no blue Monday in their Sunday clothes, thanks to Costume Designers Homero Bayarena (who wears so many hats in this production, as Director, Costumer, Set Designer, and last-minute emergency performer in the role of Horace Vandergelder), Kari O'Donnell, and Rose Mooney. The lace parasols compliment the ladies' hats with the utmost grace and every dress and suit— from the junior cast & ensemble (featuring Sammi Brown, Kaitlyn Espinoza, Miranda Feehley, Rachel French, Jayden Frisby, Sarah Fronheiser, Bailey Gomes, Hannah Greenberg, Holly Greenburg, Kendall Hamilton, Ian Jones, and Anna Surine) right up to the lavish dresses featured on the titular character— gives the illusion that the audience has truly stepped back in time to place where fashion was all the rage for those with true elegance.
With a production grand enough for Harmonia Gardens itself, the choreography as assembled and executed by Choreographers Cecelia, Lucy, and Maia DeBaugh, is spectacular. While all of the large ensemble routines are energetic, enthusiastic, and fully engaging with stroll walks, gliding sweeps, and balanced movement of the large cast, the three ladies DeBaugh's finest work is featured during "Waiter's Gallop", a non-lyrical dance routine broken up across several micro-vignette scenes. Cecelia, Lucy, and Maia DeBaugh have these fine Waiters (featuring Kenny Alam, Josh Bowden, Chiedu Chika, Jared Cohen, Henry Cyr, Michael Faid, Chris Fronhesier, Casey Gomes, Joe Love, JP Marcotte, Joe Signor, Justin Signor, and Logan Snyder) tumbling, cartwheeling, and frantically dance-dashing their way through the madness of these scenes. Of particular note is Kenny Alam whose infectious smile is highly contagious and whose enthusiasm for his kicks during these routines outshines the entire gaggle of waiters! Henry Cyr, as 'Stanley' should also be noted for his eager exuberance, which comes comically tripping down the steps once they learn of Dolly's arrival to the Harmonia Gardens.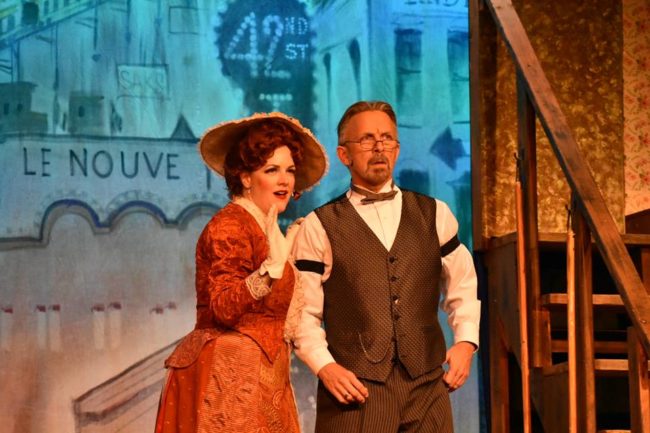 The DeBaugh ladies' show further choreographic success during the titular number, "Hello, Dolly" which features the aforementioned waiters and Dolly herself, culminating in one marvelous kickline. The effervescent Harmonia Gardens Polka Dancers (featuring Cecelia DeBaugh, Lucy DeBaugh, Lori Maccia, Megan O'Donnell, Jared Cohen, Casey Gomes, Joe Love, Logan Snyder) and the balletic swayers of Mrs. Molloy's Hat Shop (featuring Amy Cohen, Deanna Dovel, Sarah French, Emma Fronheiser, Jennifer Hamilton, Alison Jones, Lori Maccia, Megan O'Donnell, Danielle Sherry, Carole Skursky) add charm, style, and flare to the DeBaugh Choreographic routines. Ben Fish, as Ambrose Kemper, and Emily Johnston, as Ermengarde, are also featured amid the weeping and chastising that their characters upkeep throughout the play, during the Polka Scene and blend like the best of them, which is after all their intent!
Musically the cast could not sound grander. Vocal Director Tom Zepp has ensured a brilliant sound worthy of all the radiance that accompanies such an iconic show. The ensemble sings in powerhouse force, with perfect blended harmonies, and nary an off-pitch note. Zepp showcases their strength in numbers with his evenly balanced vocal blends, and ensures that the principal performers deliver the same exquisite sound as their Broadway counterparts. Pit Conductor Andrew Zile assists in the effort by running an extremely tight ship, matching pacing to perfection all throughout the performance. This is most readily experience during "Put On Your Sunday Clothes" where Zile pushes the ensemble and the pit at speed through the number to keep the energy exploding and the pace of the song moving at the speed of the turn of the century.
There's plenty of earnest hilarity to be had all tucked away inside of this production of Hello, Dolly, and it appears to be a showdown between mother and daughter Lori True, playing Ernestina Money, and Sophie True, playing Minnie Fay. While Lori True's Ernestina has less scripted stage time, she hams up every opportunity she receives, making her character praise and noteworthy. Sophie True is the epitome of comic animation. With a hyperactive series of facial and bodily expressions that are so over-the-top they're side-splittingly hilarious, Sophie True creates a spastic and hyper Minnie Fay, athirst for all things giddy and girly in the world of 1890's New York City. With a sublimely balanced voice, Sophie True adds lovely vocal companionship to "Motherhood March" and "Elegance."
The leveled and mature Mrs. Irene Molloy (Colleen Esposito) is the perfect foil to True's vigorous bottle-rocket of a Minnie Fay. Subdued by comparison, there is a gentle smoothness to Esposito's character, which helps to evenly spread the activity and energy when Mrs. Molloy and Minnie Fay are on stage together. Esposito exudes a crisp, resonant sound during "Ribbons Down My Back" and its reprise, as well as during her reprise of "It Only Takes a Moment." Despite her reserved ways, Esposito's Molloy does through caution to the wind when they start to play around at Harmonia Gardens and the result is delightful.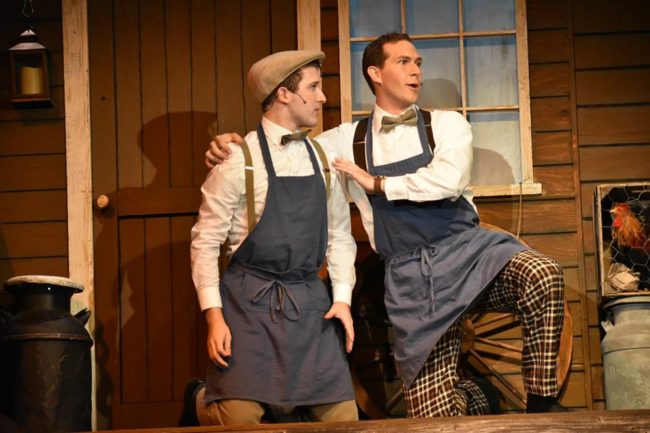 Kings of comedy Stephen Strosnider and Mark Quackenbush, as Cornelius Hackl and Barnaby Tucker respectively, rule the roost when it comes to shenanigans and antics. There is a sprightly innocence that burbles around Quackenbush's Barnaby, a bit like fresh fizz out of a newly popped sarsaparilla soda. The hop-n-pop twins make great comic strides and achieve uproarious laughter every time they spring up out of or slide-n-dive into the under-stage storage hold of Mr. Vandergelder's Hay & Feed Store. And holy cabooses don't Quackenbush and Strosnider get eyeball deep in some proper pudding once their hilarious and zany adventures in the big city get underway. Strosnider has a voice overflowing with adventurous intrigue; this serves as the perfect catalyst to "Put on Your Sunday Clothes." And while both characters are comic crackups, Strosnider all but melts into the character's sincerity when the big courtroom scene unwinds. Mellifluously floating into "It Only Takes a Moment", a bright shining sincerity encircles Strosnider as he heart-pours his character's feelings for Mrs. Molloy; it's truly remarkable!
By thunder! Horace Vandergelder (Homero Bayarena) is a cantankerous curmudgeon who could make a swarm of hornets look tame!  Bayarena, who stepped into the role as an emergency replacement, has masterfully achieved the grumpiness, sourness, and overall ill-temperament that accompanies the Horace Vandergelder character. With a robust and husky voice, he stomps and growls his way through "It Takes a Woman" (though the scene stealers of this particular number are Strosnider and Quackenbush with their hilarious tomfoolery.) The way he bristles when playing in scenes with Dolly is exactly what one would expect from the crotchety first citizen of Yonkers. Bayarena sings solo near the end of the production, his voice warm and rustic, like the heated coals in a hearth; his welcoming sound is a perfect nightcap to an extraordinary production.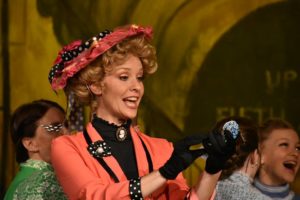 With a voice that could be heard clear as a bell from uptown New York City all the way back to Yonkers, Dawn O'Croinin puts her hand in there as Dolly Levi and there's no turning back. Creating her own fantastical fabrication of Dolly Levi, O'Croinin doesn't flinch or falter in the face of the great titans who've come before her in the role. O'Croinin's Dolly is meddlesome but fun, sassy but sincere, and edgy but honest. There is an immaculate balance of all the unique personality traits that O'Croinin brings to the table as Dolly, making her performance an extraordinary one. In addition to mastering the personality of Dolly Levi, O'Croinin sings her heart and soul out with phenomenal vocal skill; she possesses practically perfect pitch, exemplary breath control, and a resonance that is beyond compare when reverberating through "Before the Parade Passes By", which reads like her valiant and vigorous torch song rather than a swan song. Vivacious and full of life and color, Dawn O'Croinin makes Dolly her own entity and owns the show with maximum excellence.    
So put on your Sunday clothes before you feel down and get left out! Be sure to catch this magnificent parade of spectacular performances in Glyndon Area Player's Hello, Dolly! before the parade passes by!
Running Time: 2 hours and 50 minutes with one intermission
Hello, Dolly! plays through August 12, 2018 at the Glyndon Area Players in the Sacred Heart School Auditorium— 63 Sacred Heart Lane in Glyndon, MD. Tickets are available at the door or in advance online.