Sacrifice Your Sour Outlook and Enjoy Rapid Lemon's Variations on Sacrifice at Theatre Project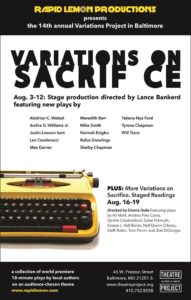 Rapid Lemon Productions presents the annual "Variations" collection; this year's production is directed by Lance Bankerd. The theme this year, chosen by last year's audiences, is Sacrifice. Baltimore Theatre Project is housed in a building that is 125 years old, and we find it significantly more comfortable on a summer evening than on a winter afternoon. Though it's a Friday evening rather than a Sunday matinee, we find close street parking pretty quickly, and it's free. One of these days, I will try the paid parking lot across the street.
We enter the theatre to uplights and a big curved scrim. There is no bad seat in the house, which is arranged stadium-style. General admission means early birds have their choice, if you're picky. The audience is a little sparse for an Opening Night, but each year's Variations, a bundle of ten-minute theatrical pieces, is a brand-new show rather than a beloved chestnut or a tour with some traction. This year's theme is Sacrifice, and we speculate this evening's presentation might be somewhat more excruciating than is the usual expectation of Experimental Theatre. On an encouraging note, tonight's audience is as ethnically diverse as the cast. For a change, I am not sitting in a sea of elderly white people.
It's possible that my favorite part of the print material of Variations is a disclaimer written in the program. It very decidedly does not say "trigger warnings are for wussies," so it evidently is my own opinion that spins the non-warning in that direction. It seems to me that theatre is largely about triggers. Being actively provocative is its purpose, as far as I can tell. The disclaimer suggests that if you're worried about "being triggered," you should discuss this with the theatre management before viewing the show.
The title of each piece is projected on the scrim, and sometimes the scrim is used to good effect, and sometimes it's just a beige backdrop. The theatrical pieces– playlets?– are a mixed bag. The thing about a ten-minute play is, good or bad, like it or hate it, it's over pretty quickly.
The variety of the Variations is more or less satisfactory, with topics and tones that run the gamut from heartbreaking to absurdist. Some are very well written, some are so minimal as to contain no dialogue, and are more or less slideshows with an actor or two. A couple of them are certainly worth the $20 admission, with the rest thrown in as bonus.  
The company of Rapid Lemon is engagingly versatile and highly talented, not to mention diverse, energetic and authentically committed to each role. Insofar as the pieces are disconnected, they've been arranged thoughtfully, that lends a sort of dramatic flow to the evening. There are eleven pieces by thirteen playwrights.  
The characters of Turnbuckle, by Mike Smith, are believable and engaging; the topic of Springtime Cycle, by Lee Conderacci, is serious; the presentation, energetic. Dark Side of Light, by Aladrian C. Wetzel, is Vonnegut-esque and rather terrifying. Turbulence, by Shelby Chapman, is a whole story, curiously active for its stationary nature, with a lot of tension between the ideas of motion and being trapped. New Leaf, by Will Trace, captures a moment, though I'm uncertain of its overall meaning, and now it's time for intermission.
Usually beer and wine are available in the lobby at intermission. There certainly are jars in the lobby, labeled with theme candidates for next year's Variations production, and interested parties may stuff these with money in order to influence the outcome. I, however, don't make it to the lobby and cannot definitively report about the sale or non-sale of fermented beverages, as I was discussing the preceding vignettes with my companion. We are in agreement about the quality of the production overall, but have different reactions to the particular pieces. Personal resonance: it's a thing. Intermission ends.
Fabricated Veal, by Rufus Drawlings, has a title which baffles me, but the piece is beautiful. For Puerto Rico, by Naimah Ezigbo, is a miniature Greek Tragedy, and Familiar Member, by Tyrone Chapman and Archie D. Williams Jr., is edgy and adorable simultaneously. Sack, by Meredith Bar and Max Garner, is a poignant wordless journey, Samson, by Tatiana Nya Ford, builds a sense of unease, and Let's Kill Doug Because He Sucks, by Justin Lawson Isett, is terrific fun.
Really, it would be difficult to overemphasize how wonderful it is to see this group of actors transform and transpose from piece to piece. Each of them are fascinating to watch, and incredibly expressive. Actors don't usually get to demonstrate their versatility and range over the course of one show, so, like a beer sampler, we enjoy small portions and more variety, which, obviously, is the point of Variations. As you might expect, some pieces are truly thematic, while others have the concept or word 'sacrifice' shoehorned in with varying degrees of awkwardness. Assuredly, here are a few true gems, several extremely well-written, some, seriously thought-provoking. This marks successful theatre and deserves recognition as such.
The tech is mostly piped sounds and standard lighting, plus some basic power-point projections, but competently done. Costuming impresses me: there is significant effort put into dressing each character in each piece. The overall look is nicely polished. Look, it sounds experimental and odd, and it is. But make no mistake: Variations On Sacrifice is an entertaining evening of theatre, with unexpected substance and humor. As a fan and supporter of live theatre and local talent, you'll be pleased to have participated.
Variations on Sacrifice plays through August 12, 2018 with Rapid Lemon Productions at Baltimore Theatre Project— 45 W. Preston Street in the Mt. Vernon neighborhood of Baltimore, MD. Tickets can be purchased by calling the box office at 410-59-3091 or by purchasing them online.