Times have changed!
And though the classics seem dead and gone—
The audiences' sing right along
To those Cole Porter tunes at September Song!
In olden days a normal stage show, was the summer's end event to go to—
But now, God knows! It's Anything Goes! The 2018 summer selection for September Song has all the Cole Porter classics wrapped up in a romantic romp and funny farce on a Trans-Atlantic pleasure cruise filled with music and mayhem, alongside some of the most impressive choreography on the community theatre scene this season! Directed by Laura-Beth Wonsala, with Musical Direction by Diane Jones and Choreography by Amy Appleby & Jessica Long, this idyllic maritime musical will whisk you out to see on memorable melodies and nostalgic nonsense that harkens back to a simpler time when silly shenanigans and tight-knit tomfoolery was all it took to keep an audience engaged.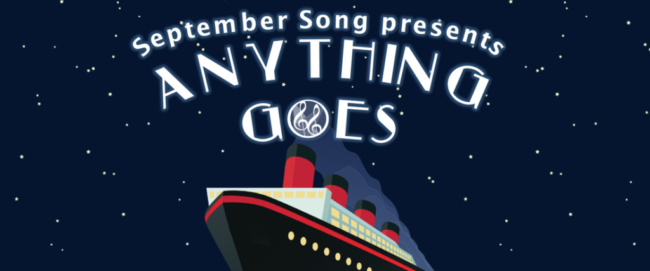 In true September Song fashion, Director Laura-Beth Wonsala and the company of Anything Goes makes the production uniquely their own. While this is a tricky endeavor when it comes to the more iconic and classical styled shows, Wonsala and the company find little nods to remind the audience that this is a September Song production and not just a run-of-the-mill performance of a Cole Porter classic. At times this can make the pacing slightly gummy, but overall its readily forgiven as all these little eccentricities and quirks give the audience great laughs. Watch out for the iconic "I'm Flying" a-la Titanic moment, a POTUS nod, and a few other delectable little Easter eggs smattered throughout the production, which signify the show's modern parallels (hey…Anything Goes…right?) as well as place the September Song hallmark on the performance.
While at times the over-use of fuchsia and magenta flushes feels a bit out of place and the light-to-dark-to-shadow ratio is slightly out of sync with what's happening on the stage, Lighting Designer Lindsay Sier provides otherwise appropriate illumination for the enormous ship-deck set and all of the fabulous threadwork of Costume Designer Barb Szaro. Reno's angels never match exclusively, a nod to their individual personalities, and everyone has their own sense of fashion style, all era-appropriate, aboard the S.S. American, but Szaro gives the show a polished aesthetic with her millenary selections and overall outfitting of the cast when it comes to their fancier togs. Reno's outfits in particular are of note as they give her all the classy lounge charisma such a character requires without looking tawdry or tarty like Erma.
The most extraordinary feature of this production is the skilled choreographic work of Amy Appleby & Jessica Long. Taking the show's challenging expectations, Cole Porter's iconic songs, and setting them to rights with a large cast is no easy feat. Appleby and Long not only rise to the occasion but they surf clean over the challenges that arise with creating choreography on a tight stage for a large cast. In addition to tackling those issues, Appleby and Long showcase their creative flare with nods of homage to the old-school Broadway dance-breaks (which are often longer than the song itself!) These extended dance breaks feature a miraculous myriad of stylistic movements, all of which fondly reflect on the originating moves of Broadway dances. The titular number, "Anything Goes", features a superb tap routine, earning a well-deserved ovation, and a few of the dancing duets, like "The Gypsy in Me" and "It's De-Lovely" flow in the vein of those Fred Astaire and Ginger Rogers couplings.
With a strong ensemble— that includes the incredibly nimble and versatile dance core: Katy Cooper, Abigail Culkin, Joan Firestein, Danielle Rizzo, Annika Rudoloh, Sophia Smithson— huge group numbers like "Bon Voyage" and "Public Enemy Number One" heartily and robustly fill the stage, echoing all around the ship's deck with spirited energy, vim, and vigor. Further showcasing their radiance among the ensemble are Reno's Angels: Jennifer Kellogg, choreographer Jessica Long, Amanda Polanowski, and Justin Patterson. With snazzy sass and a flare all his own, Patterson punctuates all of his angel scenes with panache, making him a standout among the rest, which gives the other angels something around which to gravitate when they start their back-up moves and vocals for Reno.
Caricatures aplenty is what you'll find aboard the S. S. September Song…with the company's executive producer Allen Cross being no exception in his brief cameo as Fr. Henry T. Dobson. The flamboyance and vocal affectation is too much for words, and we're not even going to discuss the fan. See if you can't spot Cross masquerading about in the ensemble later, blending almost flawlessly with the other cast members after his cameo flare has fizzled out of the scene. Patty Brunker can also be noted for her comedic nonsense, though it's primarily background-chewing pantomime work as "Lady in a Wheelchair."
The peak of caricature comes into view with Ciaire Green as Evangeline Harcourt and Michael Livingston as Elisha Whitney. While Livingston's character is clearly a drunkard, his portrayal of such elevates that character to comical proportions, creating an animated caricature of the witless wonder, particularly when he starts bellowing "The Crew Song." Green, whose character does not have a solo featured song, finds her own ways to jettison the nagging maternal figure into crackpot caricature, particularly with her stiff 'Joisey' accent. At times Green's character work smacks a bit too much of modernity, but gets the laughs from the audience just the same.
Gooey, dippy, and drippy are all the classic qualities of the ingénue of yesteryore. Alyson Marks' Hope Harcourt possesses them all. Simple, hollow, and at times even slightly static, Marks hits the mark with this plot-advancing ingénue, whose sole purpose inside the Cole Porter musical realm is to drive forth the comic antics of Billy Crocker. Playing beautifully opposite the show's leading lad, Miss Marks is a lovely addition to the cast and moves fluidly as Hope Harcourt alongside Billy Crocker, particularly once they start dancing together.
A tawdry tart and proper scene-stealing, show-smashing bawdy broad, Erma (Casey Golden) is the cat's meow in this show. Golden is sassy, smart, and sharp as she tackles the caricaturized character of Erma. With a flawlessly nasal vocal affectation that will drive even the holiest of priests to drink, Golden nails the character right from the beginning with her mannerisms, body language, and overall approach to vocal delivery. Providing excellent comic relief in micro-bulleted moments, Golden is a true triple threat, especially once she's allowed to showcase her vocal pluck during "Buddie, Beware." There is a smoky, albeit simplistic, sound of sultry seduction that slips right out of Golden during this number; she's as enthralling a singer as she is enticing a mover, and really fits the bill for 'best supporting character' in this musical.
Giving Golden a good shakedown and run for her money is the marvelously maniacal Moonface Martin (Adam Yastrzemsky.) Though his chosen vocal affectation isn't as intentionally grating, there's definitely a gravelly grit, and grody grout to his sound that parlays well the intent of this caricaturized mobster. Yastrzemsky relies heavily on his physical comedic ability and timing, which is an excellent choice as he's quite masterful with both, wielding them like double-barreled machine guns locked and loaded. Naturally harvesting the comedy from his scenes without artifice, Yastrzemsky is quite a pip, and really gets the unruly spirit of "Friendship", a zany and cheeky duet shared with Reno Sweeney. Hands down his scene-stealing moment comes during "Be Like The Bluebird", an uproarious comedic romp that just earns Yastrzemsky all the comedic respect there is to be had in the performance.
Well, I say! What an extraordinarily hilarious stuffy-puffy-bit of fluffy nonsense is that Lord Evelyn Oakleigh (Ethan Brown.) Vivaciously invested in the moment, Brown is the giraffe's pajamas when it comes to carefully delivering the posh British sound and all of the other frivolous nuances that go along with the highly affected character. Delightfully dippy, Brown's Lord Oakleigh is giving everyone hot pants, especially when he lets loose the British stiff upper-lip in favor of a raunchier affair in the tune of musical mayhem, featured in "The Gypsy in Me." There aren't enough words to make good on all the fine work Brown is doing for the character, but take it from a good ol' fashioned American when I say, he's the duck's meow!
Vocally striking, and slippery with an undeniable charm is that singing sensation Billy Crocker (Nick Cloutier.) There's something smooth and earnest about the way Cloutier just exists in a scene as Billy. It's almost as if there's something green and congenial about his presentation of Billy, like a kid who's never tread the boards before, but this works in his favor and creates a brilliant contrast between himself and the oddly emotionally deepened Reno Sweeney. When Cloutier starts belting all of those crooner-type solos, like "Easy To Love" and his half of the up-tempo "It's De-Lovely" you really hear the glorious vocal range, pitch, and timbre he brings to the show. Truly delightful, delicious, and de-lovely, Cloutier ranks right at the top when it comes to being the effervescent individual that is Billy Crocker.
The voice. The look. The sound of the song; Abigail Weinel has it all when it comes to being Reno Sweeney. Embodying the iconic 'it girl' of the era when it comes to singing and dancing, who cares who's at the bottom because Abigail Weinel is at the top. Her Reno sounds exactly like a Reno ought to sound when belting her way through "Anything Goes" and "Blow, Gabriel, Blow" and she moves exactly the way a Reno ought to move when dancing her way through "You're the Top" and "Friendship", especially the latter when she's yucking and hamming it up with Moonface. If there's one slight disconnect to Weinel's perfectly crafted Reno of 1920 and her modern self, it's that Reno feels deeply and emotionally invested, the way a modern girl just might when it comes to the case of Billy Crocker. This is what make Weinel's Reno stand out among other who textbook copy the smooth 'water-off-a-duck's-back' lounge-lizard approach to Reno; there's a curiously deep emotional current running through her dialogue, and even informing the number "I Get a Kick Out of You", leaving the audience with a bitter melancholy ringing in their ears when she beautifully concludes the number. Kudos are well owed to Weinel for making Reno Sweeney a character all her own whilst still commanding the voice of the Great White Way in the era of Cole Porter.
You'll get no kick from champagne! But you'll get a kick in the pants if you miss September Song's Anything Goes this labor day weekend at The Carroll Arts Center in Westminster! Don't wait to get your tickets or the S.S. Anything Goes will have left the harbor without you!         
Running Time: Approximately 3 hours with one intermission
Anything Goes plays through September 3, 2018 with September Song at the Carroll Arts Center— 91 W. Main Street in downtown historic Westminster, MD. Tickets can be procured by calling the box office at (410) 848-7272 or by purchasing them online.