Mamma Mia! Here I go again! My, my! How could I resist ya? Mamma Mia! Does it show again? My, my— just how much I missed ya! It's only been a week since I've been at Shenandoah Summer Musical Theatre but— here they go again with their third and final production of the 2018 summer season— the exceedingly popular Mamma Mia! Directed by Jeremy Scott Blaustein, with Musical Direction by Karen Keating and Choreography by Trey Coates-Mitchell, this iconic musical is being well represented with a clever new nostalgic concept that is helping connect the dots for those who've never experienced the show or only visited the movie.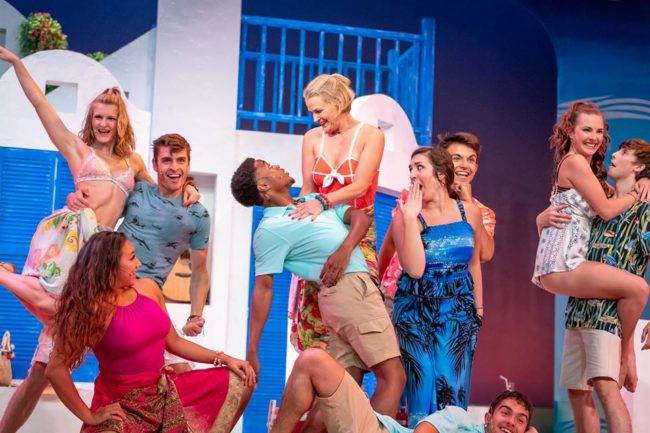 Director Jeremy Scott Blaustein goes after the story straight away; he hones in on the notion that everything happening in the narrative was set in motion during one steamy summer back in 1979 and draws a peripheral focus around that concept. Blaustein's execution of this vision sets his production apart from every other blessed company putting on Mamma Mia this summer and helps to draw lines of connectivity inside the loosely-fitted plot constructed by Librettist Catherine Johnson. Playing with and exploring the notion of memory and nostalgia, Blaustein creates a series of imagined characters in visual representation for the audience to physically see the past that Sophie Sheridan and her mother Donna Sheridan were living.
Blaustein chooses critical moments of impact to deploy his clever framework; not every number in the show needs a flashback from the past and as a focused director, Blaustein understands this. Layering his concept into scenes and songs where it makes sense and has the maximum emotional impact showcases his knowledge of the libretto. When Sophie starts singing "Honey, Honey" as she introduces each of her potential fathers from her mother's diary, a "hot stud" bedecked in groovy 70's clothes (by way of Costume Designer Cheryl Yancey) appears and gives some comical pelvic pops so that everyone gets the idea of exactly what Donna was up to during that steamy summer of 1979. While most of the "teenage versions" of Sam Carmichael, Bill Austin, and Harry Bright are never seen from again (blending blissfully back into the youthfully exuberant ensemble) midway through the second act, Young Harry appears with Young Donna atop the balcony, sharing the fond memories of "Our Last Summer" as actual Harry and actual Donna sing it out below in the bedroom scene. This is both humorous and touching.
But Blaustein's true success in this concept comes in the fabrication of Young Sophie (Ashley McGuire.) With us from the start, young Miss McGuire appears as figment of memory, remembered by both Sophie and her mother. When Sophie mails the wedding invitations to her potential fathers, little Sophie hops in the mail wagon and is toted off stage, as if Sophie were mailing her childhood hopes and dreams away. Used again during "Under Attack" (which is another unique but brilliantly executed number thanks to Blaustein's vision), young Sophie experiences the drowning nightmare just like her present-day counter-part, speaking volumes about how confused her life has been since childhood without knowing who her father is. Mastering the ugly cry moment, as if the song itself didn't do that already, Blaustein uses McGuire during "Slipping Through My Fingers" in a most ingenious way, allowing the audience to see what every mother sees in a moment such as that— how quickly her little girl has grown up into a woman ready to face the world. Bring. Tissues.
Setting the scene— finally out of New York— Scenic Designer William Pierson crafts a charming and quaint Taverna with the sand-washed walls and blue-shuttered windows and doors, mirroring the familiarity of the movie and previous professional incarnations of the production. Pierson creates an actual "beach edge" (a clever puddle filled with actual water near the shoreline/downstage right exit) which comes in handy for both Young Sophie and that moment when actual Sophie sleepwalks her way out of her nightmare. The set is beautiful and inspires a feeling of a hidden paradise that contains secrets.
Juxtaposed against the striking set, Lighting Designer Michael "Jonz" Jones' work feels a bit off-putting at times. The concept of disco lights is heavily present but at times feels random. The square-cut holes that pepper the Taverna walls feel superfluous in their placement and at times when these multi-colored disco lights blink on and off during musical numbers, they do so without any sense of pattern, rhythm, or even color-alignment. That aside, when it comes time to flood the house with disco balls or shimmery water gobos for the water-based scenes, Jones is spot on with his illuminating creations.
The bizarre and trippy disco fashions of the 1970's are not lost on Costume Designer Cheryl Yancey. Using garish matte gemstones for the "finale suits", Yancey proves to everyone who remembers the 70's that fashion was unkind. But all the ruffles, wings, and ridiculous belts and capes are all in the right place. This vibrantly hideous palette of garnet, gold, and something that resembles turquoise (and yes each jumpsuit bares all three colors in varying degrees) is a unique stamp that marks this production apart from others who lean toward the more sparkly, rhinestone-studded, single-color affairs. Yancey also creates zany looking outfits for the "Super Trooper" number, which look a bit more like US-Patriot super heroes of the 70's than anything else, but again the signature individuality of them will help the production stick readily in the minds of the audience.
At first the show's choreography seems a little haphazard, but this appears to be intentional, as the kids on the island are just there to have a good time and enjoy the wedding that's about to happen. Choreographer Trey Coates-Mitchell showcases proper intense and clean-cut dance routines during the uncredited finale, which features three different numbers, including two that were visited early in the production. Coates-Mitchell works synchronized swimming-style moves into "Lay All Your Love on Me" and really gets the enthusiasm dialed up to a high-voltage number for songs like "Gimme, Gimme, Gimme" and Does Your Mother Know."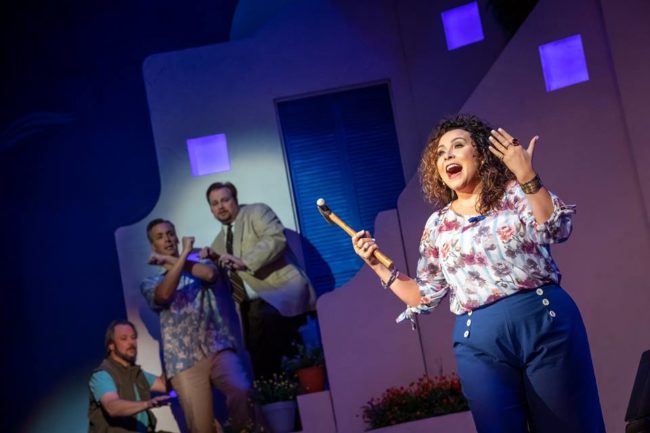 Pulling in six seasoned veterans of the stage to give the adults the right aged aesthetic is a smart move on Blaustein's behalf, as it creates a verisimilitude that is agreeable for the central conceit of the show. The audience is willing to forgive a multitude of Emily King Brown's sins because when she delivers "The Winner Takes it All" as Donna Sheridan, she belts her face off, emotes the hell out of the number, and brings the house down with powerful soul. Mark Bradley Miller's Sam Carmichael has similar issues but finds all of his redeeming qualities when he sings "S.O.S" opposite of Brown. Miller bundles every ounce of emoting capability he has and saves it for this number and "Knowing Me, Knowing You", expressing all sorts of pathos vocally and physically during these two songs.
Jordan Stocksdale as Harry "Headbanger" Bright has a keen sense of the character and plays him honestly. His voice is delightful, especially when he starts "Thank You For the Music" and his overall approach to the character is subtle, with earnest humor and sensible character choices. When he waltzes his way into "Our Last Summer" it's a nostalgic dream that is quite touching. Kit Wilder's Bill Austin is presented in a similar vein of honesty, existing without artifice and showcasing great vocal strength. Though he does very little solo singing, his bits in the aforementioned number are well blended, and his solo moments in "The Name of the Game" and "Take a Chance on Me" are well-voiced and smooth. Wilder also understands the comedy that exists right from the word 'go' between his character and the Rosie character.
Vying for the title of show stealer, Libby Ingham and Carolyn Coulson (as Tanya and Rosie, respectively) are a proper hoot. The silly sisterly shenanigans that these two get up to are a real scream. Ingham and Coulson chew background scenery divinely (watch them during Harry's wedding-confession moment, it's hilarious!) and really understand the nature of their characters and their characters' relationships to Donna. Ingham and Coulson go all out during "Chiquitita" and "Dancing Queen" to revive the listlessly de-spirited Donna, goofing off and partying hard to really revitalize the emotional energy of the moment. Both Ingham and Coulson have stellar voices and sharp comedic timing. Ingham, who prowls through the Taverna like a smoldering, sensual cougar, really brings the character to life during "Does Your Mother Know" (seriously, watch her keg-stand. Twice.) while Coulson finds her moment in the spotlight during "Take a Chance on Me." Both bring harmonious blends and accurate pitch to the song "Super Trooper", where they sing the backing vocals of the song.
Alexis Hasbrouck and Stephanie Ainsworth are Lisa and Ali, the peppy, giddy bridesmaids of Sophie. While they aren't much featured— because the libretto makes it so— the way they bounce, giggle, and sing their way through "Honey, Honey" makes them completely notable. So too are Pepper (Dorian Davis) and Eddie (Diego Cortes.) Both Davis and Cortes are comic crack-ups, being the mischievous, albeit harmless, ne'er do-wells of the Taverna. Both get a chance to showcase their dance moves during "Does Your Mother Know" with Davis' Pepper really exploding all over Tanya every chance that he gets.
With a smooth sound and the perfect physique for the role, Michael Canu is just right for the role of Sky. Again the libretto only allows the Sky character a singular musical number, a duet that he shares with Sophie, but Canu is not throwing away his shot and he makes the most out of his half of "Lay All Your Love on Me." Canu's acting skills appear up to snuff as well, when he's caught up in moments with Sophie, they feel honest and genuine, coming from the character's heart.
Megan Hasse is Sophie Sheridan and is every bit the ingénue that Sophie Sheridan is written to be; her voice is pitch-perfect, her sustains are sublime, and her overall vocal quality is music to the ears when it comes to every number she sings. Watching her panic and general anxiety during "Under Attack" really puts the nightmarish aspect of this number into perspective, especially as the scene rushes about in blended bouts of chaos— like the blinks of a nightmare you can't quite remember. When Hasse sings "The Name of the Game" and "I Have a Dream" her voice is blindingly beautiful, really carrying the melody of these numbers with grace.
Just one look and you will hear their bell ring! One more look and you'll forget everything— that you knew from the movie and previous productions— oh, oh! Mamma Mia! There they go again— don't miss your chance to get in on the action of the summer's most popular show!                                                
Running Time: Approximately 2 hours and 30 minutes with one intermission
Mamma Mia plays through July 29, 2018 at Shenandoah Summer Music Theatre in the Ohrstrom-Bryant Theatre on the Shenandoah University Campus— 1460 University Drive in Winchester, VA. For tickets call the box office at (540) 665-4569 or purchase them online.