Time weaves ribbon of memory to sweeten life when youth is through and rivers run where they can ramble— but it's time to take time to see all of the magic they've got to do— the they being Monumental Theatre Company and the magic being their street-savvy modern coming-of-age production of Pippin. Directed by Rebeca Wahls with Musical Direction by Leigh Delano and Choreography by Ahmad Maaty, this sleek and slick production of Stephen Schwartz' Pippin is reaching out to a new generation; this magic is evolving into the 21st century by way of polished modernized dance and smart-phone technology.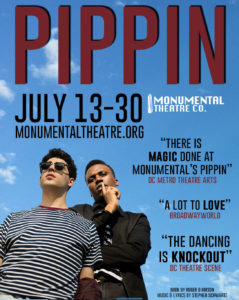 Director Rebecca Wahls takes the coming-of-age tale of Pippin and foregoes entirely the cobbled together circus nature that often accompanies the narrative, opting instead for edgy modernity geared toward the millennial focus. This progressive temporal shift draws today's audience into the story, giving the story a present-day verve to its existence, honing in on the core of the narrative rather than falling victim to the trappings of the spectacle that often accompanies this show. Wahl could have pushed the concept further, to really add a level of connectivity to those unfamiliar with the story; as it stands those not knowing the tale of Pippin may feel slightly overwhelmed at seeing the sporadic use of smartphones and tablets that appears heavily in the opening and trickle off as the production progresses. Wahl's vision for how the 21st century youth— like this present day Pippin— connects to the world is spot-on; the show's overall concept and theme could be better served with even more of her technological incorporation being presented.
Wahl chooses to approach certain scenes in the show by way of deeply engaging the audience into the choreography. The iconic orgy scene and later the "first time" with Catherine and Pippin are not tamped down or shied away from so much as cleverly re-interpreted. There is an artistic flare to these moments allowing for broad interpretation from the audience; this unique approach to these highly controversial scenes allows each individual theatergoer to infer their own experience into the moment, making the production fiery and yet appropriate for all ages.
Scenic Designer James Raymond creates an artistic layout of digital life, with selfie frames that mimic the blue glow of smartphone screens on the upright wall fixture and the floor. A further incorporation of technological media (perhaps projections from Lighting Designer Jason Aufdem-Brinke into those frames when live actors aren't in them) would augment and enhance Wahl's vision, but that said, the scenery does generate a vibe that matches the edginess of the show's most important design concept: Ahmad Maaty's choreography.
Indescribable magic takes root in the dance routines that Ahmad Maaty sets down for this production. With a proper fusion of styles, featuring modern moves and historic techniques, Maaty takes the iconic spectacle element of Pippin— often found in the circus decorations and tricks of traditional productions— and infuses it right into the dance routines. There are punchy moments of pizzazz, slick moments of movement, and ultimately a scrumptious smorgasbord of visually stimulating routines that serve as the show's driving force. Every dance routine— especially those that feature the ensemble (or the four principal dancers lead by the Lead Player)— feels electrically charged with the magic of theatre; this is a true reflection of Maaty's understanding of the show.  
Echoing Maaty's surefire understanding of the magic of Pippin, the players involved with the show are all but magicians themselves when it comes to singing, dancing, and storytelling their way through this adventure. Allie O'Donnell, Melrose Pyne, and Lawrence Hailes, listed as ensemble, are every bit as engaged and enthusiastic as the named players with titled characters that feature in the production. The overall vocal resplendence that radiates with consistency throughout the show is one more layer of magic that unfurls to the audience, beckoning them into the experience that is Monumental's Pippin.
Tackling the challenges of a character far her senior, Kaitlin Kemp adapts the appropriate vocal affectation and caricature approach to playing Berthe, Pippin's grandmother. A roaring scream of a hoot, Kemp makes the most out of her one and only number, "No Time At All." Vivacious, feisty, and full of spirited life, Kemp convinces the audience that she's a woman well past a certain age, and fits the role sublimely. Rachel Barlaam puts on a similar show with her portrayal of Fastrada, playing the prowling sex-kitten with vixen qualities for miles. Her rendition of "Spread a Little Sunshine" is sassy and smolders slowly in a sensually seductive and yet vibrantly villainous vein. Both Kemp and Barlaam create honest creatures out of these highly iconic caricatures.
Justin Sumblin and DeCarlo Raspberry are on point as Lewis and King Charles, respectively. Sumblin has all the aptitude of the beefy muscles his character purports and it's humorous to watch him in various and sundry scenes. Raspberry, whose domineering presence gives Charlemagne a larger than life quality, is hilarious as the dismissive King Charles. The facial expressions Raspberry pulls throughout the production, especially when exasperated with Pippin's antics and actions, are to die for, and utterly loaded with comic value. Both "Welcome Home" and "War is a Science" treat the audience to the rich, robust vocal quality that Raspberry has to offer while showcasing further his ability to find the natural humors in the character's track.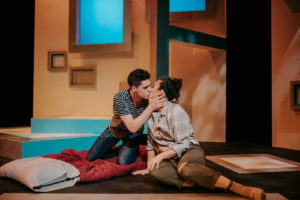 While the Catherine character may sing about being average and ordinary, Chani Wereley's voice is anything but basic. Soulful, heartfelt, and fully tuned to the pathos of the character's plight and burgeoning attachment to Pippin, Wereley is the epitome of honesty in the show. The Catherine character is meant to show the ordinary in the adverse face of spectacle, which is often pitched as enticing via the circus vessel. In this production, Wereley faces the additional challenge of showing honesty and truth without bombastic aesthetic spectacle, but succeeds with vigor in presenting in earnest Catherine's feelings and overall existence. Maternal to Theo (at this performance Steven Labovitch) and tender with Pippin, there is a dynamic exploration of all things simple inside of Catherine. Wereley has a sublime voice, perfectly suited for carrying the emotional gravity of "Kind of Woman" and her duet shared with Pippin, "Love Song."
Finding his own little corner of the sky, Tiziano D'Affuso makes Pippin his own creation. There is a modernity that flows like the rambling river through the production and D'Affuso steeps himself in that vein of existence, making Pippin the every-boy-turned-man of the 21st century. Capturing the essence of the egocentric millennial in his rendition of "Extraordinary", D'Affuso showcases vocal talent and emotional fortitude with this number. Treating the audience like his Twitter and Instagram followers, he shares moments of his journey from beginning to end with great excitement. It's often the unspoken word, caught in a glance or a specific posture held by D'Affuso, which speaks volumes about his incarnation of Pippin.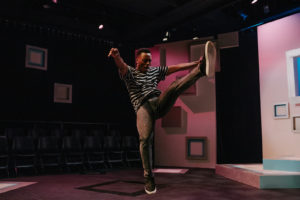 With his usual zest, Solomon Parker is the Leading Player. Blasting out that unearthly sweet high tenor bleeding into falsetto for "On The Right Track", the searing and pulsating number that introduces the second act, Parker is the Story Master. Perpetually in motion, even when he's standing still, Parker's Leading Player is hypnotic and intensely mesmerizing, as well as exhausting to watch. The way he glides, splits, spins, and dances throughout the entirety of the show is breathtaking. Parker's vocal prowess is constantly on display; never once does he falter, even when pushing breathlessly through exhausting routines. Creating an eerie and simultaneously intriguing presence, Parker vivaciously exists inside the narrative construct that he has created for Pippin with the perfect balance of sharp attitude and striking sincerity. A true triple-threat performer, Parker is magic incarnate in this production.
They've got magic to do— and so do you! It's getting yourself a ticket to see Monumental Theatre Company's Pippin before it disappears right out of its own little corner of the DC-NoVa sky this summer.  
  Running Time: Approximately 2 hours and 5 minutes with one intermission
Pippin plays through July 30, 2018 with Monumental Theatre Company in the Ainslie Arts Center of Episcopal High School— 3900 W. Braddock Road in Alexandria, VA. Tickets are available for purchase at the door or in advance online.