Well the world keeps spinning round and round and my heart's keeping time to the speed of sound— I was lost 'til I heard the drums and I found my way— all the way down to Fort Washington where the Tantallon Community Players to see their current production of Hairspray. Directed and Choreographed by Jonathan Jackson with Musical Direction by Paul Rossen, the Tantallon Community Players are going to shake and shimmy it the best that they can to really shake up this production of the iconic Baltimore musical.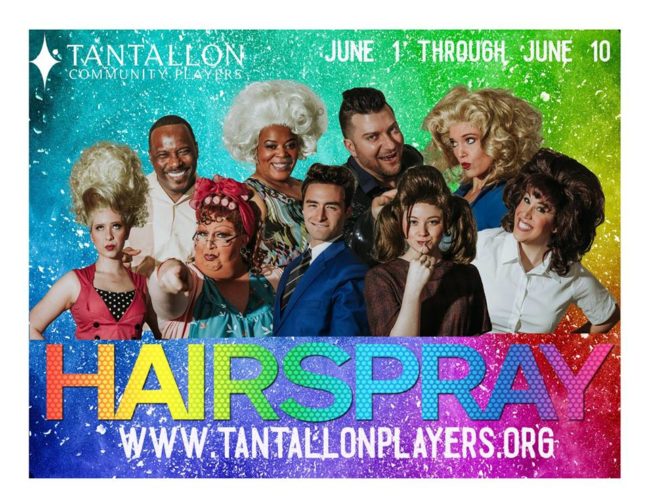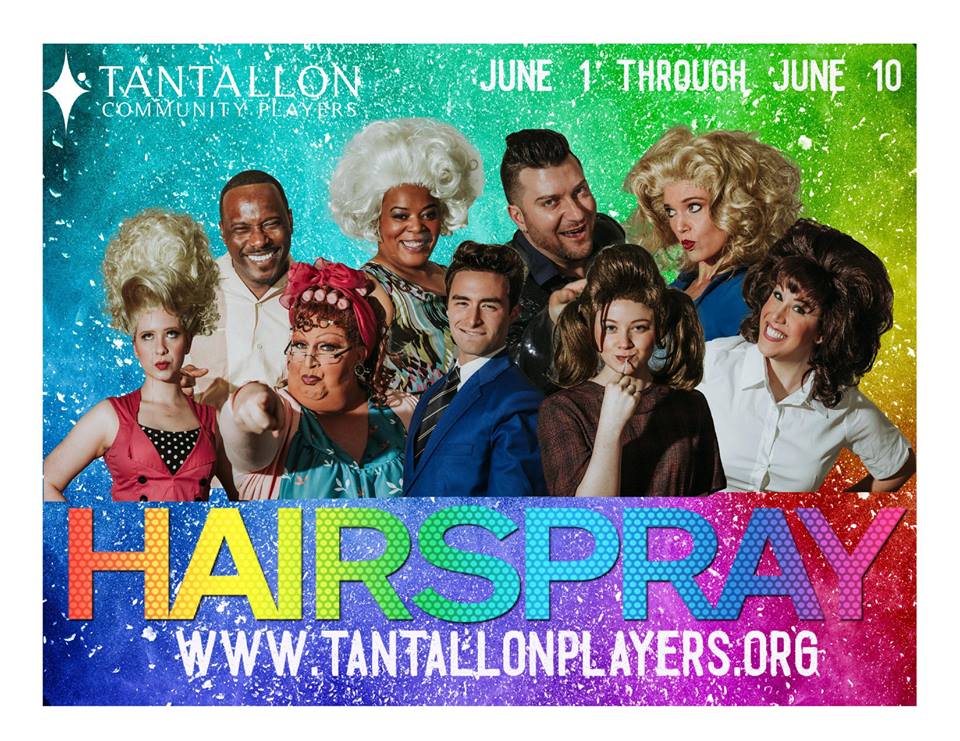 The attention to detail in this production throughout all of the varying production values is consistent and impressive. Everything from the periaktos and their varying decorations to showcase different interiors to the hyper-personalized vanities of Tracy, Penny, and Amber which are featured briefly during "Mama, I'm a Big Girl Now", all of "Dream Team Productions" set design is really fun and engaging. This fun and funky feeling of the 60's really gets the audience in the mood for a feel-good show. One of the most impressive features of this set and decoration ensemble includes the life-size poster of the actual Dynamite Girls (who somewhat miraculously appear to pop straight out of the poster thanks to Lighting Designer Devante Evans' cleverly placed blackout) which is featured on one of the outer-edge facing periaktos.
Director and Choreography Jonathan Jackson teams up with Wig Designer Kristina Kelly and serves as the show's costumer, creating a retro fabulous fit for all the characters involved in the show. The transformative dresses featured on Edna are stunning and the overall aesthetic of the fun-loving free-wheeling 60's rings true in Jackson and Kelly's work. The most sassy and sparkly outfits featured are of course the razzle-dazzle glimmer jackets that Corny Collins wears (at least four different ones in varying degrees of sparkle, sequin, and glitter) throughout the show. He's a huge, radiant TV personality, after all, so Jackson does this corny character a service in this way.
Jackson ensures that the choreography he's crafted is on point by leading at least two of the big dance numbers himself. Stepping into the show as the aforementioned sparkling Corny Collins, he takes the lead at the front of the kids for "Nicest Kids in Town" which shows an active and invested Corny and gives those in the ensemble who are a little less sure of their dancing ability a great marker to go on as the number progresses. Overall the show's choreography is energetic and ebullient, as too is the overall pacing and spirit of the ensemble. Jackson's Corny has pipes too, with huge sustains and powerful top-range belts that just draw that title number up to perfection. He plays Hairspray for Hairspray, (both the song and the show as a whole) with great attention to personal details, but none so potent as getting in the sign at the very end of "Big, Blonde, and Beautiful" during the protest march that reads, "BLACK DANCERS MATTER."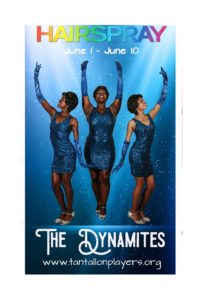 With a robust ensemble filled with sound and spirit, it's easy to enjoy the production. Featured favorites include the vocally inspiring Dynamites (Kristal Anderson, Benita Adams, Maecy Richardson) who powerhouse belt out their solos throughout and at the end of "Welcome to the 60's", as well as the flamboyantly fabulous Mr. Pinky (Noah Brandt) who does not sing but is featured in that same number. Alani D'Lawren as Little Inez is worth writing home about as well, featured in just two solo segments, her voice is mature beyond her character's years.
Popping with soul and scene-stealing dance moves, CJ Faulk's Seaweed J. Stubbs is putting out the rainbow experience when it comes to detention, dancing, and doing his thing in character. With just the right balance and blend of vocal output for "Run and Tell That", Faulk really pumps up the energy for the number and gets everyone's toes tapping and hands clapping. Partnered off in great comedic moments with the awkwardly hilarious Penny Pingleton (Jayne Zirkle), Faulk's Seaweed is the real deal. Zirkle has a surprisingly strong voice which she puts into full effect for Penny's transformation. You hear it first during "Without Love" and then with more gusto during "You Can't Stop the Beat."
Bringing the house down with her sublime sound, Corisa Myers is delivering a fierce and fantastic Motormouth Maybelle. With the perfect little lilt in her rhyming speech patterns, Myers understands the nuances of the character. But grab all the tissues because when she rolls into the iconic tear-jerking number, "I Know Where I've Been", there is such a powerful, soul-searing connection to the song  that you can't help but cry, borderline ugly-cry. Myers is fantastical and gets to showcase her stellar voice during both "Big, Blonde, and Beautiful" as well as the show's big finale number, "You Can't Stop the Beat" in addition to her aforementioned feature song. 
With a sweet crooner's look and sound to match, Justin Carty delivers a Link Larkin that all the lovelies will love. Carty is that caricature of a wannabe Elvis but without feeling hokey. His solo-turned-duet "It Takes Two" has a subdued smoky quality to it, just like you'd expect from an Elvis-crooned song. When he gets around to acting up and acting out with Tracy, it's quite the 'to do' and wildly sweet to watch.
It doesn't get much bigger than Edna Turnblad (Kevin Buice) and my goodness gracious does Buice have the look down pat. While some of the mannerisms are a little off-kilter compared to what most people expect when they encounter Edna, Buice makes her all his own and finds a hilarious nod to Divine in the way he answers the phone. Really putting the moves on Wilbur (Chuck DeLong) all through "You're Timeless To Me", Buice shows that he can sing and dance as well as spin around with glamour and elegance in all of those fine costumes.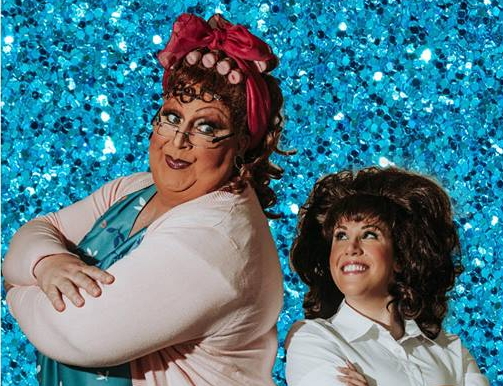 Despite not being Baltimore born and bred, Theresa Cinalli seems to grasp the heart and soul of Tracy Turnblad. Though the way Jackson has padded her is a little on the skimpy side for the size of what Tracy is meant to be, you can easily forgive her slight figure for all the enthusiasm, joy, and honest spirit she's putting into the performance. Her bubbly nature effervesces through "Good Morning, Baltimore" and founds a stoic grounding in its reprise once she's been carted off to "solitary refinement." Cinalli is lively and congenial, the perfect perky combination for Tracy.
You can't stop their beat, that's for sure, so be sure to cut class and skip school to get on down to the nicest kids in town and see them all in Hairspray at the Tantallon Community Players.  
Running Time: 2 hours and 30 minutes with one intermission
Hairspray plays through June 10, 2018 plays through October 1, 2017 at Tantallon Community Players in residence at the Harmony Hall Regional Center at 10701 Livingston Road in Fort Washington, MD. For tickets please call (301) 203-6070 or purchase them online.