The best friends show up unannounced, terrified for no reason whatsoever to continuing living in their own home, so they're moving into yours. The alcoholic live-in sister is at the brandy again and has learned how to yodel and play the accordion. The only child is returning home after her fourth failed marriage. And the wife is bent on going mad, intentionally or otherwise. It must be an episode of The Twilight Zone, surely. Only not. Just Edward Albee's A Delicate Balance now appearing at Silver Spring Stage. Directed by Fred Zirm, and just as warped and twisted as Albee's more infamous work, A Delicate Balance draws the audience into the downward spiral of deleterious destruction of the domestic life in 1966. Alcoholism, infidelity, insecurity, desperate escapism, and general malaise mixed with morbid madness accompany this Albee drama for its three-hour duration, setting the patrons of Silver Spring Stage up for one dramatic ride.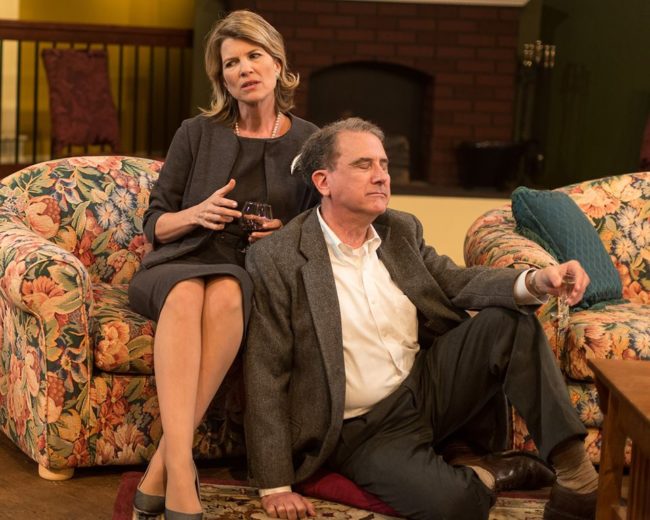 A spacious living room dominates the stage; Set Designer Andrew S. Greenleaf fabricates a perfectly balanced scene in which the pending drama is about to unfold. Greenleaf finds aesthetical balance in his creation with a hint of decadence, but nothing too posh. The furnishings and properties, by way of Greenleaf and Set Decorator/Dresser and Properties Mistress Sonya Okin, are worldly, scholarly, but not too affluent. The space is filled but not cluttered. A uniquely endearing touch that gives the room an authentic and polished feel is the under-lighting of the shelves, compliments of Lighting Designer Jim Robertson, though initially Greenleaf's brain-child.
Overall, Robertson's use of lighting is delicate, balancing the natural ambience of a living room interior with upturned votive sconces and other sources of incidental lighting, all of which finely fit the overall aesthetic of Greenleaf's scenic display. Complimenting both the ornament and function of Robertson's lighting design, Sound Designer Jeff Miller articulates a sense of verisimilitude when it comes to the cars coming and going in and out of the driveway, in combination with a flash of what is meant to be a headlight seen through the curtains of the window. Ordinarily, such simplistic sound effects would hardly warrant comment, but as they are the only sound effects featured in the performance (aside from a bit of pre-recorded piano at pre-show and as scenes fade in and out) and stand out as quite authentic, Miller's work is given a nod of approval in this case.
The mid 60's aesthetic finds further purchase in this production with the work of Costume Designer Harlene Leahy. The simple, gray, slim-line dress seen on Agnes in the first act is a sharp contrast to the loud peacock patterned garment draped over Claire. Leahy's choice of these differing styles augments what is meant to be polar opposites in the character's lifestyles. Malca Giblin, the show's hair and make-up designer does a superb job of adjusting the actress who plays Agnes into the age of the character. Giblin takes a subtle approach to age-lines and wrinkles, along with setting the streaks of faded blonde in Agnes' hair, to achieve a look far older than that of the actress. This extra step well-serves the performance, helping to keep Agnes looking the age of her contemporaries.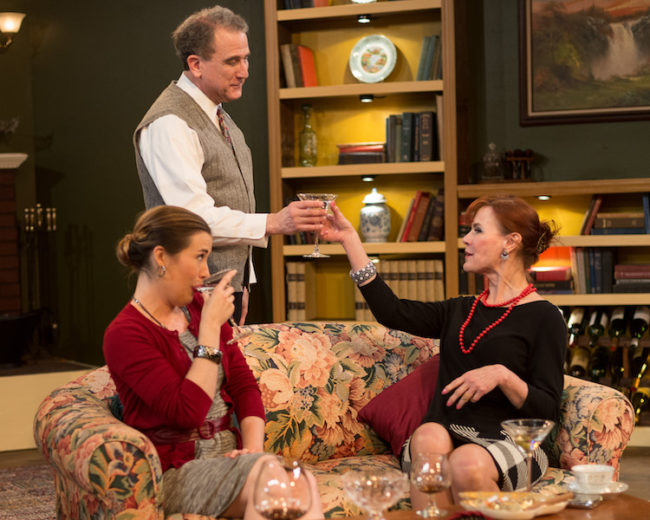 Albee's strenuous dramas are a labor of love, there is no question. They are tremendously wordy, require exacting precision with pacing, and ultimately are quite dated when it comes to modern relevancy. And all things considered, A Delicate Balance is particularly tricky to navigate as the situations that arise within its plot are almost too absurd to be believable. Director Fred Zirm does wonders with keeping the show's pace on an even keel. There are inevitable moments where the text drags, the momentum slows, and the tedium of Albee's writing creeps in unannounced and simply refuses to leave, but Zirm handles these with a rigorous push to keep the audience interested and invested in the show.
While the pacing is ultimately a strong point for the production, there are two larger issues that keep it from reaching its fuller potential, the first of which is the lack of understanding for Albee's dated writing style and the cadence and patois that accompanies it. Director Fred Zirm does not evenly distribute his understanding of this style to all of the characters. Albee's writing cries out for a smoother, old-fashioned delivery, which only the Julia character achieves with any consistency. The rest of the performers speak with a modernity weighting down their tongues, which regrettably makes most of their dialogue and speeches feel out of sync with Albee's writing.
The other issue present is the overall disconnect that the performers have with their characters, just in general. Claire (Susan Harper) is the most recurring in this instance. Harper's performance is too balanced; this directorial choice does not have the Claire character carrying on or conducting herself as one of that character's voracious alcoholic appetite would be expected to behave. Because of the constant drinking from all the other characters, this lack of outrageous behavior makes Claire's alcoholism difficult to discern. A great many of the funnier moments or edgier moments that arise in Claire's text, thusly fall flat.
Agnes (Alexandra Tydings) experiences similar struggles, though in a slightly different vein. Tydings delivers a wholly uneven performance. For the entirety of the first act and half of the second, Tydings feels disconnected from the character, speaking with a modern style that creates a sense of detachment from what's actually happening on the stage. For the first act and a half of the show, Tydings does not feel comfortable in Agnes' skin. That said, there is a point in the second act where a transformation completely seizes the actor, not unlike being struck by lightning, and suddenly her performance is quite stellar. After the profoundly delivered rant of what it's like to have to comfort Julia, Tydings' Agnes is well-settled in her own skin, situated deeply into the character's ethos. From that point of the production through to its conclusion, Tydings' is infallible, with perfect responses, heightened emotional reactions, and extraordinary facial responses.
Louis Pangaro, who does stumble at times to pull his lines together, makes a transformation in Tobias that is well worth the wait. Despite the milquetoast beginning, which falls in line with the context that Albee has penned, Pangaro delivers a show-stopping moment of delirium that pulls the audience to the edge of their seats. Frantic, manic, and physically erupting all over the stage, when his sanity finally splits open like a coconut cracked on a rock, so too does the internal repressed struggle of the Tobias character. Pangaro pours heart and soul into this moment, igniting a flame with full vigor and the result is both cathartic and refreshing.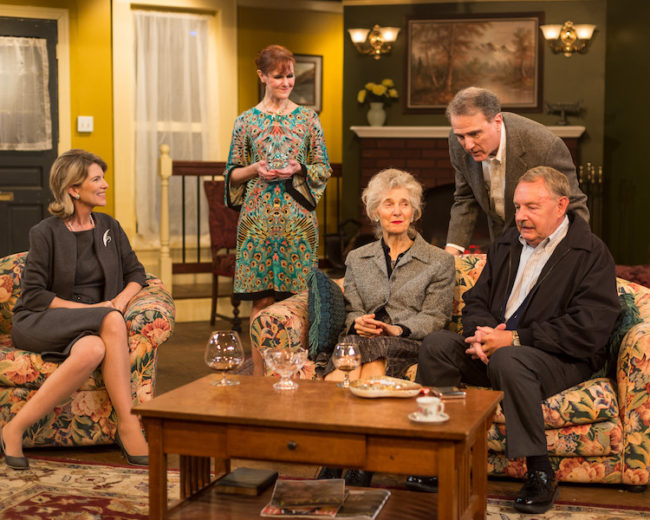 Despite being one of the catalysts for lunacy in the house, Harry (Craig Miller) and Edna (Declan Cashman) are seen somewhat infrequently upon the stage, thanks to Albee's approach to handling mid-grade antagonistic characters. Miller, who is soft spoken and his surprisingly sharp timing, delivers an exceedingly beautiful moment near the final scenes of the play before he and Cashman depart the house of horrors that is Agnes and Tobias' home. It is a severe, weighty moment that is delivered so solemnly and which such emotional heft and truth that it seems impossible not to hang on every word of that scene, however brief it actually is.
Roaring onto the scene, Julia (Diana Arnold) is yet another antagonizing force inside 'the house of upside down.' Arnold gives a stellar performance in this production, masterfully delivering her lines in the style of Albee's 1966. Achieving peak histrionics during the character's breakdown in the second act, Arnold rapidly explores the fissures in one's existence which can quickly dissolve into sheer and utter madness. Her tilt meltdown is the pinnacle of excitement and thrill up to that moment in the performance. Aside from the aforementioned, show-defining scene, Arnold's Julia is full of sauce, perfectly expressing her petulance and sense of bratty self-entitlement. With marvelous facial expressions that are often murderous, Arnold works wonders for this production of A Delicate Balance.
Whose story is it? Who's sane? Who knows? A Delicate Balance dances around all of these questions, flirting with various veins of escapism all throughout the course of the drama. Worth investigating if one has never seen an Edward Albee play, and most certainly this production in particular for all of the lavish design work that has gone into its creation.
Running Time: Approximately 3 hours with two intermissions                             
A Delicate Balance plays through June 23, 2018 at Silver Spring Stage located in the Woodmoor Shopping Center— 10145 Colesville Road in Silver Spring, MD. For tickets call the box office at 301-593-6036 or purchase them online.