"Well, I suppose there are two ways to look at this I mean, true I am here in a foreign country with a dead man in a wheelchair, trying to pretend that nothing is wrong, and having to do all sorts of things I don't even want to think about. On the other hand, this is a chance to earn a great deal of money in a very short time. So, for once in my life I shall think positive I will think positive." – Harry Witherspoon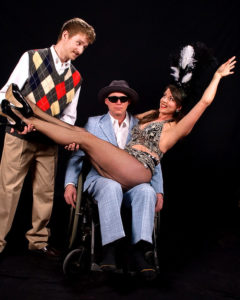 I'm positive that you will have a wonderful time at Colonial Players' Lucky Stiff, Directed by Eric Hufford, with Music Direction by Emily Sergo and Choreography by Lindsay Zetter. The small performance area does not stop this team from bringing together a lager than life show.
Hufford uses the entire space in every direction. The cozy, quaintness lends itself perfectly to the cast singing from all four corners. The ensemble pops in and out throughout the show, adding backup and character. As if that wasn't enough, Hufford even flies a 737 across the stage. It says in the program that this is his first time in the role of Director. If this is his debut, then I can't wait to see what he has in store for us later down the road. His casting, staging, and vision are simply brilliant.
As talented as this cast is, much of the show's success belongs to Set and Floor Designer Terry Averill. Averill's set is simple yet communicates the show to perfection as well as keeping things moving. Without cheapening Averill's work, it really is a performance out of four boxes, which I found to be a stroke of genius. Not only do these boxes lend to quick, fluent changes for Stage Manager Beth Terranova and her team, but also act as storage for Properties Designer Charlotte Robinson's little treasures. As much as I was caught up in the show, I couldn't wait to see what came out of the boxes next. This was a wonderful collaboration by the production staff.
No man is an island and Hufford proves that by letting the other members of his staff shine. One of the things that allows Hufford's and Averill's minimalization work is the acquiescent tones of Sergo's singers and Zetter's command of her dancers. From the opening number to the final bows the cast harmonized like the Fab 43. Despite many quick costume changes and multiple roles, the ensemble did not skip a beat. The choreography was sharp and lively. To be honest I wasn't expecting much because of the small venue. However, Zetter proved that she could have people dance on a cracker and look good. Both Sergo and Zetter bring the best out of their cast and remind us that it is the actors that we come to see.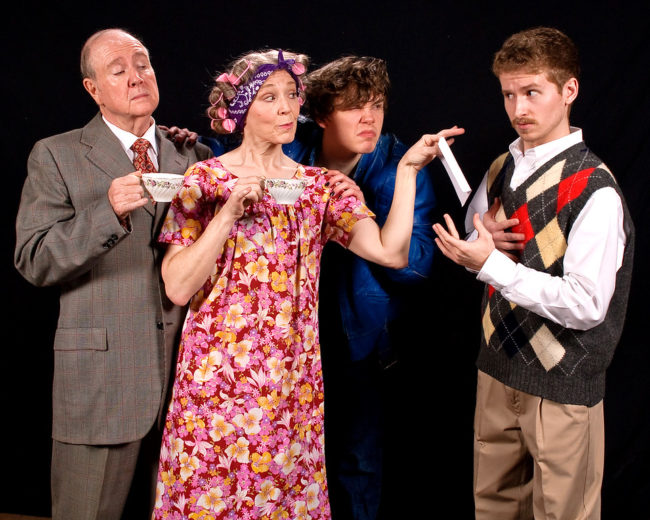 Lighting Designer Frank Florentine delivers just the right colors, spots and specials with limited blackouts. Florentine clearly understands the mood for each scene and lights them accordingly. Sound Designers Kaelynn Bedsworth and Caitlin Weller kept a perfect balance of music throughout the show. The actors were well heard whether singing or during monologues. The sound effects were on cue and added to the enjoyment of the production, especially when it came to the dogs.
The ensemble was a well-oiled unit.  Gene Valendo (no matter who he is playing in his six roles) and Jeanne Louise as the Landlady will keep you in stitches. The comedic timing of the entire troupe is to be applauded. If anyone deserves the Lon Chaney "Man of A Thousand Faces" Award it is Grant Scherini as the Bellhop, French Waiter, Punk, Gambler, and Leper. The man can change characters like he changes his socks. Listen closely as he brings each persona to life with something unique for each. His ad libs are hysterical. Costume Designer Drea Lynn is the magic behind the changes. Her attention to detail helped the actors to not only bring each character to life, but to give them their own individuality.
Isabella Lopez as the most aggravating Annabel Glick is the girl next door who you love to hate. From the moment she chews on her pencil Lopez has the ability to draw you in, make herself the object of your infatuation, and then slice you up with her sharp wit. She can go from coy to cozener at the flick of a switch. Watch her deadpan delivery of, "Just because we slept together does not mean we are on a first name basis."
You are going to have a hard time believing that Reed Sigmond (Harry Witherspoon) isn't really from East Grinstead, England. If he were any more stoic, he could have played the corpse.  The only thing separating him from his character is that Mr. Sigmon has good dental work. He epitomizes British comedy. He is dry, lumbering, and hilarious. It's as if he grew up watching BBC1. He has a gift that many actors lack, the ability to carry over an accent or stay in character while singing. Reed is simply a pleasure to watch.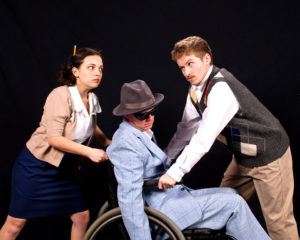 The Body of Tony Hendon is wheeled up and down the stage, through the aisles, on and off an elevator, ends up missing, and is eventually returned. All the time you will be thinking your eyes a playing tricks on you. If anyone could make a living doing nothing (other than a politician), it's Dave Carter. There is nothing I can write to properly give Carter the credit he so rightfully deserves. The man is simply amazing in this role and you must see him to understand what I mean. Pay close attention to his curtain call.
So, "Why not take a chance? Why not go for broke?", and head out to see Lucky Stiff playing now through May 6, 2018 at Colonial Players. "Oh, it's good to be alive!"
Running Time: Approximately 2 hours and 20 minutes with one intermission
Lucky Stiff plays through May 6, 2018 at The Colonial Players of Annapolis— 108 East Street in historic Annapolis, MD. For tickets call the box office at (410) 268-7373 or purchase them online.