Who is going to believe a con artist? Everyone, if she [he] is good.  – Andy Griffith
In the 18th century, a grifter named Samuel Thompson tried to swindle people out of their money and watches by attempting to gain their confidence. Though in the end he was not highly successful, the New York Herald publicized the story, dubbing him the "Confidence Man." The term took off and was eventually shortened to simply – "con man." In 1988, the movie Dirty Rotten Scoundrels (based on the 1964 film, Bedtime Story) thrust con artistry into the spotlight. Two decades later, the motion picture was turned into a musical for the stage. That musical is now being performed by Prince George's Little Theater at the Bowie Playhouse, directed by Rebecca Kotraba and produced by Keith Brown.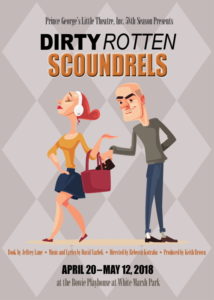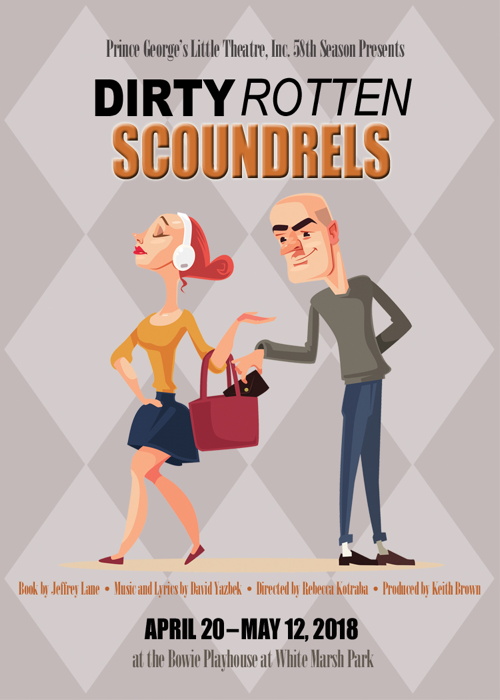 As the play opens, we discover a debonair, regal-looking gentleman named Lawrence Jamieson – and his assistant (or perhaps bodyguard,) French chief of police Andre Thibault – milling about a casino near the opulent French Riviera. Jamieson, with Thibault's help, poses as a prince (or "prance," as Thibault amusingly pronounces it) from a poverty-stricken country, cleverly charming wealthy women into giving him money and jewelry to help save his land and people. Later, aboard a train, Jamieson sees an American named Freddy Benson attempt to scam a woman into buying him a meal. Intrigued, Jamieson invites the man back to his mansion. Upon seeing Jamieson's wild success, Benson begs Jamieson to teach him his ways. Jamieson is hesitant, but ultimately decides to enlist Benson's help with a few of his scams. Jamieson soon realizes, however, that Benson is a force to be reckoned with, and he suggests the two make a deal. Whomever is able to swindle a woman out of $50,000 first gets to stay in town, while the other has to leave. They agree and find a woman named Christine Colgate, aka the "American Soap Queen," who becomes their target. As the two try to one-up each other, surprises abound and hilarity ensues.
The cast of Dirty Rotten Scoundrels is incredibly strong. As Lawrence Jamieson, Brian Binney is a tour de force. As the ultimate con man, Binney stealthily slides into whatever character suits the situation – complete with varying accents and manners. With that kind of smoothness, he could sell ice to an Eskimo. He also has an excellent singing voice. Jim Adams plays Andre Thibault, who aids in Jamieson's capers while attempting to keep the swindler in check. Though he is the consummate straight man, the character has moments of high comedy, and Adams handles those brilliantly – successfully layering the drollery with the staidness of the role he is playing. As Freddy Benson, Shane Conrad steals the spotlight over and over again with his comedically gawky movements across the stage and quippy line delivery. He and Binney have great chemistry together. Plus, Conrad's singing voice is astonishing! Other actors of note (no pun intended) are Jamie Erin Miller as the "American Soap Queen," a woman full of surprises; and Rowena Winkler as Jolene Oakes, a woman who after being charmed by Jamieson tries to force him to marry her at gunpoint. With excellent comedic timing and a fabulous singing voice, Winkler really shines. Truly, the entire cast is amazing and musically talented.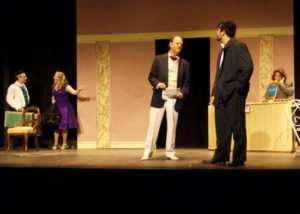 The Bowie Playhouse stage is expansive with plenty of fly space, and set designers Doreen R. Roberts and Ryan Ronan utilize it to the utmost. Upstage there is a permanent structure – a tall platform with steep stairs on either side – which at different times represents places like an outdoor overlook or a staircase in Jamieson's mansion. Painted backdrops are hidden in the fly space and are smoothly lowered at the appropriate times. There is also a solid black curtain to conceal everything whenever the scene calls for it. The quality of the singing and dancing is outstanding. Kudos go to both musical director Chris Pinder and choreographer extraordinaire, Rikki Howie Lacewell, for their Broadway-worthy efforts. Veteran costumer Linda Swann dresses the cast in high style. The costumes are absolutely gorgeous – from the beautiful dresses and accessories the women in the ensemble wear to the impeccable suits that Lawrence Jamieson dons. Overall, the look and feel of this production is magnificent.
Now, at this point, you may be wondering to yourself if this raving review could possibly be a hustle in and of itself. No show could possibly be THAT good, right? I guess you'll just have to come out to the Bowie Playhouse and see it for yourself. Truthfully, this fabulous production should not be missed!
Running Time: Approximately 2 hours 45 minutes with one intermission.
Dirty Rotten Scoundrels plays through May 12, 2018 at the Bowie Playhouse — 16500 White Marsh Park Drive in Bowie, MD. For tickets call the box office at (301)) 937- 7458 or purchase them online.