You may know what you need, but to get what you want, better see that you keep what you have! And what Memorial Players has is an extraordinarily talented production of Stephen Sondheim's Into The Woods. And what they want is for everyone in Baltimore to come and see it. So they need you to do exactly that! Running just two weekends, and as always at Memorial Players, a free performance for all in attendance, this production of Into The Woods, Directed by Stephen Deininger with Musical Direction by Timothy Viets and Choreography by Lauren Lowell, draws community together in a magical way that truly defies description.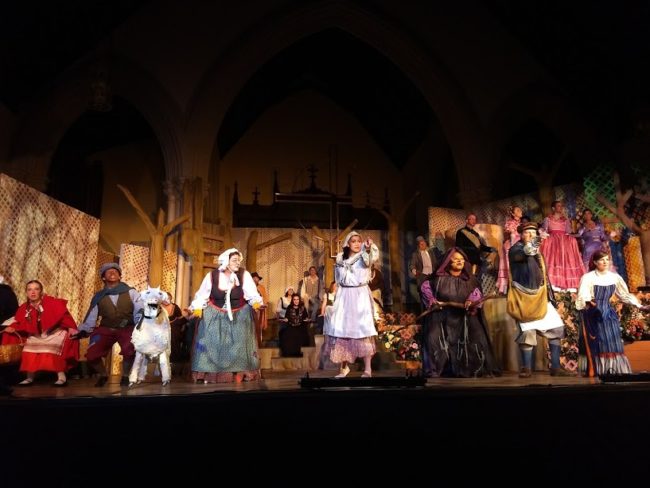 Where even to begin with such a magnificent and awe-inspiring production, the creative team seems as good a place as any, so why not there? Set Designer and Creator John Seeley (assisted by an a set-crew some four-dozen people deep) has crafted marvelous storybook scenery that at first seems quite compact. The little backdrops for the various scenes inside Cinderella's home and that of the Baker and his wife are brought quite close to the front of the stage, giving their stories a slightly cramped feel. But this is Seeley's imaginative genius at play because once the characters go to the woods, the set opens up, sprawling and consuming the stage with woods, and on multiple layers!
This is where Lighting Designers Daryl Beard and Brandon Meikeljohn come into play. This pair of creative minds is not only responsible for all of the curious shadow play featured throughout the production, which enhances Into The Woods' natural allure and mystique, but they are responsible for the show's sound design as well. With spine-tingling effects, primarily experienced in the second act once the Giant (voiced with great spooky vocal effect by Sue Gorman) comes to the kingdom, Beard and Meikeljohn create a uniquely mysterious audio-visual experience for those seeing this production of Sondheim.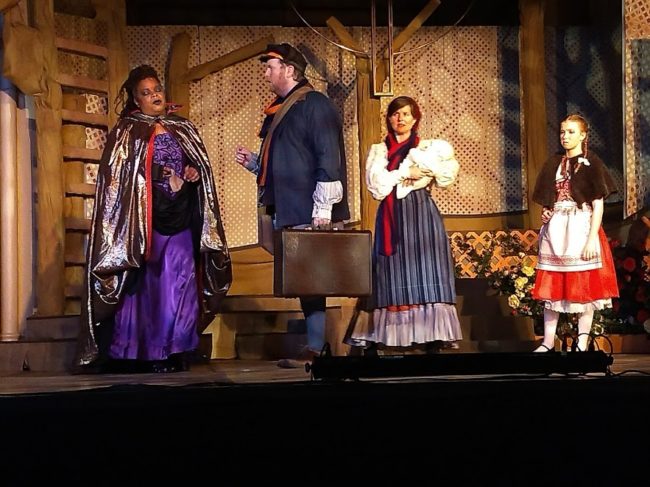 Rounding out the creative trifecta is Lead Costume Duo Elizabeth Ratrie and Ros Kooser (assisted by a half-dozen others on their costume team) who create outfits for each of these fairytale characters in a remarkable and clever fashion. Little Red Riding Hood's outfit is by far Ratrie and Kooser's biggest success, it is elegant, detailed, and the perfect shade of bright blood for the courageous little girl. There's an entire smorgasbord of costumes to feast upon in this production; Ratrie and Kooser create a visual playground with each character giving them something that fits not only their assignment— like Prince or Baker's Wife— but the unique personality hybrid that seeps through from actor to character in roles such as these.
What's truly unique about Memorial Players' production is the way Director Stephen Deininger and Musical Director Timothy Viets have chosen to incorporate a children's ensemble. With the Narrator (Paris Weeks) serving as a librarian telling a story to a dozen children, these children sit at the side of the stage, prepared to listen. But Deininger elevates their involvement up a notch by having the children's ensemble become the magic. They are engaged by the story by being the story. When Cinderella's birds fly in, Nathaniel Wells and Arden Fisher are their puppeteers. When Milky White has to run away, the children rush it off-stage. There are moments all throughout the production where the children are deeply invested in the intricate turns of the story's unfolding. But none so magical as when they come together in a strikingly unified and powerful sound to sing "Children Will Listen" near the show's conclusion. The singing ensemble of children includes Nina Brothers, Eden Deininger, Arden Fisher, Isabella Maggiano, Clara Micah-Jones, Marshall Naylor, Quinlan Naylor, Grace Pendell Jones, Aliona Penniston, Eliza Simmons, Mary Anne Wells, and Nathaniel Wells, with Nina Brothers and Arden Fisher appearing as featured soloists in the number.
Deininger includes an adult ensemble as well, providing great vocal strength and tenacity to all of the hard work that Viets has done with the cast. In addition, Deininger has cast out each role individually, using different actors for the Wolf and the two princes, etc. This allows for a more inclusive community environment and showcases the deep bench of readily available talent all throughout Baltimore.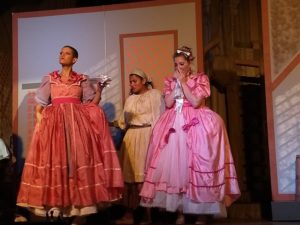 Whether it's a leading role or a bit part— like the way Talia Katz chews scenery as Florinda, making her the most engaging background actor in each of her scenes or the way Sallie Ratrie, playing the other step-sister Lucinda, has an ever present mocking air about her— every person in this production finds their moment in the limelight, without overbearingly taking the show in their own hands, except of course for when the show is scripted as such. Granny (Tracey McCracken) is boisterous and hilarious for the whole two minutes of stage exposure she has; so too is John Seeley in the role of the red-nosed, tipsy-topsy father of Cinderella. With a choir loft voice, Linda Bergman sings the role of Cinderella's Mother and inspires hopes and dreams to her young daughter through song.
When at first Paul Ballard appears, he may seem mysterious, and rightfully so as he's playing the Mysterious Man, but despite the ridiculous shenanigans of his first few encounters, there is a sincerity that manifests itself deep within his character portrayal. This is best experienced when he duets against the Baker in "No More." With a rich and hearty, yet simultaneously soothing sound, Ballard creates a mortal man, riddled with guilt and full of regret in this otherwise enigmatic spirit of the wood.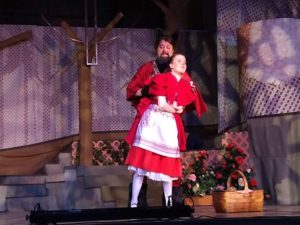 Doing the complete opposite of sincere, Jamie Griffith plays the Steward with such a sassy flare that it's impossible not to laugh at him. This approach to the Steward creates a great deal of biting humor, appropriate for Sondheim's darkened paths every time we encounter Griffith's character. Taking on the only doubled-up role in the show, Griffith appears early on as The Wolf, parading about with a similar flare, yet deeply distinguishable from that as the Steward in his predatory mammal skin. With a firm sound for singing "Hello, Little Girl", Griffith again invites the audience down a deliciously dark path of odd entertainment, filling out the song and the scene extremely well.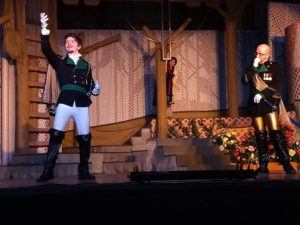 They don't bring agony, misery, or woe, but these two princes— Rapunzel's (Jacob Hale) and Cinderella's (Daniel Plante)— do know how to bring charm, charisma, and song to our ears and eyes. Hale, who is far more flamboyantly invested in the princely charade, is determined to one-up Plante when the pair go head to head in "Agony" as well as during its reprise. Plante holds his own against Hale, delivers a robust and rounded vocal baritone-bass to sublimely blend and roll over Hale's tenor. The pair are a delight in their respective roles, especially once Hale becomes entranced by Rapunzel (Brinley Fisher)'s melodic singing. Both Plante and Hale have the regal airs of princes about their portrayals as well.
Certainly not of princely airs and graces, but well equipped with a rags-to-riches costume change, Elizabeth Kanner produces a quality woman out of Jack's Mother. With maternal instincts and an exquisite sound, both during her solo feature of "Act One Prologue" and the sprinkling of other places that her character sings, Kanner lets us know when mother knows best with her strong vocal command. The way she and Jack (Tyler White) interact is utterly priceless, especially when she's in reprimanding mode. White, who is a perpetual ball of indefatigable energy, all but bursts off the stage and straight into the sky when he leaps into "Giants in the Sky." Expressively animated in face, voice, and body, White is a bouncing bundle of bubbly talent and excitement. This effusive energy is contagious and keeps the cast on its toes in an attempt to mirror and channel his inner spirit.
Going toe to toe against Jack with determination and stubbornness, Little Red Ridinghood (Ruby Webb) finds herself every bit as precocious, spunky, and loaded up with gumption as any other fairytale/storybook hero, especially if they're a fairytale/storybook hero that has to survive impossible odds inside a Sondheim show. It's Webb's emotional versatility that makes her portrayal so intriguing; there is oft a great hazard to play Red as bratty and simplistic or for comedic effect, but Webb shies away for that, preferring instead the more natural path of emotional discovering, which includes pathos like confusion and vexation.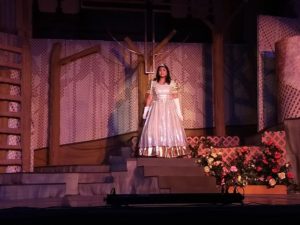 The most impressively handled musical number in the show is a combination of Webb's Red Ridinghood, White's Jack, Ryan Geiger's Baker and Nampoina Randrianarivelo's Cinderella going at one another all through "Your Fault." The way this quartet of performers patters, perfectly articulates, and ramps up the energy and the tempo as the song builds to its climax is practically flawless and very impressive, as well as enticing, to watch. Randrianarivelo, as the winsome and wondrous Cinderella, has a wholesome voice well suited for her songs, and much like the other performers in the show, takes time and care to explore the emotional depths that her character can achieve as she progresses on this storybook journey.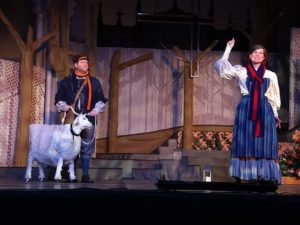 Geiger, who brings a hearty and hefty vocal weight to the Baker, finds his strongest footing in his facial expressions, often articulating what mere words cannot. There is a concentrated effort in the character's gravitas put forth by Geiger, which is rather rewarding when the conclusion of the tale comes to hand. Paired off against the vocally stunning Ginny Hornbeck— as the Baker's Wife— Geiger finds himself in well-versed duet with Hornbeck and the pair are a delight together. Hornbeck has a glorious sound when she's singing, when she's speaking, even her silences are well delivered. Her striking rendition of "Moments in the Woods" is evocative and delivers a renewed spark of creation, letting her character as well as the audience feel alive. Traversing her way across the treacherous climbs of the Baker's Wife's story arc, Hornbeck, deftly navigates the plot and character growth of Baker's Wife with divine talents.
Whatever you do— but do make sure you go see Into the Woods at Memorial Players— do not mess around with her greens, especially the beans! Which her, you ask? Why The Witch! That's Kay-Megan Washington, gnashing her teeth, cackling maniacally and terrifying children with her severely nasally affected vocalizations. But fear not, she's still a stage-storming diva even after the curse melts away to reveal her stunning natural beauty. Washington commands the role of The Witch with prestige, owning every step she takes whether she's creeping around hexing people or striding around newly transformed. Her rendition of "Last Midnight" is one for the books. Washington exudes exemplary volume and pitch control when singing as well, giving the audience the perfect balance of her intense voice, making this witch a must-see.
Now it's time to go into the woods, into the woods, into the— well…into the city, to Bolton Hill, particularly so that you can see Into the Woods, before they fill up!
Running Time: Approximately 2 hours and 45 minutes with one intermission
Into the Woods plays through April 29, 2018 at Memorial Players in the Memorial Episcopal Church— 1407 Bolton Street in the Bolton Hill neighborhood of Baltimore, MD. As a part of their mission, all performances at Memorial Players are free to anyone who wishes to attend, patrons are seated on a first come, first serve basis.