Moriarty was dead to begin with.
Not exactly your average Dickensian start to A Christmas Carol is it?
But these are the facts:
Moriarty was dead to begin with
Sherlock Holmes was in a mood most foul
The Saint Gabriel Miracle Players are producing a most splendid holiday production right now
As luck or good holiday fortune might have it, Sherlock Holmes and the Case of the Christmas Carol— and extremely obscure hybrid piece of staging written by John Logenbaugh— has found its way to the stage of The Saint Gabriel Miracle Players and just in time for the holiday season! What luck! It's almost as if it were…elementary! Directed by Rodney Bonds, this bizarrely blended Holmesian spin on the Dickensian classic has some very clever nods to all things Scrooge & Sherlock!
To be precise, as Sherlock would have his deductions be no other way, the script itself is clunky. Playwright John Logenbaugh has taken the long way round some of the things he's trying to do by weaving the infamous detective of Baker's street into Dickens' most recognized holiday work. Scenes are long and often plod on in places, most of which is owed to a heavy-handed script. There are one or two patches where the dialogue exchange could use tightening, and the scenic shifts themselves could be faster, but the majority of the meandering movement of this production falls on the onus of the playwright. That said, there are some extremely clever callbacks and Easter Eggs squirreled away all throughout the script, appeasing both fans of Holmes and fans of Scrooge. There's even a nod to Tiny Tim, who isn't quite so tiny anymore as he's all grown up as 'Old Tim' and has a full family of his own!
Director Rodney Bonds does his best with keeping the actors motivated, but there are just some inevitable hiccups, owing mostly to the nature of the writing, that keep the play from moving at speed. That aside, there's enough humor and heartwarming happenings on-stage that keep the audience invested in the long-haul of the evening. With a cast of 18, several of whom are playing multiple smaller roles, the show has a little something for everyone, even the youngest of performers— like little Jack Wiggins, playing the role of Eli. One of the "Baker Street Irregulars", young master Wiggins is a delightful and youthful addition to the production. Keep a special eye on young Thérèse DeMarco as well. Young Miss DeMarco is making her theatrical stage debut with this production, playing the sprightly and spirited Topper, and her cockney street urchin accent is leaps and bounds above everyone else in the cast. Outdoing even the more seasoned adult actors, Miss DeMarco's accent is consistent, intelligible, and works wonders for the scruffy character she's playing. A lively round of applause is well deserved to this young lass, and hopeful encouragement for her to partake in many more on-stage roles is also warranted!
Heidi Toll and the helpers from Heritage Players, Linda Swan and Sally Kahn, go to work making this Holmesian/Dickensian hybrid fit the bill from an aesthetic standpoint at least where costumes are concerned. There is a priceless moment at the end of the production that involves the donning of certain iconic chapeaux for both the Watson and Holmes characters and the Costume Brigade's efforts are well worthy of the show if only for that moment alone! There are other Christmas miracles featured throughout their sartorial selections— like the hideodious mustard-chartreuse dressing gown featured on Holmes himself and the outrageously festive green affair saved for the Second Spirit (of Christmas Present.) All in all the costumes look delightful on the cast and give that sense of a bygone era somewhere deep in the streets of London.
Though The Saint Gabriel Miracle Players are best known for their musicals, trying their hand at this non-musical piece of theatre showcases their versatility! With the incomparable Chuck Dick in the titular lead, Sherlock Holmes has never looked finer. Dick has a practiced mastery when it comes to delivering the zippy zingers for which Sherlock is known, and yet finds a way to humanize the character when the moment calls for it. He is saucy and dismissive with Mrs. Hudson (Terri DePaola), the land lady of Baker Street and particularly snappy when it comes to snapping at Watson (Forest Deal), his longtime partner and part-time flat-mate.
Dick's Holmes encounters a plethora of spirited characters over the course of the evening, not the least of which are the four spirits! Everyone thinks of A Christmas Carol as having three main spirits, because they always forget Jacob Marley. In this Holmes-Dickens hybrid, the 'Marley' is in fact none other than the great nemesis of Sherlock Holmes, the late Professor Moriarty (Jim McCrory.) With a hint of devilish intent, McCrory brings about the warning of the "three spirits" that will indeed visit Holmes that night, and visit him they do! There's the aloof but mindful First Spirit (Heidi Toll) who takes Holmes on a journey through his memories of cases and holidays long past. Then there's the ever-so spirited Second Spirit (Sharon Zelefsky) whose outrageous outfit is enough to make anyone think they've been hitting the Christmas Spirits just a bit too heartily. And naturally, the woefully dreaded Third Spirit (played in apt silence by Amanda Duarty) appears looking skeletal and frightening, just as Dickens' intended!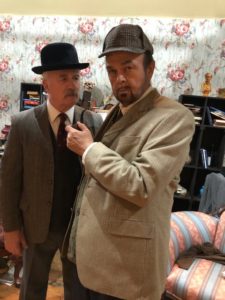 Along the journey, though Chuck Dick's Holmes does not interact directly with some of these characters that are shadows of his past, shades of his present, and echoes of his future, you can see that he has a great response to them by carefully watching his facial expressions. The boisterous Mycroft (John Wiggins), the unbeknownst older brother of Sherlock, gaily reminds Holmes of his first-ever Christmas spent in London, while Nick Chapman and Mary Beth Bunting, playing the Young Man Holmes and Becky (this Christmas Carol's 'Belle') remind him of love lost through the years. It's A Christmas Carol tried and true just layered with the nuances of Sherlock Holmes and all the characters to boot!
It's certainly a rarity to see such a production, the show itself is seldom produced. There's a chance to crack the Christmas case this holiday season, but only if you act fast and get your tickets now to take part in this great Christmas caper known as Sherlock Holmes and the Case of the Christmas Carol.
Running Time: 2 hours and 30 minutes with one intermission
Sherlock Holmes and the Case of the Christmas Carol plays through November 19, 2017 at The Saint Gabriel Miracle Players— 6946 Dogwood Road in Baltimore, MD. Tickets can be purchased at the door, by calling Dan Conley at (410) 747-5626 or with an advanced reservation request which can be made by sending an email to MiraclePlayers@yahoo.com