Archeology is not a science, but an art. It is the art of knowing where to look and what to look for and going to find it. Put on your Doctor Jones hat and join the archeological excursion for extraordinary women's theatre this fall as The Strand Theatre delves into the ancient past with Bryony Lavory's Origin of the Species. Directed by Erin Riley, this thought-provoking tale puts a new spin on history and how we as humans, in particular women, came to be as we are today.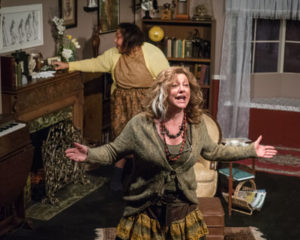 There is an overwhelming set— a visual feast set to sate the intellectual and aesthetic palette— upon which to gaze once you enter the theatre space. Set Designers Laurie Brandon and Erin Riley work with Properties Designer Jennifer Swisko Beck to fabricate the reality of an archeologist's home. Brandon, Riley, and Beck put their brains together to create depth in the set with so many fascinating things spread out over its surface that one could marvel away at the rich history and stories each of the objects, articles, artifacts has to offer. Insider's secret: the portraits featured in the set are actual family members of everyone in the cast, generating a nod to their own origins in the decorative process. Despite the half dozen clocks and just as many elephants and skulls— and numerous other interesting tchotchkes, nick-nacks, and brick-a-brack upon which to gaze— the set itself is not distracting because the performances given by the two actors happening upon it are so compelling and engaging. There's plenty of time for the eyes to wander and drink it all in once the house is open and again during intermission.
Costume Designer Amy Rawe Weimer creates a bohemian chic look for Molly when we first encounter her. This style of earthen tones and flowing skirts lends itself to the character's eccentric behavior and overall demeanor; there is a highly intelligent element to the character in addition to her bizarre almost otherworldliness, which makes the sartorial selections used in the first half particularly appropriate. By contrast, Weimer finds the most dreadful togs for Victoria to wear in the first act and creates a sharp differentiation with the amethyst evening gown for the second portion of the show, which takes place on New Year's Eve.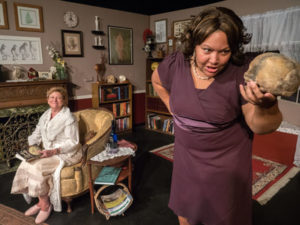 The play, written by British Dramatist Bryony Lavery, has an inescapable British setting and intense use of Yorkshire vernacular. This is a complex sound to master and while Dialect Coach Kerry Brady does her best to import this accent to the performers (and it really only applies to the Molly character for most of the show's duration), there is some difficulty with capturing and mastering this vocal nuance. Moreover, the difficulty comes from the stereotype of the Yorkshire accent itself, which is often perceived and understood to come from a working class personage, so that highly articulate patterns of speech, larger vocabulary words, and other perceived aural trappings of affluence and intellect sound almost foreign and incongruous with the accent. Brady does exceptional work with the Victoria character, allowing her to stumble on words in a primeval manner whilst still being intelligible.
The action moves quickly and Director Erin Riley keeps you invested in this dramatically charged and relevant tale. It's easy to wander off into the appropriately cluttered set for a show like this, but Riley keeps the blocking simple, playing to the elements of comedy the bury themselves in Lavery's writing, waiting to be unearthed like a long lost treasure from time. The poignancy and relevancy of Lavery's writing is actualized and well-articulated under Riley's keen vision, making this a perfect play to open The Strand Theatre's 10th Anniversary Season.
A two-person show is a demanding task. A good quarter of the first act is shouldered solely by Janet Constable Preston, playing Molly, as the character of Victoria simply hasn't been introduced up to that point. But Preston is a tremendous storyteller, drawing us into her world in a mesmerizing and almost hypnotic way. From the moment she picks up her date book and starts fondly recollecting through the book as if she herself were the mother of time, your eyes, ears, and attention spans are glued on Preston. There's no chance to drift off to more closely examine all of the fascinating relics that decorate her house because you're too busy hanging on her words as she waxes nostalgic about the creation of the universe, doing so with a sense of having been there. She relives each of these important moments the way a grandmother at the ending edge of her dotage would recall such tales to an eager grandchild awaiting a bedtime story.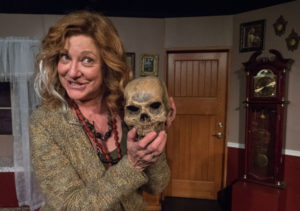 As Preston moves about the set, both before and after the advent of the Victoria character, you follow her. You follow her story, you follow her movements, her lilting sing-song voice, you are drawn into her world as if you were her very own grandchild telling you that aforementioned bedtime story. Once Victoria comes into play, there is less of a narrative element coming from Preston's character and far more direct interaction, but never does the audience feel abandoned to the action of the play. We are always gently reminded in a comforting manner that this is still a reflection upon the Molly character's life choices, especially when it comes to Victoria.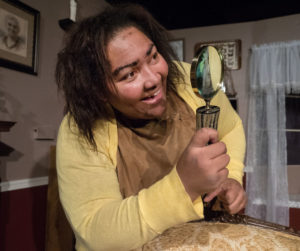 Dependent largely on physical expression and animated facial features in the early stages of her stage time, Nicole Mullins-Teasley creates a humorous character out of Victoria, the primordial cavewoman who has the brain capacity to understand modern human practices and tendencies but has not yet absorbed them. Mullins-Teasley approaches the character with sincerity, making those moments of curious discovery both believable and endearing, and often hilarious. Watching Mullins-Teasley transform the character from inarticulate and deeply unfamiliar with her surroundings to a highly intelligent and perfectly articulate human being of the modern era is astonishing, and feels genuine in its trajectory. Mullins-Teasley and Preston play exceptionally well off one another, altering the dynamic of their relationship as the play progresses.
There is much depth to be sourced from this production; there is a great deal of knowledge to absorb as well. Full of emotion, logic, and a great deal of evocative moments, Origin of the Species follows the line of supporting women in theatre by giving them voices on stage, in the script, and in the production team. Celebrate the opening of the 10th Anniversary season of The Strand Theatre was this marvelous production and you certainly won't be sorry, you might even find your perception of history and how human has evolved into existence shifted ever so slightly.   
Running Time: Approximately 90 minutes with one intermission
Origin of the Species plays through November 19, 2017 at The Strand Theater Company— 5426 Harford Road in the Hamilton neighborhood of Baltimore, MD. For tickets call the box office at (443) 871-1917 or purchase them online.