They've got the spirit (you've got to hear it) under the sea! Disney's The Little Mermaid, part of Phoenix Festival Theater's 2017-2018 season, is a coming of age story that is bursting with talented performances throughout. Along with Music Director Chris Rose and Choreographer Amanda Poxon, Director Laurie Starkey has assembled a talented cast that truly breathes life into the Disney classic. 

Upon entering the theater, the audience member is immediately transported to an underwater world due to thoughtful decorations, pre-show lighting, and projections. Though no credit is given in the program for projections, they are effectively used to take the audience through each scene. Despite some noticeable projector mistakes and accidental text appearing on the screen, the projections are successfully utilized to transport the audience to scenes like the deck of a ship on the open sea, a magical, underwater world, the middle of a massive thunderstorm, and Prince Eric's castle. 
Costume Designer Stella DiPeso does a wonderful job of capturing the iconic aesthetic of each lead character while adding unique flare in the ensemble with lit and glow-in-the-dark pieces, a plethora of varying and colorful sea-creatures, and puppets. Her matching costume sets work especially well with the sailors and Mersisters; each Mersister, while generally matching in style, has a distinctly colored outfit that helps distinguish each character. The variety of creatures and colors of the sea are on full display in the songs "Under the Sea" and "Kiss the Girl." Julie Wadey's contributions as the Props Master cannot be overlooked as her work was successful while keeping the mindset of quality-over-quantity. The props used, be it a 'dinglehopper,' a chef's cleaver, or Ursula's beautiful and powerful conch shell, were all fitting for the style and aesthetic of the show. The cast was not encumbered by too many items to haul around stage, and each prop was fitting and utilized successfully.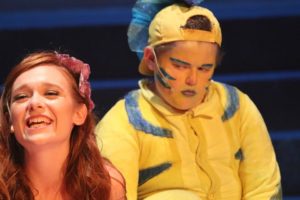 The simplicity and efficiency of the set, designed by Moe Conn, is effective as it leads to successful staging while maintaining quick scene changes. With the seats sure to be filled with many little ones, these quick transitions help the timing and flow of the production move almost seamlessly. Ursula's lair, complete with menacing tentacles, and Prince Eric's boat, split into simple pieces of the deck, are stand out pieces in Conn's design. While the lack of any set pieces during the Chef's pursuit of Sebastian did make for a confusing and clumsy few minutes, Conn's set design is effective in clearly establishing each distinct scene, be it on a boat, in a castle, or under the sea!
Adding to the magic of this story, Light Designer Thomas Gardner utilizes moving lights, multiple colors, and appropriate textures to transform the stage from sand to castle to sea. His thoughtful lighting adds to the dramatic moments within specific musical numbers, and he creates truly beautiful moments throughout the show. Gardner's lighting is thoughtful and pragmatic for the flow and blocking of the production while still remaining exciting. Gardner carefully utilizes special effects to depict the surface of the water, Ariel's transformations, and massive thunderstorms that add to the magical experience.
Sound Design and Operation by Scott Campo were, unfortunately, a glaring issue for an otherwise strong production. At many times throughout the performance microphones were muted while actors were speaking or they were set so low that the audience could not hear the actors' lines over accompaniment. While the use of recorded music works well for this show and space, the opportunity for better balance, be it between each singer or between the vocalists and the accompaniment, was missed through the majority of the show. Imbalance between singers was a concern throughout the production. The most noticeable instance of imbalance was during the song "If Only," a moving quartet between Ariel, Prince Eric, King Triton, and Sebastian, where individual volume levels led to one vocalist overpowering the other three performing in the song. The most detracting issue with sound production, however, was the decision to keep ensemble microphones off during bigger, energetic numbers like "Under the Sea" and the Finale. This contributed to an overall lacking in vocal energy whenever large groups of performers were on stage. Fortunately, though, this was only one area of needed improvement in the production, and there are a plethora of memorable individual performances that keep the show afloat!
Isaiah Graves gives a stand-out performance as Ariel's crabby confidant, Horatio Thelonious Ignacious Crustaceous Sebastian. He is unwavering with his Jamaican accent and comedic timing throughout his performance, and his vocal prowess is on display during both "Under the Sea" and "Kiss the Girl." It was a pleasant surprise to hear the often-agitated, curmudgeonly crustacean 'let loose' in these two numbers as his voice soared higher and higher towards the end of each show-stopping song! Graves' acting talents match his vocal abilities as he seamlessly navigates through multiple emotions in both song and scene, and his charismatic, dynamic, and thoughtful performance stays true to the nature of Sebastian as he brings the iconic character alive on stage.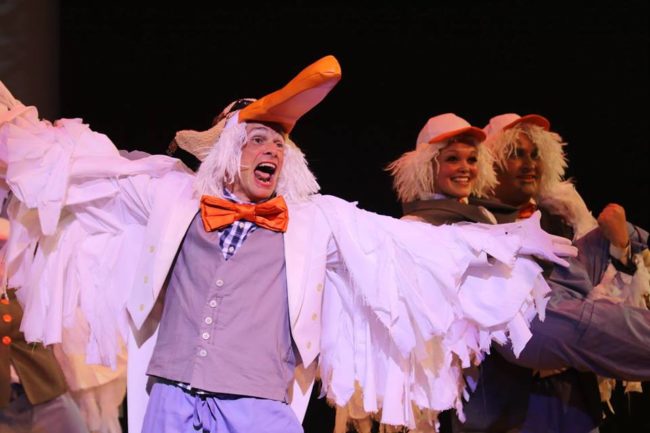 Another outstanding performance comes from Gary Dieter as Ariel's all-knowing, avian friend, Scuttle. While Dieter's acute comic timing and unforgettable character voice were consistent throughout the entirety of the performance, his multitude of talents were on display during his shining moment: the song "Positoovity." It is here, at the start of Act II, where Dieter effortlessly belts and taps his way towards helping Ariel 'find her legs' (and work up the motivation to find the man of her dreams.) Dieter is a necessary boost of energy for this production, but he is never doing so much that he oversteps the needs of each scene he is in as he finds ways to complement those he shares the stage with rather than outshine them.
Playing Ariel's frequently-frantic, fishy friend Flounder, Daniel Koncurat displays a strong voice that is not often heard from performers at his age. His vocal range is astounding and prominently on display in the number "She's in Love" alongside Ariel's Mersisters. Koncurat's singing is never flat like his character's namesake; his voice floats effortlessly to each high note throughout the entirety of the song. Although one hopes that with a little more direction he can slow some of his lines down, Koncurat's comic lines drew a genuine laugh from the audience each time, and his sincere performance adds to the emotion of Ariel's story. This is one talented guppy!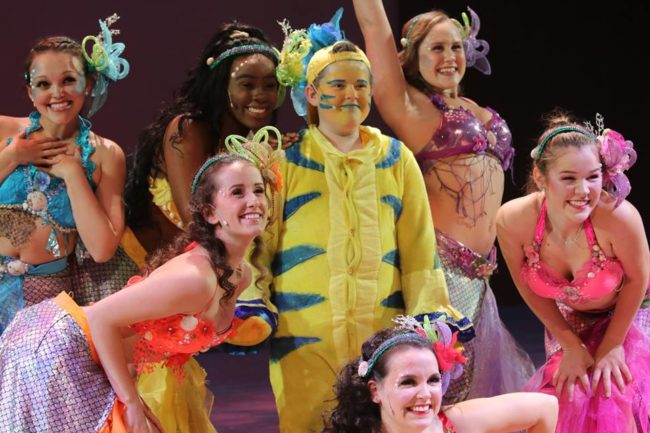 Ariel's Mersisters, portrayed by Nicole Arrison, Martha Bernett, Kelsey Feeney, Christina Foye, Amanda Poxon, and Elise Starkey, are a hilarious and gifted group that should not be overlooked. Pulling double-duty as the potential-suitors to Prince Eric in Act II, these ladies are constantly singing in perfect harmony and dancing as a well-choreographed unit whenever they share the stage. Their distinct personalities and strong voices are on display especially during "Daughters of Triton" and "The Contest" where it is nice to hear their individual voices on some well-deserved solos. One must see this production to see the dichotomy in how well they sing as the Mersisters in Act I and how horribly they (intentionally) do not sing well as the suitors in Act II.
Josh Schoff and Campbell Kistner are both slithery and scary in their portrayal of Ursula's right-hand eels, Flotsam and Jetsam. They sing well together in harmony in "Sweet Child" as they try to lure Ariel to their master, and they blend well with Ursula in "Daddy's Little Angel" as the three try to concoct a devious plan to corrupt the young mermaid. Although imbalance with microphones and accompaniment did keep the audience from clearly hearing some of their lines, Schoff and Kistner are a pair to watch out for. Ursula, one of the most iconic Disney villains, is a large undertaking for any performer. Stacey Bonds steps into the role seamlessly, and her portrayal of the antagonist is harrowing and powerful. She is evil incarnate from the second she is introduced, and she does not miss a note as she belts her way through "Poor Unfortunate Souls."
Tsuakirai Mutumbo (King Triton) and Leonard Gilbert (Grimsby) both do well in playing the father figures to Ariel and Prince Eric, respectively. Mutumbo clearly demonstrate's King Triton's pain and motivation in why he treats Ariel with such a heavy hand while Gilbert gives a genuine performance that shows how Grimsby has stepped in for Prince Eric's now-absent father.
One simply cannot forget the cameo performance of The Chef portrayed by Bobby Mahoney! Mahoney's character is a chaotic and hysterical combination of Julia Child, Gordon Ramsey, and The Muppets' Swedish Chef, and his maniacal and vibrant vocalizations are heard throughout his pursuit of Sebastian. He puts on a truly surprising vocal performance that would rival Luciano Pavarotti in "Les Poissons" as he brings his cleaver down with malice on his cutting board.
The ensemble of this show cannot be overlooked, and Musical Director Chris Rose and Choreographer Amanda Poxon have done a successful job with this group of performers of differing ages. The group is used judiciously as varying sea creatures, sailors, maids, and chefs throughout the show. Poxon's choreographic genius is apparent throughout each song; she utilizes creative and challenging choreography where it is needed in songs like "Positoovity," and it is obvious that she is thoughtful of the abilities of her cast as she chooses choreography that allows the ensemble to succeed in songs like "Kiss the Girl" and "Under the Sea." This group of performers sings very well together, and clear harmonies are present throughout the show. Group numbers do lack vocal energy as a whole, but one can hear the hard work the performers have put into their harmonies and ensemble singing in stand-out moments like "Kiss the Girl" and "Finale Ultimo." Rose and Poxon should be applauded for their work, and this ensemble should be applauded for their wonderful performance.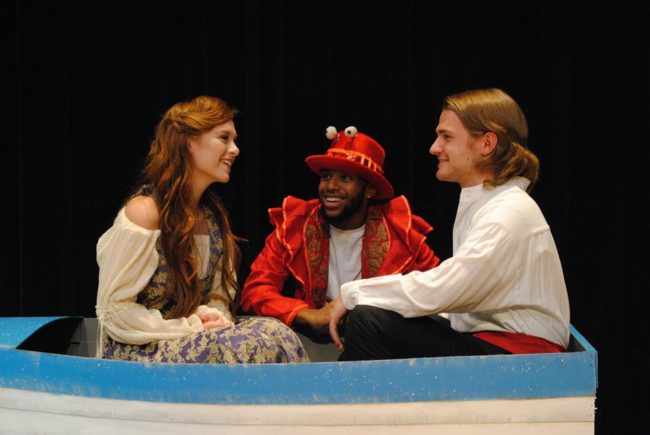 Despite many dynamic performances from supporting roles, Prince Eric (Joshua Starkey) and Ariel (Isabella Bordner) are the true stars of the show. Starkey successfully depicts a Prince who seemingly has everything but yearns for more. He is longingly searching for adventure when he is swept away by a terrible storm. He is love-struck from the moment he is saved by Ariel, and he is unwavering in his determination to find his savior. While we see a playful Prince Eric throughout the show, most notably in scenes with Grimsby (Leonard Gilbert), we are also shown a strong, yet loving and understanding Prince. Ever the hopeless romantic, Starkey's Prince Eric is believable at every step in his journey to find his true love. Vocally, Starkey is matched for the part as well. His vocals are fully on display during his moving performances of "Her Voice" and "One Step Closer." His moments of awkwardness and attraction with Ariel are pure, and he is a protagonist for which the audience is rooting the entirety of the show.
Isabella Bordner is the epitome of a Disney Princess with a truly sweet voice and a moving performance as Ariel. Bordner's portrayal of Ariel, while true to the original, is never a simple reproduction of the Ariel we have seen both in the animated movie and on stage before. Bordner is engaging throughout the entirety of her performance whether she is singing, speaking, stumbling, or sitting speechless and listening to another character speak. Her expressions of awkwardness, wonder, frustration, and love are genuine and believable in every scene. Ariel's desire to find more is clearly demonstrated in the iconic song "Part of Your World," and Bordner's vocal prowess is truly on display in the "Part of Your World" (Reprise) and "The World Above." Ariel starts the show as a naïve child and grows to a resolute and confident woman. Bordner successfully takes the audience through every step of the journey in an authentic, honest, and engaging performance that keeps the audience emotionally invested in the journey.
With stellar individual performances and a strong ensemble, Disney's The Little Mermaid is an exciting, family-friendly show. Make sure you catch it at Phoenix Festival Theater!
Running Time: Approximately 2 hours and 30 minutes with one intermission 
The Little Mermaid plays through September 24, 2017 at Phoenix Festival Theater as a part of Live! at Harford CC in the Chesapeake Center of the Harford Community College Campus— 401 Thomas Run Road in Bel Air, MD. For tickets call the box office at (443) 412-2211 or purchase them online.