Pretty things are rare in this life; they're like billboards telling us life is good. There's a 'life is good billboard' rising up in Rising Sun, Maryland this summer with Showcase On Main's latest theatrical endeavor. Away from their usual Minihane's location, they've popped up in the black box of Street Lamp Productions to present William Inge's Picnic. Directed and Designed by S. Lee Lewis with original score composition by A.J. LoPorto, this tired treasure from the American theatrical canon finds a new life waiting for it tucked away in Cecil County just as summer crawls to a close.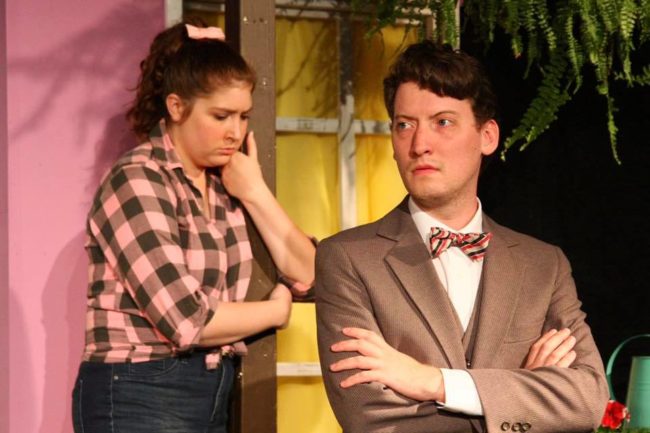 There's no denying that the work is somewhat dated, though Director and Show Designer S. Lee Lewis doesn't let that notion stop him from elevating the natural beauty inlaid within the sordid, albeit predictable, plot of Inge's kitchen-sink-transported-to-the-back-porch American drama. With a noticeably striking set— particularly intricate with its detailing in the intimate space— Lewis draws the audience readily into the backyard shared by Helen Potts and Flo Owens, like birds on the fencepost absorbing every moment of the quaint little story as it unfolds. The houses and back porches are rustically charming; there is an authenticity to their appearance that is breathtaking, again especially when seen in such a compacted stage space. While the backyard space itself ends up being quite small, there isn't a sense of feeling cramped or crammed by any stretch of the imagination because of the way Lewis has spatially aligned the furnishings.
In addition to a detailed and rather pretty scenic approach to the production, Lewis has carefully articulated the lighting plot to help delineate space and time. This assists with the pacing of the show, which despite its fluidity does drag in places merely because the text is written with a meandering cadence from an era of languid language. What keeps the audience's attention most impressively, however, particularly during those lulls in the action is the original score composed by A. J. LoPorto. Subtle tinkles from the piano waft delicately under an emotional moment between two characters; a faint melodious strain dips in just after critical plot twist has occurred; LoPorto adds a cinematic element to the drama with his score, giving it the tragically beautiful feeling of something along the lines of Bridges of Madison County, enhancing the audience's emotional experience rather than just informing it.
Courtesy of House of Bankerd, the costumes are appropriately dated to match the aesthetic of the show. With a sassy dress of the time for the Madge character, once she shows it off, and prim suits featured on the Alan character, House of Bankerd is putting their finest on display. What's most intriguing when it comes to costumes are the outlandish and rather lavish outfits featured on Rosemary Sydney, and her teaching ilk. The Irma Kronkite character in particular receives a flare of fashion, creating a haughty air about her person which suits the dialogue conscripted to the character. The cabernet wine-hued dressing gown seen on Rosemary Sydney is another delightful piece that speaks volumes of the times.
Though there are plot pits and valleys as far as the action and overall momentum of the production goes, the acting is quite impressive. Even cameo characters like Bomber (Shane Wilson), who lives up to his character's namesake by being vocally bombastic and equally obnoxious, are worthy of praise in this production. Rachel Marlowe and Cindy Mulvey, as Christine Schoenwalder the new teacher and Irma Kronkite the long-standing teaching institution respectively, deliver quirky characters that fit the bill when it comes to gossipy gaggling gassing geese. Paired with one another, featured in the collecting and dispatching of Rosemary Sydney (Cindy Starcher), Mulvey is the snider of the two characters while Marlowe takes a more lighthearted, albeit dippy, approach to the teacher.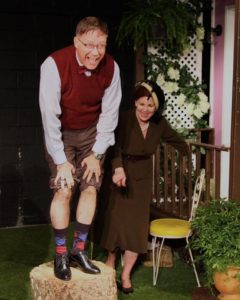 Cindy Starcher, as this play's Blanche Devereux, approaches the character of Rosemary Sydney not dissimilar to Steel Magnolias' Clairee only with a sassier tongue and deeper reserve of desperation once she breaks down. Playing opposite of her in the convivial, albeit confused, role of Howard Bevans is John 'Doc' Mulvey, who takes the peculiar character in earnest. Their initial flirtations, and those that come round in the final scene of the play, are delivered with honesty. Despite the rollercoaster track that these characters' traverse, their relationship and interactions are relatively straightforward.
The initial framework that starts the play, a conceptualized vision of Director S. Lee Lewis, features each of the characters arriving to stare at Hal (Caleb Gordon) as he strums away on his guitar and sings. While not completely disconnected from the drama of the show, there is something slightly superfluous about this opening, however, when it falls in line with the original score composed by A.J. LoPorto, it fits the show the way a teaser intro would a cinema picture. Gordon's character is curiously angled, seemingly rogue yet polite and none too difficult on the eyes. First encountering the bubbly and lively Helen Potts (Janise Whelan), Gordon establishes his rouse of a persona early on, balancing this with the internal difficulties that arise and a revealed about his character as the show goes on. Though the show happens right in Mrs. Potts' backyard, Whelan's character is more of a supporting cameo, though when she's onstage there is a bright and refreshing honesty, a bit like a maternal hope springing forth for everything and everyone around her.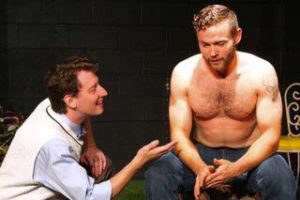 Gordon, who catches the eyes of everyone— from the ornery tomboy Millie Owens (Christy Wyatt) to the gooey-eyed and bubbled-headed tomato older sister Madge Owens (Joanna DiPaola)— is a multifaceted individual, who finds balancing the many veins of his character to be a lucrative skill he readily displays. DiPaola, who unearths a surprising depth in the rather two-dimensional character, creates touching moments with Gordon, when she's not busy fussing with Wyatt. Unruly and bratty, right up until she nervously cleans up her character, Wyatt takes a brash approach to Millie, though once she invests in beautification and the notion of boys, the transformation is astonishing. This trio of performers, all of whom take turns sharing curious scene with Alan Seymour (Alex VanderLek) are noted most prominently for their facial expressions. All four characters carry a consistent, albeit muddled, Kansas accent, and have natural exchanges between them. When VanderLek first encounters Gordon, it's like two brothers who never missed a playdate in each other's lives; when DiPaola first lays eyes on Gordon, it's a melting mess of true love at first sight. All of these little moments, ever so carefully captured in the silence of glances, looks, and emotional expressions are what make the show promising, drawing you into their somewhat trite storylines.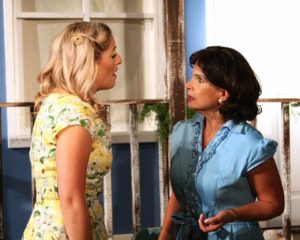 Flo Owens (Melanie Bishop) is at the center of the backyard universe, even though her back porch is only one half of the action. Bishop is the epitome of a mother from that era. With her tender yet nattering ways, her nagging yet comforting dispatch of advice, there is a familiarity and perfection in the way she handles the character. With the most consistent and evenly placed accent of the bunch, Bishop creates a strong sense of landing in Kansas, understanding how to affect her voice even when deeply emotional. Carrying a great deal of the melodramatic climax on her shoulders in the final exchanges with DiPaola's character, Bishop brings the tale to a close with a heartfelt few words and deeply stunned silence.
While the play itself may be dated, Lewis and company has given it a fresh breath if perspective and kept it interesting for an evening's entertainment. The talent contained within is of a high caliber; the set sublime, and the unique approach to musically elevating the plot and character relationships makes it a step above the average backyard American drama.
Running Time: Approximately 2 hours and 5 minutes with two intermissions
Picnic plays through August 27, 2017 with Showcase On Main at Street Lamp Productions— 5 Valley View Drive in Rising Sun, MD. Tickets can be purchased at the door or in advance online.