Josh Mooney's Jack Kirby opens at his drawing board, carrying the weight of one of the most crucial careers in modern arts. From lights up, the entire story unfolds in his eyes. King Kirby tells the story behind the man who created some of the most popular figures in modern media: Captain America, The X-Men, The Avengers, and many more. They fill the summer box office and take in billions of dollars. But Kirby, born Jacob Kurtzberg at a time of anti-Semitism, never became as wealthy or famous as his contributions would suggest.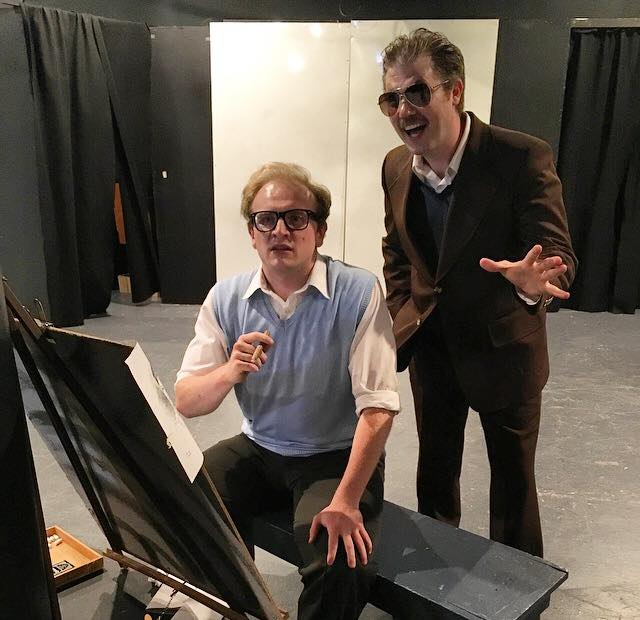 Off The Quill's audacious, energetic production thrives on Mooney's deeply-felt and richly-imagined portrayal of Kirby. He is surrounded by an immensely talented cast. Michael J. Dombroski is Joe Simon, an early business partner, his performance both sensitive and slick. Roz Kirby, Jack's wife, is played by Jenny Oberholtzer: frumpy and mousy, but with a sharp intelligence peeking out from behind her shy eyes, radiating energy. Erik Harrison expertly guides Stanley Lieber from nebbish-y office temp to nebbish-y titan of the comics' industry Stan Lee. Their ultimate battle of wits, about who gets wealthy from the production of art and why, is compelling watching.
The four tremendously talented leads are supported by an equally talented ensemble portraying a huge range of characters from the streets of Kirby's boyhood slums, to formative experiences in World War II, to the sweatshop artists and industry tycoons of the comics' industry. Each gets at least one standout scene to shine, such as Melissa Robinson's hilariously precise timing as a Sotheby's art dealer and Brett Cassidy's immense presence as Patton. Sean Eustis is almost depressingly persuasive as the crusading psychiatrist Fredric Wertham, and Enoch Wilson and Jonathan Palmer are riveting as they crack yo-mama jokes on the streets of New York.
But the ensemble most notable for filling dozens of scenes with the real-life bustle of a New York career. Director Keith Cassidy keeps a lively, energetic pace to his blocking, as the actors switch between dozens of characters, in incredible costumes from Katie Wanschura. They bring with them a few set pieces, mostly portable drawing desks and benches, to make the numerous locations, by production designer Patrick Mullen. Mullen's use of multiple projectors to show the incredibly varied history of Kirby's work brings even comics-outsiders into Kirby's world. Only an oddly under-utilized comic-book-panel backdrop feels slightly out of place.


Kirby's world wouldn't be complete without at least one fight, which Brian Moors has choreographed with a real fondness for the work. A key fight scene is intricate and lively, featuring plenty of elements from Kirby's work. Kirby was one of the founding mythmakers of our generation, and the script by Crystal Skillman and Fred van Lente plays some mythmaking of its own. Kirby is always the put-upon artist, repeatedly taken advantage of by smooth-talking suit-wearing businessmen. It's hard to escape the feeling that the real characters might have taken issue with their presentations in this play. And yet it rings very true when Lee tells Kirby, "No matter how many times this story is told, I will be the hero, you the trusty sidekick." Kirby at last gets to be the star, and the performances by the entire ensemble bear a deep humanity and compassion.  King Kirby is eminently enjoyable, fun, and enriching.
Running Time: Approximately 105 minutes with no intermission
King Kirby plays through August 12, 2017 with Off The Quill at the Greenbelt Arts Center— 123 Centerway in historic Greenbelt MD. For tickets call the box office at (301) 441-8770 or purchase them online.