Is that their show up on this site? That means they're doing something right! They're so much better— yes so much better— oh yes, yes, yes, yes— yes! MUCH BETTER! That's Phoenix Festival Theater with LIVE! At Harford Community College, and they're so much better with their production of Legally Blonde! Directed by Roger Schulman with Vocal Direction by Chris Rose and Orchestral Direction by Will Poxen, the daughters of Delta Nu are bringing to you a live and active production of the Elle Woods musical that will have you bouncing along in your seats.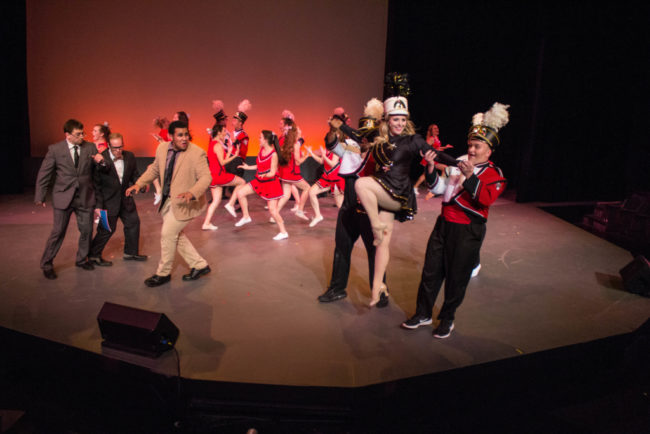 The sorority windows of Delta Nu and Elle's Harvard dorm room are simplistic. Set Designer G. Maurice "Moe" Conn III understands that less is more when it comes to these big, dance-heavy musicals. Get the set pieces out of the actors' way so they can showcase what's really important— the singing, the dancing, and the story telling! That's not to say that Conn's set isn't perfectly suited for the show, it absolutely is. The minimalist approach really makes scenic transitions simple, allows for absolute ease and fluidity of the show as a whole and doesn't detract or pull focus from what's happening with the performers around the stage.
With the simple rolling set in place, Lighting Designer Thomas Gardner makes exceptionally good use out of tightly focused spotlights. Covering ever scenic shift— which are performed as crossfades with no true blackout— with sublime motion, Gardner effectively hones in on the performer or performers that are singing through the shifts, drawing the audience away from what's happening in the shadowy portions of the stage. A simple use of varying colors— often pink and the occasional blue— are another nice touch which Gardner adds to the production; his restricted use of these is well in balance with verve of the production's overall energy.
No one should be left alone to dress and to accessorize— and omigod you guys!! Costume Designer Stella DiPeso is a girl's best friend— the whole cast's best friend— in this show because her sartorial selections are simply smashing! Hitting the ball clean out of the park, DiPeso delivers superior costuming for this production and it pulls the aesthetic of the show together. And it's not just principals' costumes either. While every outfit that Elle dons is spot-on for her positively peppy character (though those dark denim jeggings are questionable when she first arrives to Harvard…everyone is allowed one singular fashion faux pas) and Emmett's look is authenticated for his moniker of 'ratty corduroy', it's what DiPeso is doing for the ensemble and the supporting characters that is really remarkable. The bright pink suit seen on Elle's Mom (Cathy Koncurat) when she arrives before the trial or the entire Greek-influenced modern couture for the daughters of Delta Nu once they arrive at Harvard, these are but a few tiny examples of DiPeso's flawless attention to detail and true understanding of how to costume a show.
Choreographer Amanda Poxen has got the entire company whipped into shape with her fierce choreography. Never wanting for energy or enthusiasm, Poxen's bold approach to the dance routines are a fine hybrid of effervescent cheerleader-inspired routines with iconic musical theatre moves thrown in for good measure. There's a heavy line of marching thrown in, particularly when the girls of Delta Nu are involved, and Poxen's series of dance routines during "Legally Blonde Remix" are sensational. The segment of that number that features Kyle and Paulette leading the ensemble in an Irish line is like Riverdance meets Bring It On; there couldn't be a finer example of how to fuse dancing styles together than with what Poxen does for this show. And keep your eyes peeled for the insane jump-rope routines used during "Whipped Into Shape"; they're as fierce as Poxen's acting ability in the role! Poxen is stellar as an actress when it comes to the serious attitude she puts into her text, facial expressions, and overall body language. Singing is not her strong suit, but what she lacks in vocal talent she more than compensates for with her stunning characterization of Brooke.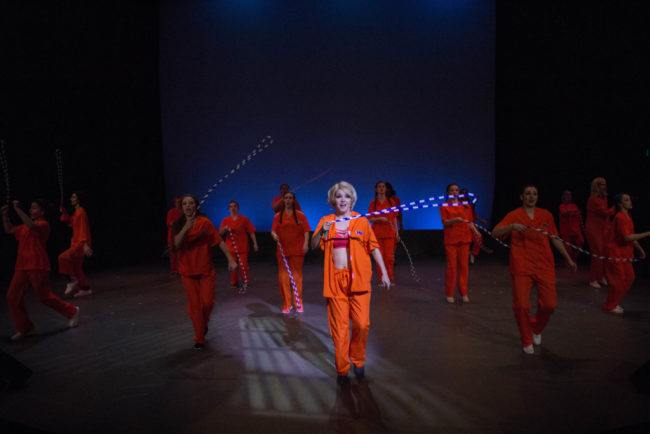 Despite a few balance issues, which may be largely microphone related, Orchestra Conductor Will Poxen keeps the band playing on, doing an exceptional job of adjusting tempos to catch up with or slow down to the performers. Director Roger Schulman assists in this matter with his overall approach to staging and blocking, keeping things straight forward so that the actors can focus on the musicality of the show. There are several subtle nods all throughout the production that allude to both Schulman and the cast's knowledge and appreciation of modern culture, popular and current events, as well as other musical shows! A few fabulous examples include the "24601" number on Brooke Wyndham's prison jumpsuit, or the Delta Nu sisters saying "That's so presidential!" when the line "you're fired" comes into play.
The ensemble is as strong as there are fierce, which is very easily going to be the descriptor for this show if it had to be boiled down into one singular word. Full of heart, energy, and enthusiasm, they are singing and dancing with their hearts and heads full of passion all throughout this production. A special shout out goes to Lindsay Rosser, a daughter of Delta Nu, whose jubilant enthusiasm is as contagious as it is present. Every time her face pops out to the audience its wearing a unique and vivacious smile, calling just the right sort of attention to her in the ensemble. Overjoyed with an extra peppy bounce in her step, you can't help but grin whenever she twirls through her routines!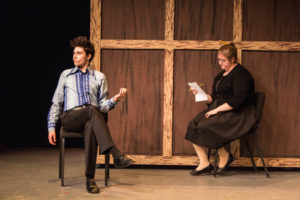 All along the way the show is peppered with positively perfect supporting performers. There's the overly enthusiastic and seriously gritty Enid (Tiffany Zellner) who gets her boisterous personality rolling in full spirit during "The Harvard Variations" and the seriously frosty Chutney (Rachel Miller) whose perpetual RBF (resting b*tch face) is seriously heinous and perfectly suited for the character. John Machovec does a terrific job as the grody Dewey and later the outrageously accented Carlos, but Drake Lupus is running away with the show as Nikos during "There! Right There!" and his automatically radically flamboyance that is just raining a fairy parade all over the courtroom. Lupus also a solid voice during "The Harvard Variations" as Sundeep Padamadan.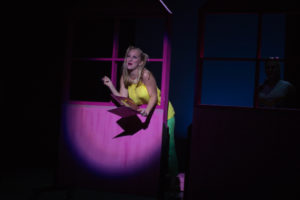 The trio of super-sisters when it comes to the Delta Nu-sies are something else entirely. Led by Serena (Elise Starkey), this threesome of terrifically vibrant excitable gals are just beyond titillating when it comes to their "Bend and Snap"— a number led by Margot (Angie Blocher)— and their bit during "Positive." All three sisters, Starkey, Blocher, and Lindsey McCumber playing Pilar, are full of pip and spunk, but Starkey takes the cake when it comes to over-the-top characterization. Her nasally, grating, up-speak sound is so horrifyingly stereotypical that it's hilarious and is a solid character choice for the role.
Watch out because Kyle (Michael MacKay) is bringing sexy back in multiple degrees! Strutting his stuff and completely unafraid to do so, MacKay has no problem swaggering his way in and out of Paulette's shop, and once he gets to dancing with her, there's no stopping him. Though the role is a built-in cameo comedic gimmick, MacKay turns it into a show-stealing moment wherein every mouth in the audience is agape with laughter and wolf-whistling. Such a ferocious presence does MacKay provide to this character that it's hard to imagine it any other way.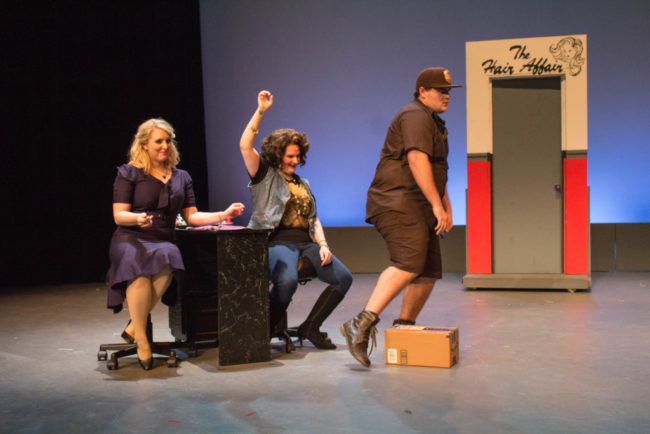 Ironically enough, MacKay is playing opposite of wife Emily MacKay who slays in the role of Paulette. Gifted with the vocal prowess of a true stage belttress— and an acting ability that would put most to shame— Mrs. MacKay turns Paulette into the star role the hair stylist has always dreamed of being. There is an effervescence to MacKay's attitude that just bursts out of her like a bottle of Guinness all shook up! Her superior belting ability is delivered in full force, with perfect pitch, during "Ireland" and its reprise. Her belts at the end of "Bend and Snap" are divine as well. MacKay brings Broadway quality talent to the role and does not disappoint in the least as the wild and zany supporting comedic character.
The messy love— quadrangle?— gets underway once Elle gets to Harvard and all the players really get involved. Warner (Volker) has some serious decision making to do when it comes down to the blonde and bouncy Elle versus the stoic and serious Vivienne (Emily Snyder.) With a belt that could blast the set clean off the stage, Snyder puts her vocal abilities on display during "Legally Blonde Remix", though her characterization of Vivienne on the whole is somewhat lacking. Volker looks every bit the way Warner should look. And naturally it all comes to a head once Callahan (Todd Starkey) gets thrown into the mix. Starkey, to his credit, has mastered the monotone deadpan that is expected of the character, and this makes the scene immediately preceding "Legally Blonde" that much more potent.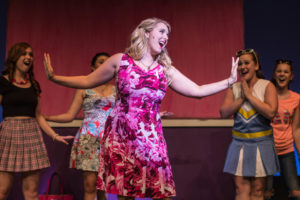 Elle Woods (Clare Kneebone) and Emmett Forrest (Andrew Worthington) are where the show comes together. Kneebone, who started off with just a hint of pitch issues (and correctly them to flawless perfection by the second act) really puts her heart and soul into the performance. There's never a moment that feels false or contrived and every lyric that comes bursting out of her mouth is grounded in authentically emotional truth. Kneebone really falls into the groove of the character with "Take It Like a Man" and performs her best vocal work in this number as well as in "Legally Blonde", a harrowing and emotionally devastating song. Kneebone is felicity incarnate when it comes to understanding the emotional depth of the character, not letting the spirited highs soar away into Barbie-girl caricature notions or letting the lows pull her too far away from that bubbly blonde persona that Elle Woods was meant to be. Seriously invested, Kneebone gives the audience an Elle Woods to love every step of the way.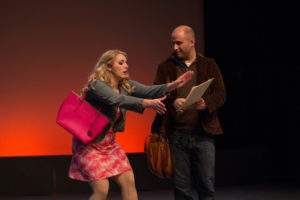 Worthington takes Emmett to a dark and angrily motivated place. While an unusual character choice for 'ratty corduroy', Worthington's characterization falls well within the character's written description and he's unyieldingly consistent with his motivation. Really driving hard through "Chip On My Shoulder", Worthington puts these choices as well as his vocal prowess on prominent display. These bold and harsh expressions pay off as his stunning reveal during "Legally Blonde" shocks the audience; seeing a softer side of Emmett after so much frustration and fury is deeply rewarding. His chemistry pairs well with Kneebone and together the pair build the appropriate dynamic for the relationship that is expected from Elle and Emmett.
Omigod you guys! Omigod— Omigod! OMIGOD!!! They only play for three weekends and there are some seriously amazing things happening at Phoenix Festival Theatre with this production of Legally Blonde so you won't want to miss it!
Running Time: Approximately 2 hours and 15 minutes with one intermission
Legally Blonde plays through June 25, 2017 at Phoenix Festival Theater as a part of Live! at Harford CC in the Chesapeake Center of the Harford Community College Campus— 401 Thomas Run Road in Bel Air, MD. For tickets call the box office at (443) 412-2211 or purchase them online.