Funny Foursome Performs Fabulously: Forever Plaid pleases crowd at Cockpit in Court
If you should have the urge for an evening of happily cheesy doo-wop Pennsylvania white bread happiness, you'll enjoy Forever Plaid at Cockpit in Court on the Essex campus of CCBC, (Community College of Baltimore County), part of Cockpit in Court's Summer Theatre lineup. The lyrics are crisp, the personalities fresh but familiar, the packaging is child- and senior-friendly, and one is assured a satisfying entree of safe fun with plaid garnish.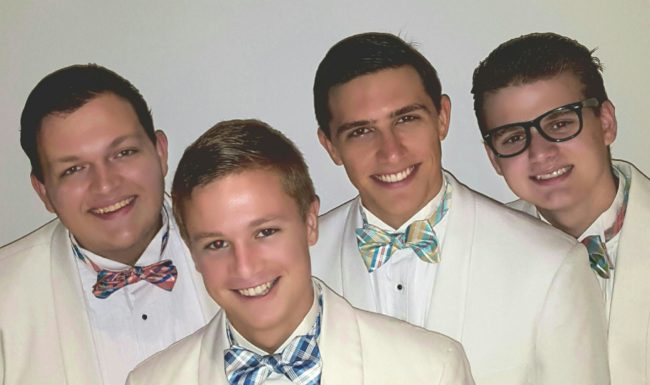 Forever Plaid is presented at Robert and Eleanor Romadka College Center, in the Cabaret Theatre at the CCBC Essex Campus, which is easily accessible from 6-95. Helpful tip for Googlemappers: Be sure you INSIST to GoogleMaps that you want the ESSEX campus, because GoogleMaps seems to default to the Catonsville campus. That will head the unsuspecting non-Baltimore driver WAAAAY in the wrong direction, so be alert. Other than that little advisory, arriving there is easy. Streets are well-marked, signage is good. Parking is free and plentiful: large, well-marked lots around the Romadka College Center are designated with Greek letter names to reduce prolonged frustrating post-show automobile searches.
Downstairs, the more traditional theatre-theatre, which is presenting Arsenic and Old Lace, (directed by F. Scott Black, for whom the theatre has just been re-named), doesn't permit beverages other than water, and contains no doo-wop whatsoever. Forever Plaid is up two little flights of stairs, but I'm guessing there's an elevator somewhere close. If anyone anticipates accessibility issues, given enough notice, the facility will accommodate. Seating is cafe-style, at numbered tables, where food and drink are permitted but not served. Get your $4 wine (quite nice, actually!) or $1-$2 snacks and sodas in the lobby and carry them in. Programs are pre-set on the tables, including a song list program 'insert' accompanying piece, which is presented in alphabetical order, crediting the original artists. Hint: the flyer/poster 'program' is double-sided. The running order of the songs is presented on the back of it.
Script/Author once upon a time in the Eighties, Stuart Ross wrote Forever Plaid, doing the original direction and choreography himself, with music coordinated and arranged by James Raitt. Largely credited as being first produced in 1989, it had made its entrance the previous year, and was panned pretty thoroughly by The New York Times. Based on the review's description of the show, Forever Plaid underwent a conceptual rewrite before its next production. In point of fact, Ross overwrote the show somewhat, hammering the innocent reader, actors, and director with how very, very seriously the show must be taken by the folk producing it, with detailed instructions about decor and atmosphere, down to specific suggestions about lobby refreshments. However, Director James Hunnicutt has not let these imperatives interfere with a genuinely jubilant production of Forever Plaid. It's infectious and fun.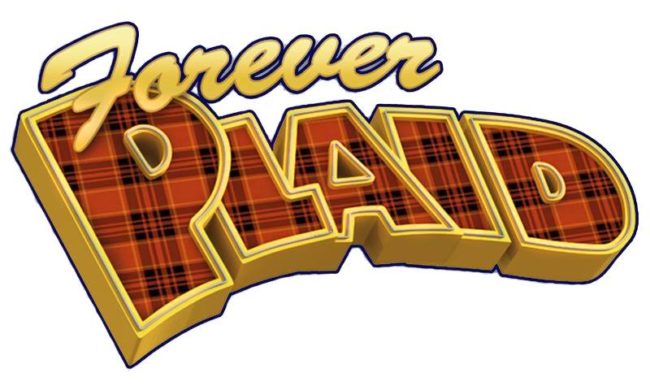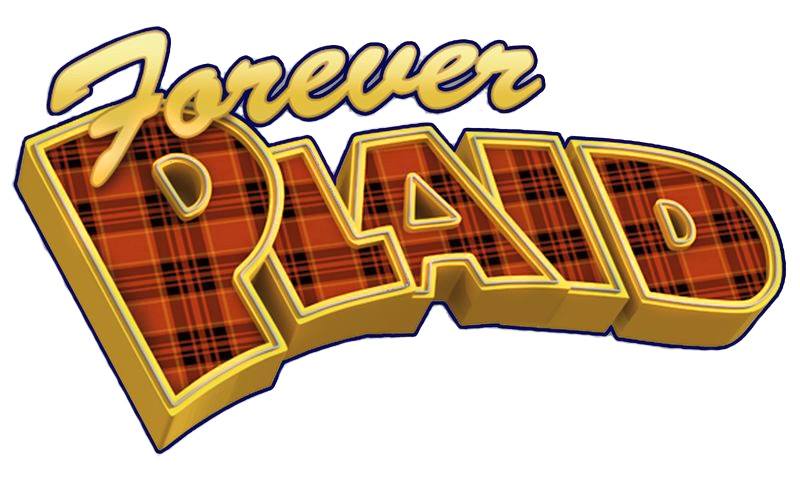 Cockpit in Court hasn't gotten overly ambitious or technically slick with the set, and rather than seeming pared-down, all elements of the set function quietly for a smooth, immersive in-the-round experience, allowing the focus to be entirely on the performers, and the intimate, interactive nature of the show. The stage is painted a glorious plaid pattern, and the 'dust covers' on the microphones are plaid patterned dish towels. Production Designer Hayden Muller understands the 'less is more' notion, and the whole thing just WORKS.
Costuming and props could easily overwhelm this show, but everything (with the exception of one sequence, which is likely to become less amusing each year, as fewer and fewer of the audience remember the Ed Sullivan show) is orchestrated smoothly: the perfect prop, precisely timed, produced without awkwardness or delay. The first act white dinner jackets are lovely, the plaid bowties and cummerbunds (and argyle socks!) shown off with ostentatious pride, but when an 'assistant' (I suspect Regina Rose, Stage Manager/Tech Director/ Sound & Light Operator, all executed with seamless impeccable timing) arrives with a mysterious, gleefully accepted box, the quartet becomes absolutely resplendent. Their shoes and the hair are both extra-shiny, as is fitting and appropriate.
The four actors also shine with enthusiasm for their roles. Director James Hunnicutt has cast four lovely young men with really excellent singing voices. As front man Francis, er, Frankie, Josh Schoff is charming and witty; in the role of Jinx, Connor Moore is amusingly uptight and excitable, and his 'little problem' is convincingly managed. As Smudge, the worrier, Zachary Miller is exacting rather than distractive; bringing to Sparky a not-quite-frenetic energy is Ryan Slattery, a character who might've turned out chatty and annoying but in Slattery's hands reads as 'held together, firmly, with exceptions,' a much more entertaining dynamic.  The group is much more than the individuals in the quartet: as a whole entity, the Plaids embody a fifth character. With a delicate touch, Hunnicutt gives us the sense of four people who become a great deal more than the sum of their voices once they transform from their personal 'selves' into their role within the group, their voice within the song.
There isn't a choreographer mentioned, though the boys have not so much 'dance' as "moves," some of which are graceful and lovely, others of which are contrived and silly, all reflecting the stereotype of the period. Still, someone deserves a nod— likely Hunnicutt— for staging this show in the round in a way that made it seem as if that's how the show had been designed. There is no hint of satire in the show; rather it seems meant as a loving tribute to the genre and a time which seemed sweet and innocent to a certain demographic of the country.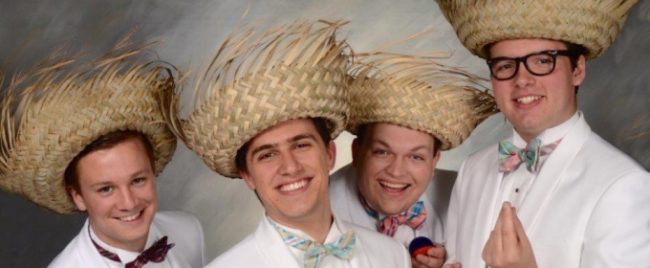 Musical director Patty DeLisle has done a nice job with arrangements, harmonies, and timing. She also serves as the shows accompanist on piano, augmented by Bob DeLisle (possibly no relation) on Bass. The singers SOUND like a group, a process which often takes years, rather than the six or eight weeks normally designated to a production's rehearsal schedule. Singing is delightful, harmonies well done, arrangements both excellent and humorous. The songs hold up, and the performers commit to them enthusiastically and completely.
Forever Plaid is played with one intermission, roughly 15 minutes, to refuel with snacks and soft (or not soft) drinks. The bathrooms are large, modern and clean, well able to accommodate the crowd nicely. (I speak for the Ladies' room only; dudes, your mileage may vary.) Since the second act is significantly shorter than the first, the audience was clearing the house by ten minutes to ten o'clock.
Although the attendees seemed to be white women over 50, mostly, the program/flyer/poster/thingy has a QR code in the corner, (http://blog.ccbcmd.edu/performingarts/cockpit-forever-plaid-program-detail/) that leads one to performer bios, acknowledgements, and other niceties normally printed and folded with a staple for a bellybutton. The inclusion of the QR code suggests that Cockpit anticipates (hopes for?) a more youthful crowd, technologically savvy, in the future.
Embrace your inner doo-wop and enjoy a few moments of time when parents and kids listened to the same music, watched the same shows, laughed at the same jokes. Bring your daughter, (I did), bring your grandpa, (sadly, no), and bring some crackers for all that delicious cheese.
Running Time: Approximately 1 hour and 50 minutes with one intermission
Forever Plaid plays through June 25, 2017 at Cockpit in Court in the upstairs Cabaret Space of The Robert and Eleanor Romadka College Center at the Community College of Baltimore County Essex Campus— 7201 Rossville Boulevard, Essex MD. For tickets call the box office at (443) 840-2787 or purchase them online