Are you ready for today's lesson? Listen to teacher, and repeat after me! I will fly second star to the right and straight on to The Salem Players to see their production of Peter Pan before it sails off to Neverland forever! I will believe in fairies and clap my hands to prove that I do! And most importantly, I won't grow up, no matter what! If all of that makes sense then you're in the right place for a magical and fun-filled evening's entertainment! Directed by Anita Spicer-Lane, the spring musical offering at Salem Players takes young audience members— and those young at heart— on an adventure! Get ready to face down pirates, run from the Indians, and play around with the Lost Boys in this musically staged adaptation of the J.M. Barrie classic novel.

Though Peter Pan doesn't physically fly, the well-intended spirits of all involved will have your hearts soaring and your lips sailing into full smiles with everything happening upon the stage. Director Anita Spicer-Lane along with Don Schwartz and Paul Timmel come together to design a set that serves as the Darling Nursery, Peter Pan's Secret Hideaway and Captain Hook's Jolly Roger Ship! Scenic Painters Peter and Reeve Nyland bring out the whimsy of Neverland in this set with their four painted boards— one representing each season just like Peter describes! Working together with Timmel, who also serves as the show's Lighting Designer, The Salem Players' production opens up the mind to new possibilities. Peter Pan has always been about freeing up the imagination, why shouldn't the set and technical elements of the show encourage just that?
Praise should be sounded for Sound Designer Tim Van Sant. Though Sound Technicians Amanda Yerkey and Marleigh Toscano get the applause for impeccable timing as they operate these clever effects from their booth tucked away at the back of the house, Van Sant's work is both whimsical and smart. The effect in particular that bears mentioning is the "boink" that occurs every time Captain Hook takes to thwapping Mr. Smee upside the head. Perfectly timed with Hook's hand motions, the comic effect is well received. Though not a sound effect, Miss Tinkerbell (performed by Flutist Sara Toscano and aided by Lighting Technicians Nancy Cohen and Jessica Nelson), is quite the flitting green spirit, zipping all about the nursey and through Neverland whenever she's mentioned.
Filling in the aesthetic details for the enchanting adventure to Neverland, Costumer Fran Huber gets creative and fashionable when it comes to distinguishing groups of people on the island existing second star to the right and straight on until morning. With nifty little dresses for the Indians— even a proper turquoise and peacock feather scheme to separate Princess Tiger Lily from her tribe— and distressed fur affairs for the Lost Boys, it's easy to see who's who in Neverland. Huber's finest work isn't the vibrant green outfit for Peter Pan, though that is a nice homage to Peter's original outfit, but rather the garish gold jacket and lavish hat that is seen on Captain Hook. It's piratical to say the least!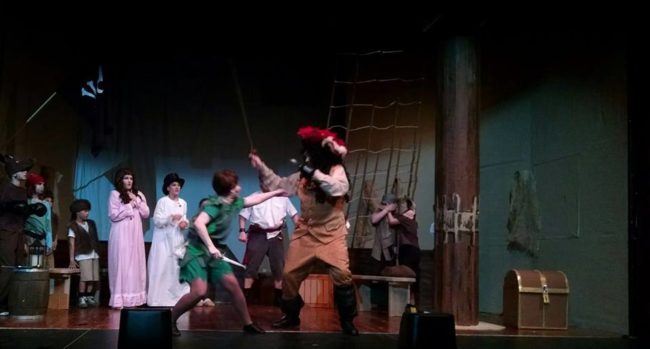 Throwing their hats into the ring to create the full theatrical experience, Choreographer Debra Evans DeVoe and Fight Choreographer Damien Gibbons add a bit of flare and excitement to the mix of songs and scenes that happen in the show. While DeVoe's choreography is simple, it's fun and energetic. So too is Gibbons' fight work, but it keeps the pirates engaged in their piratical duties— pillaging, looting, and plundering!
The Darling Children are indeed quite their namesake, with Michael (at this performance Elizabeth Schwenk), John (at this performance Zachary Polignone), and of course Wendy (Emily Lambert) being eager, enthusiastic and easily excitable. Lambert has a dulcet voice, which makes a nice addition to "Tender Shepherd", a song performed with the other Darling children and Mrs. Darling (Mary Margaret McClurg.) Though Mr. Darling (Michael Fitch) doesn't do any singing, he does a fair bit of fussing, a little less noise there, and reappears himself— not as traditionally cast— as Pirate Starkey on the Neverland side of the story. Of course the Darling household wouldn't be complete without the stuffy and haughty maid Liza (at this performance Caroline Stavrou, who doubles up as young Jane Darling at the show's end) and the loveable and jubilant Nana (Gavrielle Cohen.) Yipping and crawling about, Cohen makes a delightful dog-turned-nursemaid for the front and back ends of the show. When she's not pawing around on all fours, Cohen takes up the precociously precious role of "Slightly Soiled" and gets a proper feature solo in "I Won't Grow Up." The Twins (Matthew Fitch and Max Madrid) as well as Tootles (Georgia Kelley) are featured soloists in this rousing number as well.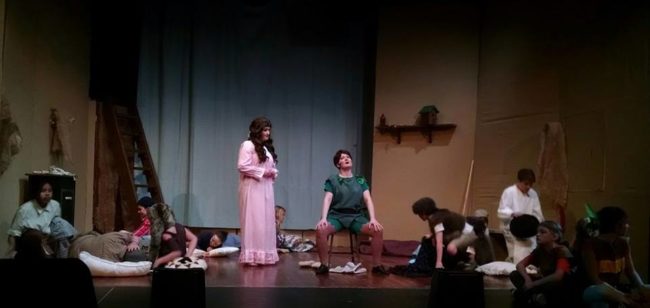 There are plenty of creatures to be featured in Neverland— though no mermaids and you must remember they simply never were in the original stage version— especially the curious jungle animals, like the Ostrich (Reeve Nyland) who struts about with austere airs, the Lion (Abigail Nelson) on the pretty prowl and our darling Kangaroo (Caleb Stavrou) who hops persistently and with great panache all throughout the production. Let's not forget the Indians, especially Princess Tiger Lily (at this production Sara Baunoch) who adds a roaring good voice to "Ugh-A-Wug." Ooh! And never forget (or smile at) the Crocodile (at this performance Hallie Shepard) who slinks up and down the stage and slithers through the aisles waiting to terrify Captain Hook!
Mr. Smee (Damien Gibbons) is the right-hand man to the fearsome pirate leader, Captain Hook (John Dignam.) The rowdy crew of pirates march through "Hook's Waltz", "Hook's Tarantella", and "Hook's Tango" with gusto. Dignam has a natural flare for the dramatic and understands comic timing. Pulling hilarious facial expressions, especially when spooked and being forced to jump up into Mr. Smee's arms, Dignam goes to town with the character and has a good time. After all, he's the swiniest swine, the dirtiest dog, and the slimiest rat in the pack! Dignam adds his round, robust voice to all of the aforementioned piratical dance numbers as well as "Oh, My Mysterious Lady", a pure nonsense number featuring the effervescent Peter Pan in disguise!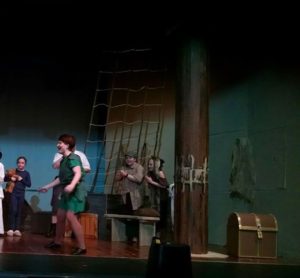 Arrrgh-arrgh-arrr-arrrrrgh! She's gotta crow— Miss Ashley Gerhardt that is— playing the titular role in this Neverland adventure. Spunky, spry, sprightly, splendid, all of the wonderful things that make the cleverness of her performance a true delight. With pizzazz and panache and a bit of fairy dust, Gerhardt lends her sensational vocal talents as well as her astonishing acting ability to the character and livens up Neverland like the brightest burst of sun. Playing exceptionally well with all the children— be them Darlings, Lost Boys, or Pirates and Indians, Gerhardt finds her moment with each character that she interacts and makes it feel authentic. Her renditions of "I Gotta Crow" and "Flying" are simply magical. This is a performance you won't want to miss, particularly when it comes to the way she emotes Peter's fiery nature and childish tantrums.
All you need to think is happy thoughts and you'll be flying too. Wouldn't you think some happy thoughts if you could get tickets to— well Peter Pan the musical, that's as happy a thought as can be! So head on over, grab a seat, and see what you can see!
Running Time: Approximately 2 hours and 20 minutes with two intermissions
Peter Pan plays through May 21, 2017 at The Salem Players— Salem Evangelical Lutheran Church at 905 Frederick Road in Catonsville, MD. For tickets call (410) 747-0720 or purchase them online.