The king is coming! We have seen the best of our times! Fitting lines of flattery, from the Bard's tragedy bent around such a concept, as Washington DC area acting legend Rick Foucheux makes his final journey onto the boards. Announcing his retirement from acting in theatre, Foucheux goes out with a maddening bang in Avant Bard's King Lear. Directed by Tom Prewitt, this rich and hearty version of the mad king's drama is modernized yet classic, contemporary yet historic, and filled with stellar performances that bring a striking depth to all the nefarious misdeeds appropriated in Shakespeare's gory tragedy.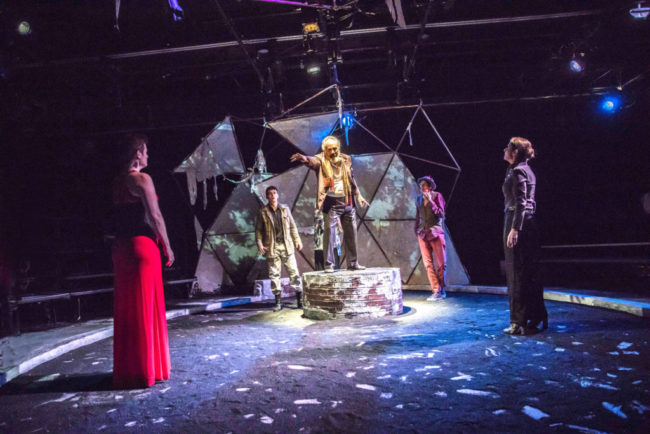 While there are some confusing design elements mismatching among the production elements, the concept on the whole is quite strong. There appears to be a desert aesthetic in Scenic Designer Jonathan Dahm Robertson's approach to the intimate space. The unique staging allows for audiences to be seated in a semi-ish circle around the action. A Mandala of sorts is displayed in the middle and makes for a fascinating device when Lear sets to divvying up his kingdom, though how it relates to the rest of the set or even the show is unclear. The overhanging tattered geometric framework gives the sense of a present-day almost post-apocalyptic feel, which is well suited for the "end of days" notion that follows Lear like a ghastly shadow. Confusion infiltrates this particular design element by way of Lighting Designer John D. Alexander. There are projections used occasionally, that either don't lay with full visibility onto the backings of the set, or are mis-cued and end up falling out of sync. These lighting faux pas aside, Alexander works exceptionally well with Sound Designer and Composer Justin Schmitz.
Creating vibrant and realistic sounding and looking storms, Schmitz and Alexander draw forth a tempest that rivals any maelstrom from any number of the Bard's plays featuring thunder and lightning. Not only roaring and raging during the iconic maddening of King Lear scene, but these storm effects play on when the king casts out a curse and pox upon Goneril as well. Schmitz underscore for the play is mostly subtle, swelling into dramatic moments with original compositions that sound almost feral, almost exotic. These sounds heighten and enhance, rather than overtake and overwhelm, the more emotionally and dramatically intense moments of the play. A nod of well-deserved praise, in a similar vein of heightening and enhancing such moments is given to Fight Choreographer Casey Kaleba for the impeccably intricate foot and sword work witnessed during various skirmishes. Again, augmenting rather than overtaking, Kaleba's work provides vehicle rather than spectacle and is entertaining without being its own circus as fight scenes are often wont to be.
The pacing is sharp; the scenes are crisp; the overall flow of the play is unstoppered. Director Tom Prewitt provides a rich canvas of guidance for seasoned players to perform at their peak. The path of Lear's madness is illustrated more like a creeping physical ailment rather than a mental one, and Prewitt takes this concept and runs with it, giving a fresh new look on the way Lear is perceived. Though Prewitt's visual intention, as far as costumes are concerned, seems oddly out of place with the rest of the play's construction, there is beauty to be found in Costume Designer Elisabeth Ennis' work, even if it seems to march to its own designed drum. The major misstep in Ennis' sartorial selections is corset on Regan, as it just looks out of place compared to the rest of the costuming aesthetic; on the whole the costumes exist in their own world, one that neither disagrees nor matches entirely what Prewitt has put forth in his directorial vision.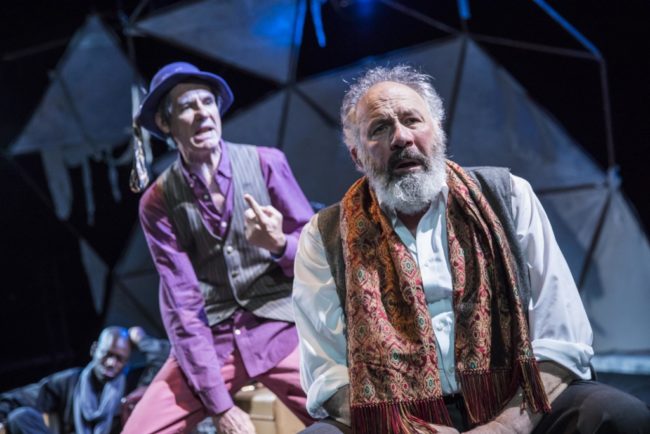 The only striking question that comes to mind in Prewitt's production is the gender-bending of characters. Casting a female actress to play Edgar, but leaving Edgar as a man is not uncommon. But to do so in the same production where the role of Gloucester has intentionally been subverted to be a female role (addressing her as mother, changing her to a she) seems curious at best. This is not to say that both concepts cannot co-exist within the same production, but it does beg the question as to whether or not having a gender-blind casting in a significant role like Edgar, weakens the statement being made by the gender-swapped casting of Gloucester. This is to say nothing against either performer as both take their roles exceptionally well and with great aplomb. Prewitt's swapping of Gloucester for a female puts several new layers of subtext onto the play, particularly toward the end when Lear re-encounters Gloucester and dances with her. It also momentarily raises the question, with that aforementioned moment in mind, as to whether or not Lear could be the bastard Edmund's father, because of the romantic implications such closeness and familiarity as it is played out presents to the situation at large. All strong choices, though they do open up a great deal of topics for conversation.
There are but two ensemble members in this minimalist cast of King Lear. Tiffany Byrd and Greg Watkins take up multiple roles, transitioning through them with little change in their outward appearance and even subtler change in their physicality and internal energy. Playing knights, attendants, guards, and messengers, both Byrd and Watkins create a faceless synergy when portraying this multitude of characters, showing how in the eyes of royalty— or those in power— the under-class are the same one to the next. This is a powerful choice to make but readily expresses the class disparity between those in the working regime and those in comfier situations. Byrd and Watkins are at the heart of some of the more brutal fight scenes as well and hold their own in these cases. Though not multi-charactered, Louis E. Davis delivers a striking performance as Oswald as well. With many fights in his track for this performance, it is impressive to see how well he handles the physical blows versus the verbal one, each taken in turn, and each more brutal, growing him into a savage and ruthless creature, nearly as dastardly as Edmund before all is said and done.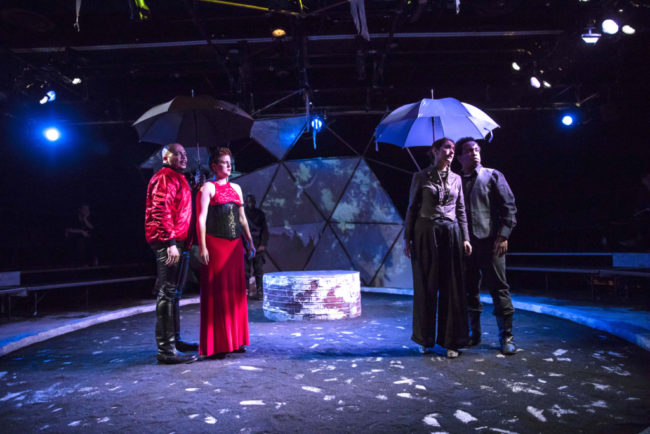 Cornwall (Frank Britton) and Albany (Christian R. Gibbs) so readily dismissed as the arm candy husbands of the treacherous Goneril and Regan, are largely more present in this production. Gibbs, more so than Britton's character, gives a furious presence upon the stage, standing at first aloof and distant when portions of the kingdom are being handed to his wife. However, he plays no fool as the play progresses, keeping a wary eye on all that unfolds around him, masking with his animated facial features the very nature of his purpose, which is ultimately to survive this bloody tragedy and set the wrongs to rights. Both Britton and Gibbs are solid performers, each standing their ground, though Britton does so with a far more vile and vehement tongue and temperament than Gibbs does.
Hardly the villains of the play, and certainly not Gibbs' Albany, when compared to the cankers, being Regan (Charlene V. Smith) and Goneril (Alyssa Sanders), that fester inside the family garden, rotting it from the inside out. Smith and Sanders are cruel and corrupt, revolting and putrid; their bloodlust, power-lust, and lust in general overcome their characters' simpler natures like a toxin oozing through the veins without remedy. Smith, the lesser of the two evils, is not to be discounted simply because her character's sister insists on being bolder and more brazen in her advances and her scheming. Sanders is a purposefully disgusting incarnation of Goneril, particularly when it comes to her unsavory favoring of Edmund.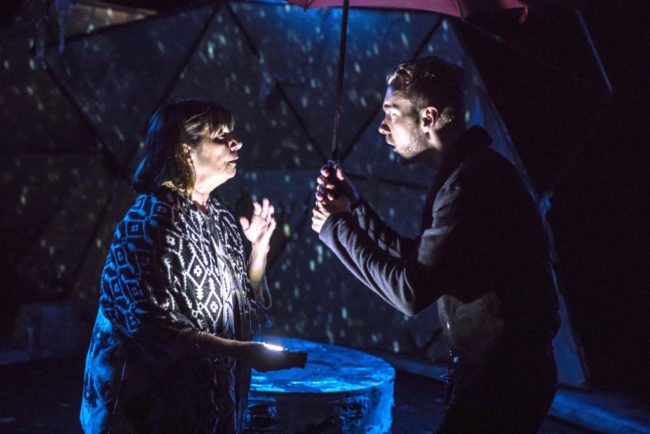 Rapscallion, rogue, and all round knave, Edmund (Dylan Morrison Myers) is the son every mother wishes they'd drowned at birth. Myers balances the true and heinous side of Edmund against the falsely flattering one which he presents to Gloucester, among others, with a steady hand. When he delves into the character's treachery and ruthlessness, it is unsettling to say the least. Playing opposite this naughty knave, the sweet and wrongly-turned Edgar (Sara Barker) makes the best of the situation when time comes to flee. Barker, who adapts her mealy and meager portrayal of Edgar into something wild and savage when on the lam as crazy Poor Tom, is a resilient spitfire, holding her own against such strong performances across the board. Finding a balance between lunacy and sentiment, Barker turns out one of the most emotional moments in the play, when encountering poor Gloucester late in the second act.
Sweet Cordelia (Kathryn Zoerb), though tossed from her father's kingdom early on, never loses her delicate temperament, nor her honest heart and sincere nature. Zoerb, playing the honest third in the trio of daughters, creates quite the contrast to the repugnant and unpleasant Goneril and Regan. Though her stage time be brief, as the Bard did pen her little, Zoerb makes the most of her moments on stage; she is compassionate and delivers these touching moments in earnest, even when being rebuked and rejected by the king in the opening scene.
Nary a wiser fool did tread the boards as Christopher Henley's Fool. Honest and humorous yet quirky and unsettling, Henley takes to the fool in a manner that is both intriguing and strange. There is an air of wizened wit about his portrayal; this bodes well for his various interactions with the King and with Kent (Vince Eisenson.) Taking up the role of Kent with gusto, Eisenson presents one of the most versatile roles in the production, giving Kent a few good accents, a few good physicalities, and a few good laughs for those watching along the way. There is an undefeatable spirit in Eisenson's Kent that drives forth the momentum of the play, most often when in council with the king. Even when shackled in the stocks, the energy that possesses Eisenson's physique is unstoppable, though his body be fettered and at rest.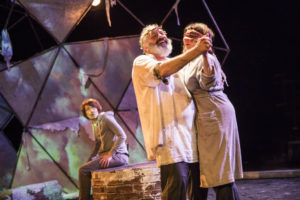 All the eyes can see that Gloucester (Cam Magee) herein be woman. Prewitt's directional switch is no cause for alarm as Magee undertakes the role with reverence and grace, turning Gloucester into even more of a devoted servant of the king. There is something convivial about her investment in her faith and duty to Lear, all the more so displayed readily when she seeks him out during the storm. Despite the untimely and unfortunate series of events that befall Magee's character, she prospers still in her mindful presence and emotional tethers, which keep the character authentic and lively.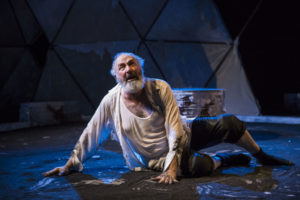 Madness is not the vein in which Rick Foucheux starts his portrayal of King Lear. All too often the king is mad from the word go, but this is not the case with Foucheux, and so much the better. There is a reverence seen when Foucheux first enters the stage; he is regal; he is proud, and fully in possession of his wits. There is even a scorn and embarrassment in the initial exchange with Cordelia when she refuses to idly flatter as her sisters do. With one look, before he even utters his banishment of his much favored daughter, Foucheux extrapolates from his character's interior being the way in which he will command respect. Madness does not creep into the equation until much later, and even then it is more of a physical ailment than a mental one, which is a fascinating approach to the role. A Lear in his right mind, though grappling with some other ailment makes for a much stronger story; Foucheux fully embraces this notion and allows those moments of screaming bliss, raging agony, and full-tilt insanity to be experienced as throes of passionate emotion rather than mere brain dysfunction. So fully invested in this performance and transforming it into a journey of "end of days" is Foucheux that it is devastating to watch the show's conclusion. (Spoilers: it's a Shakespearean Tragedy.)
So please you to join Avant Bard for this exceptionally well performed production, tis King Lear at its most excellent in regards to strong performances, thoroughly explored characterizations, and excellent portrayals of long-standing villains and heroes.
Running Time: Approximately 3 hours with one intermission
King Lear plays through June 25, 2017 at Avant Bard playing in the Gunston Arts Center— 2700 South Lang Street in Arlington, VA. For tickets call the box office at (703) 418-4808 or purchase them online.