Cowabunga dude! Surferiffic good times and tikitastic great sets are splashing into Stillpointe Theatre just in time for summer! This outrageously bodacious trippy campy comedy— Psycho Beach Party Directed by Courtney Proctor— is a way groovy wave of a summer roller coaster for all your entertainment needs! It's time to get funky with Chicklet, Kanaka, and the whole gang down on the sandy beaches of Station North! Don't miss this Big Kahuna of a summer hit! You'll be seriously bummed if you do!


Tikitastic and luau-lovely doesn't begin to describe the tacky yet terrific interior that Set Designer Ryan Haase has cooked up for Psycho Beach Party. Malibu's shores never looked this stellar; Haase has captured the quintessential essence of 50's 60's and 70's surf and sun, sand and sleaze all rolled out in the heinously bright pink and aqua-teal color scheme that has just exploded like the foam off a sick curl all over the space. Once again utilizing the theatre's unique auxiliary attachment, Haase makes exceptional use of his setup, using grass curtains to hide the unseen beach shack, the limbo of the Hollywood starlet's hideaway, and much more. Even the staircases are painted; the floor is planked to look like sandy boardwalks and there are tropical blossoms everywhere. The décor smacks of everything ripe and raunchy about those eras when it comes to the amalgamation that this production is. Make special note of Haase's use of the upper deck when it's time to go hit the waves— surf's up!
Nick Staigerwald supports Haase's aesthetic tooth and nail with the color scheme overflow into his stylistic choices. Short-short boy borders for the surf fellas and appropriately dated swimming costumes for the ladies, which are more or less scandalous depending upon which of the young gals they're situated on, all round out to make Staigerwald's work align flawlessly with the 60's surfer vibe. Even the kitschy house dresses seen on Mrs. Forrest fit the era in their own unique fashion. Staigerwald outdoes himself with some of the more decadent fashions featured on Bettina Barnes, Hollywood starlet; the belted sequin dress and sunhat being the most divine of those he features for the sex kitten of the silver screen.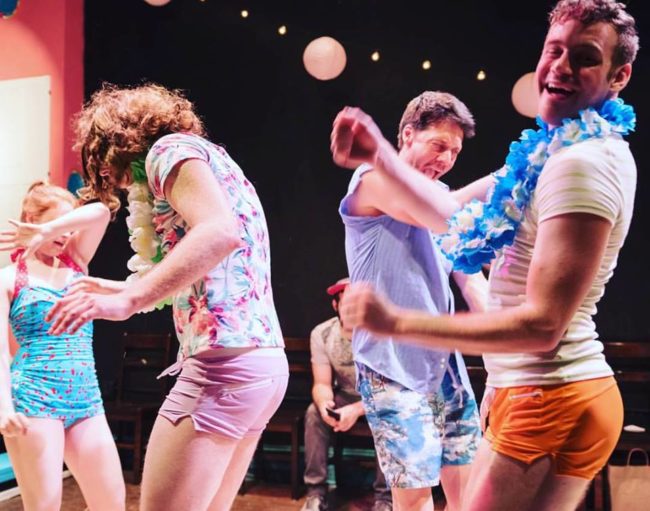 Lillie Kahkonen and Todd Mion, as Lighting and Sound Designer respectively, authenticate the groovy experience with their perfectly timed creations. Often synchronized with some psychotic happening or other in the show's zany and campy plot, Kahkonen and Mion add a dramatic and edgy flare to the design elements of the production but also know when to pull back, using softer lighting or the absence of sound for more picturesque moments— like when Berdine is tucked away on the stairs entering her life's story into her diary. And Kahkonen's trippy lighting effects gives way for all of Danielle Robinette's brilliant hair and makeup effects to get their full glory on display too.
Director Courtney Proctor has a vivacious imagination, which lends itself to the production, but it's the casting choices that are stellar in the production. Using Kathryn Falcone as the priggish Mrs. Forrest opposite the spunky and vivacious Christine Demuth as her wayward tomboy daughter Chicklet, is just one of many examples of flawless casting. Falcone is channeling Divine in every maternal character— particularly Mrs. Fishpaw from Polyester— making the character even more campy and perfectly off-putting during the performance. Proctor, as the show's director, not only casts the show exceptionally well, but guides it along in perfect balance with the levels of unfathomable camp and actual story that's meant to develop. The pacing is sharp, the performances are hysterical and it's a show that is simply out of this world.
Provoloney (Rex Anderson) and Yo-Yo (David Brasington) are just wild and crazy and really digging each other's scene, if you catch the fishy drift they're displaying. Both Anderson and Brasington display deep benches of understanding when it comes to the ridiculous campy natures of their characters; the pair play exceptionally well together, though they fight Jess Rivera for show-stealing moments all throughout the production. Bubbly, blonde (ish), and absolutely the incarnation of a beach bimbo, Rivera absorbs the character of Marvel Ann and produces side-splitting laughter every time she bounces her booty onto the stage. Balancing sex-starved maniac with prissy woman of the times, Rivera is a scream in the role and steals each scene in which she stars.
Stealing scenes in a very different fashion, Bevin Keefer— the delicate Hollywood starlet Bettina Barnes— slips onto the sand and slides away with everyone's hearts. Her airy and sultry Tinseltown voice is perfect for a silver screen star of the time. Juxtapose this up against her real voice— featured just once in a striking delivery mid-show— and you've got a mid-20th century vision appearing before your eyes. The way she carries the character smacks of Hollywood royalty and celebrity entitlement, which is perfect for the way the character is written.
Star Cat (Andy Flemming) is a surfer, but he toes two sides of the wave— one an outrageously bodacious surf cat and beach bum, ready to nail Marvel Ann and any big curl that crashes onto the shore and the other a sensible and intellectually upright human being. Flemming succeeds in blending these aspects of his character's persona rather seamlessly to make a complete experience. These are best witnessed in his actions with Marvel Ann and later with Chicklet, as each girl brings out a different portion of his psyche.
Kanaka (John Benoit) is where it's at maaaaaan. I mean he's one trippy hippy beach bum groovy doobie, duuuude. Benoit adapts a physicality and vocal affectation that are uproarious to watch, both of which make the character that much grounded in the wickedly whacky reality of the play. When trying to play it chill and be the king of the beach and surf, Benoit lets his physicality ride chill, but when he's hopped up— or sexually strung out— there is a rigidity that seizes him and escapes through widely animated eyes that makes his character that much more entertaining. There is something unspeakably impressive about the way he moves, particularly when encountering Chicklet in one of her "Ann Bowman" moments.
Sweet, angelic, and innocent Berdine (June Keating) is just the by-golly gosh-darn bees knees in this production! Keating is aces in the role of Chicklet's best friend, all sweet and gooey like a malt shop soda jerked straight from the fountain with enough cherry syrup to sate an entire sock hop full of pre-teens! Super swell, especially when doing her diary entries on the stairs, there is an innocent conviviality to her portrayal that stands out for miles against the insanely over-the-top sex-crazed mannerisms of the other characters. When huffing and having a snit fit over her friendship with Chicklet, Keating knows how to appropriately channel those 1950's feelings into something too adorable for words.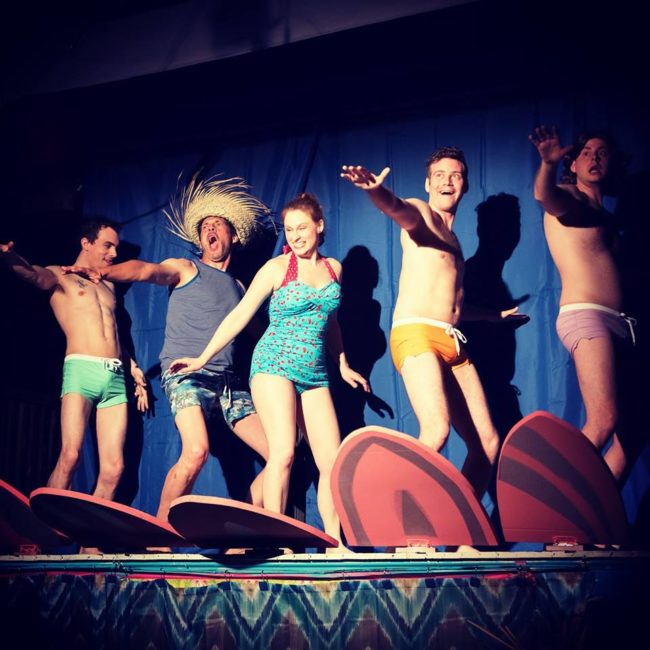 It all comes down to Chicklet (Christine Demuth.) That raging inferno of quirky, spunky, peppy, cheeky, and all round invested performance that is Demuth is the perfect fit for this role. Desperate to be a surfer gal, and willing to do anything and everything just be one of the boys— Demuth really puts a pop of panache into the character. Watch the varying personalities that present themselves over the course of the show— in particular the seductive snake and vivacious vixen Ann Bowman— as Demuth masterfully presents a unique physicality and voice for each one that surfaces. Remarkable and truly sensational, the role of Chicklet Forrest was practically hand-molded for Christine Demuth.
Grab your towel and your board and hop a wave down to Stillpointe Theatre! This is one groovy and crazy beach party you won't want to miss this summer!
Running Time: Approximately 95 minutes no intermission
Psycho Beach Party plays through June 16, 2017 at Stillpointe Theatre— 1825 N. Charles Street in the Station North Arts District of Baltimore, MD. Tickets can be purchase at the door or in advance online.