There's going to be some haunting as they terrify a miser, but hopefully by the end, everyone will leave just a wee bit wiser! If not wiser, most definitely lighter of heart and happier of spirit as The Second City presents Twist Your Dickens in the Theater Lab of The John F. Kennedy Center for Performing Arts. With stick-to-your-ribs, feel-good comedy, this brilliant bastardization of Dickens' iconic Christmas Carol and a Saturday Night Live style sketch comedy show is high-octane hilarity achieving its holiday heights just in time for Christmas. Directed by Marc Warzecha, this delightfully delirious madcap romp through Scrooge's ghostly encounters will have audiences bursting at the seams with the milk of human hysteria. With laugh-a-minute jokes, improvisation and a topical and poignant relevancy to everything happening in the political landscape at present, this show is sure to chase away any holiday blues that might be stuffing up your chimney this Christmas season.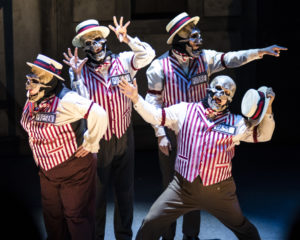 With a closet deeper than Santa's sack, compliments of Costume Designer Ivania Stack, The Second City team are able to accomplish such daring feats as presenting us with a cracked version of Dickensian England, or something close to it, in all its Victoriana glory and then some. Including more iconic outfits for sketch gags— like Dorothy Gale's blue checkered dress and little orphan Annie's red number— as well as some wildly imaginative threads and duds for the various ghosts that haunt old Scrooge, Stack's sartorial selections are the perfect fit for the shenanigans that ensue over the course of the evening.
A disembodied, floating head of Charles Dickens— or a very close facsimile in a caricature-vein thereof— greets the audiences as they arrive to an evening inside the Theater Lab. Scenic Designer Tom Buderwitz keeps things simple: easy rolling furnishings to create Scrooge's office and bed chamber, gliding barn doors to reveal and conceal other parts of the scenery as required, and little else. Buderwitz' basic approach to the set, while more than fully functional, is greatly appreciated as it allows the audience to focus on the performers and their hilarity rather than being distracted by the trappings of an unnecessarily elaborate set.
Lighting effects are timed to perfection in this production by Lighting Designer Alberto Segarra. A great many scenic shifts, and moment of high-intensity comedy are structured around these cues, and Segarra's tight lighting plot ensures maximum comedic potential. This is especially true when it comes to the Ghost of Christmas Past and his 80's rocker light-show party, as well as the lightning bolts striking down during the reign of disembodied Dickens. Moments like these and a great many others are peppered liberally throughout the performance and enhance the overall humorous value of the production.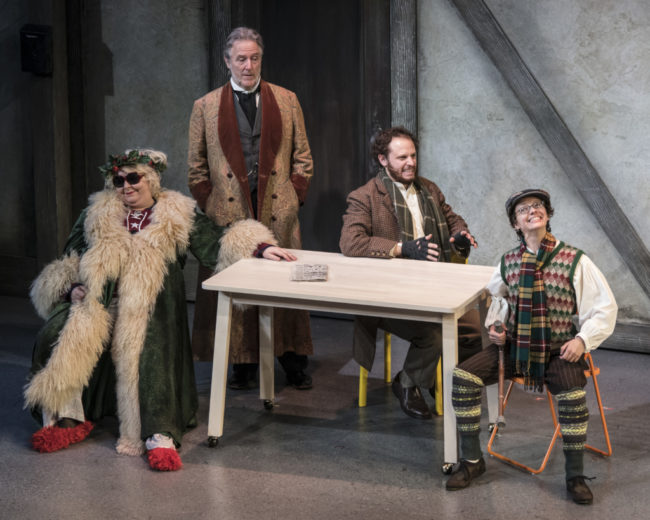 The poignant relevancy that these jokes and sketches possess are beyond compare. Director Marc Warzecha loads relevant and relatable jokes into the sketches and scenes, doing so in a balanced fashion so that the laughs can be enjoyed. This is no Christmas Carol like you've ever seen or experienced before. While the original narrative is buried somewhere among the comic chaos— and as directly quoted in the show, "…it's much better than that history lesson over at Ford's…"— each moment delves further and further from the point of the plot and includes tried and true Christmas classics like George Bailey, defunct presents from the Island of Misfit Toys, and the Peanuts from A Charlie Brown Christmas, just to name a few. The way these sketches are worked into the show is with the utmost hysteria, being sure to bring all sorts of wild entertainment from all facets of Christmas under Warzecha's keen sense of humor and comedic timing.
There's even a bonus present for audience members wishing to take a more active role in the production. Before the performance begins, there is the option to contribute to the show by writing things down on slips of red and green paper, which work their way into the action in a manner most ghostly. There are also moments of audience suggestion for improv-skits that are featured during the program as well. All of these moments are handled with panache and the riveting gusto required when it comes to handling the unknown. Some of the performers even go so far as to callback to some of the audience suggestions when they fit appropriately into the scene.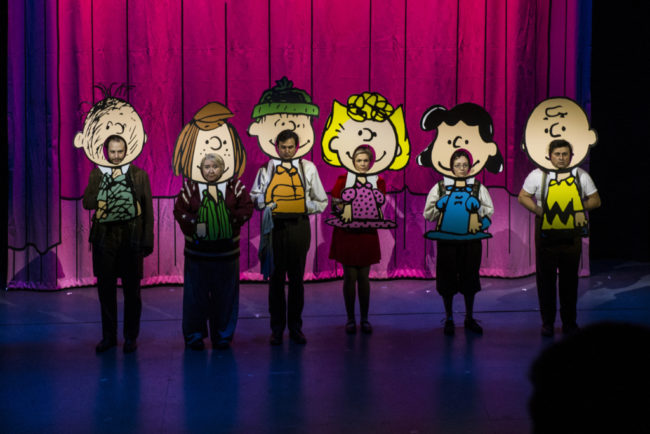 The ensemble of seven work exceptionally well together, sharing a camaraderie and sharp understanding of how to play these comedic moments off one another. As with any good comedy troupe, their top secret mission— in addition to providing two hours of hysterical entertainment for the audience— seems to be make their leader, in this case John Lescault who plays Scrooge, crack in the moment with their sheer shenanigans. This is a feat that at this performance was nearly accomplished: twice. Knowing how to ad-lib, play off of the suggestions given, bounce about for the loosely sketched scenes, and bring full flagons of enthusiastic energy to the stage, this septet of seasonally spirited actors has the humor well under their belt before the show even gets rolling.
Tia Shearer and Anne Bowles both take up roles in th Cratchit family, among many, many others throughout the performance. This includes— but is not limited to various of the Peanuts' characters, little Orphan Annie & Dorothy, as well as a good half-dozen others. Bowles should be noted for her rambling drunk hobo character during the Victorian Lawyer advertisement, while Shearer is most fondly remembered for her approach to Tiny Tim. Cheesing out to the audience with that absurdly too-cute grin and over exaggerating Tim's weak legs, Shearer milks those moments of comedy for every last drop, earning wild and raucous applause from the audience for those scenes.
Aaron Bliden, who takes up as Bob Cratchit, among others, finds himself to be a useful tool in moving scenes forward, especially when he shows up in Scrooge's past as Belle's other man. (This becomes a hilarious bit as he arrives to the stage dressed fully in the garb of an occupation and hobby that the audience chooses at random.) Bliden, he lends his voice to the opening song performed by the skeletal Barbershop Quartet, is a delightful addition to the mix of this show, a bit like sprinkles on Christmas sugar cookies.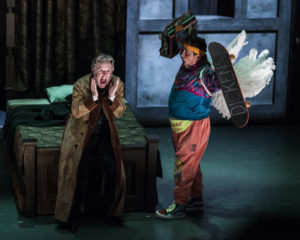 Frank Caeti starts life as an obnoxious audience heckler, for whom the jokes are all too real once he's forced down to become a part of the performance, transitions into The Ghost of Christmas Past, and later becomes the scene-stealing character of Bartholomew, an impoverished lad suffering from malnutrition who hangs around with the likes of Tiny Tim. Bodacious and totally tripping into the 80's vibe as the Ghost of Christmas Past, Caeti really rocks up the scene with his spiky attitude. But, as mentioned, his Bartholomew character, for whom everything is an uproarious exaggeration, is what is most memorable about his time spent on stage.
Stealing nearly every scene she's in, Jaime Moyer takes the cake, the holiday ham, and the eggnog all in one go! Ghost of Christmas Present may be her most prominent character, where she— much like Caeti— brings a righteous and gnarly attitude to her portrayal, but it's her time spent as Ruby Santini, the highly intoxicated singing diva. In a subtle nod to Pearl Bailey, Dean Martin, and other singers of the era who performed and recorded while blitzed on the spirits of Christmas, Moyer has the audience all but rolling in the aisles with her performance as Ruby Santini. She's aces when it comes to covering slip-ups as well, arriving too late for a scene and crying out "Sorry! Sorry! Sorry! I was in that last sketch!" or chatting it up with the audience and making small talk until she asks "Is that scene change finished behind me? Good!" and then leaping into action as if she were never there. A true comedic gem with impeccable timing, Moyer is the sugary dough of this Christmas recipe for comedic disaster that is just too good to be true.
Jamie Smithson vies actively for title of show-stealing ham against Moyer with great vehemence all throughout the performance. Though his Dickensian claim to fame is the ghost of Marley— a role which he delivers with quips, zips, zingers, and then some— it's his other character appearances that really make him sparkle like the top of the Chrysler building at Christmas time. Appearing as nephew Fred with an absolutely absurd laugh, and later as the wildly harried George Bailey, Smithson puts all of his comic prowess to work and it pays off in spades. Playing opposite of John Lescault (the only performer to take on just one role), Smithson comes the closest to making Lescault crack over the course of the evening, an accomplishment to be proud of, for sure.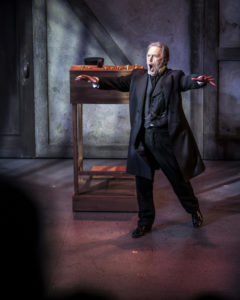 Lescault is a bitter, fusty, warped, frustrated, twisted, nasty, biting, derelict, curmudgeonly, repugnant, and a great many other adjectives befitting of the textbook Scrooge whacked out on Christmas crack, presentation of Dickens' finest literary achievement. But Lescault is not without his own humors, taking dark jokes to a whole new level. The man even gets funky during one of the dance scenes, and the heartfelt transformation is still palpable and present by the show's conclusion, even if it is wrapped in hysterical gooey comedy. Lescault leads the show with a great sense of humor and an even great sense of comic timing, knowing how to setup a sketch, fill a scene, and have a good time with his fellow cast mates all along the way.
The Second City is wishing you a Merry Christmas and a Happy New Year, and the only way to ensure that a splendid time is guaranteed for all is to of course go see their Twist Your Dickens right here in Washington DC for the holidays.
Running Time: Approximately 1 hour and 45 minutes with one intermission
Twist Your Dickens plays through December 31, 2016 in the Theater Lab of The John F. Kennedy Center for Performing Arts— 2700 F Street NW in Washington, DC. For tickets call the box office at (202) 467-4600 or purchase them online.
Many performances have already sold out.