Fellow Washingtonians! Let us be glad! Let us be grateful! Let us rejoicify that the city has brought onto you— the wicked workings of you know who! (Stephen Schwartz and Winnie Holzman, that's who!) Isn't it nice to know, that good has come to DC, in the form of the Tony Award-Winning musical Wicked just in time for the holidays? And you will mourn for Wicked if you miss your chance to experience the national tour as it drops into the Opera House of The John F. Kennedy Center for Performing Arts through January 8, 2017 this year, but tickets are moving quickly with just a handful of seats remaining on select performance dates! The marvelous magnificence of Oz and all its glory before the twister blew Dorothy to town comes to wondrous life this Christmas season right before your very eyes.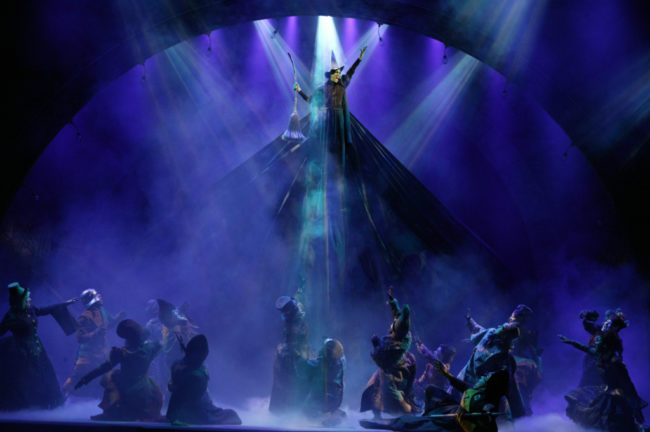 Birthed from the brain of author Gregory Maguire, Stephen Schwartz' music & lyrics with Winnie Holzman's book tells the untold story of the witches of Oz— Glinda and Elphaba and how one became known as good and the other wicked. A remarkably magical and utterly enchanting fairytale, the smash Broadway sensation makes a month-long stop in the nation's capital and is turning theatergoers green with envy for all of the simply sensational things they will see if they're lucky enough to procure a ticket!
Looming high above the Opera House proscenium is the ominous brass Clockwork Dragon, telling time, marking important events, and existing as the focal point of Settings' Master Eugene Lee's scenic design. Fabricated for all audiences— whether it's your first experience with Wicked or your dozenth trip to the Emerald City— Lee's ingenuity and creative design work replicates the mountainous structures originally featured on Broadway, making them accessible to audiences across the nation. Other ingenious pieces of scenic development from Lee's handiwork include the iconic farmhouse scene late in the second act as well as the awe-striking Wizard of Oz throne-head.
Working in tandem with Lee to deliver the sheer spectacle that is expected of the production, Lighting Designer Kenneth Posner, Sound Designer Tony Meola, Projections Designer Elaine J. McCarthy, and Special Effects Designer & Coordinator Chic Silber draw together the magic of Wicked and make it a vibrant, shining reality with unwavering consistency throughout the production. Bubbles, flying monkeys, confetti, and rain are just a few of the unique projections that McCarthy weaves into the never-ending tapestry of visual magic featured in the show and that's not even touching on her work with silhouette and shadow play, enhanced tenfold by Posner's clever lighting. Posner's shining glory is a combined effort with Silber to make Elphaba's flight during "Defying Gravity" as magical as possible.
Wig & Hair Designer Tom Watson works alongside Makeup Designer Joe Dulude II all in the fantasteriffic fashion of complimenting Costume Designer Susan Hilferty's extravagant couture. Fashionably sensible and sensibly fabulous, Hilferty's sartorial selections are the latest in vogue verdigris, the hippest in wondrous whimsy, and the most aesthetically inspiring in every sense of the word, especially when it comes to Glinda's glamor gowns and the full spectrum of green garb featured during "One Short Day." Hilferty's work, which is accented and accentuated by the towering hairdos created by Watson and the electrifying creations on various characters faces by Dulude, is a critical element in the enjoyification of this production.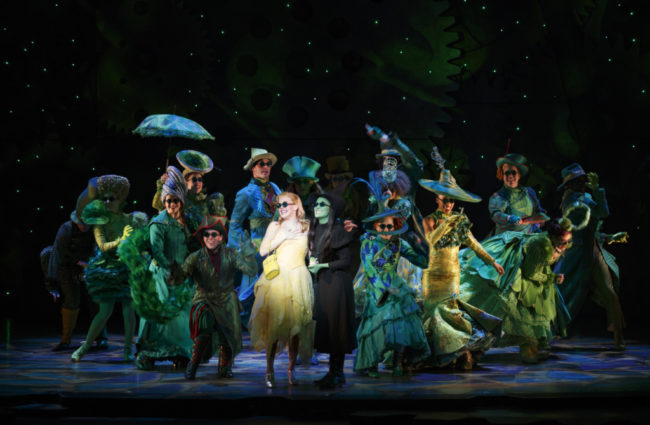 Swirling, whirling, and twirling their way through musical numbers like "Dancing Through Life" the ensemble finds themselves in capable hands with Dance Arranger James Lynn Abbott and Associate Choreographer Corinne McFadden Herrera. Though Wicked is not your typical dancer's musical, Abbot and Herrera take good care to bring the most impressive dance moves to the numbers that call for them, earning lots of giddilicious oohs and aahs from the audience. The great spins and lifts featured in "Dancing Through Life" are enough to make anyone's heart do somersaults when it comes to feeling thrillified over what they're seeing.
Musical Director Dan Micciche, working with a team of musically inclined individuals including Musical Supervisor Stephen Oremus and Musical Stager Wayne Cilento, give an exuberating energy to the ensemble as they perform a myriad of emotionally charged numbers, everything from the show's opening number, "No One Mourns the Wicked" to "Thank Goodness" and "One Short Day." There is a palpable excitement present, whether it's steeped heavily in loathing or joyous delight, in each number performed by the talented ensemble. Their infectious enthusiasm permeates each song and dance routine, carrying through into their mostly silent reactive moments that occur around the principal characters.
While every performer deserves a shout, there are some who stand head and shoulders above others, in this case quite literally when it comes to Wayne Schroder as the Mayor of Munchkinland, Elphaba's father. With a booming voice that suits the role, this his moments in song are few and far-between, Schroder lives up to this larger-than-life character stupendifferously. Matching him in performance integrity and vocal clarity is Chad Jennings as Doctor Dillamond. The goat professor has all the appropriate mannerisms and vocalizations for such a creature, particularly during "Something Bad" a duet shared with Elphaba early in the first act of the show.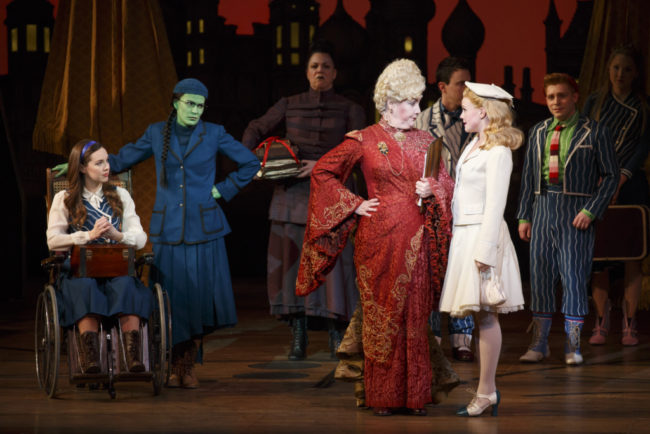 Sharing striking moments that are both touching and harrowing, and occasionally harrowingly touching and touchingly harrowing, Boq (Andy Mientus) and Nessarose (Kristen Martin) earn their moments in the limelight in this production. Mientus, who is a delightfully hopeful Boq, has moment of reactive response during "Dancing Through Life" that are almost too precious for words as he falls in step with being a wallflower and trying to impress Glinda. His voice is a delicious match for Martin's heavy mezzo sound, especially for their sweet moment in the aforementioned number. Mientus carries a great deal of seething rage during "March of the Witch Hunters" as well, showcasing his versatility as a performer. Martin gives a similar performance, starting as a delicate and rather innocent flower, but surges with fiery brilliance for "The Wicked Witch of the East", delivering a belt with such blastifying force that she seizes the moment and runs away with it, sparkling shoes, mangled hearts, and all.
The hideodeous Madam Morrible (Isabel Keating) is disgustingified beyond compare; it's no wonder her name rhymes with horrible! Keating does an exceptional job of portraying a classically guised villainess, holding the reigns of her evil close to her breast while appearing charming yet sarcastic. Keating is ruthless and vulture-esque in her demeanor from the scaffolding stand during "Thank Goodness," ensuring that the ceremony goes exactly as planned. Playing opposite of Keating, the incomparable Fred Applegate takes up the role of the wonderful Wizard of Oz and lives up to the moniker sublimely. Wonderful barely scratches the surface of his performance, particularly when it comes to his singing. "A Sentimental Man" is a tender moment that fully expresses the goodness that exists within the character, and "Wonderful" is Applegate's moment of elated jubiliration that's simply thrillifying to watch and hear. Quick on his feet and even quicker with a quip, Applegate does The Wizard a swift turn of justice when it comes to fleshing the character out to its fullest potential.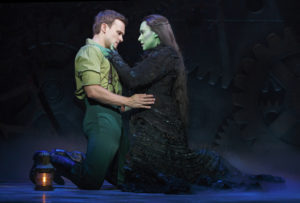 Cocksure, arrogant, and completely oblivious upon his arrival to Shiz, Fiyero (Jeremy Woodard) is the quintessential Winkie Prince whose life is defined by affluence and extravagance. Woodward starts off with a truly condescending point of view, which makes the character transformation that much more rewarding as Fiyero encounters both Glinda and Elphaba along the way. His voice, rich and robust, carries "Dancing Through Life" with great agility, nimbly plucking over phrases with a buttery ease that easily hypnotizes the audience. "As Long As You're Mine", a duet shared with Elphaba, is another fine example of his delectable vocalization, showcasing his range and emotional expressivity. Woodard is wonderiffic in this mesmerizing role, taking Prince Fiyero to heights that defy gravity.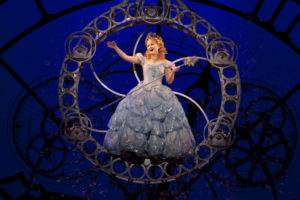 Being known as Glinda the Good, officially, Amanda Jane Cooper is quite the peptacular bundle of quirky charm and irrepressible glee that makes her oh-so-popular to everyone in the performance. Plucky in a wildly amusing fashion that makes her the epitome of fabulousity incarnate, Cooper bounces and bubbles along in a giddy gallop of goodness all through the show, but tempers this outward portrayal with a deep inner connectivity to the true experience of what is happening to her and around her character. The opening number, "No One Mourns the Wicked" is a prime example of the truly vexed and compassionate character Cooper has created in Glinda. Realizing immediately the gravity of the situation and how Glinda is meant to respond to it, Cooper uses her facial expressions as she hovers above the citizens of Oz from the bubble, to convey the true internal conflict and struggle that she is grappling with in that moment. With a striking voice that sends a phosphorescent gleam of electrofantastic pink through numbers like "Popular", and a somber bolt of lightning through "I'm Not That Girl (Reprise)", Cooper possesses a versatility that is virtually unparalleled in the production.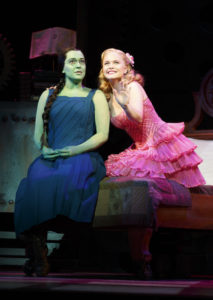 Loathing is a sentiment possessed by both Cooper and her co-star, Jessica Vosk, taking up the role of Elphaba, early in the production. Their pair bristle and burble at one another from their initial encounter and this vile attitude they present toward one another is hysterical. "What is This Feeling?" the duet that sparks a conflagration of detestation between them, is only a sampling of how divinely their voices pair together when presented in tandem. "One Short Day", which is delivered in the polar opposite of sentiments compared to "What is This Feeling?", is a splendiferous number that showcases the growth of both their characters as they head toward an everlasting friendship. The pair's final duet, "For Good", is an emotional dervish that is tragically beautiful and beautifully tragic; Cooper and Vosk blend their voices together in this number to stir hard the emotions that tug tenaciously at the heartstrings as their story comes to a close.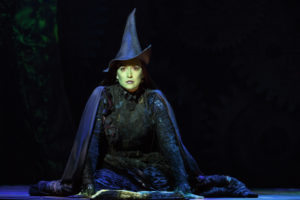 Owning the emerald onus of Elphaba, Vosk is phenomenal as the Wicked Witch of the West. Bewitching in her approach to the character, Vosk delivers a force to be reckoned with when it comes to Elphaba. With gale-force fury leading into "No Good Deed", and vocal riffs that mark the number as uniquely her own, Vosk translates every ounce of fury, frustration, and feeling into the most cathartically expressive number of the show. "The Wizard and I", though performed in a completely different style, is delightifying, showcasing not only Vosk's unlimited vocal talents but her ability to diversify her emotional expressions while singing. With a smooth, lenitive sound that she slips into "As Long as You're Mine," Vosk continues to showcase her talents with unyielding consistency, letting this number speak for the true musical gem that it is. The eleven o'clock number that everyone has come to associate with whether or not an Elphaba can hold her own— "Defying Gravity"— is delivered by Vosk with a vocal and emotional integrity that grips the audience and refuses to let them go. Vosk, with this number and the whole of her performance, has earned her beryl badge of belonging when comes to performing as a superior Elphaba.
It's one short stay— this production of Wicked— and you won't want to miss your shot at visiting the emerald city along with Glinda and Elphaba. What tickets remain are extremely limited so do not wait or hesitate to make Wicked at The Kennedy Center part of your family holiday this season!
Running Time: 2 hours and 50 minutes with one intermission
Wicked plays through January 8, 2017 on the Opera House Stage of The John F. Kennedy Center for Performing Arts— 2700 F Street NW in Washington, DC. For tickets call the box office at (202) 467-4600 or purchase them online.