They're baaaaaack! Let's do the time-warp back three months to Artscape 2016 and recall fondly Lucas Gerace, those adorable Area51 alien abductees that Agent Coletta didn't want you to know about! Well, grumpy Agent Coletta is still hanging around— clearly needing to work out his anger issues— and so are Gerace and Christmas, only as it turns out? The whole alien scenario? It was a sham! Scandal! Aliengate 2016 might be the biggest upset this political season except Gerace and Christmas can explain! You see, they weren't abducted by aliens at all— they were always just Paranormal Detectives…snooping about trying to summon demons, play with ghostly ectoplasm, and deal with poltergeist pee! Following their great escape into the artist community, Gerace, Christmas, and Coletta came back to conquer The Yellow Sign Theatre one night more with their Halloween themed Spooked Out Magic.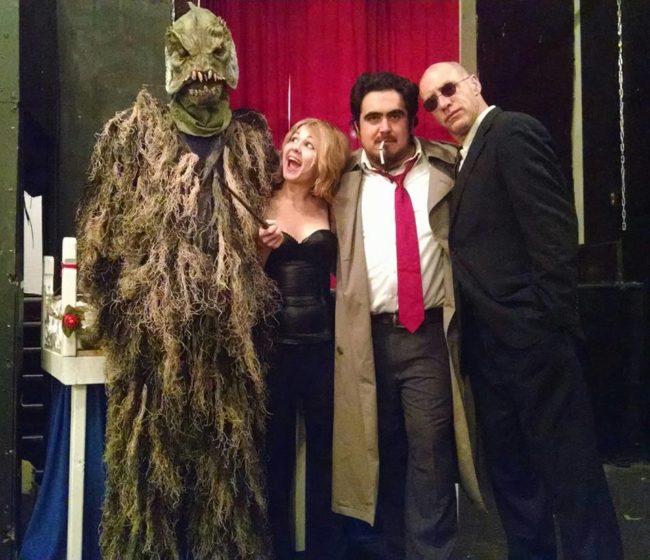 With several tricks and illusions remounted, there was a surprisingly new verve to the show, all things considered. Magnificent magician, Lucas Gerace, and his lovely assistant, Liz Christmas, were still carrying the Animaniacs character inspiration into their portrayals on the stage, even more so for Christmas who really amped up her Warner Sister Dot-inspired performance. Bouncing about with her boundless energy and adorable smile, Christmas added an extra layer of adorable enjoyment to the performance this time around. Gerace was still channeling a great deal of nervous anxiety, resulting in profuse sweating as he paced about the stage trying to convince Agent Coletta (adroitly raged-induced by resident Co-Founder and YST Artistic Director Craig Coletta) that he was no longer an alien abductee but a paranormal detective. Coletta, to his credit, furthered the "Dr. Scratchansniff" vein of his character work with exceedingly violent verbal outbursts and a verklempt meltdown that was strikingly reminiscent of the animated psychiatrist.
New magic to marvel over included the demonic possession of Agent Coletta, and an endlessly refilling pitcher of "ghost pee." Old classics included the appearance of Zatana by way of fire and magic, as well as the ultimate illusion that was masterfully delivered at the show's conclusion. Gerace worked a slightly modified story around the illusion to tie it more readily into the spooky theme of the show as well. Two sets of audience participation brought magic-enthusiasts to the stage for an immersive and personalized experience. All in all the evening was quite enjoyable, with both Gerace and Christmas succeeding in their madcap shenanigans right until they accidentally released some demonized version of Cthulhu into the house. Spooky!  
Spooked Out Magic ran a one-night performance on Sunday October 30, 2016 as a part of the Club Charles Five Nights in Hell Halloween spectacular. For more information on upcoming performances a Yellow Sign Theatre, visit their Facebook page.