Taking the piss out of musical theatre, the Tony Award-winning show Urinetown: The Musical  (book & lyrics Greg Kotis, music & lyrics Mark Hollmann) lands with a thunderous splash on the stage of Constellation Theatre Company as the first production of their 2016/2017 season housed at Source Theatre. Directed by the company's Founding Artistic Director Allison Arkell Stockman, with Musical Direction by Jake Null, the production is a triumphant theatrical sensation that titillates audiences with a trickle of dark humor, and utterly flushes them away with phenomenal talent. Awash in amazing actors, drenched in delightful dancers, and flooded with fantastical designers, Urinetown: The Musical is the must-see show of Washington the autumn.


The industrial grunge of Scenic and Lighting Designer A.J. Guban's set is the epitome of what a dystopian not-too-distant futuristic town-like-yours should look like. So strong in its presence with crinkled metal framing the proscenium, Guban's set exudes a feel of oppressed masses and dingy discontent, the perfect conditions for sparking the seeds of revolution among the rabble-rousing impoverished citizens of the fictitious town in the musical. Complete with mobile stair-scaffolding and slamming iron grates, the set possesses a filthy vibrancy not unlike a distorted playground. Enhancing the aesthetic, Guban creates floor grating filled with lights that are used to create striking visual moments of illuminating poetry amid the chaos and cacophony of the show. These featured under-lights are striking, especially during the bridge of "Cop Song."
Matching the cage-rage distress of Guban's set, Costume Designer Robert Croghan further ingrains the show into its impoverished element with the outfits he slathers on the poor. Layers of a distant futuristic punk-inspired London are fitted over the revolutionary ensemble, while the villainous antagonists— and those guilty by association— find their sartorial inspiration in a more pop-cultural vein. As if channeling fashion inspiration direct from Gotham City, or at the very least old-school comic books, Croghan fashions characters like McQueen in a dapper Riddler-esque green suit and Senator Fipp in plum tones befitting of the Joker. Completing this comic-inspired couture, Croghan creates an adorably innocent look for Hope, blending a Betty-Boop adorableness with a Barbie-pink naiveté in a fashionably fabulous statement-ensemble complete with matching suspenders. But the crowning glory of the costume closet is the pristine white suit and cheetah print fashion accessories (including barely-seen suspenders and shoes) that are lavished upon Caldwell B. Cladwell.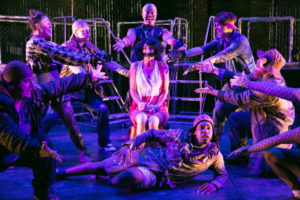 For a musical designed to both mock and cherish, parody and parade musical theatre on the whole, utilizing the talents of Choreographer Ilona Kessell is a sharp decision that serves the production well. Her seasoned knowledge of what Broadway-quality dancing looks like in motion is beyond suited for each of the routines that she crafts with exacting precision for the show. With clearly identifiable styles, everything from Vaudeville routines to jazz-infused moves makes their way to the stage in what can only be called a tour-de-force of choreographic genius. Kessell takes numbers like "What is Urinetown?" and splashes it liberally with moves that are kissing cousins with Fiddler on the Roof (including a hilarious chair-lift.) "Mr. Cladwell" comes complete with an old-fashioned kick-line and all the razzle-dazzle of every Fosse-inspired dance routine to ever tap a toe to the stage.
Musical the show is untouchable; the flawlessly harmonious blends of the ensemble resonate clearly and consistently throughout the performance, with a great many unnoticed harmonies coming into focus for the larger group numbers. Musical Director Jake Null molds vocal divinity from the cast of not quite a dozen and a half performers. Null's musical approach to the show fits like a suction-cupped plunger into Director Allison Arkell Stockman's vision of the performance. Discovering the perfect balance between camp and sincerity, Stockman delivers a sensational musical that harkens back to the original Broadway performance while still thriving as its own unique entity. The attention to nuance and detail, mostly in little gestures articulated by the cast throughout the show, are what draws the audiences' attention to the duality of the book. Paying close attention to the division between musical and meta-musical with a deliberate heavy hand of direct contact from Officer Lockstock, Stockman engages theatergoers in the true nature of this fantastical production.
In addition to understanding the mechanics of the show and how it was written, Stockman makes exceptional use of the set in both terms of blocking and creating vivacious moments of action. The most astonishing and impressive convention that Stockman employees for the show is her highly theatrical effect used to handle the situation that occurs at the end of "Why Did I Listen to that Man?" and again later in the production. This simple technique is executed in perfect synchronization with the action of the storyline and with Guban's lighting that it becomes a truly spectacular spectacle and overcomes the challenge of performing that sort of stunt in the intimately limited space of the stage.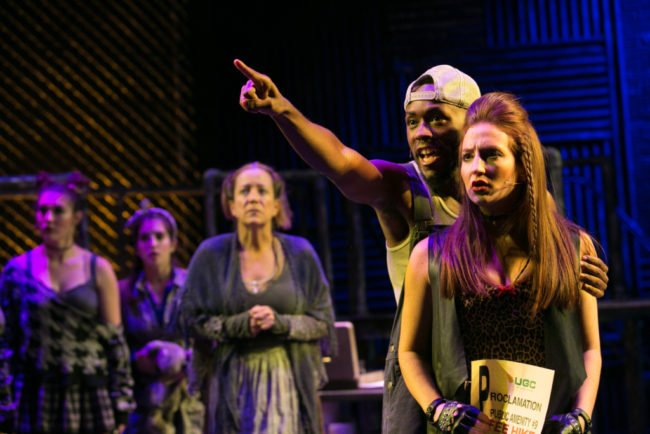 Featured performers have their strengths, be it Amy McWilliams as Josephine Strong, Patrick Murphy Doneghy as Old Man Strong, or David Landstrom as Tiny Tom. McWilliams has her quirky one-liners while Doneghy slays with awkward comedy during "It's a Privilege to Pee." Landstrom is a regular scene-stealer, between his facial shenanigans in response to Old Man Strong every time there's a flashback and his generally animated gestures. Keep a close eye on Landstrom at the end of "Snuff That Girl" for an uproarious bit of invested comedic character work that furthers his well-deserved scene-stealing title.
Underlings of the antagonists, Mr. McQueen (Harrison Smith) and Senator Fipp (Matthew Aldwin McGee) nestle into their niche of naughty with great aplomb. Smith's character is fabulously foppish and yet somehow earnest in this flamboyant fashion. Playing up his physicality as well as the gestures he uses, Smith is one of the finer focal points when it comes to Stockman's overall campy approach to the silliness of the show. McGee, who has wildly animated facial features as well, is a secondary contributor when it comes to the heightened sense of camp. His almost operatic vocal quality, as featured in "Why Did I Listen to that Man?" is worth noting.
Ruthless and coated with an exterior comprised of rusted, jagged nails, Pennywise (Christine Nolan Essig) is a visceral dose of the stink years incarnate. With a gorgeous singing voice, Essig funnels the crass and crude nature of her character directly into her big solo number, "It's a Privilege to Pee." Belting her face off with ferocity in this song, Essig imbues the character with an unnaturally predatorial verve that sends shivers up the spine and generates a tingling chill of fear as she stalks about the stage in this number. Stunning in her vocal prowess as well as her mindful presence when it comes to her character, Essig delivers Pennywise with an electric-fence jolt of raw, unapologetic saltiness.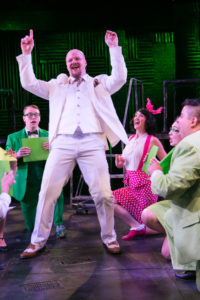 Nefariously nasty, Caldwell B. Cladwell (Nicklas Aliff) is the bunny's butt when it comes to being a true villain. Affecting his voice with honest villainous gusto, with inspiration that pays homage to the comic greats like Snidely Whiplash and Dick Dastardly, Aliff creates a maniacal monster that is despicably loathe-worthy and humorously loveable. Packing punches loaded with pungent panache, Aliff has a keen and perceptive understanding of natural comedic presence and timing. His singing voice effectively carries his nasally vocal-characteristic into "Mr. Cladwell" as well as "Don't Be the Bunny" with the latter of the two being a show-stopping song-and-dance routine teeming with turpitude. Ultimately the iconic ne'er-do-well incarnate, Aliff rules the roost as the cad that is Caldwell B. Cladwell.
Disproving the theory that the apple never rots far from the tree, sweetly dispositioned and equally comic-culture inspired Hope Cladwell (Katie Keyser) is a bobbling bubble of beautiful simplicity. Keyser, whose voice is angelic and perfectly suited for the range of Hope's role, glides through the performance with a uniquely quirky ineptitude for the simplest of understandings. This airheaded approach to the role is surprisingly deep, a contrary statement if ever there was one, but true just the same. Her giddy enthusiasm over the show's hero, Bobby Strong (Vaughn Ryan Midder) is contagious and quickly shared by Midder upon their secondary encounter. The duet, "Follow Your Heart" is syrupy and sincere, with Midder's voice blending sublimely into Keyser's, creating a romantically sappy song.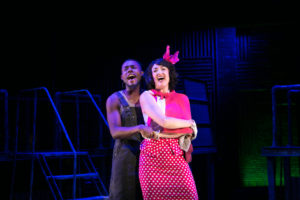 Midder's ripe portrayal of Bobby is another stellar example of the balance and finely nuanced campy moments in the production. His tenor range is excellent, particularly the higher end of the register, and his ability to convey emotions while both singing and acting is a strong trait that pulls the character along through the more reverent moments in the play. Leading "Run, Freedom, Run" with tremendously spirited gumption, Midder exhausts every energetic fiber of his being to keep this number rolling high with motivation for both himself and the ensemble. A true rebel that brandishes the torch of revolution in his facial expressions as well as his voice, Midder takes Bobby to new heights every step of the way.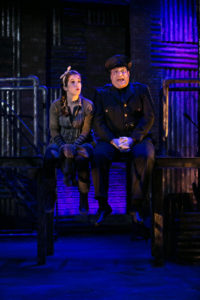 When a show like Urinetown: The Musical is actualized to its fullest potential, Officer Lockstock (Matt Dewberry) and Little Sally (Jenna Berk) are not only characters in the story but they are readily involved with the audience. Dewberry and Berk are deeply invested in their asides with the audience for this production, with Dewberry even going so far as to be on potty-patrol during the intermission. Their candid banter, which is often directed right at the edge of the house and to various individuals specifically, is blossoming with well-timed humor. Both performers are equally vocal and when it comes to singing, hands down they carry their voices well. Berk is adorable but not to be counted out, especially not when it comes to "Tell Her I Love Her", where not only does she soar wit vocal pizzazz but her mimicry of Bobby becomes a hilarious moment to watch. Dewberry can sing, he can dance, he can patter, and his sharply timed lines are to die for. Keep an eye out for the interactions he shares with Officer Barrel (Christian Montgomery) in the second act and you're show to notice a shocking good time.
So look around, you've finally found the place you've asked about— for Urinetown (the Musical) is playing in your town— Washington DC— with Constellation Theatre Company— and there's no doubt it will sell out! Don't miss your chance to see what is most assuredly a smashing sensation of a production this fall on 14th street.
Running Time: 2 hours and 20 minutes with one intermission
Urinetown: The Musical plays through October 9, 2016 at Constellation Theatre Company, currently in residence at Source Theatre— 1835 14th Street NW, Washington DC. For tickets call the box office at (202) 204-7741 or purchase them online.