Her heart got broken. The car was totaled. He's wildly out of control. Who's to blame? In a world of helicopter parents, disasters beyond our imagination, catastrophe around every corner, isn't the question always who's to blame? Appearing on the stages of Baltimore City for its 12th Annual Production the Variations Project, produced by Rapid Lemon Productions, takes up residency for a limited run-performance in the Wright Theatre of the University of Baltimore. 11 short, original plays written by local playwrights come together under Director Lance Bankerd for Variations on Blame.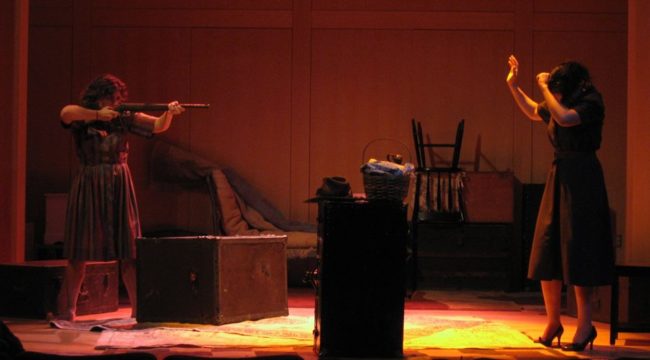 Director Lance Bankerd curates an atmosphere that allows these plays to live independently of one another and yet cohesively bring them together in a unifying fashion. Conceptualizing the set, Bankerd constructs a lost atmosphere of sorts that layers the concept of 'unpacking' into the ether. This notion of "somebody else's mess", as is so often the case when the question of blame is involved, translates well into the pile of trunks and rugs that are stacked in the space at the top of the show. Each play unpacks its way into this setting with the performers moving in a fluid choreography to set the space.
Working in tandem with Lighting Designer Allan Sean Weeks, Sound Designer Max Garner, and Costume Designer Deana Fisher Brill, Bankerd allows each of the plays to marinate in their own creative stew while bringing them together under his overall vision of blame. Both Weeks and Garner lend a tremendous amount of creativity to each of the plays featured at this year's festival, finding nuanced ways of expressing the playwright's individuality. Garner's soundscapes are particularly sharp and carefully constructed so as to deliver maximum impact with minimal use. A particularly poignant one that pops to mind is his use of quiet ambience during "Sixteen Thousand and One" by Kimberley Lynne, where the outdoor evening soundtrack of Charm City is perfectly captured, delivering a balance between backyard crickets and distant police sirens.
The same accolades of praise deserve to be lauded upon the intuitive illuminations provided by Weeks. Fully understanding how to work lighting for all flavors of blame in this somewhat basic space, Weeks amps up the atmosphere, particularly for plays like "I Remember" by Kevin J. Costa, PhD, where the mood-shift and scenic transition are completely dependent upon his design work. The most striking of Weeks' offerings, however, occurs during "Ledger" by Justin Lawson Isett. A scenic pause occurs near the end of the script wherein the reality of the play breaks away into this all-American almost patriotic pride commercial and Weeks infuses the moment with a majestic orange sunset that one can almost picture the American flag waving in front of as Garner fills that moment with equally poetic musical underscoring.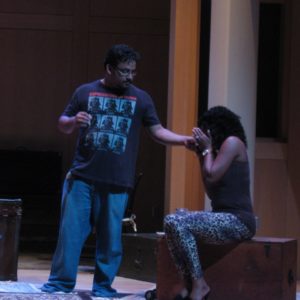 The plays themselves span a myriad of topics and relationships, with the central theme of blame threaded throughout each one— some more obviously and heavily handed than others. Bankerd's running order for the production seems to stack those more directly informed by blame in the literal sense into the first act, with those where blame is a more subtle or metaphorical concept into the second act, with a firecracker comedy that caps each half of the festival. Brilliantly conceptualized, Bankerd and the Production Team give these never-before-performed-in-Baltimore plays a radiant fresh chance at life and the result is impressive to say the least.
The Suicide Play by Audrey Cefaly
Michael (Justin Lawson Isett) and Ariel (Chara Bauer) open this dramatically intense piece of theatre by standing atop trunks with their backs facing one another. Bankerd's blocking for this piece is riveting as it creates the skeletal dots for our imagination to connect to the show's title, the result creating a heightened sense of anxiety and engagement for those watching. Cefaly's writing is passionate; her approach to raw emotion is unapologetic and fully present, which is an astonishing feat considering how readily developed these characters and their narratives enter the play juxtaposed against the brevity of its duration. The nuance developed over such a short tale showcases Cefaly's tremendous talent as a playwright, particularly in her inadvertent heartwarming notions that pull the play to a potentially optimistic conclusion.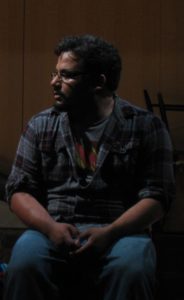 Justin Lawson Isett and Chara Bauer lend their emotionally charged performance voices to The Suicide Play, showcasing two dynamic and polar opposites in their portrayals at the story's beginning. Isett is a raging inferno of frustration, fear, anger, and discontent while Bauer leans more on the side of sullen and blue in a timid fashion. When the pair encounter one another with actual dialogue exchange, it becomes a compelling turning point in the plot's rising action. A remarkable expression of clear emotions on both parts, this play is the perfect piece to kick off the festival.
Juror #3 by DC Cathro
A topic that is all too relevant comes to the forefront of the exchange between Jackie (Mia N. Robinson) and Candace (Lee Conderacci) in DC Cathro's play Juror #3. Moving forward with her life after serving on the jury for the trial of a massacre-style shooting, Jackie finds herself unexpectedly confronted with Candace, the mother of the shooter, who is now serving his life-sentences in prison. Cathro's writing is pungent and realistic; he makes no bones about jumping right into the heat of truth. With a shocking twist revelation near the show's conclusion, this short play— though feeling fully finished on its own and working well as a stand-alone ten-minute— could easily be from a larger work with great profundity. Cathro's ability to differentiate blame across the two characters in addition to giving them distinctive voices is quite striking and well worth noting.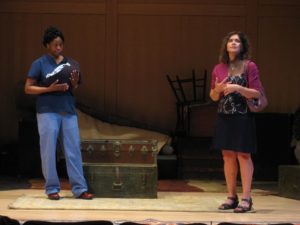 Lee Conderacci is deeply expressive in the role of Candace. Her emotions flow forth like a fountain and when she falls into the harrowing confession of the burden of guilt that surrounds the situation it is loaded and brutal, hitting hard for everyone listening, and connecting even harder for anyone who has ever been a loved one to someone who has done something truly and inexplicably atrocious. Mia N. Robinson holds her own in the play, despite her character having fewer cathartic style outbursts. Both performers have a strong working chemistry and move the intensity of the piece along quickly, while still allowing it to build naturally.
The People and Things Joey Meets in his Dreams by Joe Dennison
Another remarkable instance of Sound Designer Max Garner's sound effects comes into play near the end of Joe Dennison's work. Placed with precision, the SFX— unmentioned for fear of spoilers— really drives home the overall impact of the play. Another two-hander, Larry (Bob Singer) and Joe (Tim Neil) find themselves discussing a horrific car crash that one of them has witnessed just moment prior to arriving at the corner of the intersection where they meet. Dennison's writing is surreal; it possesses a quality of fog and haze that often settles over a dream sequence or something that feels uncertain. In a sense it's almost cinematic, the way you'd expect a character to speak and respond as if they were experiencing a moment in time out of sync with itself. Dennison's use of this writing tool is unusual and unique, providing a great sense of foreboding to the ultimate twist ending in of the show.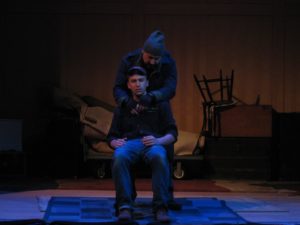 Bob Singer adapts a gritty gravel to his voice for the role of Larry. It's city-wise and street-smart sound grounds the character of Larry into something urban. While there is nothing specifically 'hon' about his vocal affectation, despite the playwright's references to Dundalk, there is something seedy and urban about his patois and delivery that puts your teeth on edge. Tim Neil, playing Joe, speaks more slowly. The way he intentionally fumbles over Dennison's use of repetition, furthers that foggy-haze-like feel that permeates the text, making his character feel disjointed with reality.
Reunion by Nancy Murray
With a terrifying secret lurking in the text, this ambiguous thriller featuring Lee Conderacci as Ashley and Chara Bauer as Kimmy catches the audience's attention quite quickly. Murray has crafted distinctive character voices for both Ashley and Kimmy, with Ashley having two distinctive tones she uses when addressing various other characters. The sharp contrast created between Ashley's upbeat nature and the dismal almost menacing demeanor of Kimmy immediately turns the focus to the dynamic of their relationship and as secrets of the past slowly slip out through their dialogue exchanges, it becomes apparent just how chilling Murray intended for the script to be.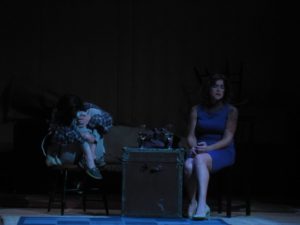 Conderacci handles the dichotomy of her character's personality with ease. Flipping quickly from the gooey and saccharine voice she uses to address her young daughter on the phone into the jaded and somewhat sarcastic working woman, Conderacci showcases her vocal versatility with a flare. Bauer, whose character is unsettling from her arrival, is fully committed to the edgier nature of Kimmy and really drags the audience through the mire of the pair's mysterious past as the play progresses.
Smell the Blame by Kevin Kostic
Set with a large premise of suspending our disbelief around the olfactory organ, Kevin Kostic's new work is a titillating comedy that draws its concept from an over-developed sense of smell. The writing is ripe, profoundly so in the way it incorporates the sense of smell into something that can be both seen and heard. This notion, in addition to the wonderfully ridiculous flashback and flash-forward to generations previous and futuristic, make the play wildly entertaining. Kostic's craftsmanship of the two female characters is demonstrated with a flair for the realistic, bringing the Mother (Mia N. Robinson) and Daughter (Lauren Erica Jackson) to vibrant life just in the way he's expressed their dialogue.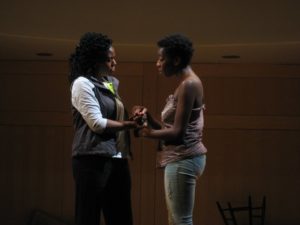 Robinson and Jackson play exceptionally well off one another and do a fantastic job of incorporating sniffs as an affectation to their performance. Both Jackson and Robinson have vividly animated facial features which enhance the performance, particularly in the final moment as Bob Singer wanders through as The Belching Man. Robinson should be noted for her multiple vocal affectation, changing her voice every time there is a time-skip in the play.
Ledger by Justin Lawson Isett
Packing quite the punch, Ledger delivers a wallop of comedy and severity, balanced precariously around a shotgun rifle, in this act one finale play. Justin Lawson Isett's play is not without its humor but on a deeper level addresses the notion of blame when it comes to financial injustice. Who takes the fall? The individual or the bank? Crafting a wildly chaotic opening sequence, the result of which puts a high-strung Victoria (Lee Conderacci) holed up inside a shack with Ashton (Bob Singer) and ready to blow the head clean off of Beth (Chara Bauer) when she comes to the door, Isett really gets the blood of the dramedy pumping right from the word go.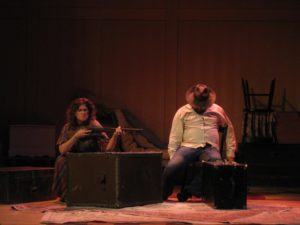 Conderacci is channeling a hybrid character of Annie Oakley and Miss Kitty with a healthy dose of wild-eyed vengeance shooting out of her mouth through a tasteful yet tart Texas twang. Bauer's accent is far subtler and plays into the gentle and mild mannered nature of her character. The pair are both noted for their spastic and almost apocalyptic meltdowns that occur in response to one another's actions. The real beauty of this piece, in addition to everything mentioned so far, is the scenic pause wherein Singer rises and rattles of a rather poignant speech to the festival's most memorable moment of lighting and sound design.
Sixteen Thousand and One by Kimberley Lynne
Opening the second act, the immediacy of the title or even where the blame falls in the scheme of things is not initially clear. Kimberley Lynne's work is a perfect transitionary piece to cue the audience into the tonal shift of this and the works coming down the pipe in the second half of the festival's programing. Lynne's writing is carefully crafted, honing in on dialects and manners of speech and making the economic position of both Minnow (Tim Neil) and Shorty (Justin Lawson Isett) unmistakably present. There is a deep-seeded sense of balance amid their conversation, which ironically enough focuses on the injustice and unbalance of the world and how things go.
Neil, who embodies his character in a subdued fashion, creates a nice foil to the much more outwardly energetic Isett. The play is brief and yet intriguing, capturing the attention of those watching in the way a curious insect caught in just a glimmer of moonlight might when one is out walking through a rundown neighborhood around midnight.
I Remember by Kevin J. Costa, PhD
A play in memory, a play of recollection, a play that displays how very different two people can perceive, experience, and interpret the exact same situation, this is what Kevin J. Costa has brought to the table with I Remember. Feeling much like an excerpt from a larger work, this delicate examination of perspective is quite profound in its approach, and even more so that it's done so simply. Costa sets Alice 1 (Mia N. Robinson) and Bob 1 (Bob Singer) outside of the 'moment' in memory, recalling what they did about the moment to one another. The lighting of Allan Sean Weeks is particularly impressive here as well. The ability to thoroughly express, through simple words and tonal shifts, that one moment in time can be experienced and then recalled differently by two people regardless of them sharing the moment together is astonishing. Costa captures that essence and showcases it in a riveting manner.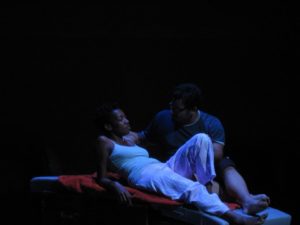 Lauren Erica Jackson and Justin Lawson Isett play Alice2 and Bob2, respectively, in the scene and it's their interactions that draw the audience into the duality of this piece. Watching them play through the exact same scene twice, once filtered through Alice's perception and recollection and once through Bob's, is one of those awe-striking moments that occurs so infrequently in theatre; it is the kind of moment that just as you begin to truly appreciate it for what it is and what it is showing you, it concludes and vanishes without a trace of ever having existed.
Forever to Go by Shelby Chapman
Quirky and amusing and liberally splashed with heart, Shelby Chapman's piece takes a closer look at superstition and how relationships can fall apart or garner strength from belief. Tara (Chara Bauer) and Joshua (Tim Neil) have been married, divorced, separated, and are back together again. If only they can recreate the night they got engaged down to lettered-perfection, Tara is certain it will work this time around for them. Particularly humorous, Chapman's play presents real characters in real-life situations. The conviviality of their situation reads like an entertaining sitcom episode and does its best to put the audience at ease over its simplistic nature.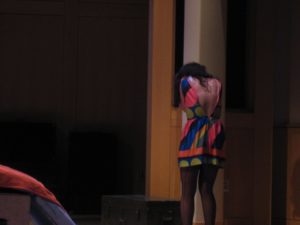 Neil, who is the calmer of the two on stage, lets the situation flow naturally, while Bauer— whose character is completely high-strung and totally type-A— tends to tense up a fair bit more about things. Bauer's shrieking and hopping about the stage become comic gold, especially during the moment where she's trying to get Neil's shirt to close and they end up bouncing about on the makeshift bed while grunting and groaning and struggling with the button.
Baby's Breath Never Dies by Michal Roxie Johnson
A terrifically smart play that really focuses on character development with the play's message being a sneaky but friendly reminder that sometimes doing less is more particularly when it comes to our children, Michal Roxie Johnson has quite the little script on her hands. With a sassy leading character, Karen (Mia N. Robinson) and a meager and timid woman in desperate need of advice, Phyllis (Lauren Erica Jackson), Baby's Breath Never Dies, is not only hilarious but moving in the way that it dispenses life advice. Johnson does an exceptional job of capturing the heart, spirit, and soul of Karen. There is an unnamable honesty to the way she experiences life, telling it like it is. Phyllis is constructed in a fashion that is the polar opposite of this confident radiant woman. Putting these two characters into each other's life and spinning their tale around the way they find advice for one another is indeed a bold but well-received choice in this production.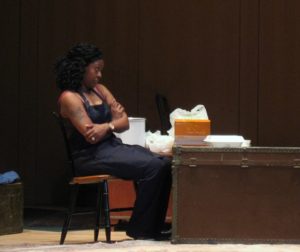 Robinson and Jackson, who play opposite one another yet again in this piece, find unique ways to actualize the opinions of their character's as described in the text. Jackson's emotional expressivity is potent and plays well off the more carefree approach to life that Robinson's character has. Both performers are strikingly present on stage and find the humor as well as the gravity in their characters, bringing an equal balance of both to the forefront of their performances.
Affluenza by Paddy O'Carroll
Where does one even start? The perfect ending to the 11-piece festival, Affluenza is a hysterical romp that takes the piss out of "how the other half live." In a satirical commentary on the new-money of the modern world, playwright Paddy O'Carroll goes berserk with the stereotypes and lets it all fly out in this zany madcap piece. Featuring the entire cast, the play with seven characters, is a whoop and holler of a hilarious time. It's simply one that must be seen to be believed, and O'Carroll deserves a hearty clap on the back for penning what is arguably the funniest play featured in the festival. Witty and ripe with all sorts of taboo humors, O'Carroll's work is a fine commentary on just what we've let the world around us become when it comes to the financially upwardly mobile.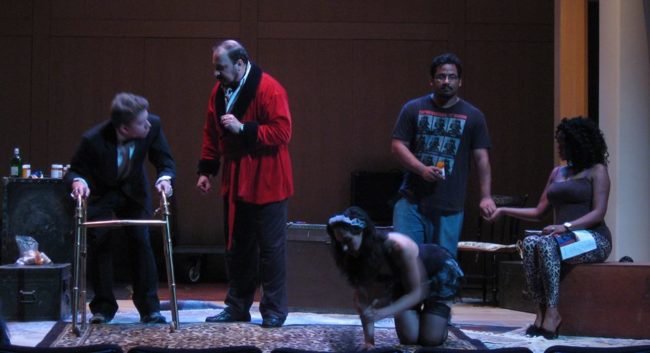 The entire cast comes together playing absurdly insane and insanely absurd characters— like Tim Neil who plays Ducksworth, the butler and Lee Conderacci taking on the role of the slightly Scottish gardner Fergal— and the result is an uproarious bout of laughable moments that simply must be watched. With Bob Singer and Mia N. Robinson playing Brad and Janet, the household heads, there's much to titter about, especially when it comes to their affected voices and Singer's scene-stopping fits when he can't get a word right. This does not detract from the scene-stealing fanny-bouncing from Chara Bauer as Consuela the maid or the sudden unexpected arrival of estranged daughter Alice (Lauren Erica Jackson.) It's Justin Lawson Isett who steals the whole performance with his tweaked out portrayal of Tommy, and that's really all that can be spoke upon the matter.
Conclusion
With tremendous talent, this vast undertaking of producing a festival with the upward of 50 live submissions falls into good hands with Rapid Lemon Productions, Director Lance Bankerd and his creative Production Team. The plays are relevant, poignant, well-composed, and several of them include healthy and much-needed doses of humor. It's an exceptional evening to experience.
Running Time: Approximately 1 hour and 50 minutes with one intermission
Variations on Blame plays through September 17, 2016 with Rapid Lemon Productions in the Wright Theatre at the University of Baltimore— 21 W. Mount Royal Avenue in the Midtown-Belvedere neighborhood of Baltimore, MD. Tickets can be purchased at the door or in advance online.