Folger Theatre would be monstrous glad if you'd take up a cottage— who doesn't love a good cottage— in town and stay a spell to celebrate their 25th Anniversary season as it gets underway with a treasured classic novel adapted to the stage in this their production of Jane Austen's Sense & Sensibility. Adapted by Kate Hamill and Directed by Eric Tucker, this charmingly spellbinding production whisks you away from the dreary troubles of the modern world and places you in a world of romance, a world of hope, a world of scandal, and above all a world where love can still flourish despite the gossip both in and out of town. With an invigorating new energy that puts a wild new spin on the production, Sense & Sensibility— as presented under the innovative eye of Eric Tucker— will sweep you up into an enthralling whirlwind of enchantment before evening's end.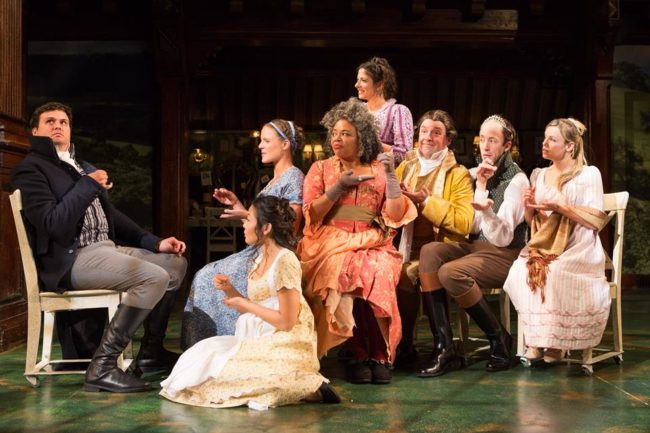 Cultivating an atmosphere that flirts coyly with a romanticized version of England's Regency era, Scenic designer John McDermott entices theatergoers early on to engage with his lively set on a deeply appreciative level. Blue cloud-dappled skies stretch up from the proscenium's midpoint while rolling verdant greeneries of wealthy estates sprawl from the horizon line downward. McDermott's refreshing exterior designs compliment the more intricately detailed work which he has laid out for the show's interior space, largely the dressing table and mirror run which he's set flush against the back panel of the stage. This juxtaposition of internal and external spaces allows for the perfect fluidity among scenes as the characters of the novel traverse Austen's richly descriptive locations.
Ensconcing the scenic world which McDermott has created in glowing illumination, Lighting Designer Jesse Belsky works wonders to transition the aforementioned interior and exterior scenes with little fuss. Augmented by Sound Designer James Bigbee Garver, moments—  like the various thunderstorms that occur whenever it is that Marianne wishes to take a walk— become lively realities, with sound and light drenching the stage and soaking it through to its core. Garver, who is also responsible for the show's musical soundscape, infuses a feral modernity into the performance near the top. This draws a direct parallel to the show's relevancy in the modern era. Though in present day our music style has changed drastically, as witnessed in the transition from this sound which is all but a sampling from a dance club into the more refined classical undertones featured in the first era-influenced dance, do we not still dance? So too have they changed, the circumstances and situations regarding our entanglements and affairs in the modern day, but is not love still one hell of a problem just like it was then?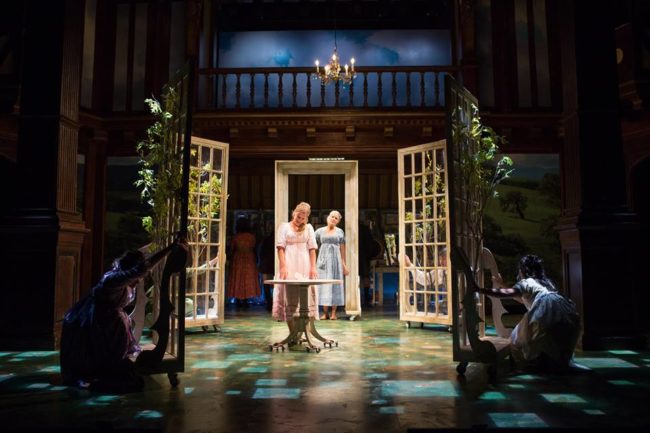 Simplicity is a factor well worked into the play on behalf of Costume Designer Mariah Hale. Basic white linens, almost undergarments, outfit the entire cast until they sidle into their appropriate roles. Playing to the nature of the impoverished Dashwood girls, the clothing, though eye-catching of color, is simple. There are enough points of minutia in each costume to distinguish one character from the next; a simple tiara whenever a certain character must be portrayed, a basic ribbon in the hair or ruff around the neck to transition quite quickly from one woman to another. Hale's approach falls quickly in step with the whirlwind pace of movement that Tucker creates in this imaginative fairytale.
Theatrical magic is what Director Eric Tucker achieves in this deconstruction of Austen's world. Working in tandem with Choreographer Alexandra Beller, Tucker delivers a dizzying whirlwind of spectacle that is both mesmerizing and evocative. The ensemble acts as furniture in a way most amusing; chairs, windows, doorways, all of these scenic elements glide and twirl about— guided and moved by the actors themselves— creating a carousel of motion, much of which is highly amusing but also in moments breathtaking and striking to behold. Beller births a glistening glissade of movement, an Austen-esque ballet if you will, by capturing not only physical shifts in position but changes in perspective because of these movements. It is wondrously majestic, scintillatingly surreal, and truly a remarkable theatrical device to further entreat the audience to the inner workings of Tucker's vision.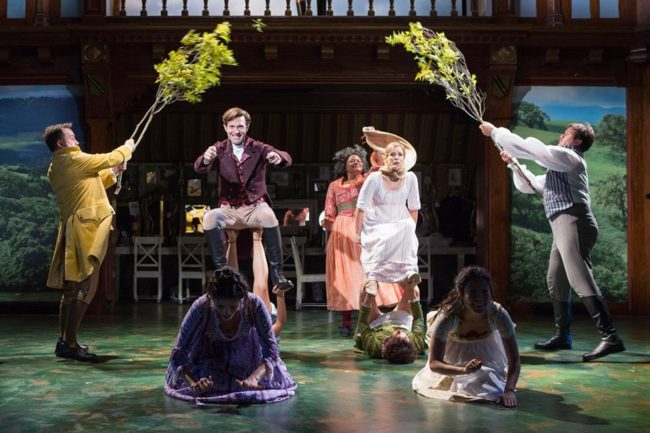 Taking just two shy of a dozen performers to the task of delivering some nearly two dozen characters, Tucker etches comedic hysteria into the production the likes of which an Austen novel has yet to experience. Not only are characters being swept across the stage in their wheel-bound chairs, but at any one moment any character could be the voice of scandal and gossip. Tucker's brilliant and extraordinarily unique approach to the ensemble of the piece puts performers all around the stage as well as out into the house with little quips and commentary to heighten the societal scuttlebutt, which charges the performance with a taboo energy. This, in addition to the hundreds of little comedic nuances he carves into the production— like Robert Ferrars making his lascivious and lewd entrance through the house in a fashion most interactive or the uproarious moment of outrage delivered by Mrs. Ferrars— are what put the hallmark of creative ingenuity into the show.
Playing the simpering lovesick Lucy Steele as well as the haughty and unrelenting Fanny Dashwood (among others) Kathryn Tkel hones her focus on the difference between the two. This is especially the case when switching rapidly— by way of gliding chair— back and forth between the pair in the scene she shares with Lisa Birnbaum, who plays Anne Steele and, in that scene, Mrs. Ferrars. Birnbaum, whose title role is that of Mrs. Dashwood, makes similar character approaches and ensures that each being she inhabits is unmistakably different from the others. Both Tkel and Birnbaum have a way with their bodies that eases these transitions in the brevity of space allocated for such switches. Worthy of praise also, though her character of Margaret is somewhat of a cameo role, Nicole Kang does exceptional character work in the production. Moody and petulant as Margaret ought to be, Kang's outbursts are the stuff of comedic gold.
Caroline Stefanie Clay, one of only a few performers not to take up a secondary or tertiary named character (though she is a part of the ceaseless dervish of gossip), gives a rousing good romp of a performance as Mrs. Jennings. Meddlesome in a most amusing fashion and intent on playing matchmaker, the campy and highly affected nature with which she approaches the character is simply a scream. Playing opposite Sir John Middleton (Michael Glenn), Clay is a comedic hoot that won't quit even when things go asunder and stray from her planned path. Glenn, with his equally affected though very differently so, chummy character, is the perfect humorous compliment to Clay's performance.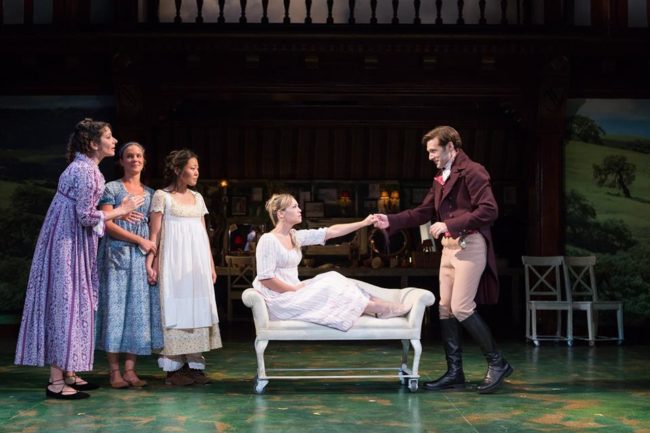 As the awkward John Dashwood, Jacob Fishel is a funny fellow, though it's his role as John Willoughby that he's noted for. Dashing and truly charming, even when speaking ill of Colonel Brandon, Fishel fits the bill for the gentleman that so quickly sweeps Marianne off her feet. There is a surprising reverence in his confessional scene featured near the show's end, which is a brief exchange with Elinor. Fishel is grounded in this societal gentleman character and that resonates in both his textual delivery and his posture. Striding with confidence, Fishel makes it that much more difficult to abhor his character once things go awry.
Austere, sober, and rather stiff in the most sensual and reverent fashion, Colonel Brandon (James Patrick Nelson) is somewhat of an enigma when it comes to his place amid the cyclone of chaos that is perpetually unfolding all through London and the countryside. Nelson, in what could easily be described as a respectable tribute to the late Alan Rickman (of the 1995 film), delivers a velveteen baritone voice that toes the line of slipping into bass timbre and speaks with a deliberately languid cadence. This enhances his reserved and aloof nature tenfold. Nelson compels the audience with his strikingly emotional grounding, particularly when it comes to his asides with Elinor. Remarkably expressive of both voice and face despite the formal sobriety, Nelson's portrayal of the Colonel is delightfully delicious.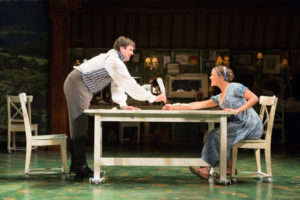 The polar opposite of reserved, especially when brandishing his body about as Robert Ferrars, Jamie Smithson is somewhat of an intriguing puzzle himself. The aforementioned portrayal of Robert is hysterical, particularly when he goes bouncing about down the tangential path of a cottage! The differentiation between his Robert and his Edward is bold though still similar enough to convey that the two are unfortunately brothers. Smithson's socially awkward nature around Elinor (Maggie McDowell) is endearing if not completely adorable. There is a richness to his fondness for her, even though it is oft overshadowed by the completely humorous moments of tension-bound uncertainty between the pair.
Maggie McDowell is just as reserved as Colonel Brandon, just as awkward as Edward Ferrars, and just as potent as any player on the stage. A stage chameleon who absorbs character traits of all those around her, McDowell gives a riveting performance as Elinor Dashwood. With a deep voice and crisp delivery, McDowell sets every situation to rights, whether it be with the wayward Willoughby, the bland Brandon, or the fetching Mr. Ferrars. There is an unwavering consistency with which she attends to the character's emotional needs, and this is most keenly displayed during her interactions with Marianne (Erin Weaver.)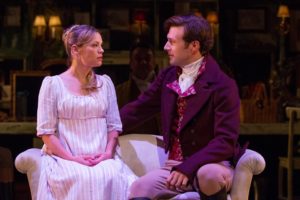 The quintessential Austen woman, Erin Weaver, both plucky and spunky in her portrayal of the middle Dashwood daughter, is a stage sensation in the production. Traversing inexplicably tumultuous emotional terrain, there is a rawness and a conviviality which she imbues in Marianne making us love her and the character all the more for it. Capturing our attention at every turn, whether in a moment of elation, deflation, or agitation, Weaver becomes the central focus of the story although it has often previous been viewed from the vantage point of Elinor. Emotionally spry, there are no barriers or borders when it comes to her expressive nature; this is true of her physical reactions as well as her facial features and vocal responses all throughout the performance and this lively verve that jolts out of her portrayal does so with great consistency.
Do not delay, do not be late for tea, spend an evening in the city— the district capital not London, mind you— to see a smashing start to the 25th anniversary season at The Folger Theatre with Sense & Sensibility.
Running Time: Approximately 2 hours and 30 minutes with one intermission
Sense & Sensibility plays through October 30, 2016 at the Folger Theatre in the Folger Shakespeare Library— 201 E. Capitol Street SE in Washington DC. For tickets call the box office at (202) 544-7077 or purchase them online.