There is some mythical notion that once children grow up and become adults that there is an onus to maintain their familial relationships. Perhaps it's because it is believed that we are made out of the same stuff as the stars, that very same dust which twinkles billions of light years away from above. Or perhaps it's more based in the reality that the elders do die and the responsibility of kinship upkeep passes down from generation to generation. That could also be a great bunch of saccharine-dipped drivel to disguise the bigger issues at hand in the Haber and Feygenbaum families, as is discovered the night after their grandfather's funeral. Putting the fun in family dysfunction, Bad Jews by Joshua Harmon, kicks off the 2016/2017 season on the Maryland Ensemble Theatre's mainstage. Directed by Gené Fouché, this highly irreverent yet highly entertaining dark comedy unearths a world of chaos among the grieving and provokes its characters into responding in atrocious ways to members of their own family.
Playwright Joshua Harmon pens a masterful piece of theatrical entertainment if the stereotypes and exaggerations therein can be overlooked or forgiven. Harmon, whose intent is truthful satire or possibly satirical truth, hits a nerve in the Jewish community as the characters are easily identifiable as are the situations in which they find themselves. (This esoteric nature is somewhat of a let down to the general audience of MET as a great many of the jokes are targeted specifically around those intimately familiar with the practices of the Jewish faith. That is not to say that the play isn't humorous, only that a great deal more of it can be thoroughly enjoyed if one has a working knowledge of these traditions and practices or is in fact of the Jewish faith.)
Harmon someone makes the overarching plotline relatable outside of the Jewish faith. Anyone who has ever found themselves in a situation of familial loss with differing opinions on who should get what or how certain individuals choose to display their grief will find purchase in Harmon's text. Remove the Judiac influence and replace it with any religion or family-practice wherein there are strong beliefs for some but not for all and there is a universality to the situation at hand. Director Gené Fouché's approach to Harmon's script is precise, fueled by the conflict and the movement of the dialogue, which keeps the show plowing forward to its eruptive conclusion. Fouché offers her seasoned expertise to this cast of four performers, honing in on their sharp contrasting differences and caustic relationships with one another. This approach keeps the action lively and the comedy exciting even when a good deal of the scripted jokes drift loftily into uncharted territory for those less familiar with Jewish cultural identity. There is an honesty to the movement of the piece, each of the volatile interactions coming from an organic place that Fouché has cultivated among her ensemble.
It is no family secret that the mainstage of the MET offers its own unique challenges when it comes to creating a livable stage environment. But this is a challenge that Set Designer Todd Mazzie rises to and sails over with flying colors. The apartment has a polished and almost aristocratic feel to it. Mazzie creates a modernized interior that gives the posh New York City apartment its pretentious verve. Adding to this scenic masterpiece, Properties Designer James McGarvey decorates and furnishes the apartment with that same haughty flare; this creates the privileged world in which the Haber brothers live as well creates the contrast to how their cousin Daphne does not experience life.
Playing as a true ensemble, the four performers of Bad Jews share the weight of carrying this show successfully from beginning to end. There is a bombastic interplay between each of the four performers and the way they carry the individual weights of their characters. Each character is exactingly nuanced to the specific textual personalities that Harmon has provided, each exchange— be it calm or turbulent— occurs in real-time in a very present and mindful reality within the context of their mutual existences. The work feels like a true ensemble work, even though certain characters take up much more wind and breath with their ranting monologues than others.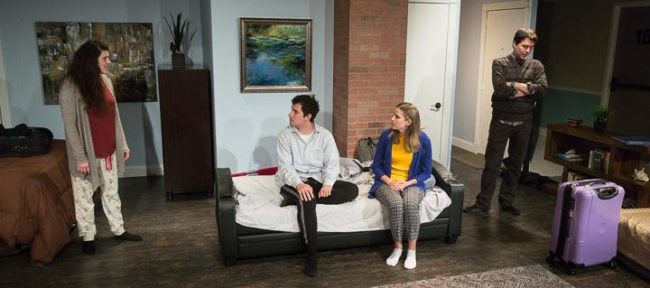 Though pensive and somewhat passive, Jonah (Matt Lee) is not to be counted out amid the family skirmish. While a great deal of his characterization relies upon his silent reactions, absorbing what's being said and simply drinking it in while present on stage, Lee is captivating in his ability to work this character over in such a way that he's not merely background furniture occasionally piping in with a comment here or there. The character's desperate need to remain neutral and stay out of the feud is what drives him through the more calamitous scenes.
Indeed a tepid and Bambi-like creature, Melody (Julia Becker) arrives late to the melodramatic comedy, but falls right into step with the tempestuous rhythm of everything that's happening. Becker plays the character up to her full bubbleheaded potential, dripping with the stereotypical blonde Shiksa attitude. Though she has no overly theatrical outbursts the way that both Liam and Daphna do, Becker holds her own when it comes to emotional grounding and clarity in the performance. There is a serenity with which she imbues her portrayal of Melody, almost ironic in the way it jives with the character's given name.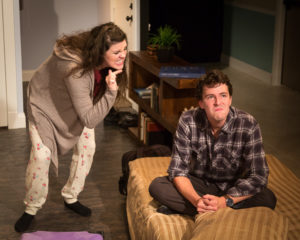 Liam (Jeremy Myers) and Daphna (Shea-Mikal Green) are the harbingers of thunderous and tempestuous maelstroms in this play. Each with their own riled temperaments— to varying degrees of expressive rage and frustration— there is something wildly enthralling about watching them all but eviscerate one another with their brutal words. The argumentative moments between the pair makes the Palestine-Israeli conflict look mild by comparison. Myers and Green share a deeply rooted passion, albeit opposite one another, for the fight and the way the entire Jewish belief system settles over their characters.
Myers gives an explosive type-A performance when it comes to his delivery of Liam. Ranting out his initial frustrations over Daphna, Myers is on the verge of stroking out in frustration; his grief and exasperation flowing full force from his mouth, invading his body, and permeating every available space on the stage. Backed with unimaginable intensity, Myers pounds his way through two of these unrelenting rant-long monologues and blasts his on-stage co-stars as well as the audience with a whirlwind of emotions in the process.
Like cotton-candy coated sandpaper, Shea-Mikal Green is a revolting combination of obnoxious, abrasive, and utterly intolerable when it comes to the character of Daphna. Green stuns the audience with her unapologetic attacks, which read mostly humorous to everyone but the person she's attacking, and really digs her heels into the grit of the character's existence. Talmudic and pious there is a righteous streak a mile wide that fuels her character's rants. Possessed of striking versatility, Green manages to upend the situation after a lengthy attack on her character by driving the scene into unrecoverable hysterics with a trip down memory lane. Dynamic and engaging, though the effort of the show is shared, Green walks away with a nose of a lead when it comes to stellar performance in the production.
A more solid season opener could not be hoped for than the one that MET is delivering with Bad Jews. Be sure to catch it, as this limited run won't last long.
Running Time: Approximately 90 minutes with no intermission
Bad Jews plays through October 9, 2016 on the Main Stage of the Maryland Ensemble Theatre in the Historic FSK Hotel building— 31 W. Patrick street in downtown historic Frederick, MD. For tickets call the box office at (301) 694-4744 or purchase them online.