Are you ready to rock, theatergoers? Because it's time to get down to life and live at Venus Theatre as it enters the halfway point of Season16 with Kathleen Warnock's work Rock the Line. Directed by Founding Artistic Director Deborah Randall, this edgy exploration of sex, love, and rock and roll teaches audiences a valuable lesson or two through the lens of musical fanatic devotion. Like all productions that make their way to the Venus Stage, Rock the Line sets flight— with rock-powered wings— to the voices of strong female characters and unapologetically bashes through stereotypes of sexual identity, all while exploring the scarier side of life— love and all of its trapping entanglements.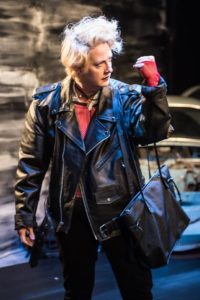 Primed with grunge, the show's overall aesthetic and its copulation with the gritty and visceral performances given during the production leaves you feeling profoundly dirty in that unspeakably inexplicable way that infers to your mind the notion that you've experienced something and come through it screaming alive. Leaving a layer of emotional film, like cathartic detritus, clinging to your brain's skin by the end of the show, the culmination of light, costumes, and scenic art are putridly potent and yet surprisingly comforting, almost welcoming— in a sense— to the uniquely insular and yet extremely relatable world of the story.
Grody and unsavory, Scenic Designer Amy Belschner-Rhodes sets the flavor the of the show's aesthetic early on. With smeary streaked walls in shades of black and white, slathered over with hardcore rock band posters, the visual rhetoric of the physical set persuades the audience that this could be any club in any city where Patti Roxx has come to please her fans and play to their hearts' content. Relying on simplicity so that other mechanisms of the show's creative design can flourish with the pungent pops that the scripts intends, Belschner-Rhodes captures that desolate minimalism that gels heavy with the diehard devotees and their favorite rock-n-roll punk-rocker icon.
Lighting Designer Kris Thompson echoes that scenic verve in the show's illuminations. Augmenting these visual elements that in a way become minor characters that simmer in the background of the action, Sound Designer Neil McFadden invites an intensity to the work, especially with his motorbike sounds. The pre-recorded shouts of Patti Roxx (voiced by Marni Penning) have a distant quality to them in the same sense that McFadden's motorcycle engine revs and squealing tires have an authenticity to them. The cleverly placed heavy rocker songs that transition scenes from one to the next serve as a binding thread in McFadden's soundscape to draw the show together like a tightly laced concert corset.
Wearing innumerable hats for the production Deborah Randall has crafted the couture for these rock angels, giving each of the six women (and the one guy) a signature look all their own. There are loosely inspired flavors of various rock bands, or homages thereof, in each character's wardrobe. Candy's costume in particular is worth noting as it screams punk rock insanity, much like the character herself. The eclectic look of the costume design serves the show well, showcasing the notion that no matter how you look or choose to express your personalized style you can bond with a group of seemingly unrelated strangers over the mutual love of one thing— in this case Patti Roxx.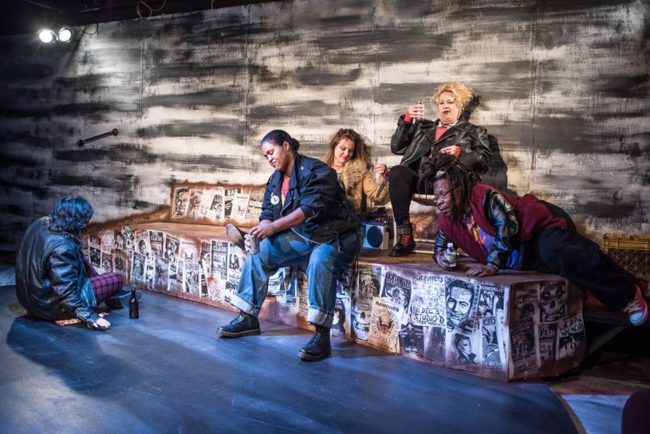 Randall fosters the sense of an organic tribal bond when it comes to the interplay and working relationships of these six characters, with the jarring interloper Candy spiking through when and where she is called to do so. Working closely with Fight Choreographer Mallory Shear, Randall supplies an authenticity to the show's underlying violence but in the same breath showcases the earnest edge of what it means to support one's chosen family. The scene where everyone rushes back to the stage for one of the attacks is potent and teeming with the sense that these characters connect on a bonded level far deeper than their surface interactions initially portrays. The pacing of the show is smart, the way the characters interact with one another even more so, and the overall experience is one that Randall has custom-tailored for those seeking a thrilling piece of theatrical engagement.
Playwright Kathleen Warnock settles comfortably into the double entendre of her work's title early on. While it is a show about a celebrated, fictitious rock star and her unrelentingly supportive fans waiting in line for her concert, it also rocks a bunch of other lines over the course of its dramatic arc. Relationship lines, sexual orientation lines, life path lines: all of these meticulously constructed strings are pulled taut across the text and when stroked with a slam of six powerfully potent performances from a sensational sextet of tremendously talented women, it's a real rock-gasm happening right before your very eyes. Warnock's writing is transparent; although there are a great many layers to unearth and wonderfully expressive moments of a great many things, she doesn't try to hide anything or shy away from some of the more taboo topics and themes addressed within the play. This makes Warnock's work a perfect fit for the overall mission statement of Venus Theatre.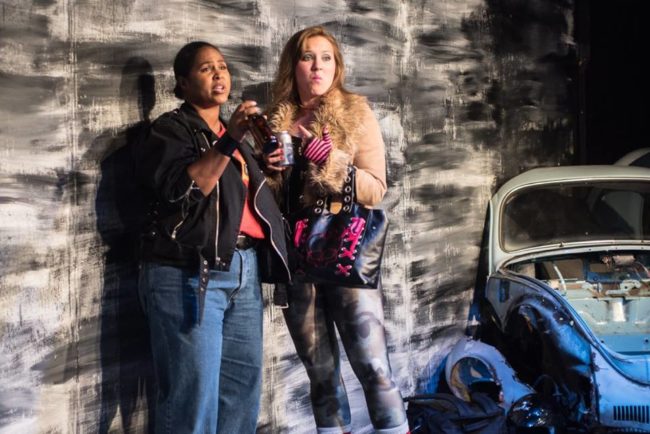 Among the six fierce female characters there is a seventh body on stage, Mickey (Patrick Gorirossi.) Plugging the character with a bitter jealousy, Gorirossi delivers the effeminate straight male with a heavy ladle of whining "emo-tween" energy, which is perfect for when the tribe starts teasing him. Playing well off Kelly (Lida Maria Benson), Gorirossi centralizes the angst of his character into pinched facial expressions and internally retreating gestures and postures. Benson, who is a spark of poppy pink bubble-gum style rock, holds her own against the more savagely attired and attitude-driven women in the show. The profound speech Benson delivers near the show's conclusion gives her character a strengthened sense of identity and really hits home for anyone who has ever had a dream and dared to follow it.
Joanne (Tamieka Chavis) is the character that almost blends into the group a bit too well. Chavis, who maintains her calm demeanor and overall mild-mannered approach to the character for most of the performance, really digs her heels into the character's grit as the show erupts into its climax. A stunning and emotionally charged blast during a tension wound scene with Leslie (Deborah Randall) really shakes up not only the dynamic of interaction between Chavis Randall's characters but the dynamic of relationships and emotions on the whole. Randall, who starts her character's arc on the level, devolves into some thrilling, albeit questionable, behavior and emotional expulsions that drag you into Leslie's life full-throttle.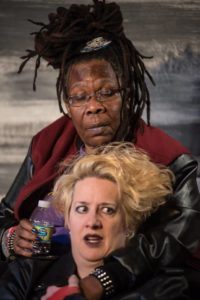 Lucy (Myrrh Cauthen) initially appears to be a cameo sort of character, but proves as the script unwinds to be an integral part of this chosen family tribe. Cauthen has a haphazard nature with which she imbues her portrayal of Lucy and this lays the ground work for a fair bit of inadvertent and much appreciated comic relief. Though they aren't the deep sort of belly-laughs one might imagine when it comes to comedic diffusion, these charming moments that tickle the tummy for a chuckle or two bring an impeccable sense of balance to the rather heavy show. Cauthen's interactions with Nancy (Rebecca Herron) are often too cute for words. Herron and Cauthen play that dynamic of tried-and-true comfortable lovers who have settled into each other's routine with great ease.
Herron, who is the self-proclaimed leader of the pack— though hardly contested by the misfit band of sisters— delivers gritty realness when it comes to putting her assertive foot forward. With a rocker attitude that for all intents and purposes is tattooed in raging bright black ink across every move that she makes with her body and face, Herron gives a memorable performance as this tougher than nails brassy bitch. The impressive feat that makes her character work even more praiseworthy is the transformative moment where real emotions escape that cemented exterior towards the back end of the show.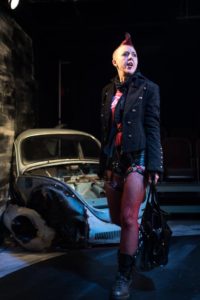 There is something to be said for insanity in the world of rock and roll. Even more so when it manifests itself into a character like Candy (Amy Rhodes.) Looking like something straight out of a punk-rock nightmare gone wrong, Rhodes rushes the scene with an electrically alarming energy that just doesn't quit. Even when she's been beaten down there is a reverb of that unstoppable insanity emanating from her person that cannot be denied. Guttural, gripping, and garishly engrossed in the reality that Candy has created for herself, Rhodes amps up the stakes of the show every time she stomps into a scene.
A truly edgy show that has a great deal of things to unpack, Rock the Line is exactly the sort of work that belongs on the Venus Theatre stage. It does not disappoint when it comes to engaging the audience with its narrative, character development, or overall appeal as a show.
Running Time: Approximately 1 hour and 40 minutes with one intermission
Rock the Line plays through October 9, 2016 at Venus Theatre— 21 C. Street in historic Laurel, MD. For tickets call the box office at (202) 236-4078 or purchase them online