I hate parading my serenading as I'll probably miss a bar, but if this ditty is not so pretty at least it'll tell you how great they are— they being the Phoenix Festival Theater and their current production of Anything Goes! One of Cole Porter's finest musicals— baby it's the tops— is now setting sail under the Direction of James Hunnicutt and the Musical Direction of Julie Parrish. With Conductor Will Poxon leading the live on-stage orchestra, and Choreographer Amanda Dickson corralling the troupes for some bonafide classic 20's routines, this show has it all and much like the title implies, Anything Goes!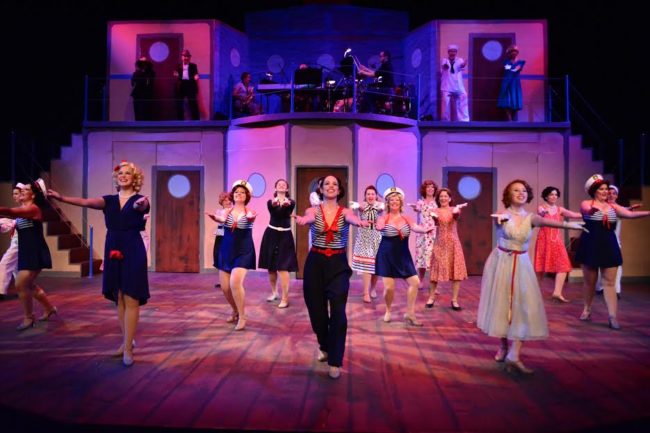 The S.S. Phoenix Theater stage has a magnificent new look thanks to Set Designer G. Maurice "Moe" Conn III and Scenic Artist Haley Horton. Conn's imaginative construct creates a double-decker ship to fill the play space, complete with rounded portals to further the illusion. This fancy fabrication even allows for the orchestra to be featured and visible on the upper deck, which gives a swinging vibe to the musical numbers of the show— just like a real 1920's big band on a luxury liner for the passengers' entertainment. Conductor Will Poxon has some balance issues and often overplays some of the ensemble numbers, but these will fall in step with the rowdy energies of the company as the show gets underway.
Lighting Designer Thomas P. Gardner does an exceptional job of painting the moonlight into the show with his watery blue fades that happen at night. There's even a little sinner's flame coloration going on during "Blow, Gabriel, Blow" for some added theatrical effect. But the thing that really shines in Gardner's lighting plot is the tightly focused use of follow-spots on multiple occasions for the dance-intensive duets between Reno and Billy. Giving these numbers that old-school Vaudeville feel with the precision execution of these spotlights, Gardner gets the show situated in the era with ease.
Rounding out the era situation with terrific threads are Costume Designers Stella Dipeso and Becky Flickinger. This dynamic duo of costumed creativity really outdoes themselves when it comes to outfitting the cast, particularly Reno's Angels and all of their delightful dancing dresses. There is a consistent uniformity in most of the Angel outfits, which gives these well-seasoned dancer girls a professional look, as if they were a real group backing a famous longue singer. And the dresses that Dipeso and Flickinger find for Reno Sweeney are hands down to die for. Between the sparkly sequin sapphire look featured during "Take Me Back to Manhattan" and the various black outfits she dons earlier in the performance, this pair of costume creators have outdone themselves.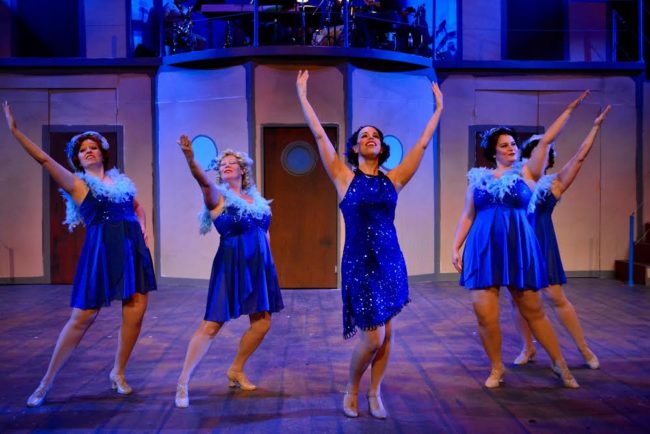 A tremendous amount of effort and passion is viewed in plain sight when it comes to Choreographer Amanda Dickson's work. With enormous ensemble routines that feature the entire company tapping or swinging, like "Anything Goes" and "Blow, Gabriel, Blow", Dickson ensures the most enthusiastic dance routines with great consistency and synchronicity. Playing to her cast's strengths by featuring strong dancers in the roles of the Angels (Laura May, Elizabeth Marion, Becky Titelman, and Julie Wadey), numbers like "Heaven Hop" as well as "Let's Step Out", which feature the angels outside of Reno, becomes jazzy and dazzling. Dickson should also be commended for her sharp Vaudeville-inspired choreography featured in both "It's Delovely" and "Friendship."
Wearing multiple hats— or at least multiple shoes— Dickson doubles up as a supporting character and takes on the role of Bonnie. Her singing voice isn't the strongest and some of Bonnie's higher notes are out of Dickson's range, but what she lacks in vocal ability she makes up for with character-invested chutzpah, adorable facial expressions that are the epitome of the New York City dancing doll— most notably the surprise-o-lips— and her overall affectation when delivering Bonnie's voice. Dickson's impressive dance ability is showcased frequently throughout the performance, but most remarkably so during "Let's Step Out" where she twirls the floor and trips the life fantastic with the equally talented Sailor Boy (Kevin Franiak.)
Playing well against Moonface Martin (Albert J. Boeren) Dickson delivers a few good comic exchanges in the comedic-relief duo. Though Boeren is also not strong of voice, his rendition of "Be Like the Bluebird" is particularly amusing, especially when it comes to the "tweet-tweet" section of the chorus. Stealing the title of accidental comedian, Mrs. Wadsworth R. Harcourt (Eva Grove) is a haughty haute mess that keeps you laughing every time she opens her mouth. Grove carries the airs of an aristocrat and brings the giggles to the audience right alongside Mr. Elijah J. Whitney (Dave Guy.) Quirky and quite suited for the part, Guy is worth a few good laughs for his cameo meanderings as the quick-tempered and then quickly blinded Whitney.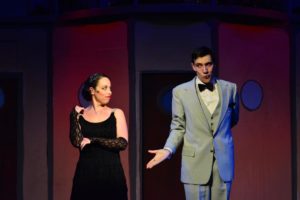 With a monocle in his throat, Nate Stauffer is a pippy cheerio as Sir Evelyn Oakleigh. Lending a touch of color, the fully flamboyant English rainbow to be precise, to his portrayal of the fop, Stauffer affects a highly hysterical accent to his character and exaggerates everything from his high-stepping to his snorting moments of laughter. Vying for the title of scene stealer with Gary Dieter, playing the incorrigible Billy Flynn, it's hard to tell who comes out on top during the infamous deck-chair scene. Stauffer possesses an impressive performance versatility as well, delivering top-notch dance moves during "Let's Misbehave" and a lovely sound as well during this duet with Reno Sweeney.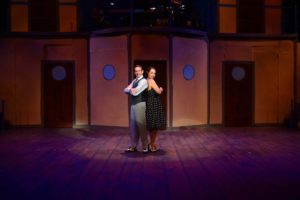 Lively, divine, and a thrill down the spine, Gary Dieter as Billy Crocker is incomparable when it comes to his singing, dancing, and acting talent. With polished finesse, Dieter finds the organic balance between humor and sincerity with Billy. His comic shenanigans outshine even the brightest star when he's masquerading around as George Bernard Shaw et al whilst trying to remain undetected on the decks. But there's an earnest ingénue spirit dwelling within his chest, which powers numbers like "All Through the Night" and "It's Delovely", both duets shared with Hope (Emily Morgan, who is sweet of voice and disposition all throughout the performance.) Glisteningly glorious vocals grace numbers like "You're the Top" and "Friendship", really allowing Dieter to showcase his talents, and watch his feet in both of these numbers you'll be so amazed you won't be able to stop clapping. Honing the character's charisma to a glistening point, he delivers a rich, fulfilling portrayal that is delightful, it's delicious, it's delectable, it's delovely!
Dieter is the cat's meow and Julie Parrish, as leading lady Reno Sweeney, is the dog's pajamas. Like two peas in a pod they pair off exceptionally well. "You're the Top" becomes a fondly remembered moment of two old friends celebrating how much they adore one another's company. Between this number and "Friendship", their voices and dancing legs really get quite the chance to razzle, dazzle, and impress the audience with all of their punchy panache that makes them the perfect pair for these roles.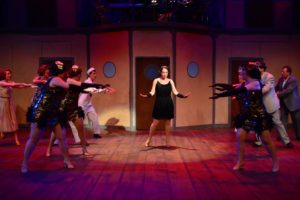 Running out of words that can do Parrish's performance justice, the sentiment that can be agreed on 100% is that she's the top! With smooth smoky jazz vocals that really lend themselves to Cole Porter's celebrity style, Parrish is charisma incarnate. Singing a sensual love letter to the Big Apple during "Take Me Back to Manhattan", Parrish proves her vocal versatility by tripping the life fantastic with the tempo changes in this number. Oozing sensuality for both "Let's Misbehave" and "I Get a Kick Out of You", she finds the balance between sassy showgirl and demure woman in love. Owning both "Blow, Gabriel, Blow" (watch her hopping spins here) and the title song, "Anything Goes", Parrish's portrayal of Reno Sweeney is everything you'd expect the world class longue singer to be and then some. Exceptional of voice, enthusiastic of spirit, and energetically afoot when it comes to dancing, Parrish is sensational.
This is one showboat you won't want to miss— as the principals and the dancers wrap up a fantastical voyage through Cole Porter's finest musical.
Running Time: Approximately 2 hours and 20 minutes with one intermission
Anything Goes plays through September 25, 2016 at Phoenix Festival Theater as a part of Live! at Harford CC in the Chesapeake Center of the Harford Community College Campus— 401 Thomas Run Road in Bel Air, MD. For tickets call the box office at (443) 412-2211 or purchase them online.