The "thea-taaah" is so cultural! People come and stare at the feelings that the performers are having and those feelings are art! At least that's what Woolly Mammoth Theatre Company is presenting with the firecracker opener of their 2016/2017 season with the world-premiere of Jen Silverman's Collective Rage: A Play in Five Boops. Directed by Mike Donahue, this evocative and explosive exploration of women, relationships, love, and above all— pussy— will rock your world from the time the first of the quintet of Betty Boops are introduced through to the sentimental, albeit bizarre, ending.
WHEREIN THE BETTYS' COSTUMES ARE CONCOCTED BY KELSEY HUNT AND EVERYONE LOOKS FABULOUS IN BLACK
When the imagery of Betty Boop comes to mind, it's the sparkly red dress not the sassy black hair that people tend to picture first. Costume Designer Kelsey Hunt draws the focus to each of the five Bettys in this production by dropping into a fashionable palette of black. Black is slimming, black is sensual, black is seductive, black suits masculine gender identity as well as feminine and every shade thereof in-between. Hunt's decision to unify the quintet in this quintessentially functional yet fabulous color is a smart one, showing that women— regardless of how they identify to their gender identity— can pull off the color and still look fabulous. Poppy shades enter the production a bit late in the game, but there's nothing wrong with a little splash of color to shake things up.
BETTYS 1 THROUGH 5 GET TO PLAY FAST AND LOOSE THROUGH THE FARCICAL DOORS OF DANE LAFFREY'S SET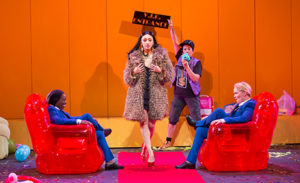 Bright yellow: it's a garish, glaring color juxtaposed against the black of the Bettys' wardrobe selection. Set Designer Dane Laffrey creates an almost comic style with this pungent aesthetic, a nod to the Betty Boop cartoons of yesteryore. Cleanly devised panels allow for easy access, making their uncanny arrivals, which are often timed with a bang, serve up a dish of humor to the show's overall pacing and progression. Laffrey makes it rain; that statement alone will suffice so that the surprise nature of what awaits theatregoers at the 'thea-taaah' isn't ruined before they arrive.
THE BETTYS GET A SOUNDRTACK COMPOSED BY DANIEL KLUGER, WHICH IS SPLICED INTO PLACE BY THOMAS SOWERS AND IT SOUNDS INCREDIBLE
Composer Daniel Kluger draws inspiration from those old-school comic black-and-white factory cartoon soundtracks where everything is happening at a zany pace and things are going haywire. These sounds and aural affections of a similar nature wend their way into Kluger's compositions which Sound Designer Thomas Sowers weaves into the scenic shifts, giving each movement its own unique pulse. Augmented by the sharp crisp flash of illumination from Lighting Designer Colin K. Bills, each new scene feels like a sharply punctuated animated punch; this refreshing approach to breaking down beats allows the play's natural movement to sweep the audience up in its magic.
THERE IS A SIXTH BETTY— PLAYWRIGHT JEN SILVERMAN— THOUGH HER NAME ISN'T ACTUALLY BETTY, IT'S JEN, AND SHE TALKS A LOT ABOUT THE BETTYS BUT MOSTLY ABOUT SEX AND PUSSY AND HER WRITING IS BRILLIANT
Coarse language may be the advisory slapped onto the world-premiere of Jen Silverman's Collective Rage, though it's no worse than anything heard on the street of any major American city or any television program that captures the essence of any of those metropolitan streetscapes. Redefining the way we as society and as individuals address sexuality, femininity, womanhood, relationships, life, and the overall placement in the grander scheme of the universe, Silverman's work is irreverent and yet comforting; she has penned a poignant and relevant piece of gender-fluid satire that sets off sparklers, fireworks, and atomic bombs of thought-provoking conversation points. Wild in its nature, this powerhouse play is loaded with moments of emotional outpouring but is not without its absolutely hysterical moments to bind it all together into something truly astonishing. Smart and edgy, Silverman's work was practically penned to be staged at Woolly Mammoth for the dialogue it has with the audience in even its most basic of instances.  
THE BOOPS HAVE A DIRECTOR TO NAVIGATE THEM THROUGH THIS EXTREMELY INTENSE, SOMEWHAT QUEER, AND OCCASIONALLY HAPHAZARD EXPLORATION OF LIFE, LIBERTY, AND THE PURSUIT OF LESBIANS; MIKE DONAHUE IS ALSO NOT NAMED BETTY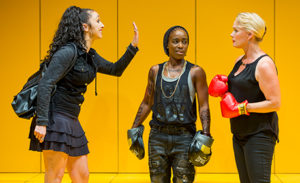 Director Michael Donahue is not afraid to plunge himself shoulders deep into the work. There is something daunting about staging a play that exists in a realm of reality but is situated just outside the boundaries of realism. This is not a trap that Donahue falls victim to, in fact this unique existence of the play's setting allows for an evocative if not provocative exploration of text, character development, and an overall sense of discovery to flourish under Donahue's direction. When a director, such as Donahue, leaves an indescribable stamp on a production in the sense that it feels great but one can't quite put their finger on why, a tremendously impressive accomplishment has been achieved, and this can be plainly stated that Donahue has acquired that praise-worthy accolade.
EACH BOOP IS LIKE A DIFFERENT FLAVOR OF ICE CREAM ONLY RAGE-FLAVORED ICE CREAM. BETTY BOOP 4 IS VANILLA WITH CAYENNE PEPPER SWIRL
In a play where every character is named Betty, one hopes that there are several distinguishing characteristics to tell them all apart. In addition to costumes and overall appearance, the textual levels of rage imbued to each of the Bettys helps to separate them from one another. Betty Boop 4 (Kate Rigg) is the base vanilla of the group with a hidden swirl of cayenne pepper laced into her persona. Rigg is dynamic, finding clever ways to bring her character to that crackling edge of sanity while keeping a steamer lid on her rage. The swirl of cayenne hits her performance late in the production but it stings with a kick and is wildly entertaining. There is an uncertainty to the outward masculinity that Rigg projects in the character, a bit like Jell-o before it's fully set. This unease makes for a fabulous display of internal conflict and builds the character's trajectory toward the ultimate eruption later in the piece.
BETTY BOOP 3 IS SRIRACHA ICE CREAM THAT HAS BEEN MIXED INTO A DAIQUIRI, REFROZEN AND SERVED OVER A SCOOP OF CHOCOLATE RAGE.
The stereotypical larger-than-life wild and uncouth Betty Boop 3 (Natascia Diaz) breaks up the droll hum-drummery of the seemingly dull housewives that Betty Boop 1 & 2 initially appear to be. Crass, brassy, mouthy, and all of the descriptive words one might attribute to a gold-plated Brillo-pad, Diaz takes an unabashedly raw approach to the character. Insanely over the top in her melodramatic meltdown moments, especially once the quintet slides down the slippery slope into the territory of the 'thea-taaah', Diaz is a comic knockout. There is, however, a striking moment of serene sincerity in her portrayal that arrives in a delicate monologue expressing how her character feels when she's at the 'thea-taaah'. This sentiment is captured in earnest, breathing a striking life into the notion that Silverman so perfectly pens about outsiders experiences the cultural experience that is the 'thea-taaah' and is one of the more profound moments of discovery in the performance.
BETTY BOOP 5 IS A GENDER-NON-CONFORMING MASCULINE BODY-PRESENTING FEMALE WHO IS ACCEPTING OF FEMALE PRONOUNS BUT ALSO DATES WOMEN— TL;DR: BETTY BOOP 5 IS STRAWBERRY JALAPEÑO ICE CREAM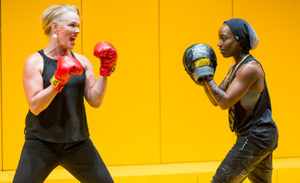 Working up the stereotype of an extremely masculine-identifying lesbian, Betty Boop 5 (Felicia Curry) is the Betty that undergoes the second biggest transformation in the performance. Curry's energy is raw and vibrating from beginning to end. Making bold and deliberate choices to situate the character's physicality and vocal expression into something that could read as masculine or gender-fluid, Curry finds the balance of making this character its own entity outside of the stereotypical construct that is crafted for her. What is most impressive about Curry's performance is her mindful stage presence, constantly aware of her physical spatial relationship to others and how that reads in regards to the interactions and relationships she has with the other Bettys. Evolving from hard and stoic to something entirely different, Curry's ability to take the character from one extreme to another is beyond impressive.
WITH BETTY BOOP 1, WHAT YOU SEE IS WHAT YOU GET: SHE'S THE UNBRIDLED RAGE OF GHOST PEPPER GELATO, WHO IN THEIR RIGHT MIND WOULD EAT GHOST PEPPER GELATO?
The audience's first encounter with the real rage that bind these Bettys together comes from the opening monologue delivered by Betty Boop 1 (Beth Hylton.) Although Hylton's rage at this point is mild-mannered by comparison to what it will grow to be, there is a finality and firmness to it that radiates out of her eyes, her posture, and her voice which alerts the audience to the volcano bubbling in her belly waiting for the perfect moment to erupt. It's Hylton's command of this internal lava that keeps us interested in her character, particularly when it comes to the interactions with Betty Boop 5. Their twisted relationship arc is not only delightful but gripping in the way it opens up each of their eyes to new possibilities on everything from boxing to fashion sense. Hylton does a tremendous justice to Silverman's work, finding the nuances in the character of Betty and bringing her around to embrace her inner flame.
BETTY BOOP 2 IS RUM RAISIN ICE CREAM BECAUSE NOBODY LIKES RUM RAISIN AND IT IS USUALLY LEFT ALONE AT THE BOTTOM OF THE FREEZER, BUT ALSO THERE IS A SECRET LAYER OF HIDDEN POP-ROCKS AT THE BOTTOM THAT NO ONE KNOWS ABOUT BECAUSE NO ONE EVER GIVES RUM RAISIN A CHANCE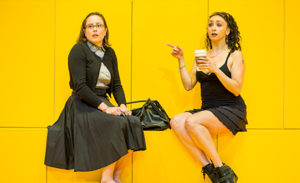 The epitome of a 1950's Lady's Home Journal housewife, Betty Boop 2 (Dorea Schmidt) has to be the comic ringer of the production, and often without even intending to. Taking the largest transformative shift in the show, Schmidt dazzles the audience with her ability to go from meager and terrifyingly introverted to a wildly vivacious and explosively expressive zany character that no longer fears anything. Bringing the character's arc around into a beautifully tight ring the song featured at the end is both sweet and sentimental, despite the framework snuggled around it. Responsible for some of the most uproarious moments in the play— like her off-the-wall rant about the lions and the crawling around with her hand-puppet friend— Schmidt is a hoot in the role of Betty Boop 2. She will make you reconsider rum raisin, possibly by masquerading as a rainbow sherbet banana split with rainbow sprinkles, but regardless of how she achieves this daring feat of dynamic transformation, she does so with great aplomb.
ALL FIVE BETTYS ARE BRILLIANT AND THEY WORK PHENOMENALLY WELL TOGETHER WITH A CHEMISTRY THAT IS UNBEATABLE, WHAT MORE DO YOU REALLY EXPECT ME TO SAY? JUST GO SEE THE SHOW ALREADY
What else is there to say? Can't give it all away and since the point is to get you to the 'thea-taaah'— you know, to experience the culture because it's so cultural— all that's left is to raise a glass, right? To Betty!  
Running Time: 105 minutes with no intermission
Collective Rage: A Play in Five Boops plays through October 9, 2016 at Woolly Mammoth Theatre Company— 641 D Street NW in the Penn Quarter District of Washington DC. For tickets call the box office at (202) 393-3939 or purchase them online.
To read the interview with Betty Boop 1— Beth Hylton— click here