Be anybody, anyplace, anytime! Truer and more inspirational words would be hard-pressed to come by if they hadn't been uttered straight from the mouth of Beatrix Potter! In a delightfully imaginative stage production that nestles itself cozily into the opening slot of Pumpkin Theatre's 49th season, Peter Rabbit and Me, by Aurand Harris, is a fantastical adventure for young audiences and those audience members who are young of heart. Directed by Jeremy Scott Blaustein, with Musical Composition and Arrangement by Mandee Ferrier Roberts, this heartwarming tale of talking rabbits and nasty farmers is the perfect start to the autumnal season that is upon us as September gets underway.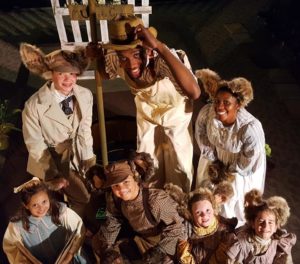 Carefully cultivating a world of wondrous imagination and whimsy, Director Jeremy Scott Blaustein upends the traditional proscenium and thrust style stage setup featured at Pumpkin Theatre and opts instead for an alley, or tennis court, arrangement. This makes for a unique vantage point from the audience as it lengthens the play area for the performers and allows the younger audience members to sit right at the edge of the vegetable patch in Mr. McGregor's garden. Blaustein, who works closely with Scenic Charge Heather Mork, Costume Designer Wil Crowther (who doubles as a Properties Designer), Lighting Designer Helen Garcia-Alton, and Properties Designer Ally Cribbs, fabricates a world of Victorian London that enchants the audience and invites them into the highly chimerical world inside the mind of Beatrix Potter.
While the garden painting on the fencepost is simple, much like the warren inside the draped tree where the rabbits live, the more exacting details come into play up in the nursery. Blaustein and the creative team have inspired something mesmerizing to behold. Coupled with Mandee Ferrier Roberts' compositions and well-timed musical sound effects, there is a true sense of wonder and imaginative intrigue occurring from the moment the lights come up. Wil Crowther's era-appropriate costumes complete this magical aesthetic, and although the world of Beatrix Potter is quite real— until we slip into the vivid story about Peter Rabbit— there is a charming electric charge of fantasy living within the costumes and walls because of the impressive design work featured therein. A special nod of praise is owed to Properties Masters Crowther and Ally Cribbs for their delectable vegetables which are planted all along the play space's perimeter! They look so impressive you'll want to eat them up yourself!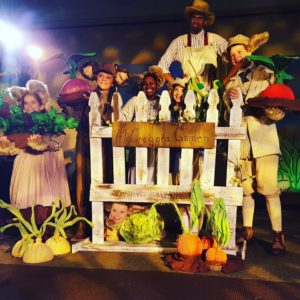 Blaustein encourages the suspension of disbelief, upon which all good theatrical endeavors thrive. His guidance in regards to the various physical approaches of the characters makes the transition from humans in the real world to animals in the storybook world a seamless one. The energetic hopping about as bunnies is particularly amazing (especially when Wil Crowther's simple addition of fuzzy hands and ears are all it takes to transform people into bunnies.) Each of the characters who starts as a human but then becomes an animal, or even a grumpy farmer, portrays elements of their human persona into their storybook animal— not unlike the way double-cast characters are written into timeless childhood classics like Peter Pan. Blaustein keeps the show hopping down the bunny trail so as to keep the attention of everyone watching.
With Mandee Ferrier Roberts' orchestrations there is a lot of singing happening inside the show. First Bird (Sofia Alvarez) and Second Bird (Reese Bruning) do a bit of singing and are lovely rope-skipping girls at the very top of the performance in addition to being the sweet little giddy bunny sisters of Peter Rabbit. Graham Rifkin, who is the Baker's Boy turned Mr. Mouse, is the real songbird of the show as almost every time he enters the stage he's singing out a terrific tune. All three of these young performers are convivial and sprightly, fun to watch from start to finish.
Miss Hammond (Allison Stewart), who later plays the doting and loving Mother Rabbit, is mindful of Beatrix just as Mother Rabbit watches over Peter. Brother Bertram (Charlie Niccolini) is spunky, less so when he plays Cottontail, but just the same a lovely addition to the cast. Niccolini, particularly when he returns home from boarding school, gives the audience multiple sides of Bertram to enjoy, but loving and being kind to Beatrix is the most important.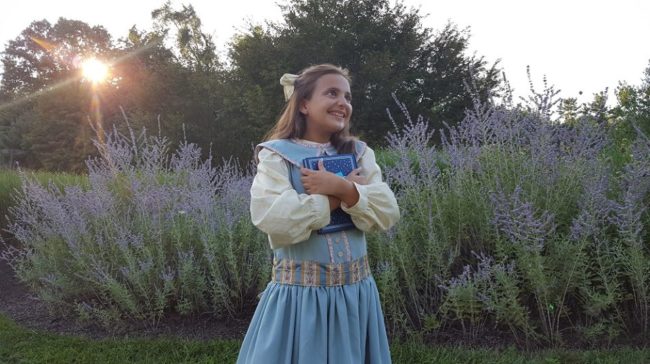 Rabbits, rabbits, rabbits, chasing rabbits! There is quite a great deal of energy spent by Mr. McGregor (Derek Cooper) trying to stomp his way all around through the garden in hopes of catching Peter Rabbit (Carly Dagilis.) Though Cooper and Dagilis both start the production as Beatrix and Mr. Potter, with wild characterizations uniquely their own, it's their dynamic playing and fleeing through the garden that really makes the story lively. A nod of praise is deserved to both these performers— Cooper for thundering about on his stilt-walkers, which makes McGregor tower menacingly over tiny Peter Rabbit, and Dagilis for being such an impressive narrator.
It's a joyful theatrical experience and there is lots to laugh about and lots to learn! Now hop along, behave yourselves, stay out of mischief and be sure to catch Peter Rabbit and Me at Pumpkin Theatre before it hops along down the lane!
Running Time: Approximately 50 minutes with no intermission
Peter Rabbit and Me plays through September 25, 2016 at The Pumpkin Theatre located at Har Sinai Congregation— 2905 Walnut Avenue in Owings Mills, Maryland. For tickets call the box office at (410) 902- 1814 or purchase them online.