Infinity Theatre Company just can't wait to get on the road again. Here they are, back in Annapolis for the 2016 season, and they've brought with them Almost Heaven: Songs of John Denver. Boldly challenging their audience with this revitalization of a bluegrass-folk infused musical revue featuring the songs of the iconic John Denver, Co-Producing Artistic Directors Anna Roberts Ostroff and Alan Ostroff present a sensational show filled to the very brim with heart and soul that triumphantly calls through the hills of Colorado all the way down to the Chesapeake Bay. A remarkably heartwarming and felicitously told series of emotional captures strung together by the chords of Denver's very essence, Almost Heaven lives up to its namesake. Directed by Alan Ostroff with Musical Direction by Amy Jones, this stellar performance is an evening of feeling good for everyone in attendance.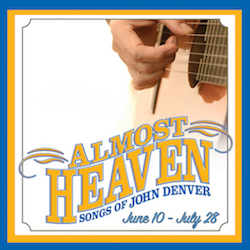 Originally conceived by Harold Thau, the musical is a refreshing sweep through the infamous and illustrious musical career of John Denver with bits of critical narrative sprinkled throughout the performance like a fine Rocky Mountain mist rolling in over the morning of the musician's life. Director Alan Ostroff takes this simple show one step further by invigorating it with a keen sense of nostalgia, a sharp sense of recollection, and an earnest sense of emotional pride. Daring to venture down the path less traveled with this rarely produced musical gem, Ostroff succeeds in directing a remarkable evening of soulful folk music with sensational talent delivering the heartfelt reality of this country boy's life.
Musical Director Amy Jones finds harmonious bliss among the cast and devotes her work in the show to capturing palpable sensations in the various melodies and harmonies featured throughout the performance. Focusing on the soul of the music and drawing it forth from the performers, numbers like "All of My Memories", which opens the show, dance in delight across the stage directly to the audiences' ears. Gloriously uniting three drastically different viewpoints in "Take Me Home, Country Roads", Jones alights true musical magic to this number by allowing the performers to chase the kite-tails of their emotional expressions in the song. Carefully constructing perfect harmonies all throughout the show, Jones ensures that this theatrical encounter is a memorable one. An additional nod of musical integrity is owed to percussionist Chris Karabelas, who finds impeccable balance on the drums consistently throughout the performance, never once overbearing in volume while still keeping a strong driving through-line when it comes to tempo.
Visually, the production is quite striking. Scenic Designer Diana Chun goes outside of the box with her aesthetic approach to the stage. Crafting an old 45 in an artistically abstract fashion, Chun segments the record into thirds— with the rounded grooves flanking either side and containing sections of imagery that overlap the pivotal locations in Denver's career, including an equilibrium of city and country landscapes. The center is a serene capture of color, a blend of the way Denver's music brought the two worlds together in vibrant strokes of happiness and a need for peace. Assisting the visual components of the production, Sound Designer Wes Shippee underscores the brief blackouts that occur occasionally between numbers with a beautifully haunting string of wind chimes floating on the wind.
Costume Designer Kristina Martin makes a curious selection of couture for the piece, which at first feels oddly off-kilter from the rest of the show's aesthetic. Without articulating spoilers, the final scene articulates her full intention behind the costumes and creates quite the angelic picture. Martin ensures that Denver is featured in a great many iconic looks, including his "mountain home" togs, which would perfectly suit any man wishing to find space among the open air of the Colorado mountains. Martin also gives a nice "hippy" feel to Annie, Denver's first wife, with a simple hair accessory and pink lace flares in her tried and true denims.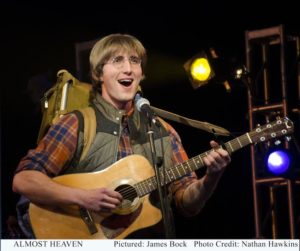 John Denver (James Bock) may be the focal point and titular character of the show but the vocal responsibility of the performance is shared evenly among the seven singers, with Bock taking the lead on a great many songs and spoken moments in the production. Bock delivers an exceptionally candid portrayal of the legendary folk singer, mastering his spoken patois in addition to paying homage to Denver's unique style of singing. There is a powerful burst of heartfelt passion from Bock during "Let Us Begin (What are we Making Weapons For?)", which is a vocal throw-down between John Denver and the characters of Jack and Matthew. Emphatically infusing each moment with a true spirit that can never be broken nor bought, Bock works his characterization of John Denver with gusto.
The act one finale, "Calypso" has Bock and the company playing through the fluidity of their souls, each with voice and instrument in hand delivers the true essence of that fresh mountain atmosphere that John Denver tried so hard to capture so often in his music. Bock rejuvenates the audience after a brief intermission with his jovial and enthusiastic rendition of "Thank God I'm a Country Boy", a number which engages the entire audience in a clap-along, sing-along, feel good moment of utter delight. But his crowning glory isn't any one sung moment but a striking feature on the piano in the duet "For You", which features Don (Travis Artz) as the vocal lead. This picturesque moment (played in the subtly of shadow compliments of Lighting Designer Jimmy Lawlor) once again succeeds in capturing the very nature of Denver's music and translating it into a palpable almost tangible feeling.
Artz, as the fury-driven soldier, has a great many moments worth praising throughout the performance. Duets with Beth (Emily Woods) like "Rhymes and Reasons I" and "Sunshine on My Shoulder" showcase his emotional versatility as well as his vocal ability. Delivering a haunting sound that sends shivers down the spine in "For You," Artz transforms the traditional folksy sound of this music into something deeper, something with a Broadway-ballad quality to its nature. Woods, who is perky beyond the rising sun over a pot of fresh brewed coffee, has a sweet nightingale voice for her duets as well as her solos. "Rhymes and Reasons II", a solo piece, as well as both duets with Artz display a tender compassion as well as a full understanding of the character she's meant to portray— a young woman whose life is deeply impacted by the music of John Denver.
Spirit (Rhys Scheibe) is perhaps an underrated character in regards to the segmented 'narrative' of the show. Scheibe has a dulcet singing voice that blends brilliantly into the group harmonies, as heard in number like "Wild Montana Skies"— a trio featuring his delicious sound alongside Woods and Sarah Goldstein (who plays the wildly spirited Annie.) Scheibe's moment in the countryside sunshine, however, is his song delivered as comedic relief, "Grandma's Feather Bed." Wild with hysterical facial expressions as the rest of the company plucks and antagonizes him both physically and vocally, Scheibe maintains a solid vocal expression while singing and carries the toe-tapping, knee-slapping tune through to a rousing good finish.
Scheibe provides stunning backup vocals for "Leaving on a Jet Plane" alongside Austin Wayne Price (playing Matthew.) The pair are tremendous vocal support for the smoky sound Goldstein delivers in this iconic song. As the wildly impassioned Annie, Goldstein takes her turn in the spotlight with "Fly Away", a solo that lets her vocal ability take flight like the spirit of the wind. Singing the duet "I Guess He'd Rather Be in Colorado" with Woods, Goldstein— under the exceptional musical guidance of Amy Jones— brings two flavors of female together for this number, the accepting and supportive tenderness of Beth's character, flawlessly juxtaposed against the frustrated and rejecting anger of Annie's.
Austin Wayne Price is a uniquely talented addition to the show, providing not only an impressive vocal sound but an astonishing string-strumming ability, particularly when it comes to the banjo. "Thank God I'm a Country Boy" features this mighty fine banjo banging and puts a smile on everyone's face to hear and see it. Price has a narrative gift, much like Bock in this show, and his spoken intro lead-in for "This Old Guitar" swims with heartfelt nostalgia. Enchanting the audience with his voice, it is easy to drift away on the melody as Price pays stylistic tribute to John Denver when singing this song. Trading verses with Jack (Brit Herring) during the Act I Medley, the pair drive opposition against Bock's passionate plea for peace.
The show's finale, as well as the bonus feature after the curtain call, fully embrace the heart and soul of John Denver, with each and every performer on stage contributing a healthy dose of honest emotions and vocal radiance throughout the production. A more resplendent musical experience will be difficult to find in the Annapolis area this summer.    
Running Time: Approximately 2 hours with one intermission
Almost Heaven: Songs of John Denver plays in rotating repertory with Million Dollar Quartet through July 28, 2016 at Infinity Theatre Company at The Children's Theatre of Annapolis Complex— 1661 Bay Head Road in Annapolis, MD. For tickets call the box office at (877) 501-8499 or purchase them online.