Set in Atlanta in 1913, a Brooklyn-raised Jewish man by the name of Leo Frank is put on trial for the murder of 13-year-old Mary Phagan. Already guilty in the eyes of everyone around him, a sensationalist publisher and a janitor's false testimony seal Leo's fate. His only defenders are a governor with a conscience, and, eventually, his assimilated Southern wife who finds the strength and love to become his greatest champion.  Based on true historical events and adapted for the stage by an acclaimed playwright (Alfred Uhry – Driving Miss Daisy) and composer/lyricist (Jason Robert Brown – Songs For A New World, The Last Five Years, Bridges of Madison County), Parade is a moving examination of the darkest corners of America's history amid themes of religious intolerance, political injustice, and racial tension that pervade the dogmatic landscape of today. The show is now appearing for two weekends only as the summer production presented by the Drama Learning Center's TYA Professional Training Program's Teen Senior Company.
There is always a myriad of great theatres opening curtains around the Baltimore area— sometimes so much that it becomes an effort to go and experience all (or even a fraction) of the things out there to see. It's there one week and gone the next; small glimpses into the months of effort that the actors and creative teams put into it, making each show individually amazing in its own regard. One of the most refreshing and inspiring experiences in the world of theatre is watching the future generations of stage-dwellers shine. Not just "going through the motions" on stage, but to witness their growth, and the ability to tell a story, unfold in front of you. The young actors in Parade at Teaching Young Artists (TYA), which is Drama Learning Center's professional training program, put on an impressive display of talent and story-telling in a show that is no easy feat to pull off, even with the most experienced of actors (composer Jason Robert Brown's music can be notably difficult to learn).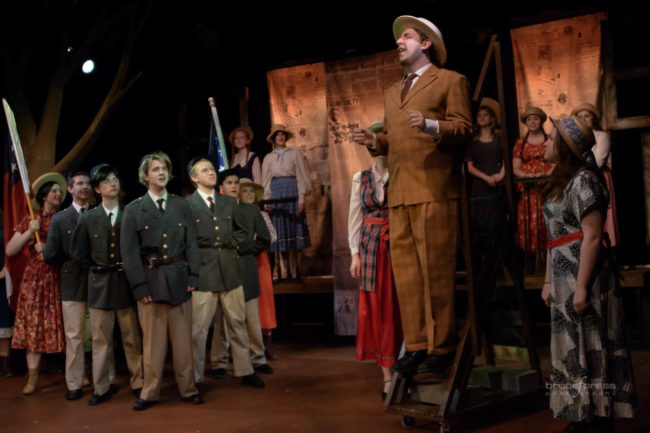 Before we get to the actors, many kudos need to be sent out in earnest to the production team.  Parade is Directed by Stephanie Lynn Williams (who also owns Drama Learning Center and founded Red Branch Theatre Company). She does a phenomenal job of wringing out every ounce of talent and effort from these young actors for display. As an audience member, you can see that the actors truly understand all of the nuances of the characters and story. Her staging is impeccable. The blocking flows smoothly with zero distractions, upstaged actors, or awkward placement. The set changes barely register as set changes from the audience, and are often worked into the staging. She works in clever spurts of choreography that leave you pleasantly surprised. The curtain call of the show is also done in a different and creative manner than audiences are used to seeing, which leaves the audience considering the weight of the material.
The meticulous set design and scenic construction by David M. Smith is like another character on stage. The "newspaper curtains" toward the rear of the stage, which contain real elements of the show, add a poignant level of utilization to the show– silhouetting, scene transitions, entrances/exits. The grittiness, added by the great paint job and crate planks which decorate the sides of the stage, portray the time period accurately. The set functions perfectly in various settings: a field, a house, a prison, a factory. Complementing the set design is the lighting design by Lynn Joslin – no actor is ever out of their cues, and each setting is portrayed quite accurately.  The costumes, by Janine Sunday of Toby's stage fame, replicate the time period quite accurately and bring out the depth of the characters.
Music Director Tiffany Underwood waves a big fat magic wand in this production by not only creating a wonderfully balanced sound with the pit and the actors on stage (without the aid of body mics, which is impressive in its own right), but by teaching these young actors to sing through the complex and emotionally charged score by Jason Robert Brown articulately and without missing a beat. One of the most difficult things to accomplish with an ensemble piece, like this show, is to put together the harmonies and keep them in tune. Every vocal part is heard clearly in tune, with equal weight, adding an extremely powerful punch to all of the pieces where the ensemble comes together. "The Finale", most especially, washes over you in a wave of resplendent emotion.
Now to give these young performers the credit they deserve! The cast, headed by the talented trio of Lauren Alberg, Tommy Eyes, and Jason Quackenbush, shine brilliantly in this production.  Alberg and Eyes portray the central couple of the show, Lucille and Leo Frank. Alberg, as Lucille, has a well-developed mezzo-soprano voice, which sounds like it belongs to someone much older and more experienced – it's really eye-opening when she first opens her mouth to sing, and luckily, you get to hear her quite a lot in the show. She charges each note and lyric with raw emotion, and every character choice, gesture, and scene is executed with perfection. She portrays the station of her character and the struggle she goes through with ease. Eyes, as Leo Frank, has a lovely natural tone to his young tenor voice, with a nice rolling vibrato when he is in his comfort zone. He does a fantastic job of portraying Leo as a neurotic and almost OCD Jew from New York in the south-land of Atlanta. He clearly understands the arc of his character, and leads the show with a deft hand.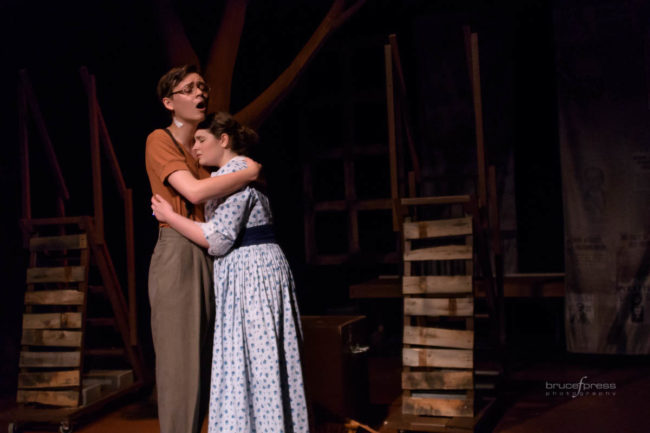 Jason Quackenbush opens the show as a young soldier and immediately takes the audience by surprise with his vocal ability. After he finished his part in the opening, you could almost hear the entire audience think collectively "Well alright then! This is going to be good." He has a wonderful second-tenor voice that, like Alberg, has the control and tone of someone much more senior to his age.  While he opens the show as the young soldier, his main role is Craig Britt, the sensationalist publisher who pushes the lies and story that ultimately convict Leo Frank. His first number as Craig, "Big News", is hysterical, and he only gets better from there. He has some serious dance skills as well (we remember seeing some sort of jump-spin and some great high kicks). His character choices are well-fleshed, and he has an incredibly likable stage presence.
Jason's brother, Mark Quackenbush, plays Frankie Epps and engages his character with an exuberant level of energy, enthusiasm, and stage presence. He has a nice connection with his counterpart Mary Phagan (played by 8th-grader Ellie Parks at the June 10th performance, who was adorable). His character becomes embroiled in the treachery and anger that plays one of the main points of Leo's demise, and deftly moves his character from innocent young man to angry mob-leader throughout the show.
Patrick Campbell, as Jim Conley, the factory janitor who falsely testifies against Leo, is a force to be reckoned with. He grabs his character by the reigns and never lets go of his wild energy. He has a fantastic R&B-styled tenor voice which fits his character perfectly, and he absolutely commands the stage in "That's What He Said" as well as during the chain gang blues.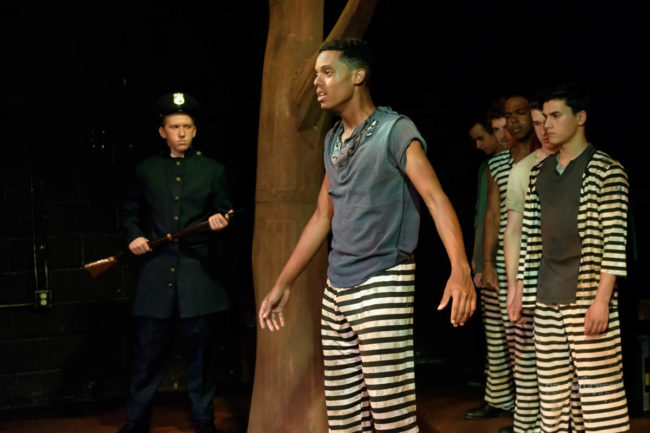 Two special guest artists in the show, Jeff Miller and Taylor Washington, bring some clout to this production. Miller plays several characters, most notably the judge presiding over Leo's case, and the Governor. Both are well acted and nuanced.  He brings a likability and a heaping of heart to both, and adds some of the more humorous moments to show on the whole.  Taylor Washington comes out of the blue with some powerful gospel-inspired belting in the beginning of Act 2, leaving the audience astounded and wanting more. She brings out a layer of the African American struggle that this show tries to represent, and does it well. Aside from the main stand-out performances, the rest of the young cast and ensemble is engaged in the show at all times, and they should be commended heartily for that. Every member of the cast was giving it their all, looked like they were having fun, and WANTED to be on stage.
The only constructive criticism as a point of improvement for the cast in general would be accents. The vast majority of the characters are early-1900-era southerners, but the accents were generally muddled, moving in and out throughout the dialogue, and strangely sounded Irish at times (even among the leading cast members). This was not overly distracting by any means, but there were times where it was genuinely unclear what sort of accent was being attempted.
With all of this said, and through absolutely no fault of the creative team or the fantastic young actors, the show itself leaves more to be desired. The book has all of the pieces to create an emotionally powerful masterpiece portraying this true story, but those pieces do not come together soundly enough to leave a lasting impact for the audience. The score by Jason Robert Brown is gorgeous, but the struggles of Jews and African Americans in the south aren't adequately portrayed, possibly because it needed to choose its focus more. There is also no element of surprise or devastation in culmination of the plot. This feels like a show that should leave you with an existential crisis, but just doesn't quite do the events justice.
This production is worth the time of every local theatre-goer, if not only to support the rising stars in our future generation of performers.
Running Time: 2 hours and 15 minutes with one intermission
Parade plays through June 18, 2016 as the TYA Professional Training Program's Senior Teen Company summer offering at Drama Learning Center— 9130 Red Branch Road in Columbia, MD. Tickets can be purchased at the door or in advance online.